Pulsar Quantum HD19S Thermal Imager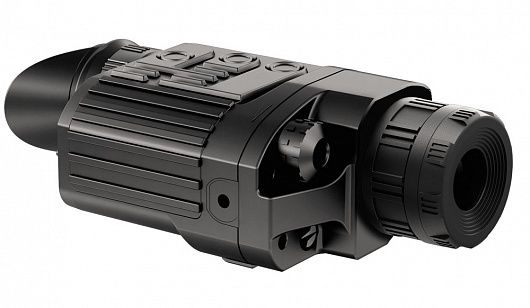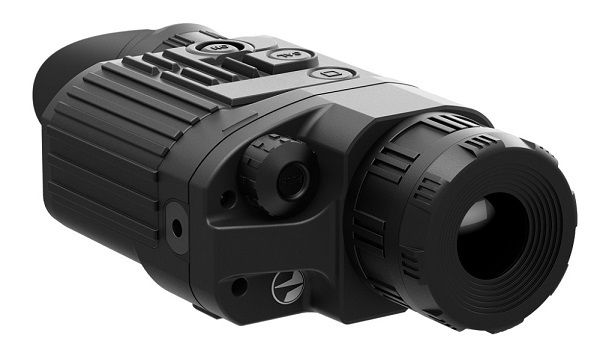 The new Pulsar Quantum HD19S is a state of the art thermal imaging device
which can be used for wildlife surveillance, security and hunting.
Using a UL 02 15 2 microbolometer and sophisticated sensor system, 
the HD19S is the upgraded model from the Pulsar Quantum HSQ19 thermal imager
 and now has a detection range from 2m up to 450m, 
allowing you to see heat sources from animals in complete darkness, as well as during the day.
With a class leading start up time of 5 seconds, 
the Pulsar Quantum Thermal HD19S has easy to change brightness and contrast controls
to help the user tailor the image to their specific situation.
With a completely silent manual calibration and 2x magnification
this hand held thermal imager is ideal for covert surveillance.
A 384x288 microbolometer resolution is combined 
with a 30Hz refresh rate to provide a sharp detailed image. 
An AV out socket allows you to connect an external recording device such as the Yukon MPR.
The body of fiberglass reinforced plastic is able to effectively withstand impact,
moisture and dust which allows the units to be used in extreme conditions. 
The rubber armouring ensures secure grip of the unit. 
The Quantum is powered with four AA size (rechargeable) batteries. 
The batteries are stored in a container which is 
then placed in a battery compartment of the unit 
or you can connect a Pulsar external battery pack for extended run times.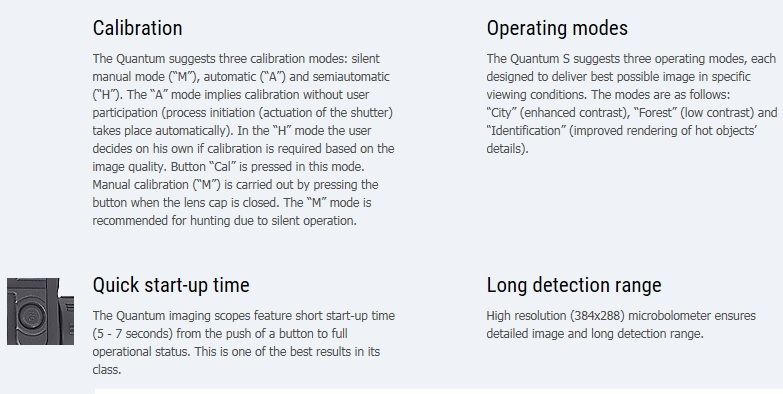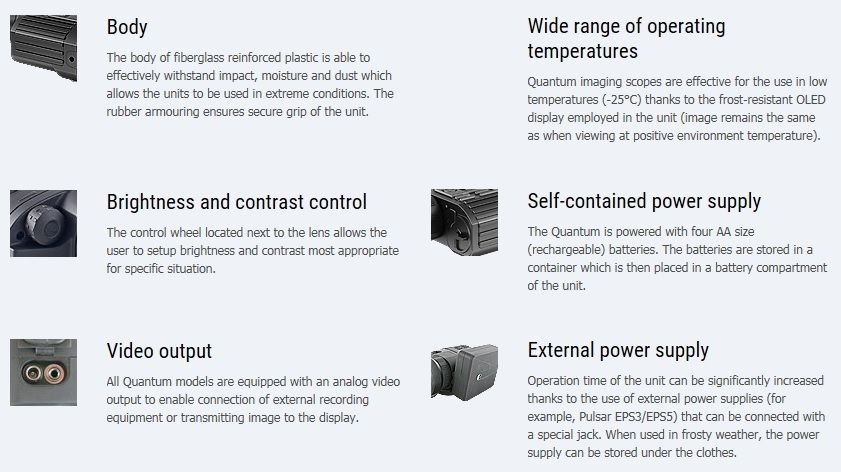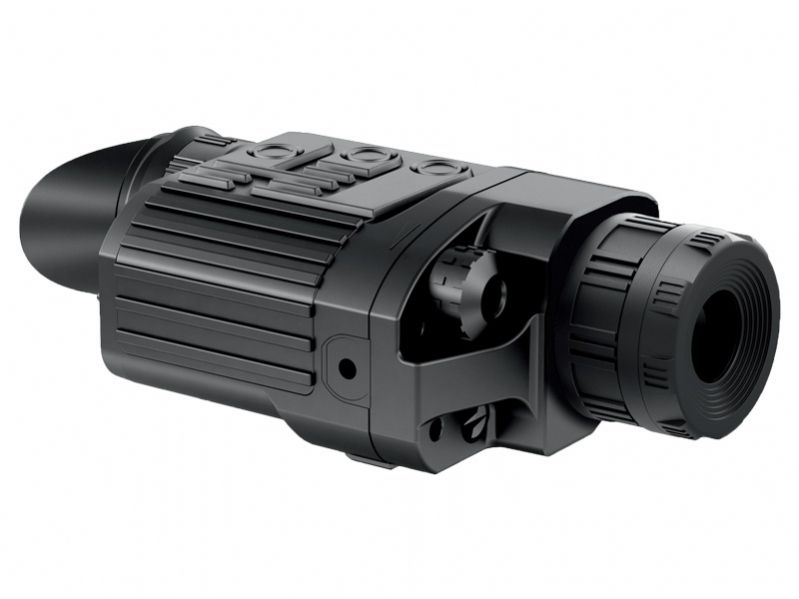 Microbolometer: UL 03 16 2 
Microbolometer resolution: 384x288 pixels
Spectral Sencitivity: 7.7 … 13.2µm
Display Resolution: 640x480pix. 
Field of View°:  horizontal * vertical  26.8x20.8 
Diopter adjustment: dptr.  ± 5 
Range of detection: (object (high*width = 1,7*0,5m)  500m
Battery type: 4 x AA(NOT included)
External Power Supply: DC 8.4 ÷ 15 
Level of Protection: (acc. to IEC 60529) IPX4 
Operating tamperatures: -25 ... +50 °С 
Weight (without batteries): 0.32kgs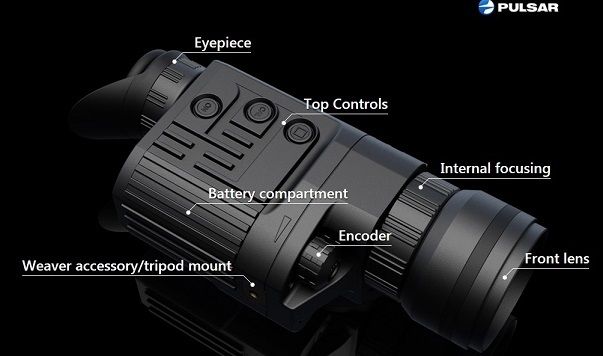 1 x Thermal Imaging Scope Quantum HD19S 
1 x Automotive cigarette lighter adapter 
1 x Spare battery container