Product ID : 214248205
Model / SKU : WALLPLUG+SCREW
Warranty : No Warranty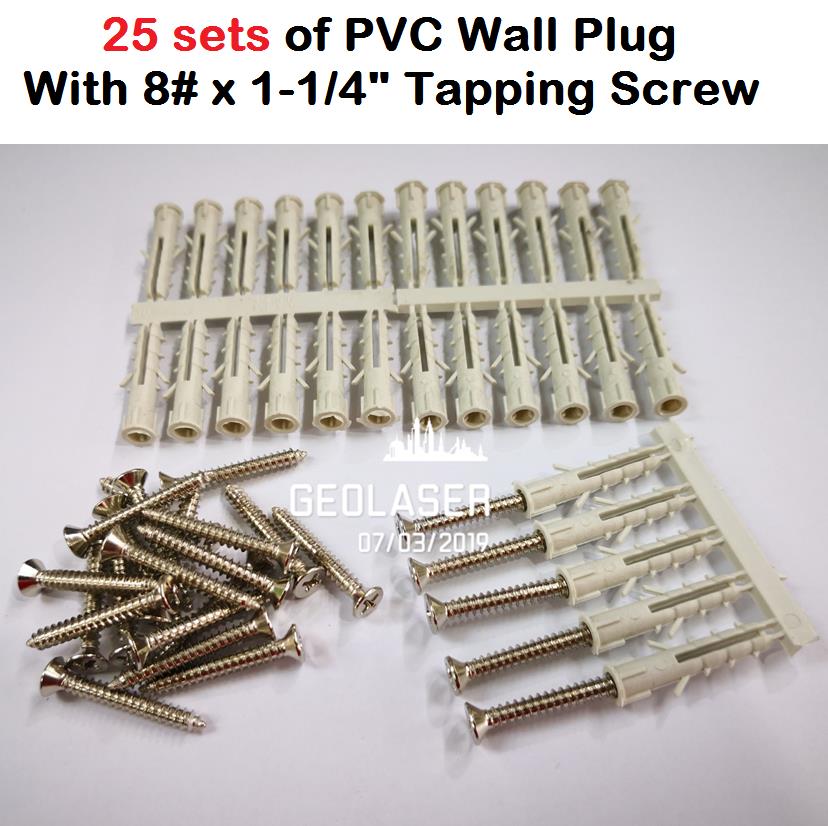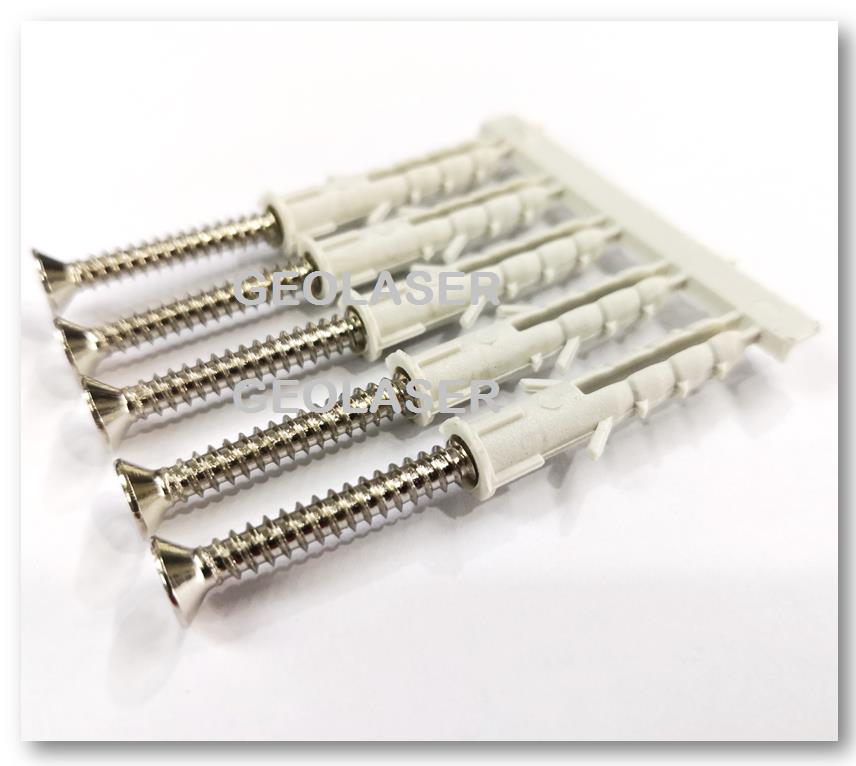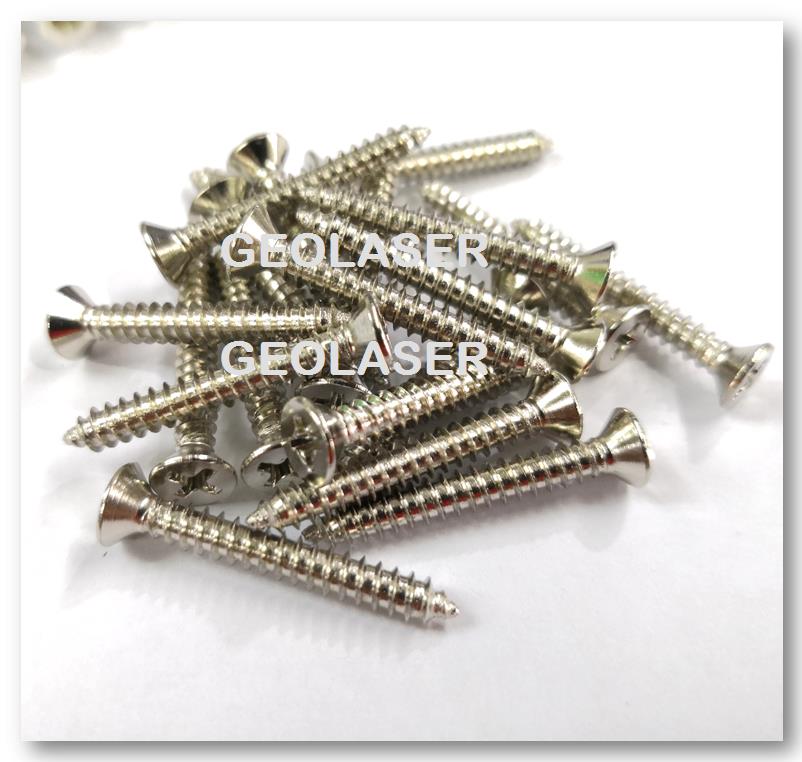 Consists of:
25pcs of PVC Wall Plug (6-8mm) Grey Colour
25pcs of MK (Local) Tapping Screw 8# * 1-1/4"
Value Pack

Last Updated @ 7/17/2019 6:09:48 PM
Rating & Review of PVC WALL PLUG WITH TAPPING SCREW 8# X 1-1/4' (25 pairs/pack)
Average Product Rating
5.0 stars out of 5
| | | |
| --- | --- | --- |
| 5 star | | 1 |
| 4 star | | 0 |
| 3 star | | 0 |
| 2 star | | 0 |
| 1 star | | 0 |
Share your thoughts with others
Write a review
Only buyers who purchased the product may leave a review




















---
All payments and shipping cost for the goods are payable in MYR (Malaysia Ringgit).

Price displayed for products on our website represents the full retail price listed on the product itself, suggested by the manufacturer or supplier, or estimated in accordance with standard industry practice; or the estimated retail value for a comparably featured item offered elsewhere.

Pricing of the Products display in the website shall be as stipulated in the official price lists published by us from time to time in force as at the date which Customer place order.

Customer shall pay for the Products in Ringgit Malaysia using one of the following payment methods:-
Direct or Cheque Deposit

Customer may make payment by way of cash, transfer or cheque deposit at any Maybank Branch to the following account.
Malayan Banking Berhad (A/C No.: 5148-3310-8146) in favour of GEO LASER (M) SDN BHD

Bank-In or Deposit slip and shall fax/email/update via lelong a copy to us
Pay upon Collection
Customer may make payment when Customer collects the good at our shop located at
J-01-02, Jalan PPK 1
Taman Kinrara, Seksyen 3
47100 Puchong
Selangor Darul Ehsan, Malaysia
All transactions are in cash terms and credit cards only
If Customer failing to make the payment within 48 hours of Customer making his or her order online, which will result the Customer's order deemed cancelled.
ORDER
Once you have submitted the order back to us, a receipt will be automatically generated and send to you via e-mail.

All orders placed by Customer shall be subjected to confirmation and acceptance by us, which acceptance by us which acceptance is at our discretion.

An order placed by you is an offer to purchase a particular product(s) at the published price and delivery charges specified on our website. For each order you place, you agree to pay the applicable price at the time you placed the order.

Customer will receive a confirmation e-mail from us once the payment of order is received. We will notify you again once you order is ready to ship.
At the moment, we only ship products within Malaysia.

Shipping rate as listed in each individual item/product. Unless specified by us, otherwise all shipping charges are bond by Customer.

If Customer requests for special shipping arrangement or would like an alternative shipping options, kindly contact us to make necessary arrangement.

The delivery process will only be initiated after we have received your payment. We shall arrange the notified shipping provider to deliver the Products to the delivery address in Malaysia designated by Customer in his or her order.

We will not held responsible for goods that are lost, stolen or damaged if they are not registered or insured.

May take up to 2 weeks for delivery to the destination.

We cannot deliver to PO Box addresses.

A signature is required for all deliveries.
SHIPPING PARTNERS :
FORCE OF MAJUERE
We will not be responsible or liable for any damage, loss, delay, additional expenses or inconvenience caused directly or indirectly by any events which are beyond our control, including, but not limited to: war, threat of war, riot, civil strife, industrial dispute, terrorist activity, natural or nuclear disaster, fire, adverse weather conditions, acts of God, acts, demands, orders or requirements of any government, government agency or other authorities, technical problems affecting transport or any other circumstances amounting to force majuere events beyond our control.

DAMAGED GOODS

Damage is unlikely; but in any case, please check your order immediately upon arrival and accept your goods ONLY if they arrive in good condition. Sign on the delivery slip to accept your purchase, only you are completely satisfied with it. If the goods are damaged or defective, do NOT accept delivery of the purchase and please e-mail us at geolaser.sb@gmail.com immediately .
CANCELLATION POLICY
There will be no refund on shipping charges. Orders can only be cancelled if they have not yet been shipped out.
RETURN AND REFUND POLICY

If Customer may return their goods purchase from us. Please keep in mind that Customer
1. must inform us via e-mail before any attempts to return the goods to us;
2. must return the goods to us in its original or equivalent packaging; and
3. must responsible for risk of loss and shipping and handling fees for returning or exchanging
product (e.g. shipping cost, etc).

To return incorrect product(s), customer must inform us within 24 hours of receiving the order. We will replace the product(s) or issue a refund AFTER we received the incorrect product(s) in good condition. Authorization for exchange, refund or credit must be made via e-mail.
Average Product Rating
5.0 stars out of 5
| | | |
| --- | --- | --- |
| 5 star | | 1 |
| 4 star | | 0 |
| 3 star | | 0 |
| 2 star | | 0 |
| 1 star | | 0 |
Share your thoughts with others
Write a review
Only buyers who purchased the product may leave a review