Item Specification
Product Description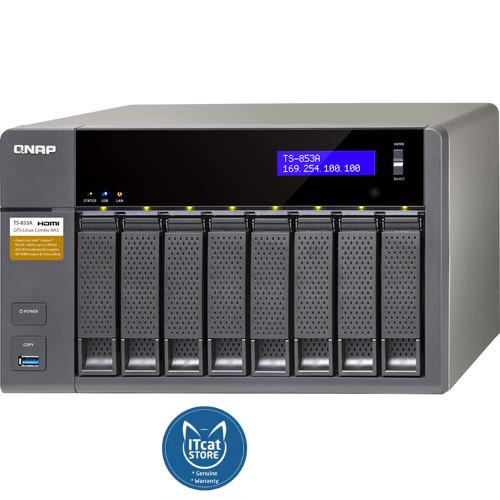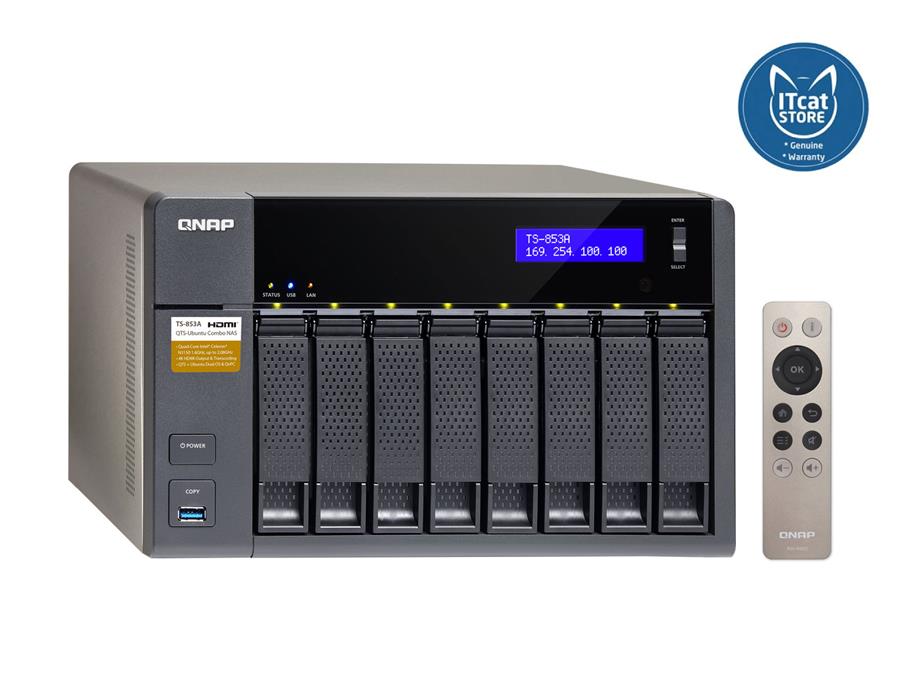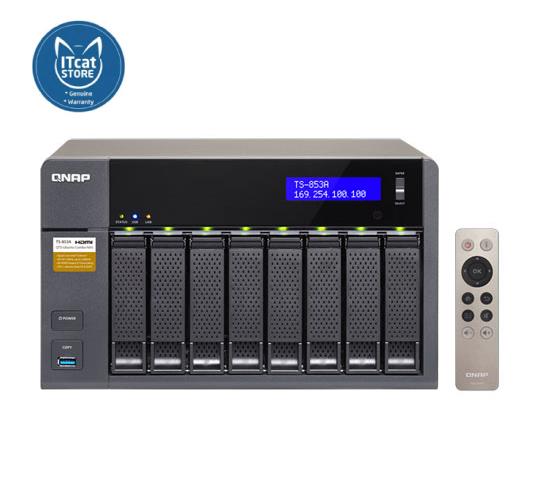 TS-853A
QTS-Linux Combo NAS: a well-rounded private cloud solution centralizing storage and IoT applications
In response to the coming era of Internet of Things (IoT), the TS-853A innovatively supports the open-source Linux platform as a gateway for IoT solutions to other smart devices. The TS-853A allows users to directly utilize various feature-rich Liunx apps, enjoying a private cloud combining storage and IoT applications, and professional developers can develop and run IoT applications directly on the TS-853A. The secure, reliable TS-853A is packed with business-critical features such as Volume/LUN Snapshot - allowing files/folders to revert to a previous state in case of any corruption or file-loss. The TS-853A is powered by the latest quad-core Intel Celeron processor which allows users to enjoy 4K (H.264) video playback and 1080p/4K video real-time transcoding directly from the TS-853A to an HD/4K display.
Supports the Linux OS with direct output via HDMI
Dual HDMI output for switching between duplicated and extended desktop options
AES-NI hardware-accelerated encryption for efficient cryptographic performance up to 420 MB/s
Supports 4K hardware decoding and transcodes 4K H.264 videos on-the-fly or offline
Quickly find files using a real-time, natural search with Qsirch 2.1
NAS and iSCSI-SAN unified storage solution for virtualization
Supports VMware, Citrix, Microsoft Hyper-V and advanced virtualization features
A hybrid approach to virtualization in one NAS: Virtualization Station & Container Station
QTS-Linux dual systems, geared for the IoT era
The TS-853A's QTS-Linux dual systems are based upon QNAP's advanced virtualization technologies. The revolutionary architecture of the TS-853A enables users not only to download rich apps from QTS App Center but also to develop or utilize IoT packages for Linux® and display them using HDMI output. With the TS-853A, you can develop and install various IoT packages on demand and centrally store the data on the TS-853A, benefiting from a secure private storage and development solution. Simply plug in a keyboard, mouse and HDMI monitor to the TS-853A, and use the Linux Station as if you were using a PC*. You can also operate the Linux Station as a remote desktop via web browser for instant management**.
* To use the Linux Station, you must install it from the App Center.
** The remote desktop function does not support remote audio output
Intel Celeron N3150 Quad-Core Processor
Powered by the 14nm Intel Celeron N3150 quad-core 1.6 GHz processor, dual-channel 4GB of DDR3L-1600 RAM, four Gigabit LAN ports, and SATA III interfaces, the TS-853A delivers up to 410 MB/s read speed and runs tasks smoothly and quickly. The TS-853A can automatically increase the processor's clock speed from 1.6 GHz to 2.08 GHz when performing CPU-intensive tasks. The TS-853A features an Intel AES-NI hardware-accelerated encryption engine to drive transfer speeds of up to 420 MB/s with AES 256-bit encryption for both the full NAS volume and shared folders, boosting system performance and security while ensuring the safety of sensitive business data stored in the TS-853A.
Superior real-time and offline 4K video transcoding*
Featuring advanced 8th-generation Intel® HD Graphics, the TS-853A supports 4K (H.264) hardware decoding and delivers superior real-time 4K (H.264) and 1080p video transcoding to convert videos to universal formats that can be smoothly played on PCs, mobile devices and Smart TVs. With offline transcoding, even when you can only connect using a low-speed Internet connection, you can still enjoy smooth video playback via File Station, Video Station, and the Qfile mobile app by selecting a pre-rendered lower resolution video. The TS-853A also allows you to set a dedicated folder for automatic video transcoding.
* Note:
Learn more: DLNA, File Station, Video Station, Qfile
QTS 4.2 – Simple, convenient and efficient
Thanks to the intuitive user interface of QTS, your NAS experience is smarter, smoother and spectacular. Its modern flat design streamlines loading times, and the intelligent desktop allows you to find desired functions quickly, create desktop shortcuts or group shortcuts, monitor important system information on a real-time basis, and open multiple application windows to run multiple tasks concurrently, bringing greater working efficiency. QTS breaks the barriers of devices, platforms and geography to bring optimized cloud experiences to you, and incorporates more advanced features including volume/LUN snapshot, remote connection to public cloud services in File Station, multi-zone multimedia system, and more.
Disaster recovery solutions brings peace of mind
The TS-853A offers various data recovery options. RTRR (Real-Time Remote Replication) supports real time or scheduled data backup to a remote QNAP NAS or FTP server and synchronizes files to a remote folder from a local folder with better backup efficiency. You can enjoy backup versioning to preserve a certain amount of versions, with options of simple versioning to schedule how many versions should be retained and for how long, or smart versioning with a rotation scheme that automatically replaces earlier backup versions. The TS-853A also supports the rsync protocol to back up data to another remote server on a scheduled basis. Data can also be backed up to and restored from a range of cloud storage services, including Amazon® S3, Amazon® Glacier, Microsoft® Azure, ElephantDrive®, Dropbox®, Google Drive™, Google Cloud Storage™, and more.
Learn more: RTRR, rsync, Cloud storage backup
RESTORE FILES WITH SNAPSHOT
QTS Storage Manager adds an easy-to-use web-based snapshot tool for you to easily restore data on the TS-453A back to any point of time in the case of loss important data. You can take snapshots for both volumes and LUN (up to 256 snapshots per volume or LUN and maximum 1024 snapshots per NAS ), efficiently replicate volume/LUN snapshots via Snapshot Replica to remote servers by copying only the changes made, and quickly clone a volume /LUN snapshot as a local volume without interrupting the current system operation. You can even set up the system to automatically take a snapshot of the volume before backup via RTRR/rsync, even when the file is opened.
Qsirch - a smarter, faster way to search
The TS-853A supports Qsirch, a proprietary near real-time search tool for quick file searching. In addition to thumbnail previews, Qsirch now allows you to find and preview Gmail emails that are backed up on the TS-853A. Qsirch even remembers your search history allowing you to quickly navigate to files you've previously searched for. Qsirch is a huge productivity boost that greatly reduces the time spent looking for files on the NAS, allowing you to focus on other tasks. The revamped Qsirch 2.1 adds a Google Chrome Extension that allows you to search for files on your NAS when you use Google Search.
Learn more: Qsirch
DATASTORE FOR VIRTUALIZED ENVIRONMENTS
The TS-x53A series is an iSCSI/ IP-SAN storage that supports VMware® and Citrix®, and is compatible with Microsoft® Hyper-V™ and Windows Server 2012, benefiting flexible deployment and management in any virtualization environments. The NAS supports VMware VAAI and Microsoft ODX to increase performance by offloading server loading for ESXi server and Hyper-V respectively, and supports QNAP vSphere Client plug-in and QNAP SMI-S provider with enhanced operational efficiency and management in virtualization applications.
Born for server virtualization
Virtualization Station allows you to host virtual machines (VM) on the TS-853A, and access them via a web browser or VNC. Virtualization Station supports multiple operating systems, fast VM creation, VM backup & restoration, VM import/export, snapshot, and Device Management for centrally managing VM. Virtualization Station uses SDN (Software-defined Networks) and allows the TS-853A and VMs to share the same LAN port. No longer constrained by physical network performance, high-speed Virtual Switches greatly increases data transfer between VMs as well as between VMs and NAS through the internal interface. You can also download VMs on demand from online VM markets and import them to the TS-853A without any complex procedures.
The TS-853A also features the game-changing container technology for server virtualization. QNAP Container Station exclusively integrates LXC and Docker® lightweight virtualization technologies, allowing you to operate multiple isolated Linux® systems on the TS-853A as well as download apps from the built-in Docker Hub Registry®. Container Station also supports the Online Document app, which allows you to directly view, edit and store files of various types anytime on your NAS, including Office documents, images and text files.
Learn more: Virtualization Station, P2V, Container Station
CROSS-PLATFORM FILE SHARING, CENTRALIZED DATA STORAGE
The NAS supports SMB/CIFS, NFS, and AFP protocols for file sharing across Windows®, Mac®, Linux®/UNIX® networks. Data, logs and ISO images of CDs and DVDs can be centrally stored on the NAS and protected by an integrated antivirus solution. The Windows AD® and LDAP services enable system administrators to configure user permissions by using an existing Windows AD server, LDAP server or built-in LDAP service. The NAS supports SAMBA v4 and can act as a Windows domain controller to manage privilege settings.
Well-rounded backup solutions to secure data
QNAP NetBak Replicator supports real-time and scheduled data backup on Windows including Outlook email archiving. Apple Time Machine® is also supported to provide Mac® OS X users with a solution to effortlessly back up data to the TS-853A. The front-panel USB 3.0 port of the TS-853A features a one-touch-copy function for you to instantly back up data from external drives to the TS-853A with just one click, or alternatively to back up data from the TS-853A to external drives. A wide range of third-party backup software such as Acronis® True Image and Symantec® Backup Exec are also supported.
Learn more: NetBak Replicator, Time Machine backup, Third-party backup software compatibility
Comprehensive security options

In open network environments, business data may be exposed in a potential hack. The TS-853A provides numerous security options, such as encrypted access, IP blocking, and more. IT administrators can also control the access rights of each user to different folders, preventing unauthorized access to important files. The TS-853A supports AES 256-bit encryption, preventing sensitive business data from unauthorized access and breach even if the hard drives or the entire system were stolen.
Secure access with VPN & Proxy Server
The TS-853A can be used as a VPN server with L2TP/IPsec, OpenVPN, and PPTP support, allowing you to securely access data shared within the private local network. The TS-853A can also be used as a VPN Client to connect to other VPN servers or virtual private network through for PPTP and OpenVPN for secure data transmission. VPN Client also allows your NAS to connect to multiple servers at the same time. You can connect your devices to your NAS and the VPN server at home to access data on the LAN; moreover, via VPN Client on your NAS, you can connect to VPN servers in the United States for accessing regionally-restricted services such as Netflix and Hulu in HD Station. The TS-853A provides you with various VPN options and helps secure your data transmission. The TS-853A also supports setting up a proxy server. The Proxy Server Package can configure the cache size, supported transmission protocols, record web pages you browsed and set up a powerful content control system that limits the use of the Internet. Other features include a work log that remembers users' habits and preferences and SquidClamav anti-virus for proxy servers to ensure connection safety.
File synchronization across multiple devices and clouds
Qsync utility turns your TS-853A into a safe, large-capacity data center for file synchronization. Any file uploaded to the TS-853A will be made available for all linked devices, such as computers, laptops or mobile devices. Qsync is especially useful for frequent travelers to manage files and always have the most up-to-date files on different devices. Qsync now provides more new features- it allows you to synchronize shared folders and create group-shared folders exclusive for your project team; it provides centralized management configuration, helping saving IT administers' time; it also supports centralized configuration and allows you to remotely erase the Qsync folder on a lost device to avoid data breaches, and even restore it after you have retrieved the device. You can also install the Cloud Drive Sync app from QTS App Center to easily sync files with Google Drive and Dropbox cloud storage.
Enjoy your exclusive karaoke system with OceanKTV
QNAP OceanKTV is the first NAS-based karaoke application on the market allowing you to create a quality karaoke experience at home. The TS-853A offers high-capacity storage for accommodating up to thousands of 1080p karaoke songs . Simply attach your big-screen TV to the TS-853A via HDMI and start singing with OceanKTV. Four UI themes are provided to create the best atmosphere, and with the OceanKTV mobile app you can control the entire experience on your phone or tablet. More than a NAS, the TS-853A is a karaoke machine for singing entertainment. Enjoy alone or with your friends!
Learn more: OceanKT
High-quality audio effect with dual microphones outputs and Line Out function
The TS-853A has two 6.3mm dynamic microphone jacks for connecting up to two dynamic microphones. Compared with the average reception quality of USB microphones, the TS-853A offers a clearer reception quality as it is equipped with a 20-bit analog-to-digital converter (ADC). On top of that, the TS-853A has a 24-bit digital to analog converter (DAC) that can send audio signals via the Line Out jack to your amplifier and deliver clearer stereo sound. By offering excellent audio output/input functionalities together with various apps, the TS-853A brings you a fantastic audiovisual experience.
Comprehensive surveillance solution providing 24/7 security
Surveillance Station is a professional network surveillance Video Management System (VMS) that offers a user-friendly management interface, over 3,000 compatible IP camera models, and expandable IP camera channel licenses. It supports real-time monitoring, video & audio recording and playback with a wide range of customizable settings. You can also install the Vmobile app on your iOS® or Android™ devices to manage monitored channels anytime and anywhere to safeguard your office environment, or install the Vcam mobile app to turn your device into a network camera to instantly record to your TS-853A. The TS-853A includes 4 free IP camera channels and you can expand up to 40 channels by purchasing additional licenses .
Learn more: Surveillance Station
Install-on-demand apps to extend NAS functionality
The built-in App Center provides various install-on-demand apps developed by QNAP and third-party developers, including tools for backup/sync, business, content management, communications, download, entertainment, and much more. It is also a centralized location for managing & updating installed apps, allowing you to directly update applications once newer versions are released.
LED indicators with adjustable brightness controls
With adjustable 20-stage brightness controls for LED indicators, the TS-853A provides flexible LED brightness options. Based on the surrounding environment, you can adjust the brightness of all system indicators and also schedule the system to automatically dim the LEDs at certain times when needed.
Easily expand storage capacity
The TS-853A supports online capacity expansion for archiving rapidly-growing data by connecting a QNAP expansion enclosure. With the QNAP scale-up solution, the raw storage capacity can be expanded on demand*, making the TS-853A an ideal file center with large storage capacity for storage-intensive business applications such as video surveillance, data archiving, TV broadcast storage, and more.
With the support of QJBOD Express (JBOD enclosures roaming)**, you can just connect a large capacity QNAP expansion enclosure to the TS-853A, and migrate data to another NAS through the JBOD enclosure without network
connectivity.
Ordering P/N
TS-853A-4G | TS-853A-8G
CPU
14 nm Intel® Celeron® N3150/N3160 1.6 GHz quad-core processor

Floating Point Unit

✔

Hardware Encryption

✔ (AES-NI)
GPU
8th generation Intel HD Graphics
System memory
TS-853A-4G: 4GB (2 x 2GB)
TS-853A-8G: 8GB (2 x 4GB)
Memory Expandable Up To
8 GB
Total Memory Slots
2, SODIMM DDR3L-1600
(*For dual-DIMM configurations, you must use a pair of identical DDR3L modules.)
Flash Memory
512MB
Maximum Number of Hard Drive
8
Hard Disk Drive
Hot-swappable 3.5" or 2.5" SATA 6Gb/s, SATA 3Gb/s hard drive or SSD
LAN Port
4 x Gigabit RJ-45 Ethernet port
USB
4 x USB 3.0 port (Front:1, Rear:3)
Support USB printer, pen drive, and USB UPS etc.
Video Output
2 x HDMI, up to 4K 2160P 30Hz Ultra HD support
Audio Input
2 x 6.3mm microphone jacks (dynamic microphones only)
Audio Output
Line Out Jack (for amplifier or headphone amplifier)
LED Indicators
Status, USB, HDD 1-8
LCD Panel
Mono-LCD display with backlight
Buttons
System: Power button, USB one-touch-backup button, Reset button
IR Receiver
✔, Support QNAP RM-IR002, RM-IR003 and MCE-compatible Remote Control
Other Interface
Kensington security slot, console port (system maintenance)
Alarm Buzzer
System warning
Form Factor
Tower
Dimensions
185.2(H) x 298.2(W) x 235(D) mm
7.29(H) x 11.74(W) x 9.25(D) inch
Weight
Net: 7.3 kg (16.08 lbs)
Gross: 8.6 kg (18.94 lbs)
Power Consumption (W)
System sleep mode: 1.91W
HDD standby: 32.71W
In operation: 58.8W
Sound Level*
Sound pressure (LpAm) :22.1 dB(A)
Temperature
0-40˚C
Relative Humidity
5~95% RH non-condensing, wet bulb: 27˚C
Power Supply
ATX 240W, 110-240V AC, 50-60Hz, 5A
Fan
2 x 12cm quiet cooling fan (12V DC)
Bulk DISCOUNT applicable nationwide.Please contact us for a FREE quotation today.Save Cost on Delivery Charges : SELF-COLLECT Order available now at our Office-Shah Alam.
SALES INQ

: 018-909 4962 (WANI) EMAIL : itcatstore@catenet.my
TECHNICAL: 010-2899 501
Buy with confidence
| | | | |
| --- | --- | --- | --- |
| Buyer | Item ID | Date | Ratings |
| po**** | 191634952 | 4/25/2017 4:34:00 PM | Really helpful and provide me a good advise before buying.Very happy with the services. |
| ka**** | 166861399 | 4/19/2017 2:53:00 AM | Very trusted seller.Will buy again for my office use.Keep up a good work! |
| us**** | 166861399 | 11/18/2016 10:43:00 AM | Fast delivery, Packaged well, Excellent Seller, will do business again. Very Trusted Seller. |
| bi**** | 165526071 | 1/7/2016 12:07:00 PM | Great Seller! Super fast delivery! Highly recommended! A+++++++++ |
| pi**** | 166861409 | 12/30/2015 10:06:00 PM | Good Seller |













---
Payment direct to our account without Netpay;
Our Banking Details:
Name of account: Catenet Technology SDN BHD
MBB Account No.: ( MAYBANK-5621 0664 4001)
Klang Valley
Door to Door Service
The Delivery Hour is Anytime From 10am-6pm, Kindly Provide the address that someone is available to receive the items in this period or else you may collect the items at our office as per below address;
CATENET TECHNOLOGY SDN BHD
WORLDWIDE BUSINESS CENTER
BLOCK 1,UNIT 7G,7TH FLOOR,
JALAN TINJU 13/50,SECTION 13,
40675,SHAH ALAM ,SELANGOR
03-55241621/010-2899501
To confirm accuracy of shipping,our team will contact you before the delivery.Please ensure and standby to avoid any issue with the delivery.
Peninsular
Pos Express - 1-3 Working Days depends on location.
Pos Laju - 1-3 Working Days depends on location.
Ta-Q-Bin - 1-3 Working Days depends on location.
Sabah and Sarawak
Pos Express - 3 -5 Working Days depends on location.
Pos Laju (0-2kg) - 3 -5 Working Days depends on location.
Ta-Q-Bin (2kg above) - 3 -5 Working Days depends on location.
What are shipping and handling charges cost?
The cost of the postage is not just the cost of a stamp, it covers: Processing, packaging, materials and also handling cost from our warehouse to Pos office.
Three Business Days Shipping is not applicable to:
International Orders.

Orders placed on Saturdays, Sundays, or holidays.

Orders for large props or Special Order items.

Pre-order items.
When your shipment arrives:
When you receive your shipment, please open and inspect merchandise on the same day as delivered.If there are issues please contact us immediately.
How to claim for Warranty??
Package / Merchandise that arrived damaged in transit must be reported to us the same day. Our policy is to check the items before we send it out to our customers.This policy is to ensure that our customer will receive it in a good condition.
Questions & Answers
Do you have any questions to ask merchant about this product
Ask Seller
| | | |
| --- | --- | --- |
| 5 star | | 0 |
| 4 star | | 0 |
| 3 star | | 0 |
| 2 star | | 0 |
| 1 star | | 0 |
Share your thoughts with others
Write a review
Only buyers who purchased the product may leave a review