Item Specification
Product Description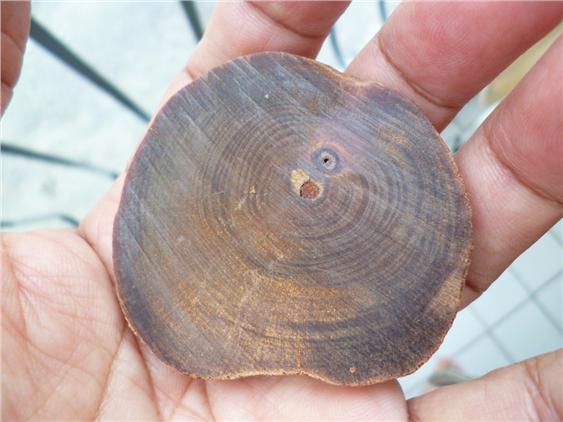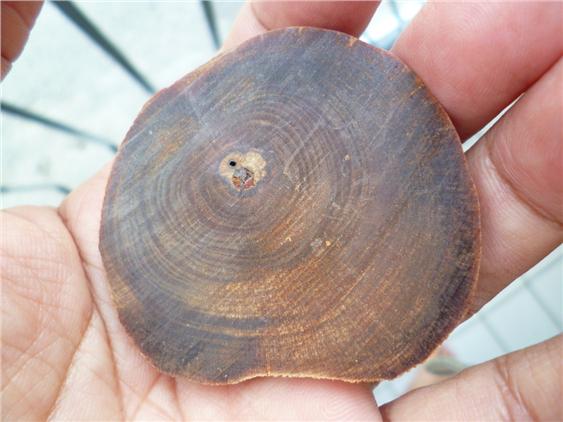 FASCINATING AND POWERFULL , VERY USEFULL

KING OF WOODS ,RAJA KAYU FROM SARAWAK BORNEO DEEP FOREST

SUPER HARD WOOD

DISC SIZE APRROXIMATION 50 X 45 X 5 MM

VERY UNUSUAL WOOD , REDDISH COLOR AND RAINBOW COLORS TOO

NO OTHER WOODS IN THE MALAYISAN AND BORNEO FOREST HAS THIS TYPE OF STRANGE FORMATION



UNDER LED WHITE LIGHTING , THE RAJA KAYU DISC IS TRANSLUCENT, SHOWING REDDISH COLOR OF THE WOOD ELEMENTS

FURTHER STILL , I ZOOM IN AT 150- 300X , AMAZING , EVEN RAINBVOW COLORS ARE SEEN , AND THE STRANGE REDDISH BLOOD CELLS LIKE FORMATION.

EVERY PIECE IS DIFFERENT FORMATION OF THE WOOD GRAINY ELEMENTS.

THE CENTER OF THE DISC IS EVEN MORE INTERESTING , AS THIS PART IS THE FIRST GROWTH PART OF THIS HUGE TREE.AS ITS GROWS INTO A BIGGER AND BIGGER TRUNK.

THOSE CENTER PARTS THAT TURNS INTO BLACK ELEMENTS ARE CALLED , BLACK GOLD OR PENAWAR HITAM .AND THESE ARE VERY VERY RARE SPECIES .

ORANG ASLI HAS TO CUT , SEE THE CENTER PART ONLY THEN WILL BE KNOWN ITS BLACK GOLD OR NOT.

AND SOME DONT HAVE 100% BLACK GROWTH COMPLETELY IN THE CENTER, SOME PARTS CAN BE 95% 0R 50% OR SOME 10% OR JUST NO BLACK GROWTH AT ALL.

AND IF THEY DO HAVE BLACK ELEMENTS IN THE CENTER OF THE TRUNK , YOU NEED TO CUT OFF OR CHIPPED OFF THE WHOLE OUTER TRUNK PARTS , TO DOWN TO THE BLACK CENTER AND ONLY KEEP THAT PART .

NEXT ITS MACHINE CUT INTO LONG CYLINDRICAL ROD SHAPE AND FURTHER INTO WHAT EVER SHAPE IS REQUIRED.

AS YOU CAN SEE A LOT OF HAND WORKMANSHIP IS DONE TO FINALLY ARRIVE AT A BEAUTIFULL PIECE OF BLACK GOLD PENANWAR HITAM. 

THATS WHY THE BLACK GOLD PENAWAR HITAM IS SO EXPENSIVE WOOD SPECIES. 

Raja Kayu or King of all woods, command its majestic power in the deep interior jungle of South East Asia. According to the native, Raja Kayu is the most powerful talisman they carry for protection to ward off evil spirits and spells cast in the jungle. The native who lives in the jungle has sound knowledge of woods possessing magical properties. Accordingly, certain woods are inherited with specific indwelling nature spirit that imbues the woods with such distinctive magical properties. Besides Raja Kayu, there are also other magical woods in the deep jungle like Penawar Hitam or Black Gold, Cendana, Kayu Penunduk, Nibong, Ulamas, Kemuning, Bertam etc that possesses different distinctive mystical powers both for physical and spiritual healings. That's why the Avatar in the movie goes all out to defend their trees in Pandora as the trees are their soul and home. Right on Earth the native depends on trees for their livelihood and uses magical woods for their protection in the jungle inhibited by mysterious forces and evil spirits. Degrading in human moral values and conduct have induced all kinds of evil forces and energies prevailing in the environment we live today. Modern people succumb to evil spirits and charms out of personal gain and jealousy. Like the native and Avatar, we will need the magical woods for self-protection in our concrete jungle which is full of all kinds of evil and negative energies. According to the native, Raja Kayu has the following magical properties and applications: Raja Kayu Properties 1. ward off negative and dark energies 2. counter black magic 3. possess positive energy and expel negative forces 4. attract majestic luck in things we do 5. attract business, fortune and happiness 6. instill confidence and courage

those for go jungle trekking , jungle hashing , mountain climbing or biking , camping, 4 wheel drives into the forest, jungle survey, buliding campsites and forest and deep jungle activities, ITS VERY ADVISABLE TO CARRY A RAJA KAYU OR PENAWAR HITAM , JUST IN CASE , YOU WILL NEVER KNOWN THE UNEXPECTED.




see my video on youtube on these reddish rainbow colors raja kayu.,....chong yannichong. 



 

---
PAYMENTS THRU MAYBANK TRANSFERS, OVERSEAS BUYER , PAYPAL OR WESTERN UNION.FOR OVERSEAS BUYER PLEASE CONFIRM WHICH TYPE OF PAYMENT.
DELIVERY THRU POSLAJU , FOR LOCAL TOWN , P. MALAYSIA CHARGES ARE RM9. 00 AND EAST MALAYSIA IS RM11.00 FOR NORMAL BELOW 500 GRAMS MAILING. ABOVE 501 GRAMS , POS LAJU CHARGES ARE AS ACCORDING TO POS LAJU RATES.
FOR OUT SIDE MALAYSIA , SHIPPING CHARGES AS ACCORDING TO POST OFFICE .
PLEASE DO INQUIRE , COMMUNICATE WITH ME , IF YOU ARE NOT SURE ABOUT THE ITEMS, OR ANY MATTER BEFORE BIDDING.I WILL REPLY YOU ASAP.
FOR EXPENSIVE OLD AMULETS , PLEASE MAKE VERY SURE YOU KNOW THE ITEM AND YOU UNDERSTAND THOROUGHLY WHAT YOU ARE BIDDING FOR.
ANY QUESTIONS PLEASE ASK .