Item Specification
Model / SKU
: RBSXT5HacD2n
Product Description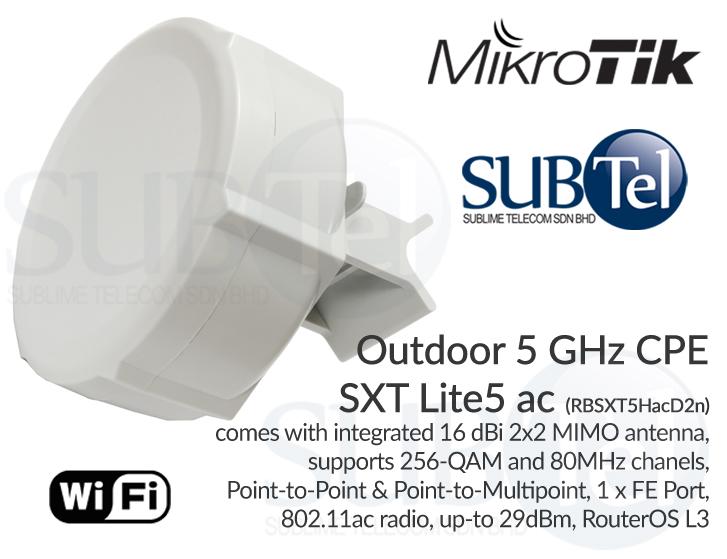 MikroTIK SXT Lite5 ac - 5Ghz 16 dBi Point-to-Multipoint Radio
Main Features
 • Operates in Unlicensed 5 GHz Frequency range
 • Fully Integrated Design - Built-in 16 dBi MIMO Antenna
 • Built to Last Outdoors - Weather-resistant Radio
 • 802.11ac Chipset allows operation with up-to 256 QAM modulation
 • Plug and Play Installation - Easy Mounting with included pole mount accessories
 • Powerful RouterOS product
 • Medium Range Links - 8 km and above
 • High Throughput - up to 200 Mbps
 • Power over Ethernet (PoE) support
 • TDMA radio - supports Mikrotik proprietary Nv2 wireless protocol
 • Fully Compatible with 802.11n legacy devices
 • 2.4GHz Management Interface - supports only one connection (your laptop or phone)

Local Information
 • Malaysia Local Product and Warranty support by Sublime Telecom Sdn. Bhd.
 • Mikrotik Radios have been successfuly deployed in Malaysia and worldwide.
 • Use it as Point-to-Point link or Point-to-Multipoint CPE.


Product Description
The SXT Lite5 ac is a new low cost device in our 802.11ac product lineup.

Unit is equipped with powerful 650MHz CPU, 64MB RAM, 10/100Mbps Ethernet port and has 5GHz 16dBi 28 degree beamwidth antenna.

The SXT Lite5 ac supports 256-QAM modulation and 80MHz channels, so you get more speed per same frequency width as 802.11 devices. It also supports 802.11a/n, Nv2, Nstreme mode and is compatible with all legacy RouterBOARD devices. New industrial wireless chip QCA-9892 provides support for 5/10 MHz channel width for 802.11an standard.

RBSXT5HacD2n (International) supports 2412-2484MHz and 5150MHz - 5875MHz range.


Product Specifications
Mikrotik SXT Lite5 ac 5GHz - RBSXT5HacD2n System
CPU nominal frequency
650 MHz
CPU core count
1
Size of RAM
64 MB
10/100 Ethernet ports
1
Wireless chip model
QCA9882
Wireless standards
802.11a/n/ac
Secondary wireless chip model
QCA9531
Secondary wireless standards
802.11b/g/n
PoE in
Yes
Supported input voltage
9 V - 30 V
Dimensions
140x140x56mm
Operating System
RouterOS
Operating temperature range
-30 + 70 C
License level
3
Antenna gain DBI
16
CPU
QCA9531
Max Power consumption
8 W
Number of chains
2
Storage type
FLASH
Storage size
16 MB
RBSXT5HacD2n Antenna
Type
Dual polarization 5GHz antenna
Frequency range
5170-5250MHz and 5725-5835MHz
Gain
16 dBi
VSWR, max
1.7:1
Antenna Beam-Width
28°
Polarization
Dual Linear (V-pol, H-pol)
Type
2.4GHz antenna*
Gain
1.5 dBi
Antenna Beam-Width
360°
Polarization
Single-chain
Downloads
Datasheet : Download Product Datasheet
Quick Start Guide : Download User Guide
RouterOS Overview : What is RouterOS
RouterOS Manual : Click Here

Package Contents
Mikrotik RBSXT5HacD2n unit (Note: you need at least two units to build a link)
Pole Mounting Bracket
Power over Ethernet Injector
Power Adapter
Contact Us
PM on Lelong
Email: sales@sublimegroup.co
Call/SMS/Whatsapp: +6 012-368 0911
Update
We have this product in stock!

We carry full range of Ubiquiti and MikroTik products at best prices in Malaysia.

Contact us or click Buy Now.