Product ID : 193979678
Model / SKU : MOD-00003
DS3231 is a low-cost, extremely accurate I2C real-time clock (RTC), with an integrated temperature-compensated crystal oscillator (TCXO) and crystal. The device incorporates a battery input, disconnect the main power supply and maintains accurate timekeeping. Integrated oscillator improve long-term accuracy of the device and reduces the number of components of the production line. The DS3231 is available in commercial and industrial temperature ranges, using a 16-pin 300mil SO package.
RTC maintains seconds, minutes, hours, day, date, month, and year information. Less than 31 days of the month, the end date will be automatically adjusted, including corrections for leap year. The clock operates in either the 24 hours or band / AM / PM indication of the 12-hour format. Provides two configurable alarm clock and a calendar can be set to a square wave output. Address and data are transferred serially through an I2C bidirectional bus.
A precision temperature-compensated voltage reference and comparator circuit monitors the status of VCC to detect power failures, provide a reset output, and if necessary, automatically switch to the backup power supply. In addition, / RST pin is monitored as generating \u03bcP reset manually.
Feature:
Save time and high precision addition, DS3231 also has some other features that extend the system host of additional features and a range of options. The device integrates a very precise digital temperature sensor, through the I2C * interface to access it (as the same time). This temperature sensor accuracy is \u00b1 3 \u00b0 C. On-chip power supply control circuit can automatically detect and manage the main and standby power (i.e., low-voltage battery) to switch between the power supply. If the main power failure, the device can continue to provide accurate timing and temperature, performance is not affected. When the main power re-power or voltage value returns to within the allowable range, the on-chip reset function can be used to restart the system microprocessor.
Specification:
Operating voltage: 3.3 - 5.5V
Clock chip: High-precision clock chip DS3231
Clock Accuracy: 0-40 \u00b0C range, the accuracy 2ppm, the error was about 1 minute
Calendar alarm clock with two
Programmable square-wave output
Real time clock generator seconds, minutes, hours, day, date, month and year timing and provide valid until the year 2100 leap year compensation
Chip temperature sensor comes with an accuracy of \u00b1 3 \u00b0C
Memory chips: AT24C32 (storage capacity 32K)
IIC bus interface, the maximum transmission speed of 400KHz (working voltage of 5V)
Can be cascaded with other IIC device, 24C32 addresses can be shorted A0/A1/A2 modify default address is 0x57
Wiring instructions (with Arduino uno r3 for example):
SCL \u2192 A5
SDA \u2192 A4
VCC \u2192 5V
GND \u2192 GND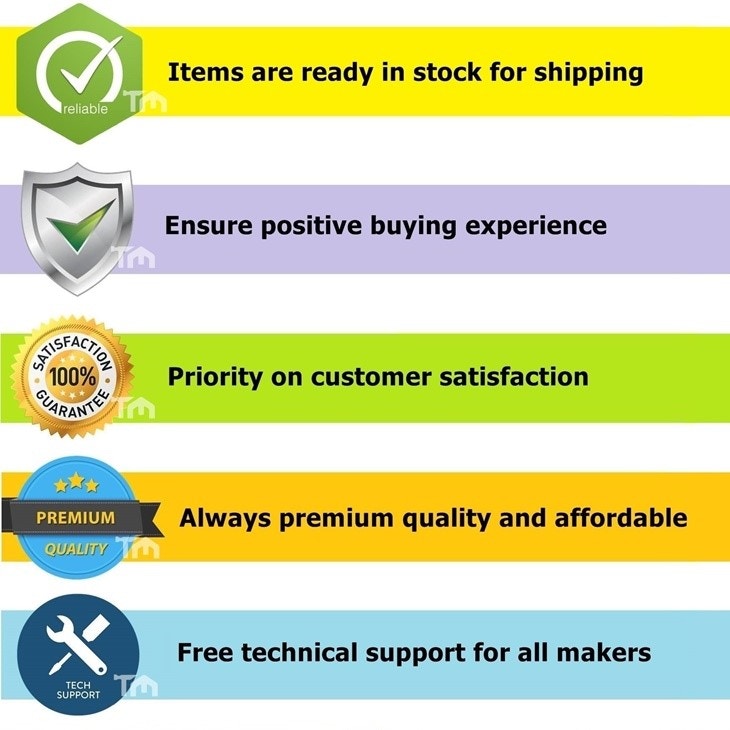 ---
If Buyer prefers not to make payment through NetPay.
Please send us an email, detailing the items required, quantity and customer address. Any bulk Order will be further discussed.
We will forward buyer a new quotation with any shipping charges and may be subjected to a small discount.
Bank transfer account will be provided:
Public Bank: 3204886134
(Include details of the bank transfer for our reference)
Instant transfer is recommended as it would improve our processing time or remove delays.
Drop us a call afterwards.
Thank you for your business.
Seller will process your paid order on the next working day.
We will always try our best on same day delivery.
Delivery excludes Saturday, Sunday and Public Holidays.
Store daily Cut-off time is 1PM as our prefered courier company has a daily cut-off time as well.
Example scenario:
Buyer pays on Friday, seller will then process on the next working day which is Monday and ship on the same day or on the following day, Tuesday.
Estimated arrival time depends on the following factors:
1. Products' availability.
2. The shipping address for the order.
3. The seller location.
4. Delays caused by the courier service.
Welcome to Techmakers!
We are always willing to help regardless of the Terms and Conditions agreed.
- Techmakers care greatly on customer satisfaction and prioritise on after-sales service.
- Kindly contact us before leaving any negative rating. We aim to resolve every issue faced by our customers.
- Payments should be made within 72 hours after are orders placed to reduce delays in processing time.
- Please allow up to 2 days of processing time and wait for the delivery email. All receipts can be downloaded in Lelong > My Buying > Order ID > Order Confirmation.
- If occur where item purchased is out of stock, please allow us some time to discuss with you on whether to wait for stock arrival, exchange for other product as agreed or full refund as a last resort.
- Customers are welcomed to visit our store to discuss any matters further, including purchasing our products. ( In-store retail prices may differ ).
- Large Quantity or Bulk Order can be further discussed through our contact email for a better deal.
Every items' prices and information may change without notice.
All Items are valid for

7 days

of warranty and takes effect upon receiving.
Please refer to '

Contact Us

' and reach us immediately for any problems.
Primarily, Defective item due to rare instances of manufacturing defect.
Contact us to inform the issues detected accompanied by pictures for verification.
Buyer will pay for the shipping charges for the returning of defective items.
Seller may choose to inspect defective item first or immediately ship out a replacement.
The postage cost for item replacement will be covered by Seller (Techmakers).
Seller may choose to refund the shipping charges if all in order.
Incorrect Items received due to accidental mismanagement.
Customer has the option to purchase the incorrect product as a discounted price through bank transfer with receipt attached.
Alternatively, Buyer will pay for the shipping charges for the return of incorrect items.
Upon receiving, Seller will ensure returned items are in good condition.
The postage cost for corrected items will be covered by Seller (Techmakers).
Seller may choose to refund the shipping charges if all in order.
Delays , Invalid Tracking ID or issues with parcel.
Immediately inform us if there is any occurrence of invalid tracking ID.
Buyer should check the delivery status with the courier company before reaching us.
Any delays caused by the courier company is outside Seller's responsibility and control.
Seller will contact courier company to get updates and discuss with buyer on delivery status.
We will keep in touch directly with Buyer to resolve further issues.
Damages caused by incorrect handling are not accepted for replacement.
Example of scenarios include items being subjected to hazardous installation, power supply, connection, improper tools to operate and physical damages .
Average Product Rating
0.0 stars out of 5
| | | |
| --- | --- | --- |
| 5 star | | 0 |
| 4 star | | 0 |
| 3 star | | 0 |
| 2 star | | 0 |
| 1 star | | 0 |
Share your thoughts with others
Write a review
Only buyers who purchased the product may leave a review