Item Specification
Product Description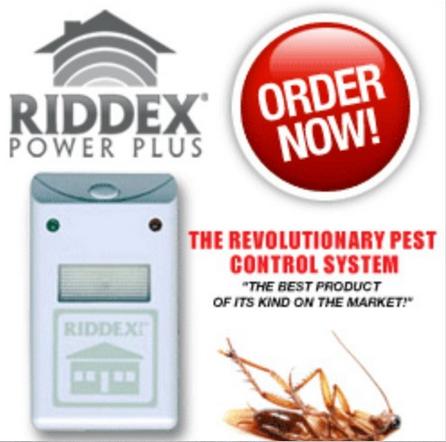 DESCRIPTIONS:
Voltage: 220-250V(EU Plug)

1.Not a toxic chemical or poison
3.Designed to work through electrical wiring
4.Household / Residential use only
5.Drive Rodents & Roaches out of your home
6.Riddex Rodent Repelling Aid includes a built in night light and LED indicator lights
7.Riddex Rodent Repelling Aid YOUR HOME OF RATS, MICE, & ROACHES!
The Riddex Rodent Repelling Aid actually changes the normal field around your 
wiring, creating an environment that aids in the control of pests. One unit takes 
care of a normal sized home, approximately 2000 square feet. Use two units if the 
house is more than one story.
Safe Around Household Pets.
The Riddex Rodent Repelling Aid is safe for most household pets, except for 
hamsters, gerbils and other rodent pets. Help control unwanted pests safely, 
quickly and effectively with the Riddex Rodent Repelling Aid. Order yours today. 
There are no irritating pesticides or fumes. Simply plug this electronic unit into 
a standard electrical outlet and watch it help drive out pesky pests from your 
home, in as little as two - three weeks!
Pest Repeller red, blue, insect repellent, in the middle of the night light is white.
The product generates frequency continuously emit ultra-low frequency electromagnetic wave gap changes, will make the rat brain systems produce "adaptability" and "immunity" down. The effective area up to 230 square meters.
This product is mainly used repel rodents, its effect is very obvious. For cockroaches, ants, spiders, fleas, etc., also have certain extent. Comes with a green light can be used for lighting at night, not only the driving effect and can be lit room, making the environment more welcoming.
1 drive rats and rodent comparison:
Relevant results showed that: in a certain space has a "support amount" kill certain space of some of the mice, there will be some other space mouse moved in, so rodent always produce the following: off again, came off again. Repeller is in order to establish a rat can not live / survive in the environment, in order to solve the rodent problem once and for all, so Repeller is more meaningful than the rodent.
Adjustable frequency function, adjustable button to change the frequency of the ultrasonic transmitter so that different mouse (worms) can not adapt to achieve rid of the effect. Pest Repeller Mole Repeller / rodent effect is remarkable, safe, reliable, non-toxic, harmless, no computers, telecommunications equipment, electrical facilities, etc. cause any interference or damage, beautiful shape, easy to use, low power consumption, low cost , no special care. Repeller created a high-quality non-rodent and pest space. Repeller will not cause secondary pollution to the environment, can do for you once and for all solve the rodent problem.
3 Repeller (Ultrasonic Pest Repeller) principle:
Rodent auditory system is very well developed, very sensitive to ultrasound, ultrasonic electronic pest repeller, electronic cat rodent / rodent control the use of an ultrasonic pulse interference and destruction of rodents to stimulate the nervous system, physiological systems, ultrasonic pest repeller arising listen ultrasound makes mice unbearably harsh, making it uncomfortable headache, completely destroyed the mice living / living environment. mice can not wait immediately wanted to flee the scene, the mice eventually expelled effectively at home, work, etc. of production and living environment in many experiments the results obtained prove: If forced to listen mice kept strong ultrasound, the mice will produce loss of appetite, anorexia, convulsions and other symptoms, and even eventually lead to their death.
Ultrasound has not penetrate obstacles, strong directional reflection or refraction, and fast decay characteristics, which is also the disadvantage of the ultrasonic its advantages, because it is through the advantages of ultrasonic reflection, and refraction means to spread, cover the entire control space, and ultimately achieve the effect of flooding control if the power is not enough Repeller, after several ultrasonic reflection or refraction, its energy would be reduced, or even attenuated to get rid of mice unable to achieve the purpose, so that the use of more high-powered pest repeller will achieve better get rid of the effect. Sweep / frequency: automatic scanning frequency composite made of high-power ultrasound, because ultrasonic frequency is constantly changing and is a composite, so the mouse is difficult to adapt, Mole Repeller long term. Single frequency ultrasonic pest repeller, installation head a month effective, long time, it is easy to adapt to mice, rats no longer have the effect of flooding. Recommends using the product, the product at regular intervals adjust the frequency.
Riddex is a plugin device designed to create an invisible digital force field through the wiring of your house in order to drive mice, rats, roaches, and small flying and crawling insects away from your home. According to the company, the small-sized plug in deterrent employs a patented digital pulse technology which is powered by a free scale microprocessor
How the product supposedly works
It emits a high-pitched hum that supposedly interferes with the pests' nervous system thus making an irritating environment for them. The device seems very easy to use. You simply plug it into any wall socket and once it is on, it creates electromagnetic waves behind the walls, under the carpet, above the ceilings, and behind furniture where pests usually hide. The digital pulses through the wiring in your wall make the roaches, mice, and other pests uncomfortable and consequently make them leave. The company claims that one single device is capable of protecting one floor or level of a typical house, apartment, or condominium.
What Makes it Different to Other Products?
The manufacturer claims that Riddex is unique compared to traditional pest control methods and products which usually cost hundreds of dollars a year. Here is a summary of the unique benefits and features:
1.It has a built-in nightlight and LED indicator
2.There are no harmful chemicals
3.It does not cause terrible fumes and odors
4.It does not require a professional exterminator
5.It does not cause any potential harm to your pets
6.It does not kill pests so they do not die in your home or walls
7.Is relatively cheap and does not cost thousands of dollars like so many alternatives.
Riddex Plus As Seen On TV Pest Repellent Repelling Aid Rodent Mosquito Roaches Repeller
SHIPMENT :
Item will be sent by POS LAJU / GDEX / POS DAFTAR.
p/s: Item will be sent out on the same day if payment cleared before 12:01pm during working days. If have anything cause to delay, we will contact you. You should will receive the item in 1 or 2 days after shipped out. Once shipped, we will update you the tracking number, if you not receive in 2 days, kindly contact us.
BANK TRANSFER METHOD
Maybank ( Muhammad Hafiz bin Hamidi - 552068805348)
CIMB (Muhammad Hafiz bin Hamidi - 7000106844)
Public Bank (Muhammad Hafiz bin Hamidi - 4551641023)
Bank Rakyat (Muhammad Hafiz bin Hamidi – 220381218475)
RHB Bank (Muhammad Hafiz bin Hamidi – 16814300001131)
PAYPAL METHOD 
ALSO CAN BE PAY BY CREDIT CARD VIA PAYPAL
PLEASE SMS ME after transaction completed if You need fast delivery. Item will be post within working days only.
CUSTOMER SUPPORT / CONTACT ME:
Have a question? Please contact me:  mheeenterprise@gmail.com/ Call me : 012-2808996 (FENDI)


Last Updated @ 6/15/2014 8:20:09 PM

Last Updated @ 9/13/2014 11:24:55 PM

Last Updated @ 11/20/2014 12:17:58 AM

Last Updated @ 7/27/2015 8:23:58 PM

Last Updated @ 9/25/2016 9:16:35 AM
Buy with confidence
| | | | |
| --- | --- | --- | --- |
| Buyer | Item ID | Date | Ratings |
| af**** | 185574311 | 9/7/2017 1:18:00 PM | Barang sampai .. |
| ta**** | 187789721 | 8/31/2017 7:06:00 AM | - |
| Mo**** | 188993898 | 8/15/2017 1:01:00 PM | - |
| al**** | 185574501 | 8/11/2017 8:14:00 AM | Deliver on time but late to update user the delivery.. |
| wi**** | 185573836 | 7/27/2017 6:38:00 PM | Fast n highly recommended. |
| kt**** | 185574501 | 6/30/2017 2:39:00 PM | Goods received in good condition. |
| ek**** | 187238219 | 6/5/2017 4:07:00 PM | - |
| AP**** | 187789721 | 5/30/2017 6:41:00 AM | - |
Questions & Comments








---
PAYPAL
(mheeenterprise@gmail.com)
Pos Laju / GDEX/ Pos Daftar
For RETURN, please sent to:
MHEE ENTERPRISE
LOT 105, KG. TOK PINANG TAMBAHAN
48200 SERENDAH
SELANGOR
Questions & Answers
Do you have any questions to ask merchant about this product
Ask Seller
| | | |
| --- | --- | --- |
| 5 star | | 0 |
| 4 star | | 0 |
| 3 star | | 0 |
| 2 star | | 0 |
| 1 star | | 0 |
Share your thoughts with others
Write a review
Only buyers who purchased the product may leave a review