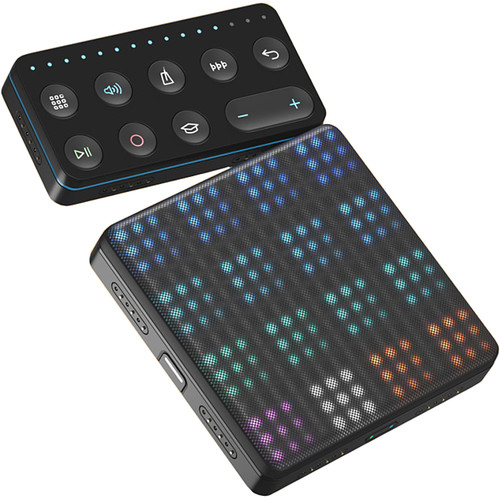 Overview
Beatmaker Kit gives you everything you need to take your beats to the next level, whether you're making your first track or honing your technique. Learn finger drumming skills, play with hundreds of expressive sounds, and complete your track with a suite of software. It's an all-in-one package for making beats, wherever your musical ideas strike.
Take your track from start to finish
Learn to finger drum with a 6-month Melodics subscription

Play on a touch-responsive Lightpad Block surface

Produce tracks faster with the Loop Block

Travel anywhere with a wireless and portable setup

Explore hundreds of expressive sounds

Complete your tracks with a high-powered software suite, including Ableton Live Lite

Change the LED Lightpad surface for different notes and scales

Customize your modular system
Learn to play beats
Finger drumming is fun with Melodics, the desktop app for learning beat-making technique. Begin with the basics or challenge yourself to play complex patterns. Melodics now features a plug-and-play integration with the Lightpad Block and Loop Block. Explore hundreds of lessons with a six month subscription that comes with your kit.
Play drums and melodies
The 5D Touch surface of the Lightpad Block will transform your beats. Drum on a tactile, touch-responsive surface. Add unparalleled expression to melodic parts by pressing into the surface and gliding or sliding around it.
Produce your tracks
Edit and complete your track with powerful production software. Beatmaker Kit comes with a custom version of Ableton Live Lite, and it's also compatible with a huge range of other digital audio workstations (DAWs) including GarageBand.
The Loop Block gives you shortcuts to useful production techniques, so you can build your tracks even faster. Record loops, play them back, set your tempo and more.
Go anywhere with your music
Beatmaker Kit travels with you wherever you want to make music. Wireless, lightweight and with a surface the size of a postcard, it empowers you to create tracks anywhere.
Connect your Beatmaker Kit to the NOISE iOS app for a completely mobile music experience. Even when you connect to desktop software, you can still fit your Kit in a backpack with a laptop computer.
Key features
Create Tracks Anywhere

Illuminated Lightpad M Playing Surface

Loop Block for Production Control

Expansive Software Suite with NOISE

Melodics Software (6-Month Subscription)

Equator Player, Strobe 2 Player, & More
Specifications
Dimensions and Weight
Width: 141mm (5.6 inches).
Height: 22mm (0.9 inches).
Depth: 94mm (3.7 inches)
Weight: 360g (0.79 pounds)
Battery
4 hour battery life.
2 hour charge time.
Connectivity / Ports
USB-C port (MIDI out and power).
Full MIDI compatibility over USB and Bluetooth LE.
8 DNA connectors.
Power
USB / DNA Input Voltage: 5.0V +/- 0.2V
Bluetooth
15 meter Bluetooth range.
Mac OSX and iOS only.