Item Specification
Model / SKU
: S7 Conductivity
Product Description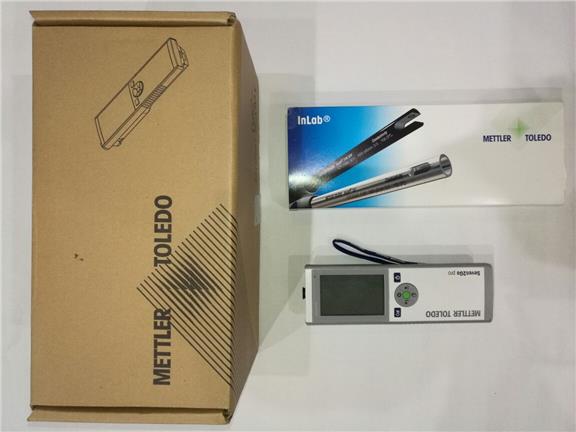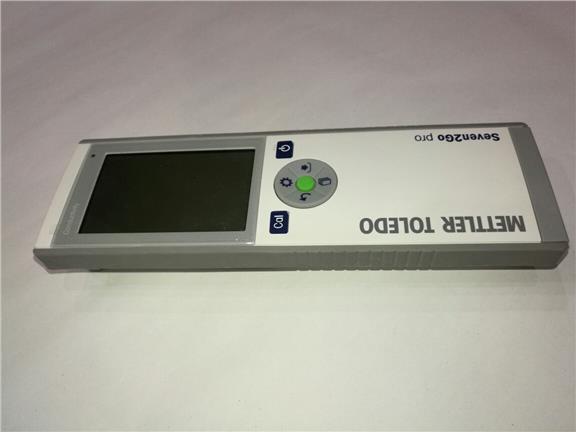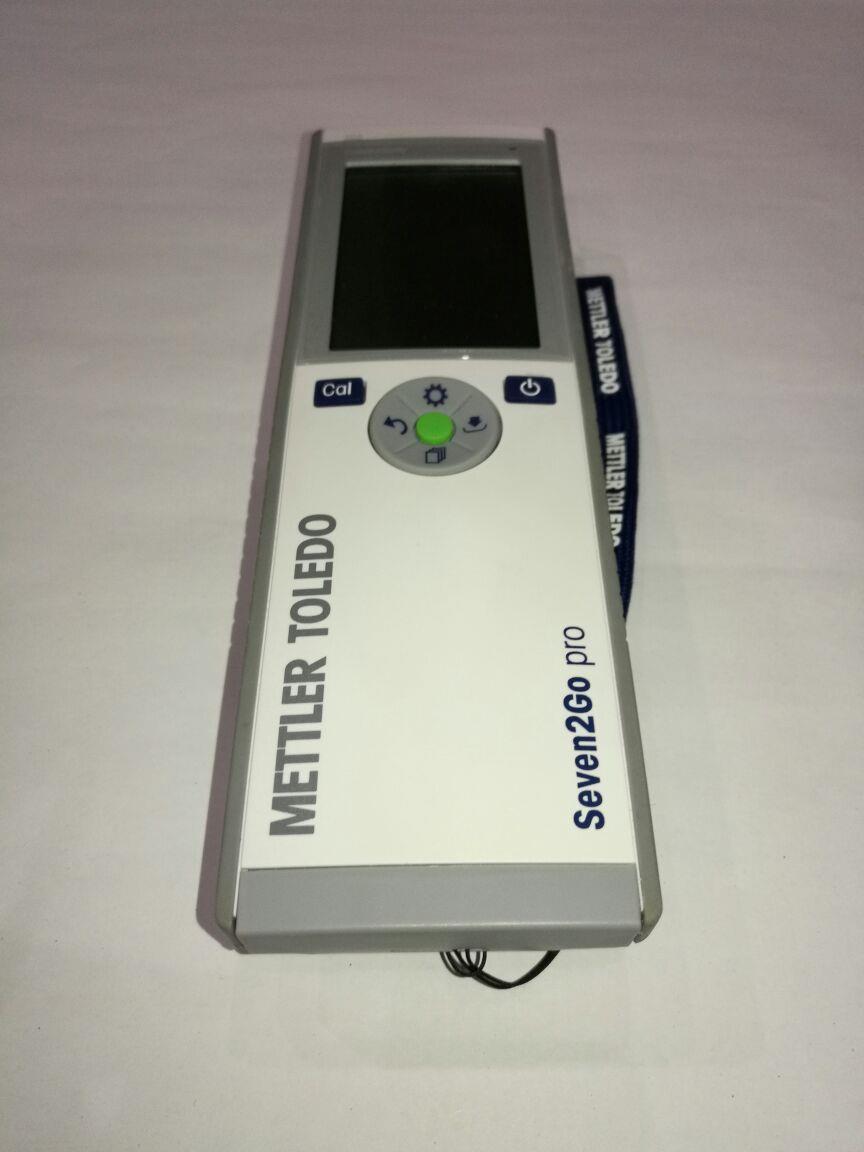 Conductivity Portable S7 – with InLab 738-ISM electrode
Brand: Mettler Toledo, Model: S7 Conductivity
Condition: Open Box, Unused, Working
Features:
• Highly user friendly, 2-button operational handheld meter
• Rugged, robust and rugged design
• ISM (Intelligent Sensor Management) sensor, instrument automatically recognizes the sensor and stores sensor ID and last calibration data.
• Sunlight proof
Specifications:
• Parameter : Conductivity
• Measuring Range: 0.01 uS/cm – 1000 mS/cm
• Conductivity resolution : 0.01 – 2
• Conductivity accuracy : ± 0.5%
Warranty:
a) At point of delivery/acceptance of goods, any defects should be reported within 3 days for replacement / refund.
b) No warranty meter and probe after acceptance.
For more information, please do not hesitate to contact us.
Buat Bayaran melalui cara-cara berikut: Mesin ATM / Kaunter / Internet Banking / dan lain lain ke akaun di bawah:-
CIMB Bank 8007986672 Name: Vay Creative Marketing Contact: 011 - 2685 9819
 *Selepas transfer, smskan nama, alamat penuh, nama produk, jumlah wang dan bank in masa.

---
Buat Bayaran melalui cara-cara berikut: Mesin ATM / Kaunter / Internet Banking / dan lain lain ke akaun di bawah:-

CIMB Bank
8007986672

Name: Vay Creative Marketing

Contact: 011 - 2685 9819

*Selepas transfer, smskan nama, alamat penuh, nama produk, jumlah wang dan bank in masa.
Courier Services PosLaju, Skynet, SureReach, CityLink, etc
Delivery Within 3 days
Shipping Charges as as stated for each item.
1. CONTRACT – These terms and conditions, together with any other supplemental
written terms we give you pertaining to your order or service agreement, form a contract
between you, the buyer of certain products and/or services (the "Buyer"), and us, the MyGood2Go entity identified on the quote, order acknowledgement, service agreement, invoice, or other order document ("MYG2G"). The rights and obligations identified in this contract apply to Buyer's purchase of the producst and services identified in the order documents. If Buyer's order includes software subject to an end user license agreement ("EULA"), the terms of the EULA also apply and have priority over these terms. Terms and conditions that are different or changed from these only apply if both parties agree to them in writing. Terms or conditions included on Buyer's forms, including Buyer's standard terms and conditions of purchase and documents presented to MG2G field service representatives, are not part of this contract. Buyer's receipt of products and/or services establishes its unqualified acceptance of these terms and conditions and any applicable EULA.
2. QUOTATIONS, PUBLISHED PRICES, AND PRODUCT INFORMATION –
Quotes and other offers of sale automatically expire 30 calendar days from the date
issued unless otherwise stated, and unless MYG2G withdraws the quote or offer earlier, which
it may do any time prior to Buyer's acceptance of the quote or offer. Quotes and offers
relating to products and/or services may rely on certain information and circumstances, including information Buyer provides. If information or circumstances on which a quote or offer relies change, MYG2G may adjust its quote or offer. Published prices are not offers to sell and may be changed without notice. MYG2G may change equipment or product specifications without notice unless it agreed to the specification(s) in writing. Prices do not include any taxes, shipping, packaging, handling, insurance, duties, inspection fees, permit fees, installation, or other costs or services unless otherwise specified in the order documents. MYG2G may choose to accept or reject any order; MYG2G will indicate order acceptance: (a) with a written order confirmation; or (b) by executing the order. Specific product characteristics, including but not limited to product weight, dimensions, value, return on investment, load, tolerance, and other technical data are not guarantees of those characteristics and are provided for information only. Buyer is not permitted to disclose any quotes, prices, specifications, or product information to any third party without MYG2G prior written consent.
3. TAXES – If local law requires MYG2G to collect any tax from Buyer it will be added to
Buyer's invoice and Buyer will be responsible to pay it, unless Buyer gives MYG2G a valid
tax exemption certificate. If an exemption certificate Buyer gives MYG2G is later determined
to be invalid, then Buyer will pay the previously unpaid tax.
4. TERMS OF PAYMENT – Payment terms are stated on the order documents. If no
payment terms are stated, payment is due net 30 calendar days from the date of invoice.
Buyer may not retain any payment it owes MYG2G under this contract, or otherwise set-off
any amount it owes MYG2G under this contract, for disputed claims.
5. SHIPPING, HANDLING, AND DELIVERY – Shipping terms are stated on the
order documents. If no shipping terms are stated, shipping is Ex Works. Delivery and
service dates are estimates unless MYG2G expressly agrees in writing to a fixed date or
schedule. MYG2G will use commercially reasonable efforts to meet delivery and service date
estimates. All delivery and service dates are conditioned on MYG2G's timely receipt of all
necessary information and approvals. If Buyer causes a delay in delivery MYG2G will store
and handle all items at Buyer's risk, and will invoice Buyer for the unpaid portion of the
contract price, plus applicable storage, insurance, and handling charges. MYG2G may make
partial shipments. MYG2G will not accept responsibility for any shortages or damages unless
Buyer retains all shipping containers and packing materials for inspection.
6. RETURNS – Products that is engineered, modified, customized, or configured especially for Buyer cannot be returned unless there is a valid warranty claim and the products cannot be repaired. Buyer cannot return products that is altered, damaged, used, or previously installed. Unless MYG2G makes a shipping error or Buyer makes a valid warranty claim, unused off the shelf equipment may be returned only if Buyer contacts MYG2G for approval and return instructions prior to returning anything. At its discretion, MYG2G may charge Buyer a restocking fee for any return.
7. CANCELLATION –With MYG2G's written approval, Buyer may cancel its order prior to
the shipment of product, or prior to the beginning of a service contract. MYG2G may cancel Buyer's order or require payment in advance if Buyer transfers assets for the benefit of its creditors, or if MT has reason to believe Buyer is unwilling or unable to perform its commitments. If Buyer cancels its order other than as permitted by this section, Buyer must pay MYG2G all amounts due pursuant to the order. If Buyer's order is cancelled for any reason Buyer will pay MYG2G for reasonable costs and expenses (including engineering expenses and all commitments to MYG2G's suppliers and subcontractors) incurred prior to MYG2G receiving notice of cancellation, plus MYG2G's usual rate of profit for similar work. The minimum cancellation charge is 15% of the price.
8. CHANGES – Buyer may make changes to its order if MYG2G consents in writing. To
accommodate Buyer's request for changes MYG2G may change pricing and delivery
schedules. If MYG2G performed work or purchased materials in anticipation of Buyer's order,
and the change Buyer requests makes that work or materials unnecessary, Buyer is still
responsible for paying for them.
8. METHODS OF CORRECTION OF DEFECTS DURING WARRANTY – MYG2G
may attempt to diagnose and resolve defects over the telephone or electronically.
Certain product contains remote support capabilities for direct problem reporting,
remote problem determination, and resolution. When Buyer contacts MYG2G for warranty
work, Buyer must follow the problem determination, resolution, and procedure that
MYG2G specifies. MYG2G may require return of the part or equipment to its depot for service
or to assist in problem determination. If MYG2G determines on-site work is required, a
service technician will be scheduled. If Buyer gives MYG2G notice of a defect and requests
on-site work when the defect could have been remedied remotely, or if MYG2G responds to
Buyer's notice of defect and no defect is found for which MYG2G is liable, MYG2G is entitled
to compensation for any work performed and costs it incurred as a result of Buyer's
request. Failure to install and use available remote connectivity tools and equipment
for direct problem reporting, remote problem determination, and resolution may result
in increased response-time and additional costs to Buyer.

9. REGULATORY LAWS AND OR STANDARDS – MYG2G behaves in accordance
with relevant laws. MYG2G also takes reasonable steps to keep its products compliant
with standards and regulations that may apply to Buyer's use of MYG2G's products.
However, MYG2G's products is utilized in many regulated applications and from time to
time applicable standards and regulations are in conflict with each other. MYG2G makes no
promise or representation that its equipment will conform to any laws, regulations,
codes, or standards, except as explicitly specified and agreed upon in writing by an
authorized officer. Buyer is responsible for the correct product compliance with all applicable laws and regulations.
10. DISCLAIMER OF DAMAGES –IN NO EVENT WILL MT BE LIABLE TO
BUYER OR ANY OTHER PARTY FOR ANY TYPE OF SPECIAL,
CONSEQUENTIAL, INDIRECT, INCIDENTAL, EXEMPLARY, OR
PUNITIVE DAMAGES, WHETHER SUCH DAMAGES ARISE OUT OF OR
ARE A RESULT OF BREACH OF CONTRACT, WARRANTY, TORT
(INCLUDING NEGLIGENCE), STRICT LIABILITY, OR OTHERWISE, AND
REGARDLESS OF WHETHER THE CONTRACT WOULD FAIL OF ITS
ESSENTIAL PURPOSE. Such damages include but are not limited to loss of profits
or revenues, loss of use of the equipment or associated equipment and software, cost of
substitute equipment or software, facilities, down time costs, increased construction
costs, damage to reputation, loss of customers, or claims of Buyer's customers or
contractors for such damages. Buyer may not transfer, assign, or lease the equipment
or software sold or licensed under this contract to any third party without first securing
from them the protection afforded to MYG2G in this section.
11. SECURITY INTEREST – Buyer grants MYG2G a purchase money security interest in
the product it purchases, acknowledges the validity of this grant,
and agrees not to challenge the legitimacy of this grant. Buyer will assist MYG2G in taking
all necessary actions to perfect and protect MYG2G's security interest. MYG2G is entitled to any
of the rights and remedies provided by law or in equity only if Buyer defaults on its
obligations to MYG2G.
12. LIMITATION OF LIABILITY – MYG2G is not liable for any loss, claim, expense, or
damage caused by, contributed to, or arising out of the acts or omissions of Buyer or
third parties, whether negligent or otherwise. In no event will MYG2G's aggregate liability
for any and all types of damages or losses related to this contract or the equipment,
software, or services sold, licensed, or delivered pursuant hereto exceed the cost of the
item giving rise to the claim, whether based in contract, warranty, indemnity, or tort
(including negligence). And any suit arising hereunder must be commenced within one
year from the date on which the cause of action accrues.

12. NO RESPONSIBILITY FOR GRATUITOUS INFORMATION OR
ASSISTANCE – Except for fraudulent misrepresentations, MYG2G is not responsible for
any information, assistance, or advice given to Buyer if such information, assistance,
or advice was not required by this contract.

13. FORCE MAJEURE – Except for payments owed by Buyer, the period for
performance of this contract will be reasonably extended if a party defaults or is
delayed in performing their obligations under this contract, for reasons beyond their
reasonable control. Strikes, insurrection, acts of God, war, terrorist activities,
emergencies, shortages or unavailability of materials, weather, change in law, and other
similar causes are among the reasons, but are not the only reasons, that are beyond a
party's reasonable control.

14. CUSTOMER DATA – Buyer agrees MYG2G is entitled to use, process, and store, and
allow a third party to use, process, and store on MYG2G's behalf, any data MYG2G obtains
under this contract, in accordance with relevant laws.
WARRANTIES: ABSENT A SEPARATE WRITTEN WARRANTY MYG2G
ISSUES BUYER, MYG2G EXPRESSLY WARRANTS ITS EQUIPMENT,
SOFTWARE, AND SERVICES SOLELY AS SET FORTH IN THIS SECTION. TO
THE FULLEST EXTENT ALLOWED BY LAW, MYG2G DISCLAIMS ALL OTHER
WARRANTIES, EITHER EXPRESS OR IMPLIED (INCLUDING WITHOUT
LIMITATION WARRANTIES AS TO MERCHANTABILITY OR FITNESS FOR
A PARTICULAR PURPOSE). THESE WARRANTIES MAY BE TRANSFERRED
TO A SUBSEQUENT PURCHASER OF EQUIPMENT OR A SUBSEQUENT
LICENSEEE OF SOFTWARE ONLY WITH MYG2G'S PRIOR WRITTEN
CONSENT. IN ADDITION, THE FOLLOWING CONSTITUTES BUYER'S SOLE
AND EXCLUSIVE REMEDIES FOR ANY BREACH BY MYG2G OF THIS
WARRANTY.
A. EQUIPMENT – MYG2G warrants that under normal use: (i) its equipment, except for
replacement parts, will be free from defects in workmanship and materials for one year
from the date of original installation/use, or 18 months from the date it is shipped from
MYG2G, whichever occurs first; and (ii) replacement parts will be free from defects in
workmanship and materials for 90 days from delivery. Should the defects described be
found and reported during the term of the warranty, MYG2G will, at its option, refund the
purchase price, replace the equipment, or correct the defects by furnishing replacement
parts and labor free of charge. Travel up to 80 kilometers (50 miles) from our nearest
service representative or authorized service provider is free of charge for valid warranty
claims.
B. SOFTWARE – If it is properly installed according to specifications and system
requirements, MYG2G warrants the software it develops will perform substantially the
functions described in the software documentation it provides or, in the absence of any
software documentation, as otherwise agreed in writing. MYG2G does not warrant that the
software is error-free, that Buyer will be able to operate the software without
interruption, that third party interfaces or systems connected to the software will operate
without interruption, or that the software will be free of vulnerability to intrusion or
attack. Absent a separate warranty MYG2G communicates to Buyer in writing, the warranty
period for equipment operating software is the same as the warranty period for the
equipment it's purchased with. The warranty period for any other software or software
feature is 90 days from the date of delivery. For avoidance of doubt, our warranty
includes bug fixing, but excludes any new features. Except as may be agreed otherwise in
writing, MYG2G provides no warranty for software specifically developed, amended, or
customized for Buyer. These warranties also apply to any new releases and service MYG2G
may deliver in the future.
C. SERVICE – MYG2G warrants that services will be performed in a workmanlike manner
in conformity with standard industry practice. Should any nonconformity be detected
within 30 days after the work is completed and Buyer gives MT prompt written
notification, MYG2G will supply the necessary service, direction, or consultation to correct
the nonconformity.
D. GENERAL – The foregoing warranties are further subject to the following general
conditions: (i) Consumables, accessories, normal wear and tear, wear parts, and
perishables are expressly excluded. (ii) If Buyer requests warranty work during nonstandard
work times Buyer will be charged for premium time. (iii) These warranties do
not apply where MYG2G's equipment and/or software has been subjected to: accident,
alteration, misuse, abuse, failure by Buyer to ensure proper storage, operation and/or
maintenance, installation or servicing by personnel MYG2G doesn't authorize, the addition or
supply of equipment or software not approved for incorporation into MYG2G's,
environmental or operational conditions, or software or interfacing Buyer or a third party
provide and any other causes MYG2G is not responsible for. (iv) MYG2G does not warrant the
calibration of any equipment. MYG2G does, however, warrant its equipment to be capable of
being adjusted to meet MYG2G's printed specifications, if any, for accuracy for the period of
warranty above stated when properly installed and used. (v) Products of other
manufacturers that MYG2G sells are warranted by MYG2G solely to the extent of any remaining
warranty provided by the original manufacturer. (vi) If MYG2G repairs equipment, such
repair work will not extend existing nor generate new warranty coverage for the
equipment as a whole or for those parts not repaired or replaced by MYG2G. Unless Buyer
gives MYG2G written notice in advance, and MYG2G agrees its warranty still applies, all
warranties are void if product is moved outside the country MT delivered it to.
Questions & Answers
Do you have any questions to ask merchant about this product
Ask Seller
| | | |
| --- | --- | --- |
| 5 star | | 0 |
| 4 star | | 0 |
| 3 star | | 0 |
| 2 star | | 0 |
| 1 star | | 0 |
Share your thoughts with others
Write a review
Only buyers who purchased the product may leave a review