Item Specification
Product Description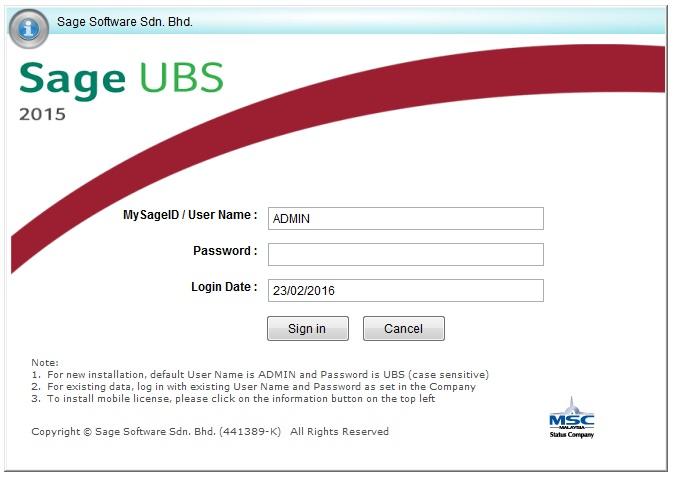 Sage UBS Accounting With Billing Software Version 2015
UBS Accounting is the first step to a computerised business. With more than 135,000 installations in Malaysia alone,
we are now a household brand among Small Medium Businesses (SMBs). Many institutions of higher learning prefer UBS Accounting as part of their course as
it is simple to use and has comprehensive reports. To date, over 350 universities, colleges and private schools have incorporated
the UBS Certificate course as part of their curriculum.
Features provided in the system enable companies to work easier and more efficiently. The modules includes:
- General Ledger
- Debtors
- Creditors
- Assets Register
UBS Accounting is suitable for most companies and businesses such as:
- Accounting Firms
- Co-Operative Societies
- Manufacturing Companies
- Non-Profit Organizations
- Retail
- Restaurants
- Trading Companies
- Training Institutions
- Wholesalers
HIGHLIGHTS! Find out more about our Add-On modules which is available in this version:
- UBS eCredit Controller
- UBS ePayMaster
- UBS eWebMaster
- ACT! by Sage for UBS
- UBS Mobile
NEW FEATURES:
1. Wizard Setup
a. Available during initial setup.
- Serves as a quick start to new users in getting started with the system.
- Provides a step-by-step guide to set up necessary data in the system.
- Reduces the steps required to go through different menu paths in order to get all the required set up in place.
b. The step-by-step wizard includes the following business process:
Transaction Wizards
a. Simplify entry process for new users.
b. Provide step-by-step guide to enter transaction with samples for reference.
c. Minimize entry error.
d. The transaction wizards available are:
- Start Your Business
- Sales Journal
- Purchase Journal
- Cheque Received Journal
- Cheque Payment Journal
User Interface
a. Quick access to process flow.
b. Task flows are displayed on the new dashboard.
c. You can choose to execute tasks by clicking on the process flow button to access the entry screen directly.
d. Quick access helps to speed up access.
e. Useful for new users who are not familiar with the system.
f. Quick access process flows are grouped by the following sections:
Enhanced Features
a. Debtor Receipt and Creditor Payment – new entry screen.
i. These 2 new screens are introduced to give user a better cash flow management and to work efficiently.
ii. Benefits included:
- Overview on all bank balances.
- Users can check on running bank balance during transaction input.
- Users have the flexibility to perform knock-off and/or reverse process within the same screen.
b. Payment Services
- UBS ePayMaster
- OCBC – Easi-Giro
- HSBC – ACH & COS
- RHB – IBG
c. Additional Dashboard Reports
Six additional reports are added to the KPI list to provide easy access to critical information for better collection and fund management. They are:
- 6 months AR Aging – Chart
- 12 months AR Aging
- Debtors with outstanding exceeding 3 months
- Customer Outstanding Analysis
- Monthly collection by agent
- Monthly collection by agent
d. Excel® Add-On
This feature has been enhanced to work directly from Excel® itself. No setting or configuration required
– it is as simple as a clicking on the "Add-Ins" menu in Excel®. You can start your analysis with the following data:
- Debtor Profile
- Creditor Profile
- GL Data
- GL Balance
e. SMS
This feature is enhanced to provide more flexibility:
- Search on Debtors, Creditors and Phone Numbers for easy selection of recipients.
- Message Content text field box available for user to create own message for sending out.
- More choices available in Content Type:
   - SMS created by user
   - Top 3 Overdue Supplier
   - Top 3 Overdue Customer
   - Debtor Outstanding
   - Debtors Exceeding Credit Limit
f. Licensing
Alternative method provided to enhance user experience and eliminate waiting time. Users with internet facility can now directly login to perform:
- ONLINE License Reissuance
- ONLINE Updates – to download latest fixes and/or versions released
Questions & Answers
Do you have any questions to ask merchant about this product
| | | |
| --- | --- | --- |
| 5 star | | 0 |
| 4 star | | 0 |
| 3 star | | 0 |
| 2 star | | 0 |
| 1 star | | 0 |
Share your thoughts with others
Write a review
Only buyers who purchased the product may leave a review