Item Specification
Product Description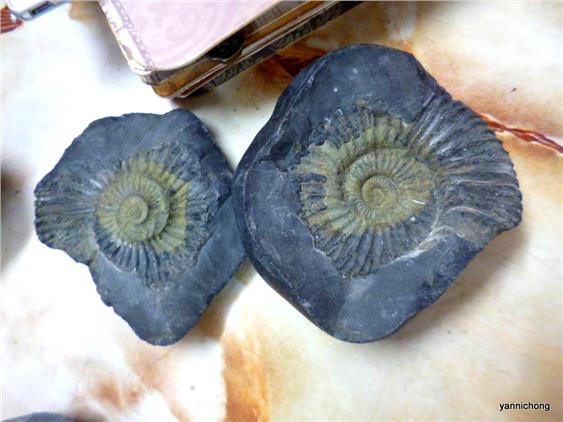 SUDERSHAN SALIGRAM
SUDARSAN CHAKRA
This is a very powerful and commenly found Shaligrama. As the name indicates Sudarsan Chakra was utilised by Lord Krishna to kill the demons and any other being who came in between 'Dharma'. Sudarsan -"One who is easy to be perceived if the seeker has sufficient devotion," or "He whose meeting is auspicious inasmuch as it removes the seeker's worldly worries." It has protected the society from the wrong doer's and saved the mankind from being devastated. The worshipper of this Shaligram gets immense protection from occult, black magic and paceful environment prevails at his place. Sudarsan Chakra keeps all devils away and so is the persons trying to harm the worshipper have a very sad end. All the obstacles are removed from path of the worshipper and he leads a very comfortable and pious life. It also helps in increasing the wit and creativity.The worshipper not only fights for his own rights but also struggles to attain the rights of others. The worship of this Shaligram is very beneficial for especially leaders, businessmen politicians, doctors and professionals. Atleast one Sudarsan Chakra Shaligram every devotee should have in his alter. The devotee gets Moksha by worshipping this Shaligrama Shila.
Worshiping this Shaligrame gives one respect equal to Lord Krishna, brings religious thinking, economic development, worldly comforts, all sorts of enjoyment, remove the fear of birth and death, will give one beauty and wealth, gives fame and a continuation of one's dynasty, kingship, lordship, gives sons, grandsons, wealth, power, peace, extreme protection and Vaikuntha Dhama.
Salagrama is a precious stone-like object of different shapes found at the Gantaki river in Nepal. These stones have special marks like spiral, chakras, thread etc. formed on them. As per Hindu belief, Salagramas are sacred with the presence of God and part of their worship. They believe that by a mere look at these stones, all the sins that one had accumulated will at once get destroyed.
According to the religious text of Devi Bhagwate (and other scriptures) to kill demonJalandhar Lord Vishnu have to destroy Sati Brindha's sati dharma. When he did that Sati Brindha gave four seeming desecrations to Lord Vishnu to become stone, grass, tree, plant. To wash away this reaction Lord Vishnu took four avatars (incarnations). He became stone (Sri Saligram) grass (Kush) tree (Pipal) and plant (Tulsi). from this time onwardse the Saligrams are considered to be most auspicious to behold and to worship. As per Skanda Purana there can never be a price put on any Shaligram as there is not enough gold, jewels or any precious thing exist in the world to equal even a single Shaligram.

---
PAYMENTS THRU MAYBANK TRANSFERS, OVERSEAS BUYER , PAYPAL OR WESTERN UNION.FOR OVERSEAS BUYER PLEASE CONFIRM WHICH TYPE OF PAYMENT.
DELIVERY THRU POSLAJU , FOR LOCAL TOWN , P. MALAYSIA CHARGES ARE RM9. 00 AND EAST MALAYSIA IS RM11.00 FOR NORMAL BELOW 500 GRAMS MAILING. ABOVE 501 GRAMS , POS LAJU CHARGES ARE AS ACCORDING TO POS LAJU RATES.
FOR OUT SIDE MALAYSIA , SHIPPING CHARGES AS ACCORDING TO POST OFFICE .
PLEASE DO INQUIRE , COMMUNICATE WITH ME , IF YOU ARE NOT SURE ABOUT THE ITEMS, OR ANY MATTER BEFORE BIDDING.I WILL REPLY YOU ASAP.
FOR EXPENSIVE OLD AMULETS , PLEASE MAKE VERY SURE YOU KNOW THE ITEM AND YOU UNDERSTAND THOROUGHLY WHAT YOU ARE BIDDING FOR.
ANY QUESTIONS PLEASE ASK .