Watch, Play, Work in Style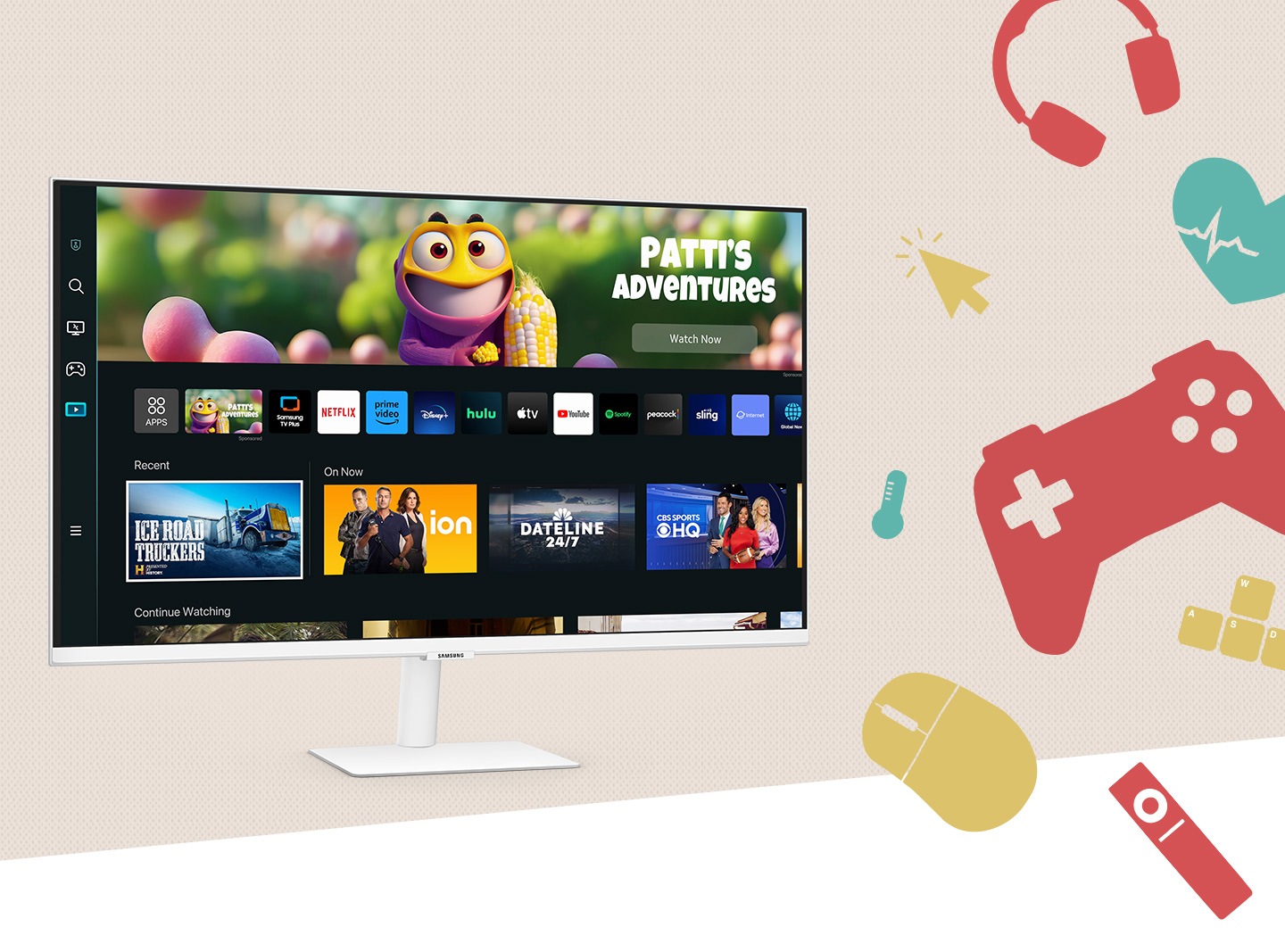 Experience smarter entertainment
Smart TV Apps
Native streaming apps make it easy to catch up on your favorite shows without a PC and switch between your favorite apps with a mouse. Adaptive Picture automatically gives you optimized screen brightness for your environment, and Adaptive Sound adjusts the audio to the right level for the scene.
There is a monitor. Then a mouse appears, and it clicks Amazon Prime Video. A content is played, and there are circles to represent built-in speakers. On the bottom of the screen, there are prime video logo and the content title, 'The Marvelous Mrs Maisel'. Lastly, the Media home UI appears.
* App availability may vary by country and separate subscriptions may be required.* Requires internet connection and TV tuner is not included.* Samsung TV Plus and Universal Guide may not be available in some regions.* Remote control specifications may vary by country.*Samsung account required for certain apps and services, including: streaming and game apps, app stores, connection and control functions with other devices including SmartThings, and various network-based smart services such as the Internet.* If you do not log in to your Samsung account, you can only connect to external devices (e.g., HDMI).* Keyboard and mouse control may not be supported in some apps.
Where gaming comes together
Gaming Hub
Samsung Gaming Hub is the ultimate home for gaming. Instantly play the biggest games from top streaming partners, with no PC or console needed. Discover new games or replay old favorites all in one place.
* Gaming Hub is available in limited countries, with app availability differing by country.* Accessing Gaming Hub is free of charge. Subscription may be required to access content offered by game-stream providers on the Gaming Hub platform.* A separate controller may be required depending on the specific game you are playing on the Gaming Hub.* Requires internet connection.
Access your work tools, without a PC
Workspace
Click, drag and type your way through your work day with embedded productivity apps. The Smart Monitor lets you access and control your PC remotely, and multiscreen in a major way with wireless PC mirroring. Or go PC-free with direct access to Microsoft 365 and the Internet.
There is the Smart Monitor connected with a desktop, keyboard and mouse with wires. Then the area of desktop blinks, and it disappears. But still, the monitor screen is keep showing an excel file, meaning document work is available only with the monitor.
* On-screen content simulated for demonstration purpose.* Microsoft 365 requires Microsoft account.* Wireless DeX supported on selected Galaxy, Note, and Tab devices.* Windows 10 Pro, Mac OS 10.5, or higher, and compatible network settings are required for this feature.
Stay in focus and keep the conversation alive
SlimFit camera
Always capture your good side. Adjust the SlimFit camera to get your best angle. Look your best in video calls through apps like Google Meet as you catch up with friends or make new connections.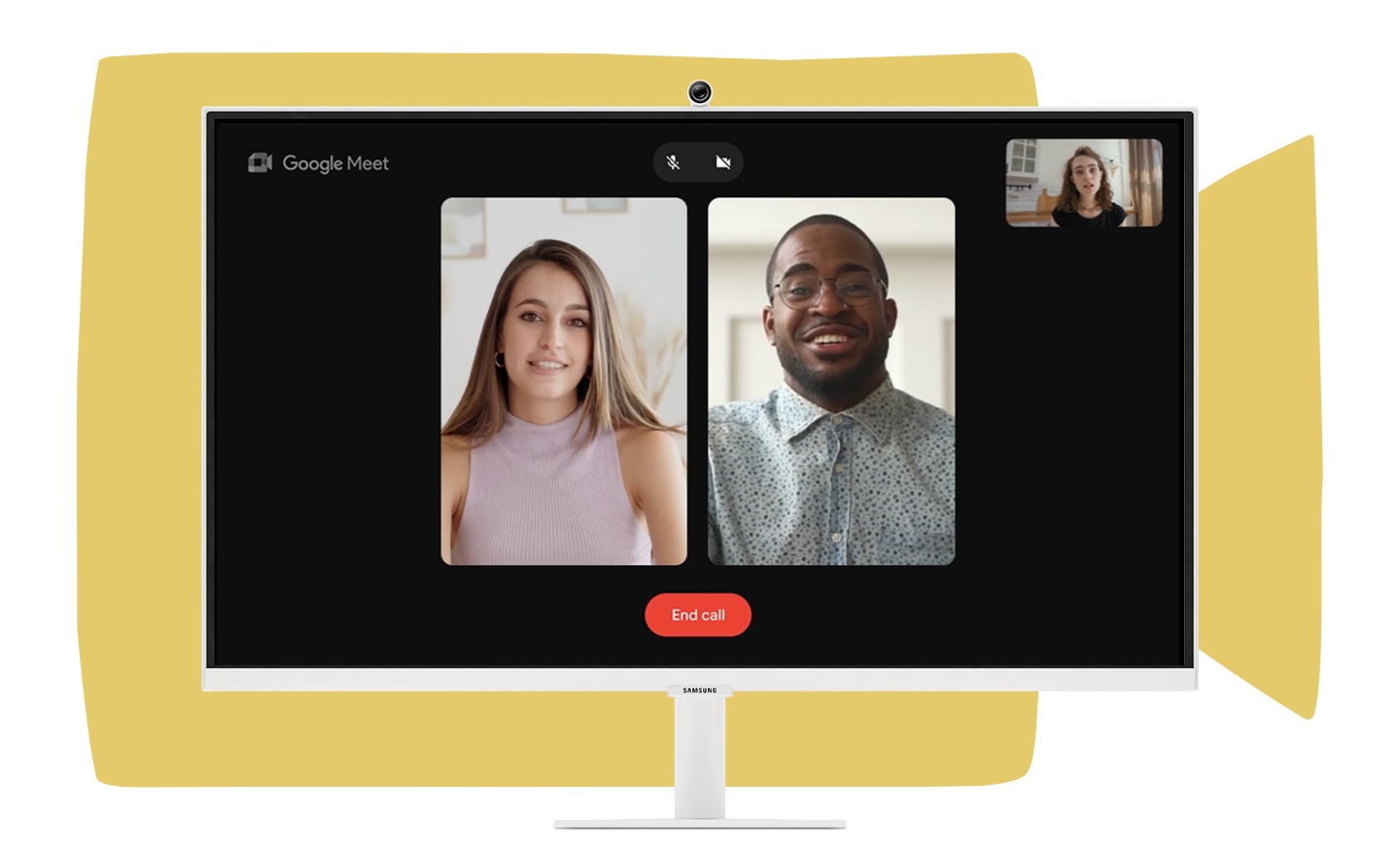 There is Google Meet screen with 2:1 call situation and next to it, a camera of the monitor is zoomed in, showing the movement of the camera angle.
* Camera accessory should be purchased separately.
Content on the big screen made easy
Mobile connectivity
Convenient connectivity. With AirPlay integration, you can wirelessly connect Apple devices to the Smart Monitor and view on a bigger screen. Enjoy your favorite content from an iPhone, iPad, and Mac on the Smart Monitor and even mirror apps, documents, and websites.
A smartphone and monitor sit side-by-side. The smartphone shows a woman posing with a skateboard. The same woman with skateboard is shown on the monitor. The smartphone's gallery app swipes through different photos which are also shown on the monitor screen.
* AirPlay or mobile mirroring requires iOS 12.3 or later, or macOS 10.14.5 or later, or Android OS 8.0 or later. * This function may not be supported depending on the model or geographical area.
Connect with convenience
Multiple Ports
Connect completely to the Smart Monitor and gain full control by using all your peripherals at once – wireless mouse and keyboard, headphones, additional screens and more. 2 USB-A and 2 HDMI ports let you make the most of your setup, without hassle.
Simple control for your smart home
Built-in IoT Hub
Manage your smart home without pausing your shows. The Smart Monitor lets you live comfortably with the SmartThings app, an all-in-one hub for your smart home devices. Turn off your lights, adjust your thermostat and more all without leaving your seat.
* Available technology, functions and features may vary by country, service provider, network environment or product, and are subject to change without notice.* Requires a Wi-Fi, Bluetooth or other wireless network connection and devices registered to SmartThings app.* A separate SmartThings Dongle is required to connect to Zigbee and Thread devices. (Connection to Z-Wave device is not supported)* Connected devices are sold separately. For full compatible device list, please check https://www.smartthings.com/products.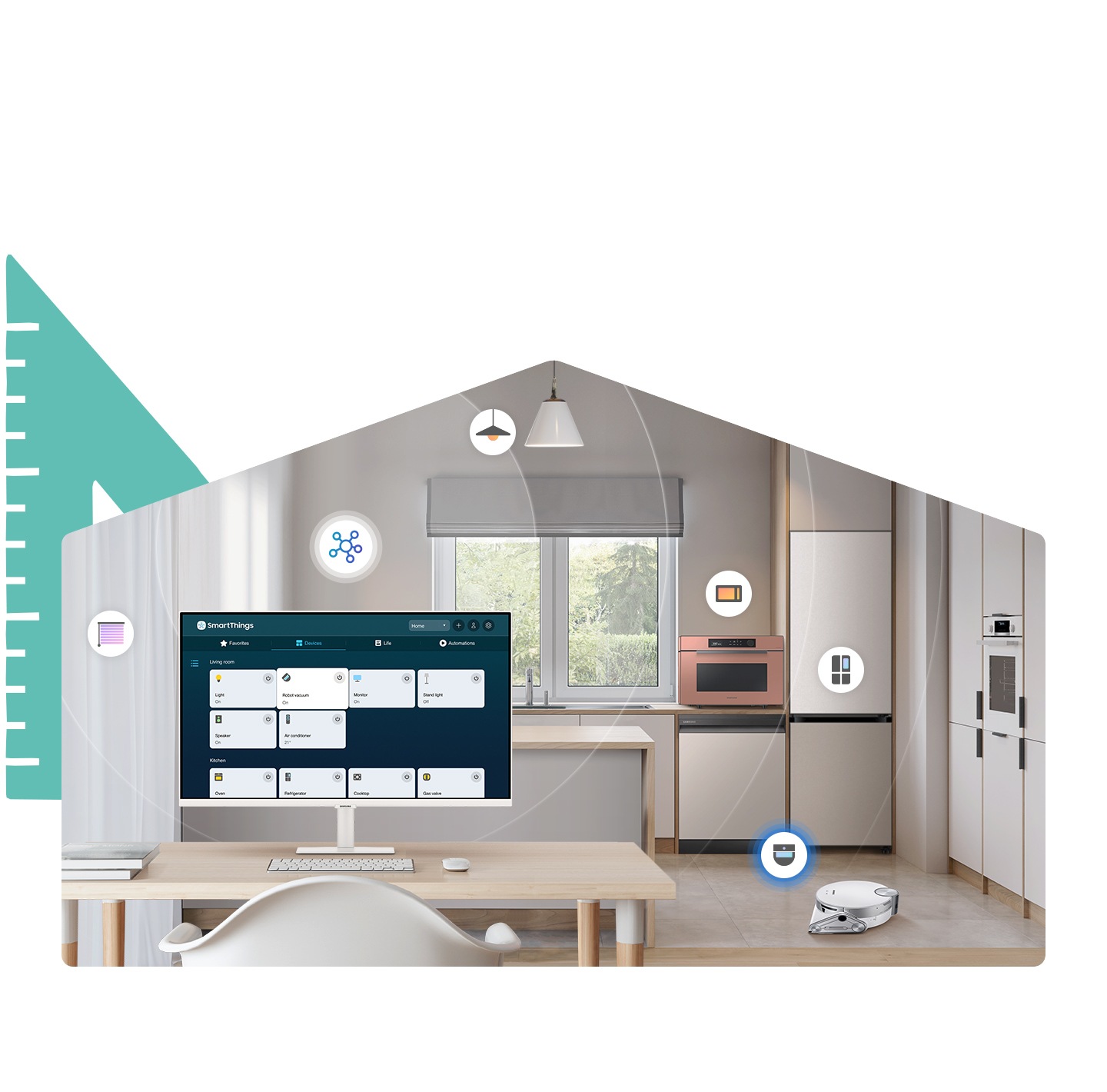 A welcome board that greets you daily
My Contents
Start every day with a friendly greeting. The Smart Monitor's new My Contents Feature automatically shows you the personalized content you want. See your photos, weather and more at a glance, without lifting a finger.
When a phone is near the monitor, the monitor screen is on and some information – time, weather, and images is shown. And 'welcome!' message appears as well. And when the phone is away from the monitor, the screen is off.
Specifications
Resolution1,920 x 1,080

Aspect Ratio16:9

Brightness (Typical)250cd/㎡

Contrast Ratio Static3,000:1(Typ.)

Response Time4ms(GTG)

Refresh RateMax 60Hz
Specifications Detail
Display
Screen Size (Class)32
Flat / CurvedFlat
Active Display Size (HxV) (mm)698.4 x 392.85mm
Screen CurvatureN/A
Aspect Ratio16:9
Panel TypeVA
Brightness (Typical)250 cd/㎡
Brightness (Min)200 cd/㎡
Contrast Ratio Static3,000:1(Typ.)
Contrast Ratio (Dynamic)N/A
HDR(High Dynamic Range)HDR10
HDR10+N/A
Mini LED Local DimmingN/A
Resolution1,920 x 1,080
Response Time4ms(GTG)
Viewing Angle (H/V)178°(H)/178°(V)
Color SupportMax 1B
Color Gamut (NTSC 1976)N/A
Color Gamut (DCI Coverage)N/A
sRGB CoverageN/A
Adobe RGB CoverageN/A
Refresh RateMax 60Hz
General Feature
Eco Saving PlusN/A
0.00 W Off modeN/A
Eye Saver ModeYes
Flicker FreeYes
Picture-In-PictureN/A
Picture-By-PictureN/A
Quantum Dot ColourN/A
Game ModeYes
Image SizeYes
Daisy ChainN/A
Windows CertificationWindows 10
FreeSyncN/A
G-SyncN/A
VESA Adaptive-SyncN/A
Off Timer PlusN/A
Black EqualizerN/A
Low Input Lag ModeN/A
Virtual AIM PointYes
Core SyncN/A
Game Bar 2.0Yes
Gaming HubN/A
Refresh Rate OptimizorN/A
Super Arena Gaming UXN/A
HDMI-CECYes
Auto Source SwitchAuto Source Switch+
Adaptive PictureYes
Ultrawide Game ViewYes
KVM SwitchN/A
Smart Service
Smart TypeSmart
Operating SystemTizen™
BixbyN/A
Far-Field Voice InteractionN/A
TV PlusYes (AU Only)
Universal GuideN/A
Alexa Built-inN/A
Video CommunicationGoogle Meet
Web ServiceMicrosoft 365
SmartThings HubYes
Multi Device ExperienceMobile to Screen, Screen initiate mirroring, Screen Sound to Mobile, Sound Mirroring, Wireless On
Wireless DeXYes
My ContentsYes
ScveenVitalsN/A
Multi Viewupto 2 videos
Smart CalibrationN/A
NFTNifty Gateway
Knox VaultN/A
Tap ViewYes
Remote AccessYes
Interface
Wireless DisplayYes
D-SubN/A
HDCP Version (D-Sub)N/A
DVIN/A
HDCP Version (DVI)N/A
Dual Link DVIN/A
Display PortN/A
Display Port VersionN/A
HDCP Version (DP)2.2
Display Port OutN/A
Display Port Out VersionN/A
Mini-Display PortN/A
HDCP Version (Mini-DP)N/A
HDMI2 EA
HDMI Version1.4
HDCP Version (HDMI)2.2
Micro HDMIN/A
Micro HDMI VersionN/A
HDCP Version (Micro HDMI)N/A
Audio InN/A
HeadphoneN/A
USB Hub2
USB Hub VersionN/A
USB-CN/A
USB-C Charging PowerN/A
HDCP Version (USB-C)N/A
Thunderbolt 3N/A
Thunderbolt 3 Charging Power (Port 1)N/A
Thunderbolt 3 Charging Power (Port 2)N/A
Version of ThunderboltN/A
HDCP Version (Thunderbolt)N/A
Ethernet (LAN)N/A
Wireless LAN Built-inYes (WiFi5)
BluetoothYes (5.2)
Built-in CameraN/A
Windows Hello CertificationN/A
Audio
SpeakerYes
Speaker Output5W x 2
Adaptive SoundAdaptive Sound
Operation Conditions
Temperature10~40 ℃
Humidity10~80(non-condensing)
Calibration
Factory TunningN/A
Built in Calibration EngineN/A
LUT(Look-up Table) Bit DepthN/A
Gray BalanceN/A
Uniformity CorrectionN/A
Color ModeN/A
CMS(Color Management Software)N/A
Factory Calibration ReportN/A
Design
Front ColourBLACK
Rear ColorBLACK
Stand ColorBlack
Stand TypeSIMPLE
HAS(Height Adjustable Stand)N/A
Tilt-2.0°(±2.0°)~+22.0°(±2.0°)
SwivelN/A
PivotN/A
Wall Mount100 x 100
Eco
Energy Efficiency ClassN/A
Recycled PlasticN/A
Power
Power SupplyAC 100~240V
Power Consumption (Max)60 W
Power Consumption (Typ)N/A
Power Consumption (DPMS)N/A
Power Consumption (Off Mode)N/A
Power Consumption (Yearly)N/A
TypeInternal Power
Dimension
Set Dimension with Stand (WxHxD)716.1 x 517.0 x 193.5 mm
Set Dimension without Stand (WxHxD)716.1 x 424.5 x 41.8 mm
Package Dimension (WxHxD)842.0 x 133.0 x 487.0 mm
Weight
Set Weight with Stand6.2 kg
Set Weight without Stand5.1 kg
Package Weight8.1 kg