Item Specification
Product Description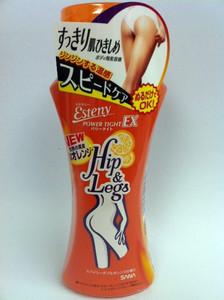 PRODUCT DESCRIPTION
-With citrus, sea minerals and seaweed extract, able to allow skin tightening
-Focusing on lower part of the body, significant result with hot and cool effect
-Feel fresh with citrus fragrance
-Country of origin: Japan
-Suitable for all skin type

INGREDIENTS
Contains Oriental Herbal Plant extracts, including Bitter Orange, Clover and Algae, which help to accelerate blood circulation, boost up the effectiveness of fat burning, tight and firm up the skin by circular massage motion. It also helps to improve the appearance of cellulite around thigh and hip areas.
FOR BEST RESULT
After bathing, slightly dry skin. Apply an appropriate amount to the parts in need. Massage for 2 – 3 minutes.

WHY I LIKE THIS PRODUCT
The second biggest insecurity for me is the lower half of my body (the first being my skin). So I'm constantly in search for any products that can help me tighten those areas. I first heard about the Sana Esteny Power Tight Ex for hips and legs After reading her review, I was sold in trying this product for myself. Now I think it's important to note that this product is not going to help you lose weight. The most effective ways to lose weight are still exercise and proper diet. But I do find that this product is really good at making everything seems "tighter".

The product is a clear orange gel and it does have a huge scent. What I do is after my shower, I use a small amount on various section of my legs. A quarter size for my calves, thighs and then another quarter amount for my hips. Then I would massage each section for like 30 seconds. After doing this, you can really feel the warming sensation so it seems to really "burn" off your fat. It's not painful, but it will feel like heat radiating from the skin.

I have been using this product for around a month now and I would say that my skin, especially behind my legs, look a lot smoother. A bottle can last me for around a month of daily use. What I also really like about this product is that it's not sticky and it dries very quickly so I can put on my clothes instantly.
★新一代SANA温热纤腿美臀按摩膏★
SANA Esteny Hip & Leg Power Tight
與日本同步上市,Annie教主撫紋去橘秘訣都靠它!
★给你HOT紧实感!强力推荐
适用想保持体态轻盈者~
我的美人计陈孝萱介绍!!!
新添加冷热温感交替,代谢更快!
橘皮组织杀手★柑橘香味清新怡人
添加佛手柑、海藻、香木犀、米、欧洲七叶树、酸橙花、天然植物…等萃取精华,质地清爽保湿的美容液型态,使用时好吸收不会油油腻腻的造成肌肤多余的负担,又含丰富的美肌成分,一边按摩一边吸收。

日本SANA勻體系列,推出新一代撫紋去橘美容液,添加了300%柑橙花發熱精華,經按摩後會慢慢產生溫熱感,加速脂肪運動,天然維他命柑橘修護成分,快速撫紋,輕鬆和橘皮組織說ByeBye!
新一代撫紋去橘美容液還添加大豆異黃酮、海藻、三葉草花等天然嫩白美膚成分,讓肌膚保有滋潤與彈力,美膚&去肥一舉數得!
使用說明:取適量去橘液均勻地擦在肥胖部位,充分按摩後讓肌膚吸收,不需沖洗;使用完畢請將雙手洗淨,若不慎碰觸眼唇,請以清水沖淨即可。
**已通過SGS總生菌數、葡萄球菌、綠膿桿菌檢測 **
我的美人计陈孝萱介绍,橘皮组织杀手。
SANA 柔纤去橘皮精华素,全新的触感体验,温和冷感→温感→肌肤紧致+透明弹力感UP,富含维他命柑橘修护成分,舒缓下半身的橘皮组织问题,完全不黏腻,也可当 作身体乳液使用,加入天然植物萃取液,墨角藻属植物精华,能紧致肌肤,加入天保湿成分,红花草、甘草、柑橙花精华与黑糖、深海盐卤,让肌肤保有滋润光滑与 弹力。按摩后会慢慢产生温热感、淡淡的佛手柑香味,清新自然。
【建议使用部位】独有针对消除下半身积聚的脂肪;腹部、臀部、腿部肌膚、全身肌膚(胸部、臉部肌膚除外)
【建议适用对象】最适合孕妇产后、长时间久坐者使用。沒時間運動者、想撫紋去橘的美眉、想保持體態輕盈者。
【使用方式】充分摇晃后,取适量涂抹于脸部以外的部位轻轻按摩使用,沐浴或运动后使用效果更佳。大约按摩
2-3分钟,使用后无须冲洗身体。

Last Updated @ 11/6/2014 11:17:20 PM








---
How to Buy?
Method 1: For Lelong User.
Note:

-Netpay is own by Lelong.com.my and will charge extra 3% on every transaction. We recommeded buyer to click on other payment method then pay direct to seller. Doing this way will save you 3% of netpay transaction charges and in case of out of stock will get full refund.
-No need to send us any email or sms after payment. Just remember to update your buynow order.
Method 2: For Non Lelong User Or Buy Direct

AFTER you had made the payment, please email or sms me the following to make order(For method 2 only). We dont really need the payment slip. Keep the slip upon request only.
1. Item Title:
2. Date Time of Payment:
3. Amount Paid:
4. Which bank you transfer to (Maybank / CIMB /ETC):
5. Receiver Name:
6. Shipping address:
7. Contact Number:
Seller Account acceptable are ,
MAYBANK,CIMB,PUBLIC BANK,ALLIANCE BANK,HSBC,RHB BANK,HONG LEONG BANK,AMBANK
Please require from us what bank you desire to bank in makesure the bank is the same bank of your account therefore payment can go through at the same day.
*********************************************************************
ATTENTION TO ALL BUEYR WHO PAID WITH NETPAY to LELONG COMPANY (No Full Refund to NETPAY Buyer)
NETPAY
Credit Card payment only.
(Total price include shipping) + 3%
example:
RM100 + 3% = RM103
P/S: If you pay using maybank2u, cimbclicks, HLB via netpay, all out of stock item will not be fully refund becauseNetpay has charge 3%
Example:
You have paid RM100. RM100 - 3% = RM97 will be refund only.
***************************************************************************************
Any more enquiries, Please contact
IMPORTANT!!
-No need to ask me got received the payment or not. Make sure you had update your buynow order or already sent email/sms order to me. Call me only if i did not update tracking number to you on next working day after 1pm.
-For International shipping please make a order and we will calculate the shipping charges and update to you.
-Payment that make after 1pm will not be shipping on the same today. If can please make payment before 3pm so we can today.
PLEASE CONTACT US IF YOU HAVNET RECEVED THE PARCEL AFTER 3 DAYS FROM THE DATE WE POSTED.
LATER THAN THAT INFORMED US CONSIDERED RECEIVED.IF POST OFFICE RETURNED TO US AND RESEND THE POSTAGE MAY PAY BY BUYER.
WEST MALAYSIA: SKYNET~ First 1Kg - RM 7
EAST MALAYSIA POS LAJU/POS DAFTAR
Notices:
We are sending out the parcel as per follows days:
Working hours: Monday-Friday (All Parcel will be send out before 2PM)
Office Off: Saturday, Sunday /Public Holiday (Accept order but not send parcel)
We only dispose your order on our working days. Thanks
If parcel of you are FREE Delivery by our store for first delivery but if you are personally return the stock then buyer may bear the postage. If resend occur then buyer may also pay for resend.
We only bear for the postage if we are sending wrong item to you. (Excepted we discussed and deal before delivery.
娓╅Θ鎻愰啋
鎴戜滑宸茬粡鍖呴偖鐨勫寘瑁广€ä½½î…¹é—曪ç´Âæ¿¡å'šå½'鐢熼偖灞€é–«€é¥ç'²æ´œæ¶"烘病浜鸿棰嗙殑鍖呰9锛岄噸é™æˆœç«´å¨†ï¿ å–ç'å½'å…˜æ¶"嶅寘閭簡é"›å±¼æ‹±ç€¹æƒ°åšœæµ 橀偖ç'广€ï¿½
濡傛灉鍥犱负涓汉鍘熷洜閫€ç'Ñç´Âé–­î†¿åž'涔板î†Âé'·îƒç²¯é"›å±½î›§ç'•ä½¹åžœæµ 噸鍙æˆÅ¾æµ›éŽ¹î®ç´Âé–­î†¿åž'涔熸槸涔板î†Âé'·î‡ç¤‹é"›å±¼ç¬‰é–呮嫭鍦ㄥ寘閭幆鑺傚唴銆�
璋㈣阿
For more information,kindly Email us.
Make payment between 48 Hours
Goods sold are not returnable.
Goods sold are not returnable.
If our product problem,we may dicuss for exchange.
Questions & Answers
Do you have any questions to ask merchant about this product
Ask Seller
| | | |
| --- | --- | --- |
| 5 star | | 0 |
| 4 star | | 0 |
| 3 star | | 0 |
| 2 star | | 0 |
| 1 star | | 0 |
Share your thoughts with others
Write a review
Only buyers who purchased the product may leave a review