Item Specification
Product Description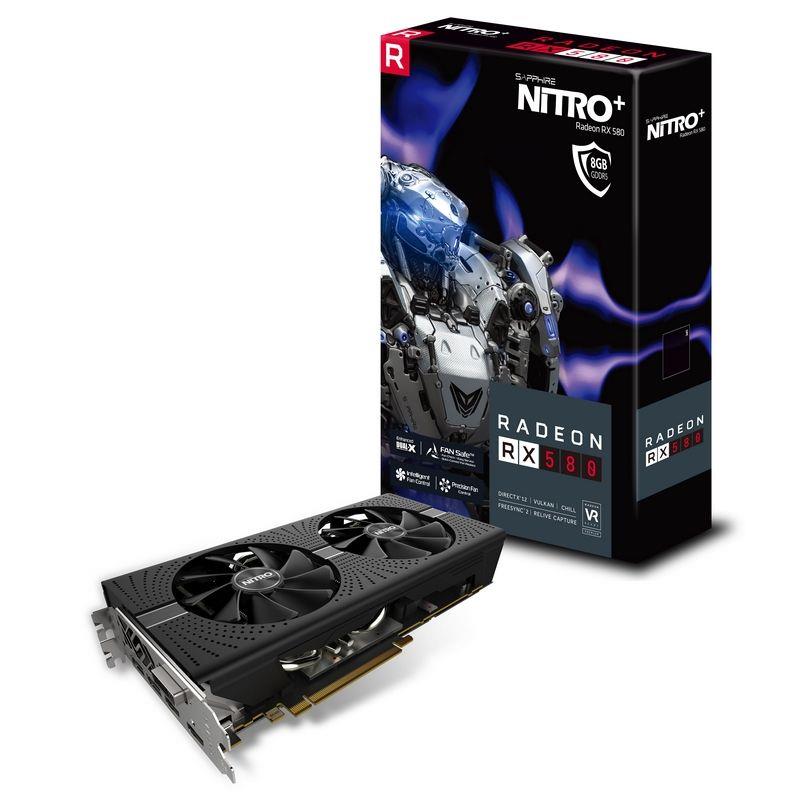 SAPPHIRE NITRO+ Radeon™ RX 580 8GD5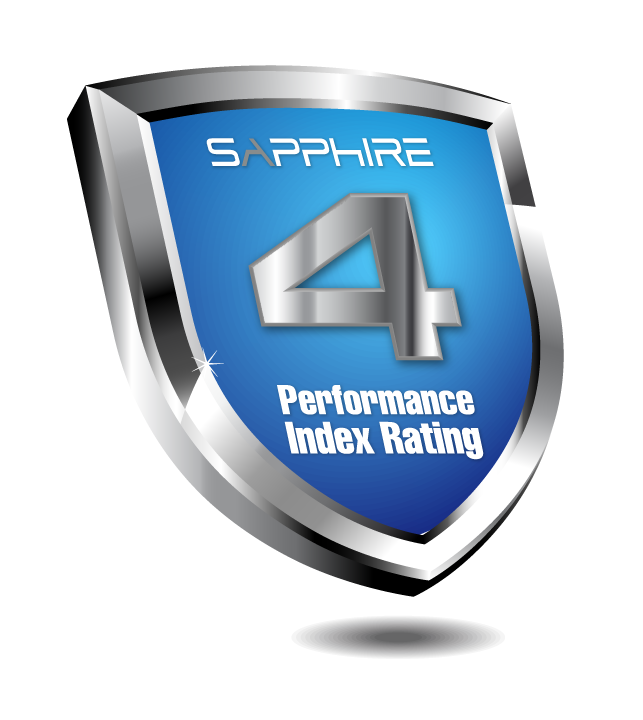 To continuous streamlining of FinFET 14 nm production process, the latest Polaris GPUs that power SAPPHIRE NITRO+ Radeon RX 580 cards are even more energy-efficient. This allowed SAPPHIRE to crank up the clocks and reach up to 10% better performance compared to previous series. To add even more headroom for overclocking. Factory overclocked cores of the standard SAPPHIRE NITRO+ RX 580 run with a 1411 MHz boost clock.
4th generation Graphics Core Next GPUs of the Radeon RX 500 Series feature improved geometry engine, new display engine, increased caches and native asynchronous shaders. Equipped with 2304 GCN-based stream processors, the SAPPHIRE NITRO+ Radeon RX 580 is the card to run modern games in 1080p and beyond, as well as deliver premium VR experiences.
GPU

2304 Stream Processors
14 nm FinFET
4

th

Graphics Core Next (GCN)
1411 MHz Boost Engine Clock

Memory

256 bit Memory Bus
GDDR5 Memory Type
2000 MHz, 8000 MHz Effective
8 GB Size

BIOS Support

UEFI BIOS

Displays

Maximum 5 Outputs

Output

1 x DVI-D
2 x HDMI
2 x DisplayPort 1.4

Resolution

3840x2160 (120Hz) Pixel DisplayPort Resolution
2560x1600 (60Hz) Pixel Dual Link DVI Resolution
3840×2160p (60 Hz) HDMI Resolution

API

OpenGL® 4.5
OpenCL 2.0
DirectX® 12
Shader Model 5.0

Feature

AMD CrossFire
FreeSync Technology
AMD Eyefinity
Quad HD Display (4K*2K Support)
Dual BIOS
AMD Liquid VR Technology
AMD Xconnect ready
DirectX™ 12 Optimized
Radeon VR ready Premium
HDR Ready
Frame Rate Target Control
NITRO Fan Check
NITRO Quick Connect system
NITRO Glow RGB LED
NITRO CoolTech(NCT)
NITRO Free Flow
Dual-X Cooling
NITRO Boost
Intelligent Fan Control III
Black Diamond Choke 4
Fuse protection
Precision fan control
Robust VRM Cooling
Radeon Chill
Radeon Relive

Cooling

Dual-X fans
Two ball bearing

Form Factor

2.2 Part Slot Occupied
260(L)X 135(W)X 43 (H) Dimension /mm

Power Consumption

<235W

OS

Windows 10 Windows 7 

System Requirement

500 Watt Power Supply (Suggestion)
1 x 8-pin AUX Power Connector
1 x 6-pin AUX Power Connector
Blue-ray™ / HD DVD playback requires Blu-ray / HD DVD drive.
PCI Express® 2.0 or higher version based PC is required with one X16 lane graphics slot available on the motherboard in order for the card to be compatible with.
Specifications provided here are for guidance only. Please check with your regional distributor or dealer for latest specifications.

Colors of PCB or other components may differ from those illustrated.

SAPPHIRE reserves the right to update or revise specifications without prior notice.

All trademarks and logos are acknowledged as the property of their respective holders.
Fuse protection
In order to protect your card, the SAPPHIRE NITRO+ series cards have fuse protection built into the circuit of the external PCI-E power connector to keep the components safe.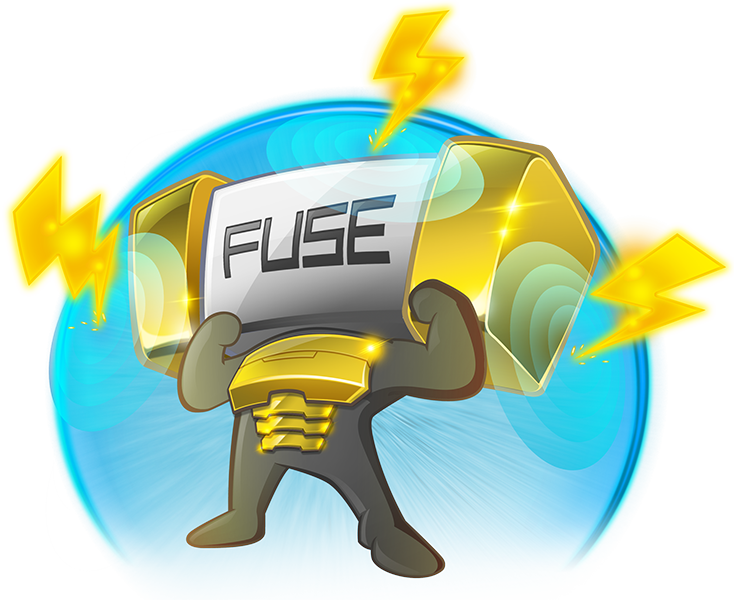 ---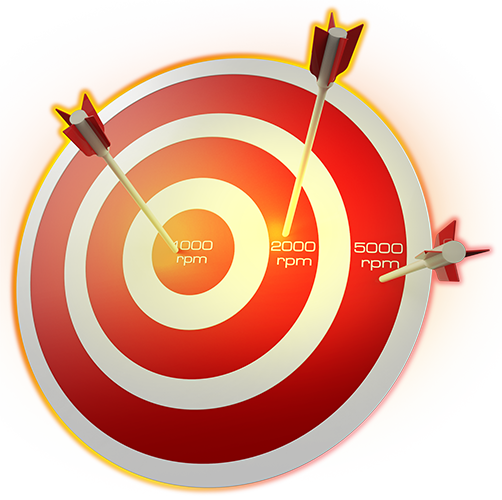 Precision fan control
Standard industry fans may have up to 10% difference between their fan rotation cycles (RPM). With the new Fan IC Control on SAPPHIRE NITRO + graphics cards, this differential is reduced to 3%. This 70% improvement on accuracy ensures that cooling and noise performance of every NITRO + card is up to scratch.
---
Robust VRM Cooling
The SAPPHIRE NITRO+ cards are designed with robust VRM cooling and have a high thermal conductivity pad on the backplate to take away the heat efficiently and effectively.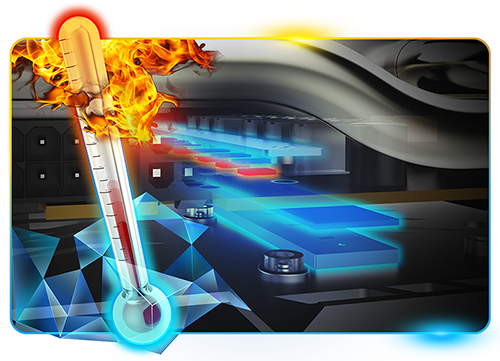 ---
Black Diamond Choke 4
Our Black Diamond Chokes are 10% cooler and 25% more power efficient than a normal choke - and these Mark 4 Chokes reduce the coil temperatures by other 15% over the Mark 3s.
These exclusive chokes will maintain gaming stability using their built-in heatsinks and help minimize coil whine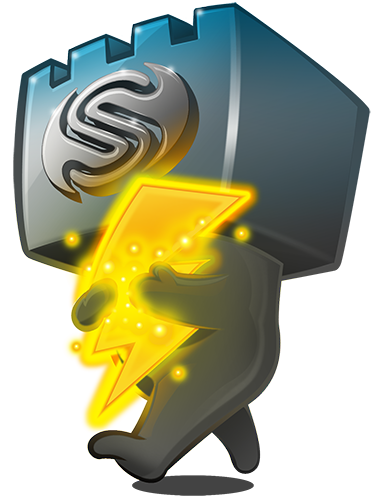 ---
Dual Ball Bearing - 1.85X longer life
Dual ball bearings on the fan spindles ensure smooth running and long life and are designed to keep out dust. A quiet cooling solution, Two ball-bearing fan features a high-efficiency blade design.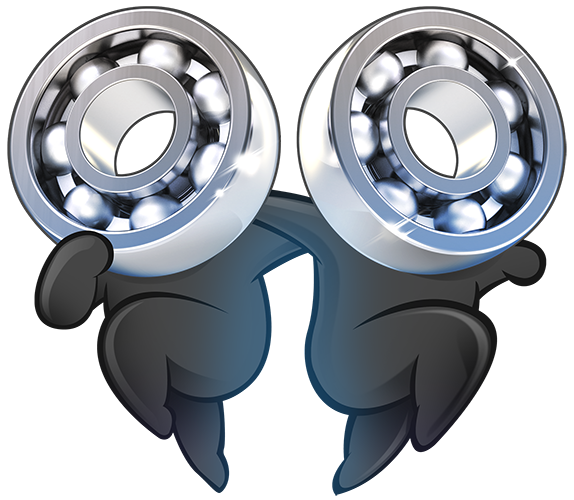 ---
Long life black polymer cap
High quality aluminum-made long life capacitor is not only to extend the component life time, the product reliability and overclocking ability are also improved. When operational temperatures dropped by 20°C, the product life span is going to be extended up to a factor of ten. In addition, when the operational temperature increased by 20°C, the product life span only decreased by 10%.
---
Nitro Glow 2
The graphics card is more than another component; it's the beating heart of your gaming system. It should look as good as it costs. With tasteful shroud design augmented by RGB LEDs, each card is practically a piece of art. You can even change the colours of the LED, for your own customized design. This can be controlled via software using the latest version of SAPPHIRE's Award Winning Overclocking Utility – TriXX 3.0. Users can choose from a set of five different modes including Fan Speed Mode, PCB Temperature Mode or the colourful rainbow mode. If you prefer, LEDs can also be turned off.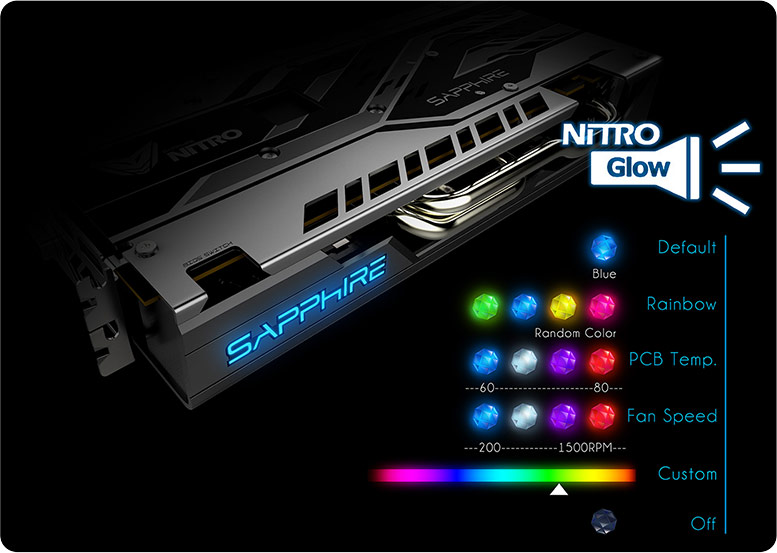 ---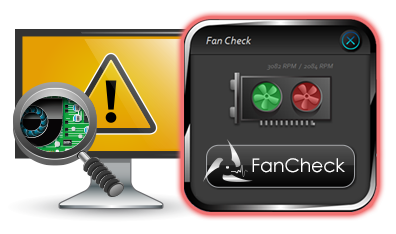 Fan Check
With NITRO+ models, SAPPHIRE has upped the stakes with its new Fan Check, which allows users to check the cooler's status via SAPPHIRE TriXX 3.0 software, and contact customer support in case of problems.
---
NITRO Quick Connect
SAPPHIRE's Quick Connect System provides a quick and easy solution. If there's a fan issue detected, the user doesn't need to return the entire card – SAPPHIRE's partners will send out a replacement fan directly to the customer or the retailer. Please contact your place of purchase to request a fan replacement. SAPPHIRE's channel partner will arrange the ideal solution for you to receive your replacement fan.

---
NITRO CoolTech
With the SAPPHIRE NITRO Gaming Series cards' Intelligent Fan Control III, the fan starts precisely at 56 degrees Celsius to smartly balance performance against fan noise.

---
NITRO Free Flow
We looked at the traditional axial fan design system, and found that the way it circulates the hot air back to the fan inlet resulted in a higher temperature over time. With NITRO Free Flow (NFF) we redesigned the airflow of the entire cooler and board, so that the hot air is expelled through the system fan instead, rapidly dissipating heat.
---
NITRO Boost
The new NITRO Boost switch increases the boost clock and power limit for higher performance to unleash the gaming performance of the card.

Planning to overclock or looking for maximum performance? SAPPHRE NITRO cards come with an 8 pin power connector to plug in and enable Nitro Boost.
---
Dual-X Cooling
SAPPHIRE's acclaimed Dual-X Cooling is powered by two massive yet silent fans and state-of-the-art radiator design. The new form of our 95mm blades mean greater airflow and superior heatsink coverage at lower noise compared to standard cooling designs.
These feature dual ball bearing fans, which have an 85% longer lifespan than sleeve bearings in our tests.
---
VR Friendly
The SAPPHIRE NITRO Gaming Series cards come with Dual HDMI ports, specifically designed to work with VR. By having two HDMI ports, you can have both an HD monitor and cutting-edge VR headset running at the same time.
The ports are HDMI 2.0b, the latest update, with an 18Gbps bandwidth, up to 32 audio channels, and is able to support 4K 50/60 resolutions like 2160P, whilst remaining entirely backwards compatible with older HDMI specifications.
---
Frame Rate Target Control
Frame Rate Target Control (FRTC) enables users to set a target maximum frame rate when playing an application in full screen mode; the benefit being that FRTC can reduce GPU power consumption (great for games running at frame rates much higher than the display refresh rate) and therefore reduce heat generation and fan speeds/noise on the graphics card.
Frame Rate Target Control caps performance not only in 3D rendered in-game scenes, but also in splash screens, loading screens and menus, where frame rates can often run needlessly into the hundreds of FPS. Users might wish to set a very high cap just to limit wasteful FPS like that seen in menus and such, while still taking advantage of the responsiveness given by FPS well beyond 60.
---
DirectX® 12

DirectX® 12 is a new, "console-like" graphics API from Microsoft® that empowers game developers with more direct and obvious control of PC hardware. This direct or "explicit" control better exposes the hardware resources of AMD Radeon™ GPUs to yield higher hardware throughput and, ultimately, more performance for users. To put it simply: much more efficient hardware through smarter software! At the discretion of a game developer, this superior efficiency can be spent on higher framerates, lower latency (VR), lower power consumption, better image quality, or some calculated balance of all four. In any scenario, gamers stand to benefit greatly from choosing AMD hardware to run their favorite DirectX® 12 game.
---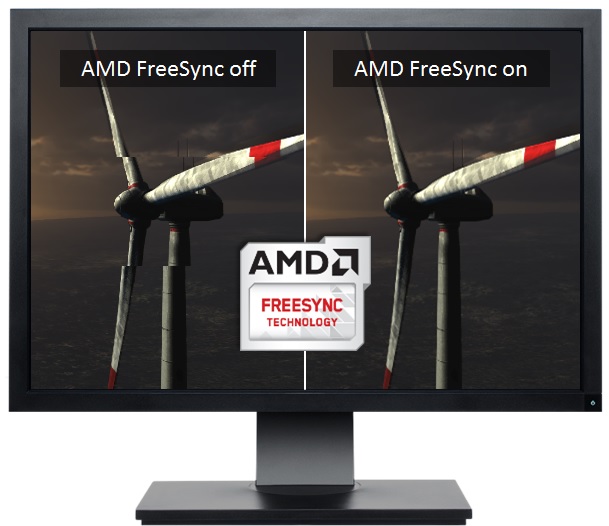 AMD Freesync technology
No stuttering. No tearing. Just gaming.
AMD FreeSync™ technology allows a compatible graphics card and monitor to dynamically change frame rates for the optimum display quality without tearing or stuay.
Industry-Standard Displayport
Freesync uses industry-standard displayport Adaptive-Sync Eliminates screen tearing without all the usual lag and latency
Synchronizes the refresh rate of a compatible monitor to the frame rate of your content, however much it varies

Monitor partners are validating with drivers from AMD now
---
AMD XConnect™ Technology
Plug in and game on with AMD XConnect technology.
Now it's easier than ever to connect and use an external Radeon™ graphics card. With AMD XConnect™ technology, external GPU enclosures configured with Radeon™ Graphics can easily connect and disconnect to a compatible ultrathin notebook or 2-in 1 over Thunderbolt™ 3 at any time, just like a USB flash drive—a first for external GPUs!
---
AMD Eyefinity Technology
Multidisplay technology for gaming, productivity and entertainment
We are taking you beyond the boundaries of traditional PC displays. AMD Eyefinity technology expands the traditional limits of desktop computing by multiplying your screen area. With multiple monitors, games become more immersive, workstations become more useful and you become more productive (an average of 42% more productive according to one study).
Take your PC games to the next level of reality and immersion. Most modern games look great on three screens, and only AMD Radeon™ graphics offer you the ability to play across five screens for an eye-popping gaming experience. Other combinations and configurations with up to six screens work too.1 Create your dream display.
---
AMD Crossfire™
Harness the power of multiple GPUs
AMD CrossFire™ technology is the ultimate multi-GPU performance gaming platform. Unlocking game-dominating power, AMD CrossFire™ harnesses the power of two or more discrete graphics cards working in parallel to dramatically improve gaming performance.1 AMD CrossFire™ technology ready graphics cards fit practically every budget. With the flexibility to combine two, three or four GPUs, AMD CrossFire™ technology is the perfect solution for those who demand extreme performance.
---
Introducing AMD LiquidVR
LiquidVR™ is an AMD initiative dedicated to making VR as comfortable and realistic as possible by creating and maintaining what's known as "presence" — a state of immersive awareness where situations, objects, or characters within the virtual world seem "real." Guided by close collaboration with key technology partners in the ecosystem, LiquidVR™ uses AMD's GPU software and hardware sub-systems to tackle the common issues and pitfalls of achieving presence, such as reducing motion-to-photon latency to less than 10 milliseconds. This is a crucial step in addressing the common discomforts, such as motion sickness, that may occur when you turn your head in a virtual world and it takes even a few milliseconds too long for a new perspective to be shown.

---
HDR Ready
High Dynamic Range (HDR) is a state-of-the-art technology for gamers and cinephiles that care deeply about the display quality of their TV or monitor. Modeled after the acuity of human vision, HDR vastly expands the range of colors and contrast ratios that can be shown by compatible displays. HDR-ready games and movies played on an HDR display appear strikingly sharp, colorful, and vivid, with enhanced contrast and sophisticated nuance compared to even the most stunning SDR content.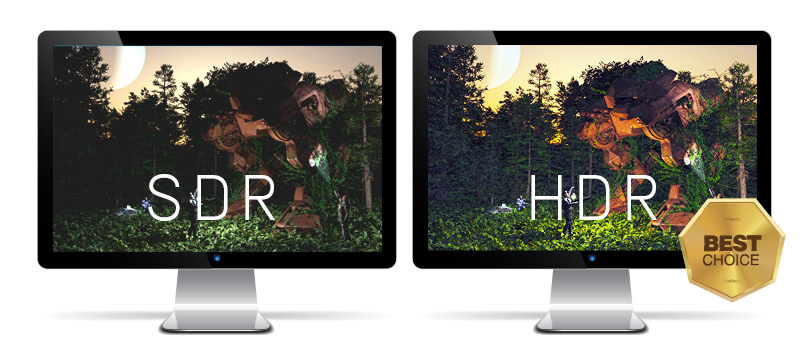 Last Updated @ 7/12/2018 5:46:37 PM
Buy with confidence
| | | | |
| --- | --- | --- | --- |
| Buyer | Item ID | Date | Ratings |
| ei**** | 195857434 | 7/18/2018 6:06:00 PM | - |
| ga**** | 195485128 | 7/18/2018 10:08:00 AM | - |
| jo**** | 195496745 | 7/17/2018 5:57:00 PM | - |
| me**** | 205714529 | 7/17/2018 1:51:00 PM | - |
| ne**** | 205638192 | 7/16/2018 9:30:00 PM | - |
| tc**** | 205638192 | 7/14/2018 6:05:00 PM | Installed it and it works well. Expected. Great product. |
| te**** | 195496745 | 7/14/2018 2:07:00 PM | Good Service , arrive at expected time , genuine product , fair price , well done , keep the service like that |
| sy**** | 203676793 | 7/13/2018 9:36:00 PM | Items well packed and received in good condition. |
Recent Transactions
Buyer
Product
Details
ng****
# SAPPHIRE NITRO+ Radeon™ RX 580 8G | D5 # 1411MHz
2 pcs


21/12/2017

ji****
# SAPPHIRE NITRO+ Radeon™ RX 580 8G | D5 # 1411MHz
3 pcs


21/12/2017

ng****
# SAPPHIRE NITRO+ Radeon™ RX 580 8G | D5 # 1411MHz
2 pcs


21/12/2017

sc****
# SAPPHIRE NITRO+ Radeon™ RX 580 8G | D5 # 1411MHz
3 pcs


21/12/2017

To****
# SAPPHIRE NITRO+ Radeon™ RX 580 8G | D5 # 1411MHz
1 pcs


21/12/2017

mc****
# SAPPHIRE NITRO+ Radeon™ RX 580 8G | D5 # 1411MHz
2 pcs


01/12/2017

ni****
# SAPPHIRE NITRO+ Radeon™ RX 580 8G | D5 # 1411MHz
1 pcs


27/11/2017

ni****
# SAPPHIRE NITRO+ Radeon™ RX 580 8G | D5 # 1411MHz
1 pcs


24/11/2017

vo****
# SAPPHIRE NITRO+ Radeon™ RX 580 8G | D5 # 1411MHz
1 pcs


24/11/2017

in****
# SAPPHIRE NITRO+ Radeon™ RX 580 8G | D5 # 1411MHz
2 pcs


20/11/2017




















---
Please Go Through @ Read This Carefully; It Contains Very Important Information About Your Rights And Obligations, As Well As Limitations And Exclusions That May Apply To You Behalf Of This Purchase.

*Goods Sold / Paid / Delivered Are Not Refundable, Returnable And Exchangeable. All Items Sold Carried 1 Year In-House Warranty. Extended Warranty By Manufacturer Or Distributor After The First Year, Processing And Delivery Charges Will Be Imposed. Cancellation Fee (20%) Will Be Imposed On Orders Which Customer Require Refund Under The Condition Of Last Minutes Cancellation
*Deposit For Advance / Pre Order Is Not Refundable. Transportation / Courier Of Goods / Orders And All Cost Will Be Borne By Purchaser. For Self Collect Order, Shipping Fee Is Non-Refundable
*Buyer / Purchaser Bear The Risk For Postage / Courier Orders. Mishandling, Damaged Or Missing Parcels / Orders Are To Be Claimed With Respective Courier Company According To Their Term And Condition (Insurance Is Optional For Item Value More Than RM500 For Extra Liability Coverage)

*Please Keep Any Purchase Receipt For Warranty Purposes. Dotatech IT Enterprise Holds To The Right To Reject Any Claim Without The Presence Of Purchase Receipt. Please Request Our Official Tax Invoice In Case You Didn't Receive Them Within 7-Working Days Of Purchase FOC. In Case You Lost Or Misplaced The Invoice After That, Penalty RM15 Will Be Imposed To Reissue The Document

*Warranty On All Products Sold Is Considered Null And Void Under Any One Of The Following Conditions:

1) Warranty Claim Do Not Come With Original Proof Of Purchase/Receipt.
2) Warranty Seal/Sticker Is Tear, Broken Or Tempered.
3) Misuse, Mishandling, Natural Disaster Or Unauthorized Disassembly.
4) Burn Mark Or Any Physical Defect/Damage Caused By End User Or During Deliver / Postage / Courier.
5) Modification, Personal Repair Or Excessive Over Clocking Resulting Malfunction.
*Please Check Carefully When You Send In Defective Part(s) For RMA/Warranty. If We Checked The Product Are Issue-Free, Handling and Service Charges Incur Starting From RM35.
**DoTaTech is not liable for any loss or corruption of data of your confidential, proprietary or personal information. You are advise to back up all your data before bring in the hardware/system for repair.

**All system that send in for services are at YOUR OWN RISK.

**DotaTech will not charge any charges to customer for the any hardware service/inspection within the one (1) year warranty period excluding courier charges for outstation buyer. Charges shall applied to the customer after one (1) year period and hardware that not purchase from Dotatech including handling and delivery fees.

**All defective products that need one to one exchange within 7 days from the date of purchase are depends on stock availability and condition of the particular items.
**Please Check Carefully When You Send In Defective Part(s) For RMA/Warranty. If We Checked The Product Are Issue-Free, Handling and Service Charges Incur Starting From RM35


DotaTech reserves the right to revise, amend or modify this terms of conditions at any time and any manner without prior notice and shall not responsible for any unlicensed software that comes with hardware/system.

Hardware/System after repair that have not claimed within the sixty (60) days after being notified, it will consider your system abandoned . We may dispose of your system without any prior notice to you .
Questions & Answers
Do you have any questions to ask merchant about this product
Ask Seller
| | | |
| --- | --- | --- |
| 5 star | | 0 |
| 4 star | | 0 |
| 3 star | | 0 |
| 2 star | | 0 |
| 1 star | | 0 |
Share your thoughts with others
Write a review
Only buyers who purchased the product may leave a review