Item Specification
Product Description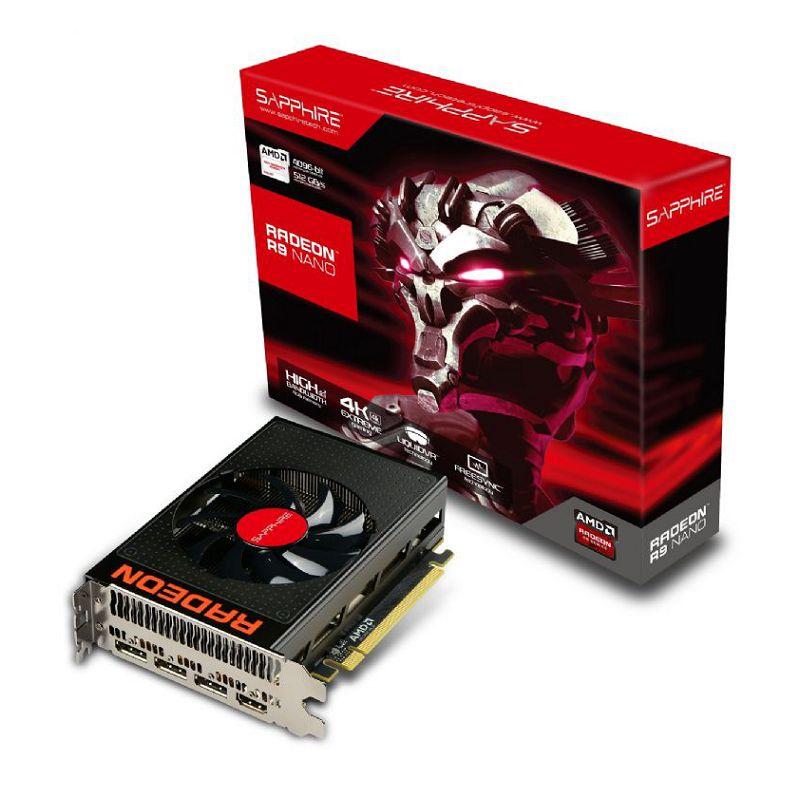 SAPPHIRE Radeon R9 Nano 4G HBM
Small size. Giant impact.
The AMD Radeon™ R9 Nano graphics card is AMD's most innovative and advanced GPU to date, delivering 4096-bit High-Bandwidth Memory (HBM),  the highest memory bandwidth ever in a GPU, engineered for 4K and VR gaming – in a revolutionary small form factor graphics card – the ultimate GPU for Mini-ITX PC supremacy. Experience DirectX® 12 featuring async shaders and multi-threaded command buffer recording as well as support for OpenGL® 4.5 and Vulkan™ APIs. Push your gameplay to the max and achieve scorchingly-fast framerates at ultra settings by adding up to four GPUs with AMD CrossFire™ multi-GPU technology.
 SPECIFICATION
GPU
4096 Stream Processors
28 nm 
Graphics Core Next (GCN)
1000 MHz  Engine Clock
Interface
PCI-Express 3.0
Memory
4096 bit Memory Bus
HBM Memory Type
500 MHz Effective Memory Clock
4096 MB Size
Displays
Maximum 4 Outputs
Output
1 x HDMI
3 x DisplayPort
Resolution
4096X2160 Pixel DisplayPort Resolution
2160P HDMI Resolution
API
OpenGL® 4.5
OpenCL 1.2
DirectX® 12
Shader Model 5.0
Feature
AMD CrossFire
AMD PowerTune
AMD ZeroCore Power Technology
FreeSync Technology
AMD Eyefinity
Quad HD Display (4K*2K Support)
AMD HD3D Technology
AMD Liquid VR technology
AMD Virtual Super Resolution(VSR)
AMD TrueAudio technology
Universal Video Decoder (UVD)
Cooling
Single fan
Form Factor
2 Part Slot Occupied
Power Consumption
<175W
OS
Windows 10 Windows 8/8.1 Windows 7 Windows Vista Windows XP 
System Requirement
1 x 8-pin AUX Power Connector
CD-ROM or DVD-ROM drive for installing software
PCI Express® based PC is required with one X16 lane graphics slot available on the motherboard.
Introducing AMD LiquidVR
LiquidVR™ is an AMD initiative dedicated to making VR as comfortable and realistic as possible by creating and maintaining what's known as "presence" — a state of immersive awareness where situations, objects, or characters within the virtual world seem "real."  Guided by close collaboration with key technology partners in the ecosystem, LiquidVR™ uses AMD's GPU software and hardware sub-systems to tackle the common issues and pitfalls of achieving presence, such as reducing motion-to-photon latency to less than 10 milliseconds. This is a crucial step in addressing the common discomforts, such as motion sickness, that may occur when you turn your head in a virtual world and it takes even a few milliseconds too long for a new perspective to be shown.   
---
High Bandwidth Memory
Introducing HBM, a new type of memory chip with low power consumption, ultra-wide communication lanes and a revolutionary new stacked configuration. HBM's vertical stacking and fast information transfer open the door for truly exciting performance in innovative form factors. And GPU applications are just the start – look for HBM's superior power efficiency and space savings to spark industry-wide innovation.
Revolutionary HBM breaks the processing bottleneck
HIGH BANDWIDTH
Performance well beyond DDR4/GDDR5/LPDDR4
POWER EFFICIENCY
>3X the performance per watt of GDDR5
SMALL FORM FACTORS
94% less PCB surface area than GDDR5
INNOVATION
New interconnects, interposer & DRAM type designed by AMD
---
AMD Freesync technology
No stuttering. No tearing. Just gaming.
AMD FreeSync™ technology allows a compatible graphics card and monitor to dynamically change frame rates for the optimum display quality without tearing or stuay.
Industry-Standard Displayport
Freesync uses industry-standard displayport Adaptive-Sync Eliminates screen tearing without all the usual lag and latency
Synchronizes the refresh rate of a compatible monitor to the frame rate of your content, however much it varies
Monitor partners are validating with drivers from AMD now 
---
DirectX® 12
DirectX® 12 is a new, "console-like" graphics API from Microsoft® that empowers game developers with more direct and obvious control of PC hardware. This direct or "explicit" control better exposes the hardware resources of AMD Radeon™ GPUs to yield higher hardware throughput and, ultimately, more performance for users. To put it simply: much more efficient hardware through smarter software! At the discretion of a game developer, this superior efficiency can be spent on higher framerates, lower latency (VR), lower power consumption, better image quality, or some calculated balance of all four. In any scenario, gamers stand to benefit greatly from choosing AMD hardware to run their favorite DirectX® 12 game.
---
AMD Eyefinity Technology
Multidisplay technology for gaming, productivity and entertainment
We are taking you beyond the boundaries of traditional PC displays. AMD Eyefinity technology expands the traditional limits of desktop computing by multiplying your screen area. With multiple monitors, games become more immersive, workstations become more useful and you become more productive (an average of 42% more productive according to one study).
Take your PC games to the next level of reality and immersion. Most modern games look great on three screens, and only AMD Radeon™ graphics offer you the ability to play across five screens for an eye-popping gaming experience. Other combinations and configurations with up to six screens work too.1 Create your dream display.
---
AMD Crossfire™ 
Harness the power of multiple GPUs
AMD CrossFire™ technology is the ultimate multi-GPU performance gaming platform. Unlocking game-dominating power, AMD CrossFire™ harnesses the power of two or more discrete graphics cards working in parallel to dramatically improve gaming performance.1 AMD CrossFire™ technology ready graphics cards fit practically every budget. With the flexibility to combine two, three or four GPUs, AMD CrossFire™ technology is the perfect solution for those who demand extreme performance.
---
Enhanced Unified Video Decoder 3 (UVD 3)
Watch the hottest Blu-ray movies or other HD content at full 1080p (and beyond !) display resolution. Enjoy a feature rich video experience with enhanced Unified Video Decoder 3 (UVD 3), offloading the bulk of the video decoding tasks from the CPU to the GPU allowing for a cooler, quieter and more balanced system.
---
AMD TrueAudio
Your games now sound as good as they look
The expectations of gamers have never been higher. Graphics quality and processing speed have advanced rapidly, and the games of today are light years ahead of those from just a few years ago. But advancements in game audio have been more sporadic and less widely adopted.
Sound is a critically important part of the immersive experience for gamers and sound engineers are eager to advance their art, but they haven't enjoyed the same kind of attention that continually drives graphics improvements. Until now.
What it means for gamers
By leveraging AMD TrueAudio technology, game developers now have the ability to recreate acoustic environments with incredible fidelity, and to bring them to every gamer. With AMD technology inside all the most popular "next-generation" gaming platforms, including the PC, gamers across the entire industry will finally enjoy the best audio today's technology can offer.
---
Frame Rate Target Control
Real time control of maximum rendered frames displayed per second. DFC is aimed at providing smoother gameplay by limiting the maximum displayed frames per second for games whose frame latency vary too much, for example, if a game is keeping frame rate between 50 and 80 FPS, you can set a limit of 45 FPS and enjoy a smoother experience thanks to more stable frame latency. Even if the game is capable to deliver 60 FPS, DFC set to 60 FPS as target can also help by smoothing the frame latency .

Last Updated @ 10/13/2015 7:02:33 PM
Buy with confidence
| | | | |
| --- | --- | --- | --- |
| Buyer | Item ID | Date | Ratings |
| lc**** | 195153467 | 12/15/2017 3:20:00 PM | Nice and fast |
| go**** | 187208849 | 12/9/2017 1:03:00 PM | - |
| go**** | 177086368 | 12/9/2017 1:03:00 PM | - |
| go**** | 197336804 | 12/9/2017 1:03:00 PM | - |
| go**** | 197336585 | 12/9/2017 1:03:00 PM | - |
| fr**** | 185972490 | 12/4/2017 12:06:00 PM | - |
| kh**** | 193186889 | 11/7/2017 3:13:00 PM | Superfast Shipment , cant belive . Received goods with good condition !!!!! |
| AB**** | 197508220 | 11/3/2017 7:46:00 PM | - |
Questions & Comments


















---
We have partnered with a number of reputable courier companies for the detinasions we service . These include Airpak Express , Poslaju and Pos Malaysia
We shall endeavour to deliver your order within 1- 3 working days upon successful payment confirmation unless otherwise specifiy. You should be able to receive your order within 3-10 business days (excluding Saturday and Sunday) after shipment date, depending on the shipping courier you have chosen.
TECHVIEW is committed to ensure that your orders are delivered to you safely and on time. Therefore only the authorized receiver shall be permitted to accept the delivery. Please make sure that the authorized receiver is present to make the authorized signature. TECHVIEW reserve the rights not to release the delivery in the absence of the authorized receiver.
TECHVIEW is making every effort to deliver your order within the time stated. However, due to certain unforeseen circumstances, slight delay in deliveries might occur, TECHVIEW will not be liable for any loss caused to you by late or delayed delivery.
In the event if your package is lost by the shipping courier and your package has not been insured, we will only replace the lost products with the amount that is declared on the invoice according to your request.

You are required to make a report to us on damaged item(s) in your package within 24 hours after you have received the package. We will not entertain any request if more than 24 hours after you have received the package.

Orders will be charged packing and post based on the weight of the order. Packing and post costs will be added to your order total. Please note that due to varying size and weight of our products, and different postage rate to each country, the postage and packing costs will be calculated on an individual basis. Once your package has been shipped out, we shall not be held responsible/liable if any of the products are missing or damaged during shipping. TECHVIEW recommends that you insure your packages and declare the full value of the shipment so that you are completely protected if the shipment is lost or damaged in shipping. Please check your delivery address carefully as we will not be responsible for delivery to an incorrect address. The customer shall be responsible for the cost to resend a package that is returned because of an incorrect address.
The shipping cost that you paid does not includes tax and duties or any other extra charges impose by your local custom
If you have instructed us to create a lower value invoice for you and in the event that the parcel or package is lost during shipment, Fedex, DHL, UPS or any shipping agents shall only compensate on the lower invoice value for your order that you instructed us to put.
We reserve the right to put whatever amount of this order value in the shipping invoice if there is no request to change the order value or even if you have state an order value for us.
We do not entertain request for shipping packages in multiple parcels.
When you access this site, you acknowledge that you have read and agree to the terms described below. If you do not agree to the terms discussed here, you should exit the site and refrain from placing any order. These terms of use are a legal agreement between us and describe the terms and conditions applicable to your use of our website and the services we offer including the sale of products to consumers. You must read, agree with and accept all of the terms and conditions contained in this agreement and our Privacy Policy. This agreement includes those terms and conditions expressly set out below and those incorporated by reference. We strongly recommend that you also access and read any other information contained on other pages or websites referred to in this agreement, as they may contain further terms and conditions that apply to you.
It is your responsibility to make sure that your order contains acceptable and approved items for import into the country of destination/delivery. The buyers solely accept the full risk of any package (or part thereof) being detained by customs for whatever reason and acknowledge and agree that they will not hold TECHVIEW liable for such packages, for whatever reason being unable to be delivered to their destination.
You shall not carry out any act or omission or procure any act or omission which would: (a) disrupt, impair or interfere with, alter or modify this website or its software; (b) act in a way that affects or reflects negatively on us or anyone else; (c) collect or attempt to collect any information from others including, without limitation, personally identifiable information, without such party's prior consent; (d) engage in any activities in such a manner as to expose TECHVIEW or any third party to liability or adversely affecting the name, reputation or business of us or any such third party; (e) commit a crime or in the course of committing a crime or for an unlawful purpose to do any act that may damage the network or systems or cause the quality of TECHVIEW to be impaired; (f) violating or attempting to violate the security of the website; (g) Cause any illegal, offensive, defamatory material to be placed on or associated with this website; (g) b in breach of any copyright, trade mark, privacy, confidence, or any other third party right; (h) cause any inconvenience to TECHVIEW, its employees, servants, agents, software and other suppliers or any other third party (including, without limitation, creating or procuring software viruses, chain letters, unsolicited communications and 'spam'). NOTE: Violations of system or network security may result in civil or criminal liability.

TECHVIEW may make changes to any products offered at TECHVIEW , or to the applicable prices for any such products, at any time, without notice. The information provided at TECHVIEW with respect to products may be out of date and TECHVIEW makes no commitment to update the information provided at TECHVIEW with respect to such products.

Please check our Terms of Use periodically for changes as we reserve the right to change the terms and conditions of sale at anytime.
Every effort has been made to reflect product colours as accurately as possible. However, due to differences in monitors, we are unable to guarantee that the colour you will see on your monitor will accurately reflect the true colour of the product. All drawings, photos, descriptive matter, specifications and advertising issued on this website are issued or published for the sole purpose of giving an approximate idea of the products described in them. They will not form part of the contract with you and no warranty or guarantee shall be expressed or implied in the contract with you in this regard.
THIS SITE IS PROVIDED BY TECHVIEW ON AN "AS IS" AND "AS AVAILABLE" BASIS. TECHVIEW MAKES NO REPRESENTATIONS OR WARRANTIES OF ANY KIND, EXPRESS OR IMPLIED, AS TO THE OPERATION OF THE SITE OR THE INFORMATION, CONTENT, MATERIALS, OR PRODUCTS INCLUDED ON THIS SITE. TO THE FULL EXTENT PERMISSIBLE BY APPLICABLE LAW, TECHVIEW DISCLAIMS ALL WARRANTIES, EXPRESS OR IMPLIED, INCLUDING, BUT NOT LIMITED TO, IMPLIED WARRANTIES OF MERCHANTABILITY AND FITNESS FOR A PARTICULAR PURPOSE. WITHOUT LIMITING THE FOREGOING, TECHVIEW DISCLAIMS ANY AND ALL WARRANTIES, EXPRESS OR IMPLIED, FOR ANY MERCHANDISE OFFERED ON THIS SITE. YOU ACKNOWLEDGE, BY YOUR USE OF THE TECHVIEW WEB SITE, THAT YOUR USE OF THE SITE IS AT YOUR SOLE RISK. THIS DISCLAIMER DOES NOT APPLY TO ANY PRODUCT WARRANTY OFFERED BY THE MANUFACTURER OF THE PRODUCT. THIS DISCLAIMER CONSTITUTES AN ESSENTIAL PART OF THIS AGREEMENT.
TECHVIEW offers free "1 to 1 replacement" on all products items for the first 7 days upon receiving of goods (on manufacturer defects only).

Product(s) sold through TECHVIEW are serviced and supported by their manufacturers in accordance with any terms and conditions packaged with the products. We will not accept return of product(s) that are not compatible with your system configuration or damaged during shipment to and from or misused by customer / shipping carrier or hold by custom.

If you need to return product(s) back to us for warranty, please contact us at techview88@gmail.com . Please ship back the product(s) to the original packaging with any accessories as advised . Failure to do so may invalidate the warranty.

If the returned item(s) is not faulty after checking, a minimum amount (RM20.00) of administration fee will be charged you would need to bear for the return shipping cost.

For international sales order, the customer needs to bear the return courier charges and any other cost incurred.
Questions & Answers
Do you have any questions to ask merchant about this product
Ask Seller
| | | |
| --- | --- | --- |
| 5 star | | 0 |
| 4 star | | 0 |
| 3 star | | 0 |
| 2 star | | 0 |
| 1 star | | 0 |
Share your thoughts with others
Write a review
Only buyers who purchased the product may leave a review