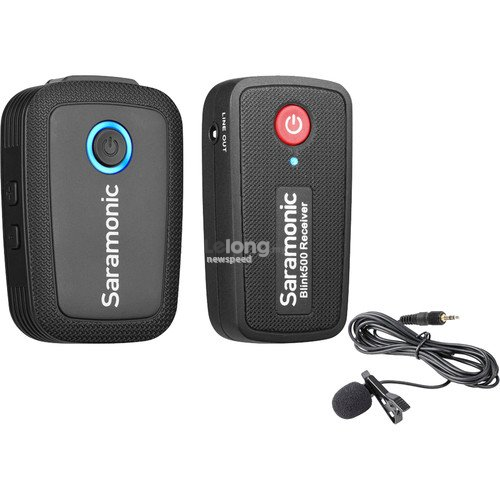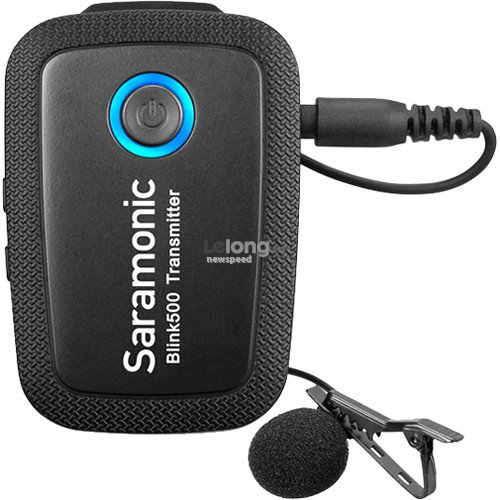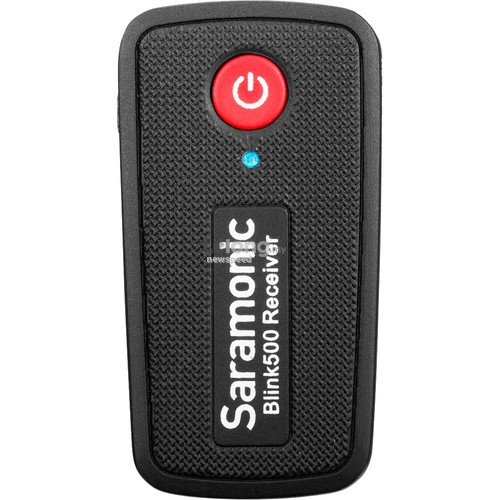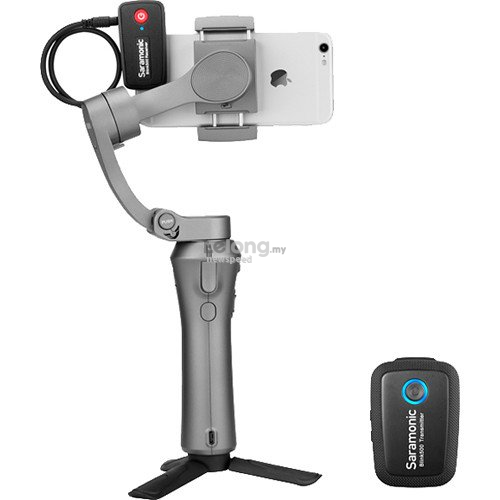 In compliance with the Restricted Movement Order, we will close from 18 March to 28 Apr 2020
All order will be arrange on Monday, Wednesday and Friday.
Professional Online Seller since 2004, over 10,000 Happy Customer
Contact: newspeedstore@gmail.com
03-61406188 / 017-2216188
More products at our website:

Camera Valley - The Camera Pro Shop
Saramonic Blink 500 B1 Wireless Lavalier Microphone System
1 Year Saramonic Warranty
In the box:
Saramonic Blink 500 TX Clip-On Transmitter with Lavalier Microphone
Saramonic Blink 500 RX Dual-Channel Receiver
SR-M1 Omnidirectional Lavalier Microphone
Alligator-Style Lavalier Mic Clip
Foam Windscreen
1' Gold-Plated 3.5mm TRS Cable for Cameras
1' Gold-Plated 3.5mm TRRS Cable for Mobile Devices
2 x 1' Gold-Plated USB Type-C to USB Type-A Charging Cables
Pairing Pin
Product Features:
For Journalists, Vloggers, YouTubers

Omni Lavalier Mic & Built-In Omni Mic

Ultracompact Clip-On Transmitter

Ultracompact Dual-Channel Receiver
Simplify and expedite your entry into wireless audio with the Saramonic Blink 500 B1, an ultracompact and extraordinarily easy-to-use true wireless microphone system offering a cost-effective, all-inclusive solution for recording one subject to your camera, camcorder, or mobile device.
The Blink 500 B1 delivers considerably improved sound quality compared to the built-in mics on cameras and mobile devices while functioning as an ultracompact digital system that provides immediate out-of-the-box operability for anyone, making it ideal for video, podcast, and mobile journalism applications. Once it's plugged in and powered on, it's set and ready so your focus can stay on your content.

Equally straightforward and small, the Blink 500 B1 gives you everything necessary for recording crisp, clear speech in any location. You get a clip-on transmitter with a built-in microphone and a clip-on omni lavalier mic, a dual-channel receiver with an integrated clip and shoe mount, and multiple charging and audio cables. Whether you're a run-and-gun videographer, a YouTube content creator, or an avid vlogger, the Blink 500 B1 can get your wireless audio going in no time.
Unpacking the Blink 500 B1
Use the ultracompact clip-on transmitter as a true wireless microphone with its built-in mic element, or as a bodypack transmitter with its supplied clip-on lavalier microphone.
The ultracompact dual-channel receiver features an integrated clip with a shoe mount for flexible placement on you or your camera. Two different audio cables are provided to ensure proper hookup to a camera, camcorder, smartphone, or tablet.
Simply power on the receiver and transmitter to access reliable wireless audio functionality in an instant.
Connect, Power, and Go
With the receiver and transmitter paired at the factory, the Blink 500 system is comfortably easy to use for anyone, anywhere. Videographers, vloggers, YouTubers, and mobile journalists will benefit from the Blink 500's power-and-go operating style.
Advanced technology invisibly handles the complicated tasks such as switching channels to avoid dropouts, leaving you with a streamlined and simple system that requires no menu diving or tedious manual configuration.
Quality Sound
Blink 500 systems utilize 24-bit / 48 kHz resolution—the same audio standard used worldwide by sound engineers in the film industry—to give you quality sound at a budget-friendly price point.
Compared to the built-in microphones on cameras and mobile devices, Blink 500 systems offer considerably improved fidelity and clarity with less noise.
Since your subjects may speak at very different volumes, Saramonic outfitted the Blink 500 TX with dedicated gain buttons to allow quick and effortless adjustment of the signal level. You can even turn the volume all the way down to effectively mute the transmitter.
Knowing that camera preamps are often noisy, the Blink 500 RX's 3.5mm output sends a strong line-level signal so you won't have to crank the gain at your camera. If your camera has a mic-level input, be sure to lower its input gain to prevent clipping. The Blink 500 RX can even be used to drive headphones for quick monitor checks and troubleshooting.
Built-In Microphone for True Wireless Operation
The Blink 500 TX features a built-in miniature condenser microphone with an omni pickup pattern that captures clear and natural voice tonality. Thanks to the transmitter's ultracompact housing, you can clip it to clothing, slide it into a shirt pocket, place it on a podium, or hold it in your hand.
Lavalier Microphone Included
For maximum visual discretion, use the Blink 500 TX as traditional bodypack transmitter with the supplied lavalier microphone. Just clip the omni lav mic to a collar or lapel, then plug it into the transmitter's 3.5mm input; the transmitter automatically switches to the external microphone so you don't have to bother selecting the input source.
The lavalier mic includes a foam windscreen that lessens noise caused by light wind, breaths, and air conditioning systems. For enhanced reduction of stronger wind noise, a separately available furry windshield (a.k.a. windjammer) such as the Saramonic LM-WS can be fitted to the microphone.
Stable and Simple 2.4 GHz Digital Wireless
Whereas typical analog wireless systems are susceptible to interference from TV and radio waves, the Blink 500 digital system avoids that by operating in the 2.4 GHz band, which occupies frequencies beyond those of television, radio transmissions, and UHF wireless microphone systems.
Within the 2.4 GHz spectrum, the Blink 500 boasts automatic channel hopping to mitigate noise and dropouts at a line-of-sight distance of up to 164 feet. For optimal performance, environments with limited Wi-Fi / 2.4 GHz traffic and minimal physical obstructions are recommended.
Other Features
Lightweight, ultracompact housings
Receiver's built-in clip with shoe mount allows easy attachment to your camera, belt, or clothing
Transmitter's intelligent LED indicators show power, audio level, low-battery level, and charging status
Internal 5-hour batteries keep you going on long shoots or multiple run-and-gun gigs in a day
USB Type-C connectivity and included charging cables for recharging the internal lithium-ion batteries or powering the receiver and transmitter
Use up to two transmitters with each receiver
Operate up to 18 systems simultaneously in the same environment
Includes gold-plated 3.5mm TRS cable for connection to a camera or camcorder
Includes gold-plated 3.5mm TRRS cable for connection to a smartphone or tablet equipped with a headphone jack




















---
100% SAFE WITH NEWSPEED STORE
WE HAVE OVER 10000+ HAPPY CUSTOMER ONLINE
Easy Transaction, 3 Step Only:
1. ORDER
2. PAYMENT
3. EMAIL DETAILS TO US newspeedstore@gmail.com
IMPORTANT!!
AFTER you had made the payment, please email us your payment slip together with the following details to speed up delivery:

1. Order ID / Item number:
2. Date of Payment:
3. Total Amount Paid:
4. Method of payment (ATM Deposit/Transfer/Counter/InterBank Transfer / Credit card... etc):
5. Items purchased:
6. Name and delivery address:
7. Telephone:
*Tips for fast and easy payment recognition: You may add few cents in your payment,
Example: Instead of RM550, pay RM550.02, RM550.34 this way we can easily know this is your payment.
3. Credit Card Payment :
Card payment subject to credit card surcharge.
Easy Payment / Installment available at our retail shop.
100% SAFE WITH NEWSPEED STORE
WE HAVE OVER 10000+ HAPPY CUSTOMER ONLINE
Poslaju / Courier Delivery:
- We had sent thousands of parcel all over the world, and we provide good packing as you may read our customer feedback.
- For defective on arrival (D.O.A) items, we provide 1 to 1 exchange, but subject to official report from Poslaju / Courier.
- Your items will be ship out around 1-3 working days for ready stock items, 5-10 days for Pre-order items.
- Shipping charges are clearly stated in item page.
- Shipping charges are not refundable.
If you do not agree our terms and conditions, please do not bid. No cancellation of bid is allowed.
Please contact us to resolve any question before bidding. You should understand that your bid is a contract, if you win the bid for this item, you have to proceed to purchase this item.
Non-Paying Bidder / Joy bidder will be reported to lelong and will be blacklisted.
-Winner will received email from lelong after auction closed, payment info is included in the email. Please made payment within 2 days.
-If winner did not pay within 3 days we reserve the right to cancel the deal and resell the item without prior notice.
-As we are selling all over the world, if an item was out of stock, we may replace with a similar or same value item to buyer or refund.
-Non-Paying Bidder will be blacklisted, to remove from blacklist RM20 admin fees apply.
- Buyer pay postage for returning faulty item. Item returned and found not to be defective will be returned at buyers expenses.
-Item sold are not refundable and not exchangeable for Auction Item.
-Shipping charges are not refundable.
-We do not cover lost or damage during shipment. It will fall under Poslaju / Courier compensation, up to maximum value determined by Poslaju / Courier.
-For full insurance coverage, please add 2.15% of total sum insured, please email us if you need to buy insurance.
-Warranty start from the date of delivery.
-Most accessories do not cover under warranty.
-Feature and Specifications are for reference only.
-Lens and High end model are back to back order basis, item delivery may take 5-10 working days.
-Specifications are subject to change without notice. We are not responsible for any change of specifications and design by the manufacturer.
-Water immerse / leakage was not cover under warranty even for waterproof item.
-All pictures/colors are for illustration only, unless otherwise specified.
We offer professional, affordable solution of photograpghy equipment in the market through both online and retail channel which youll hardly find in the market!
We ensure that all our customers will get the best service from us.

We wont serve customers with attitude of "because-this-is-my-job" Well make sure customers will feel comfortable throughout their shopping. If they require our assistance during their shopping, well provide them the best support they can find online.
7 Days Return Policy
The returned goods / products should be in the original condition. If the goods / products has been used or found to be damaged by the user, there will not be any exchange / refund. All decision on all question relating to complaints as to defects either of workmanship or material shall be final and conclusive and the purchaser shall agree to abide by such decision. We will also not be responsible if your shipment is lost during the return transit.
Warranty Policy
Warranty
Warranty
All equipment sold are warranted solely by the manufacturer/distributor. All items requiring repair should be sent to the manufacturer/distributor directly for service.
Best Effort Service
All equipment sold by us, if customer need us to send for warranty service, customer have to pay transport charges send to manufacturer/distributor. All cost incurs have to be pay by customer.
We always provide the best and fastest service as we can as in line with our Best Effort Service, but the waiting period is depending on different service centre, we do not guarantee how fast it can be done.
Remark:
Accessories are not cover by warranty, including battery, charger, ac adapter, all types of cables, flash tube, modelling lamp and locking mechanism.

Wear and tear, breakage, firmware, software and any inappropriate usage are not cover under warranty.
We are not liable if the manufacturer/distributor fails to perform warranty service.
We will not be responsible for any consequential, lost or incidental damage resulting from the sale or use of any merchandise purchased from us.
Others:
All products once registered online, it is not available for exchange, must send for warranty.
DJI products once activated, it is not applicable for exchange and return, it must send for warranty service.
All decision on all question relating to complaints as to defects either of workmanship or material shall be final and conclusive and the purchaser shall agree to abide by such decision.
If you have any doubts / suggestions / comments about us, our products or our site, do not hestitate to contact us! We can be contacted through newspeedstore@gmail.com
Average Product Rating
0.0 stars out of 5
| | | |
| --- | --- | --- |
| 5 star | | 0 |
| 4 star | | 0 |
| 3 star | | 0 |
| 2 star | | 0 |
| 1 star | | 0 |
Share your thoughts with others
Write a review
Only buyers who purchased the product may leave a review