Scholl compression stocking was designed in the UK as a medical stocking based on compression therapy. Its pressure levels are set in accordance with the UK\u2019s pressure standards. Ideal for the relief of tired, arching & swollen legs while achieving toned & slimmer looking legs.
Designed for sleeping
Thigh-high design for whole leg compression therapy.
Scholl Compression Stockings thoroughly supports your leg with low compression levels.
The ankle area is designed flat, making it suitable for sleeping positions.
Lavender color facilitates sound sleep.
Open toe design helps to release heat during sleep.
Made of cotton to provide comfort.
Recommended Use:
Wear stockings before going to bed and remove them the next morning
new users may fell uneasy due to the compression. If discomfort persists, take them off and try again the following day.
Cautions:
1. not to be used by patients with severe circulatory disorder.
2. consult your doctor before use if you are suffering from diabetes, deep vein thrombosis, blood circulation problems, congestive heart faiure, any inflammatory diseases or nervous problems along the lower limbs, or if you are currently under medical treatments for the above diseases.
3. please not the followings when using the product:
a. avoid using socks of unsuitable sizes or wearing 2 pairs of socks simultaneously.
b. socks in use should not have folds, creases or feel loose.
c. the stitches at knee section should be smooth and without creases. avoid folding it outwards; materials should remain smooth when in use.
4. discontinue use and remove stockings if you experience excessive discomfort, pain, irritaion or rash.
Care Instructions:
wash with cold or warm water as per laundry label.
place stockings inside laundry bag for machine wash.
A guide on choosing sizes. :)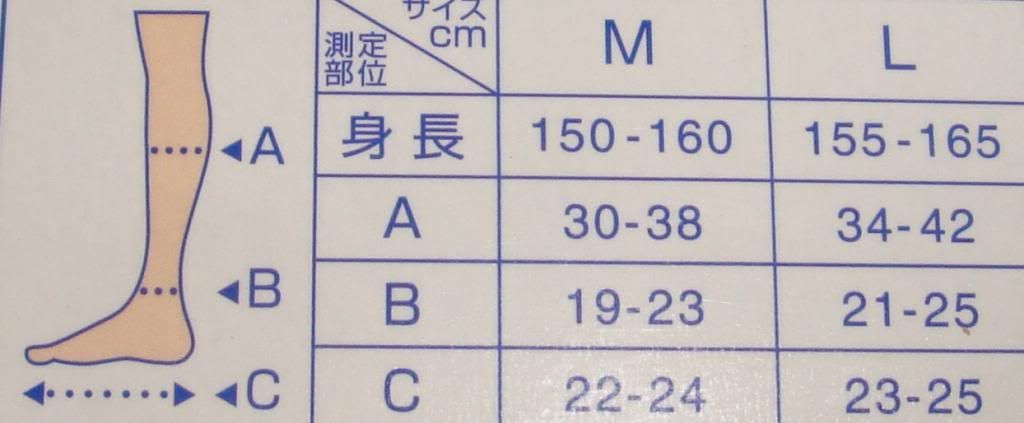 Step by step guides

What it looks liked before opening