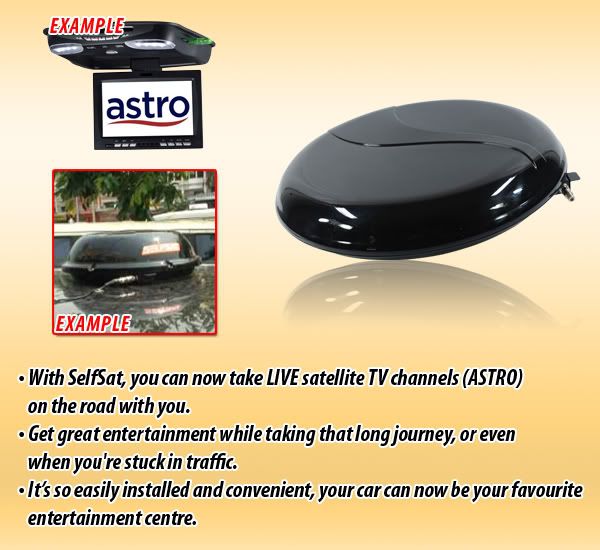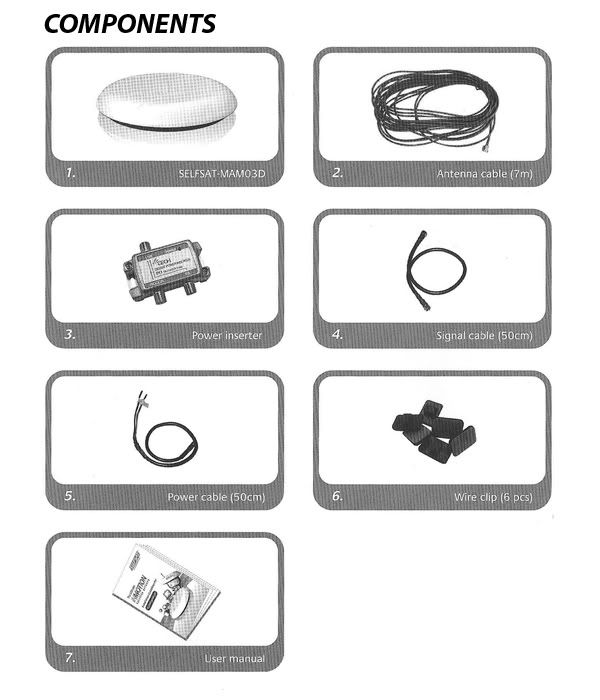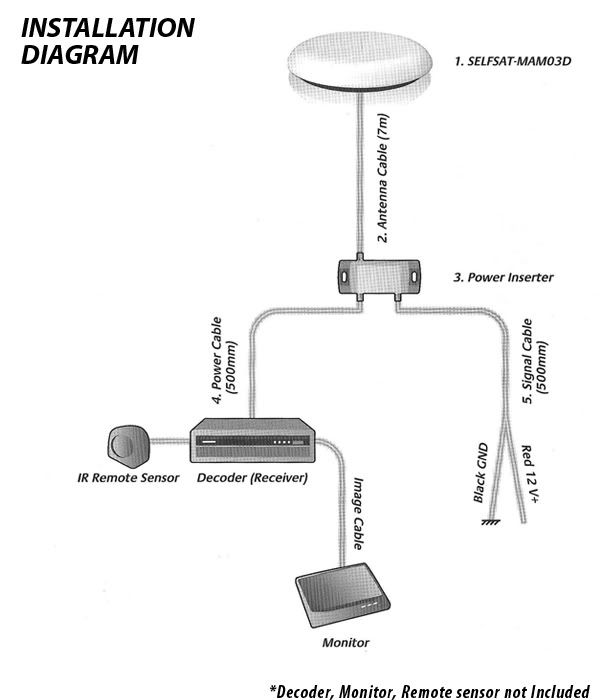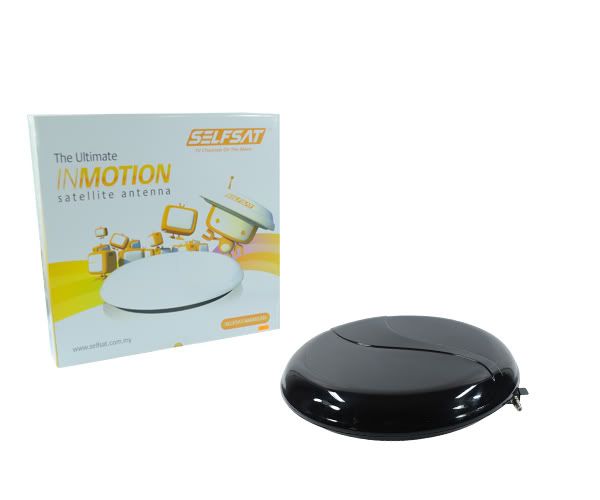 SELFSAT Portable Satellite Antenna for ASTRO [MAM03D Black]
Watch ASTRO Wherever You Go!
Now Astro is offering RM50 for a 2nd and 3rd decoder, take that decoder and install it in your car with SELFSAT Satellite Antenna
Simple Installation needed, can be done at any accessories or forman shop
Convenience and Reliability On The Move

SelfSat in-motion Satellite Antenna is a portable antenna system that delivers LIVE satellite TV content to a vehicle, even while in motion. All you need is a decoder and a satellite channels subscription, and you'll be on your way to great entertainment on the go!

Never miss your favourite shows again, even while in a traffic jam or taking a long journey.
Experience automatic signal tracking system with embedded motor and gyroscope.
Optimum performance while traveling up to the local speed limit.
How to Install

Pre-installation decoder and wiring:

SelfSat requires pre-installation of decoder and basic wiring in order to operate in the vehicle. The wiring is done as per the installation diagram below:



Quick and Easy to Install

How to mount and install the SelfSat Satellite antenna:

Mount the satellite antenna on the flat part of the top of the vehicle.

Connect one side of the coaxial cable to the outside terminal of the satellite antenna and connect the other side to the antenna input terminal of the decoder.
Color: Black
Specification:
Input Satellite Frequency: 10.7~11.7GHz

Polarization: Horizontal

Antenna Gain: 28.1 dBi @ 11.7GHz

Size (DxH): 440mm X 70mm

Weight: 3.3kg

Elevation Range: 76.5o (West)

Azimuth Range: Unlimited

Tracking Rate: 75o /sec

Current Consumption: 500mA max

Operating Temperature: -30oC to +60oC

Storage Temperature: -40oC to +80oC

LNB Output: 1 Output

LNB Output Frequency: 950~1,950MHz

L.O Frequency: 9.75 GHz

LNB Noise Figure: 0.2dB typ.

Input VSWR: 2.5:1 typ.

Output VSWR: 2:1 typ.

Conversation Gain: 60dB typ.

Gain Flatness: 6dB p-p max

Product Manufactured & Warranty