Product Description :

The light will only auto switch on at night time / at dark areas


(this will prolong the lifespan of the LED and also save electricity)





Just point and aim this Intruder Deterrent at a window, door, gate or any other area you want under surveillance and its passive infrared sensor (which automatically detects any heat and motion-based changes) will take care of the rest. When the sensor is triggered, this Intruder Deterrent will automatically start recording video onto a micro SD card (up to 32GB) and also shine its ultra-bright 34 white LED lights at the target.
Imagine this: Not only will this surprise any would-be burglars, but it should also scare them off and keep your home or business safe and secure.
This Intruder Deterrent is easy to install and requires minimal setup. Thanks to the light weight and compact size, you can put it anywhere for an instant home sentry and security device. The LED head is also adjustable and allows for even more flexibility and placement options.



Product Features :
Intruder Deterrent - keeps your home/office/warehouse safe

Passive infrared sensor with motion/heat based video recording

34 ultra-bright white LED lights for recording at night

Records when motion/heat source is detected

Primary Function: Motion activated camera/security light with video recording

Supports up to 32GB TF micro SD card

Auto-overwrites when the memory is full

Records in 10 second files to save memory

Immediately starts recording again when reactivated

Auto mode recording with auto light on

PC camera function

Easy to use and easy to install

24 hour Standby




Product Technical Specs :
Image Sensor: CMOS 2.0 mega pixel Colour Camera

Resolution: 640x480

Video FPS: 15

Recording Format: AVI

Recording Duration: Constant recording in 10 second files

Recording File Size: 4MB for a 10 second recording

Camera View angle:

up to 120 degrees

Sensor: PIR auto detection, Auto light on

Audio: YES, effective recording up to 10 meters

LED number: 34

Illumination range: Up to 15 meters

Memory: External: Up to 32GB TF/Micro SD Card ( included 4GB for you )

Transfer Interface: Mini USB

Power: 100-240V AC Adapter

Dimensions (L x D): 19cm x 8cm

Weight: 120g
Package Contents :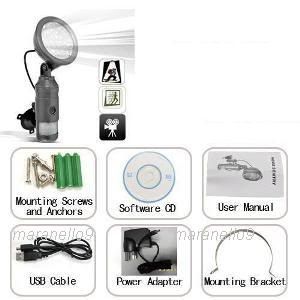 1 x Intruder Deterrent light DVR Main Unit / The Sentinel

1 x 4GB Micro SD Card

1 x CD with Drivers

1 x Mini USB Cable

1 x Mounting Bracket

1 x Mounting Screws pack

1 x Power Adapter

1 x User Manual