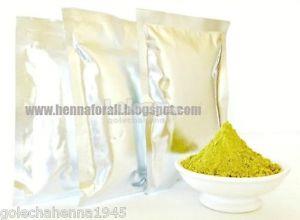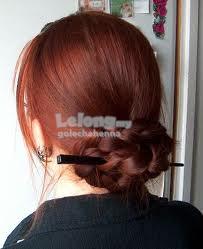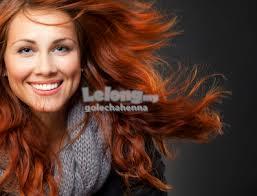 100g Fresh Natural Organic Rajasthani / Sojat Henna Powder 100 gram vacuum sealed packs. Each pack will make approx 100-200 henna tattoos. One pack is typically enough for one treatment of shoulder length hair. It is a certified Organic Sojat henna powder. The recipe Carefully pour about 90% of the henna powder into your bowl. Gradually add the lemon juice, gently working it in to the henna. You should end up with a mixture which is similar to a thick mashed potato consistency. You are unlikely to need a whole bottle of lemon juice for just 20g of henna. However different henna needs different amounts of liquid. This is because henna is a natural plant product, similar to wine in that different harvests, from different places, impart slightly different characteristics to the henna. Flatten the surface of the henna and then cover the henna tightly with a layer of clingfilm, then cover the bowl tightly with two or three further layers of cling film. Leave the bowl somewhere warmish, out of draughts, but not too hot. I usually leave my henna to brew on top of the fridge where it is very gently warm. After 12 hours if it is warm, or 24 hours if it is cool, remember where you left your henna, retrieve it, and scrape your spoon once across the surface. You will see that the exposed surface is browner, and the henna underneath is greener. In some henna pastes this difference is very noticeable, in others, it is much less noticeable. Now give it a stir. You should notice that the texture has become smoother. Carefully add the 6ml of your essential oil. Stir until it has fully incorporated into the henna mixture. You may require slightly more or less oil according to your preferences. Then add half to one teaspoon of glucose powder or icing sugar. And stir until it is fully incorporated into the henna mixture. You will notice the mixture becomes smother and glossy. If you feel your mixture isn't smooth enough, add another half to one teaspoon of sugar. The sugar helps the mixture stay moist, but if you add too much sugar it will slide about on your skin. Adjust the thickness of the mixture by adding in more henna powder or more lemon juice. Here you can add in the henna powder you kept back if you wish. You are aiming for the texture of yoghurt, or in baking terms 'soft peaks'. The henna mix should not clump to the spoon, nor should it be too runny. 'Milkshake' texture is too runny. Leave for another 12 hours if it is warm, and 24 hours if it is cool. After 12 or 24 hours, scrape the top of the henna again and check that there is a colour difference and then give it a final mix through. Your henna is now ready to put into cones and use! Lemon sugar seal – for sealing nearly dry henna paste and keeping it 'stuck' to your skin instead of the henna paste flaking off.
#serbukinai
#inaiduan
#organichenna
#purehenna
#naturalhenna
#rajasthanihennapowder
#hairhenna
#inairambut
    For further details regarding after care and recipe for hair you can contact with us via chat or whatsapp + 60107784255 .
#jamilahennapowder #organichennapowder #100%naturalhennapowder #naturalhennapowder #bodyartqualityhennapowder #hennaforhair

Last Updated @ 2/23/2019 4:03:40 AM

Recent Transactions
mb****
Serbuk Inai Rajasthani ,Organic Henna Powder BAQ Crop 2019








---
Item will be delivered via Pos Malaysia only
Delivery time mostly is 2 or 3 working days . It can be maximum upto 7 working days in certain cases .
Kindly inform us if you are in any sort of rush before placing order .
International Customers delivery time and shipping charges varies with location . Kindly contact us via whatsapp or facebook for further details +60107784255 or facebook.com/golechahenna
Glamorous Style Enterprise is owned by a professional henna artist living in Langkawi Malaysia . All the listing products are tested by various henna artists around the world . These produts are clinically tested and lab certified and doesn't contain any harmful chemicals . Lab test report is printed on top of each box. Halal certified as well.
Most of the these products are instant henna cones . Instant henna cones are combination of artifical food colors with extract of henna . These are used for temporary henna body art / tattoo work .Darkness of stain varies with each persons body chemistry, thats why the stain can be different as shown in the pictures . When you are buying from our store make sure you understand about henna and its chemistry regarding the stain result . Kindly don't complain about the extact stain result , each batch of henna is made with different crop of henna powder . The natural henna powder lawsone dye content vary for each year crop , the stain result of henna can't be 100% same for each batch . We gurantee that you will always get a good stain of henna .
In case if you are not happy with your purchase kindly contact with us via email golecha.henna@gmail.com or you can whatsapp to us +60107784255 for a quick response . Please allow 24 hours to reply to your email or whatsapp message . We will do our best to resolve your legit complaint.
Return Policy:
What is your Return Policy?
If you are completely not satisfied with your purchase (damage during shipment or wrong item) you can send it back to us.
Returns must be made within 7 days from date of received.
Damage items must be return completely to our given address.
Item bought during promotional events are not accepted for return and exchange.
What will I get back of return item(s)?
You can choose for a full refund to your bank account or exchange to a same/higher price item(s).
How about postage charges?
Customer would have to bare for the postage fee shipped back to us during return process.
How can I return my purchase?
Kindly email your inquiry to golecha.henna@gmail.com with subject "Return Item". We will assist you as soon as possible. Please allow 7 working days for your inquiry to be processed.
To make the process run smoothly and faster, do email your inquiry with picture(s) of your item(s) matter and condition.
How long will it takes?
Please allow a minimum of 7 working days from date we receive your return package to you.
Further Details on Returns:
In case if you have purchased the product wrongly and you want to exchange it . Kindly send us back within 7 days of date of purchase . Buyer will pay for the return shipping as well as for the replacement shipping . If you have used the product , we will not accept the return . Make sure you buy the right prodcut and read the description of the produdct mentioned under each product listing . If you are not satisfied with the given information and details of the products or any other related matter , kindly email to us at golecha.henna@gmail.com or whatsapp to our customer care +60107784255 .
Average Product Rating
0.0 stars out of 5
| | | |
| --- | --- | --- |
| 5 star | | 0 |
| 4 star | | 0 |
| 3 star | | 0 |
| 2 star | | 0 |
| 1 star | | 0 |
Share your thoughts with others
Write a review
Only buyers who purchased the product may leave a review