Product ID : 209335250
Brand : SEVENFRIDAY Watches
Model / SKU : Delivery times vary depending on item availability
Conditions :

New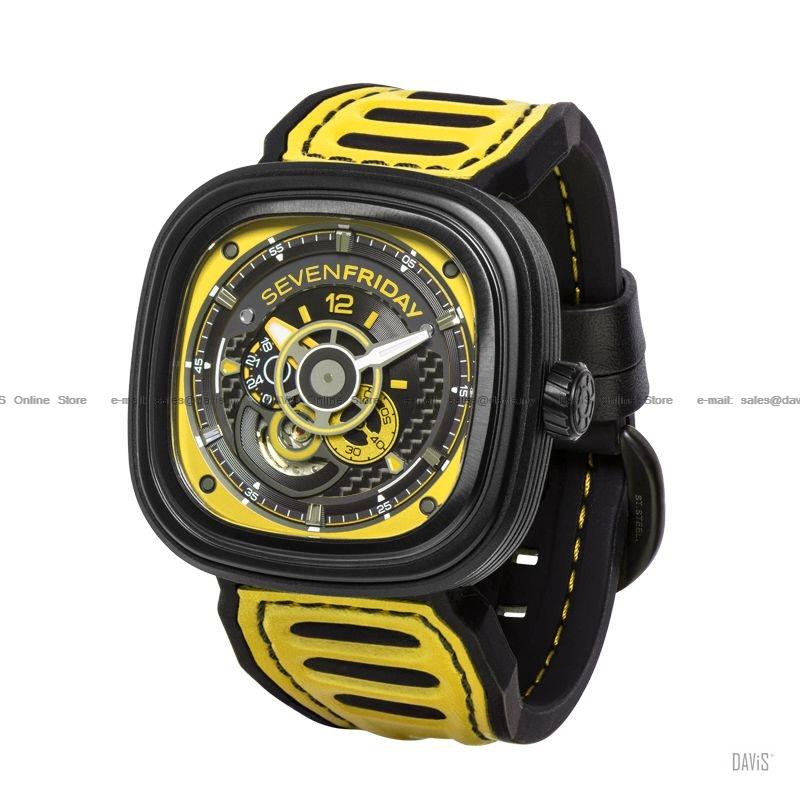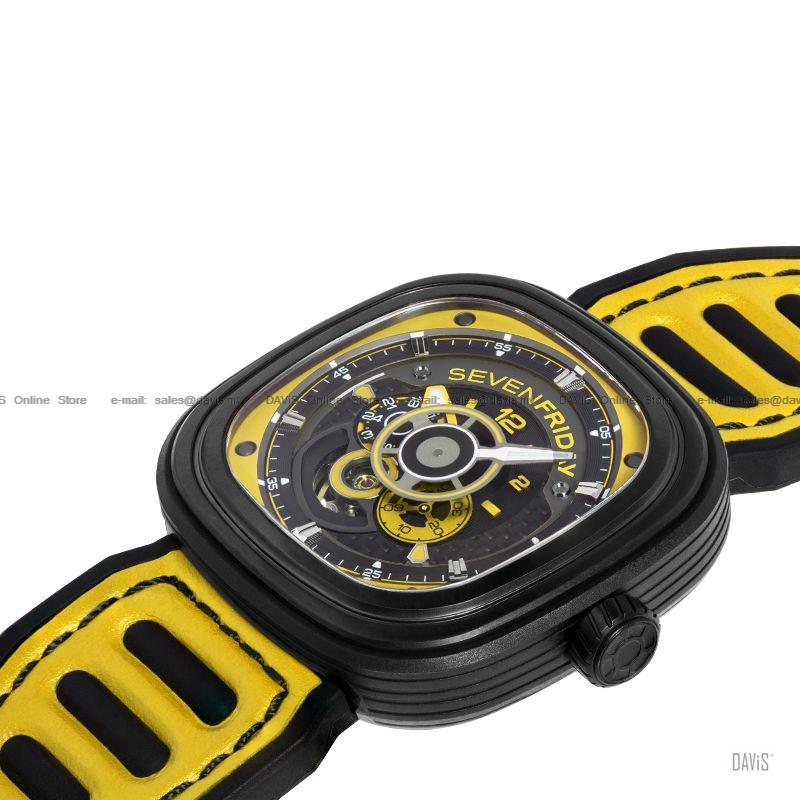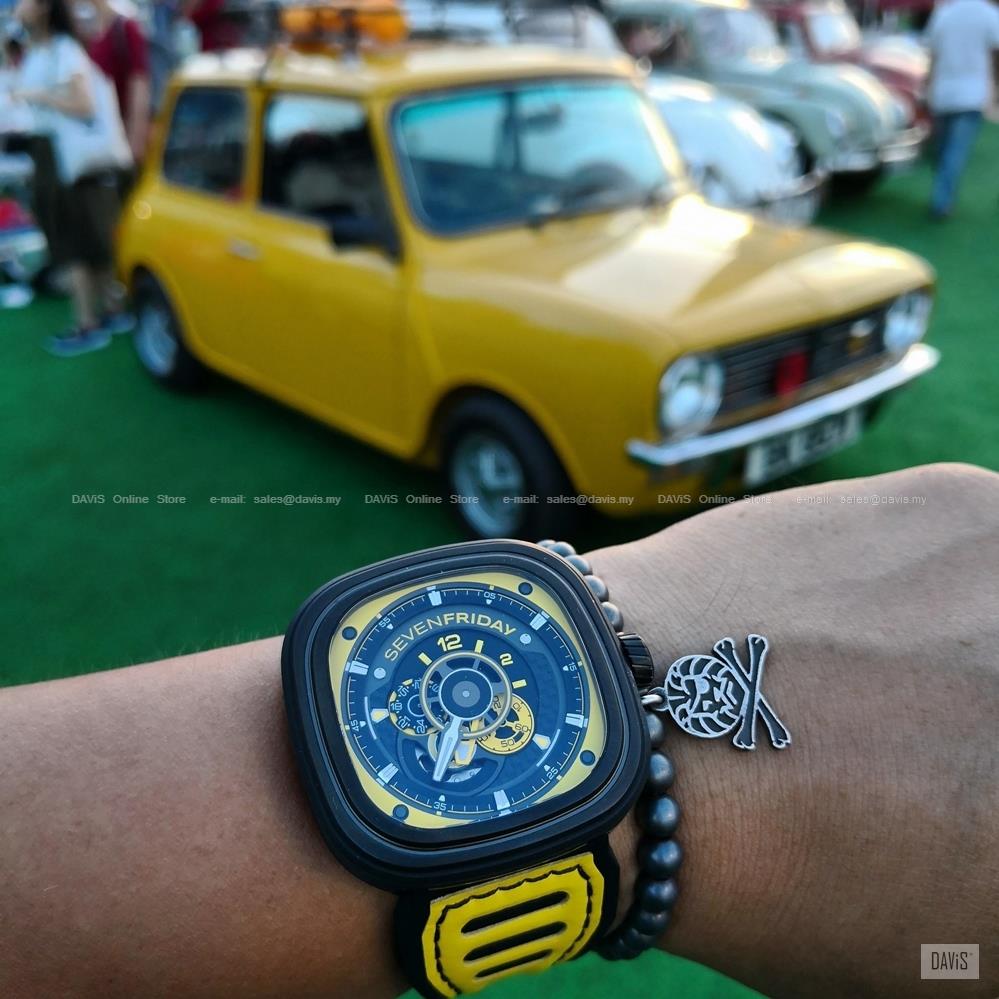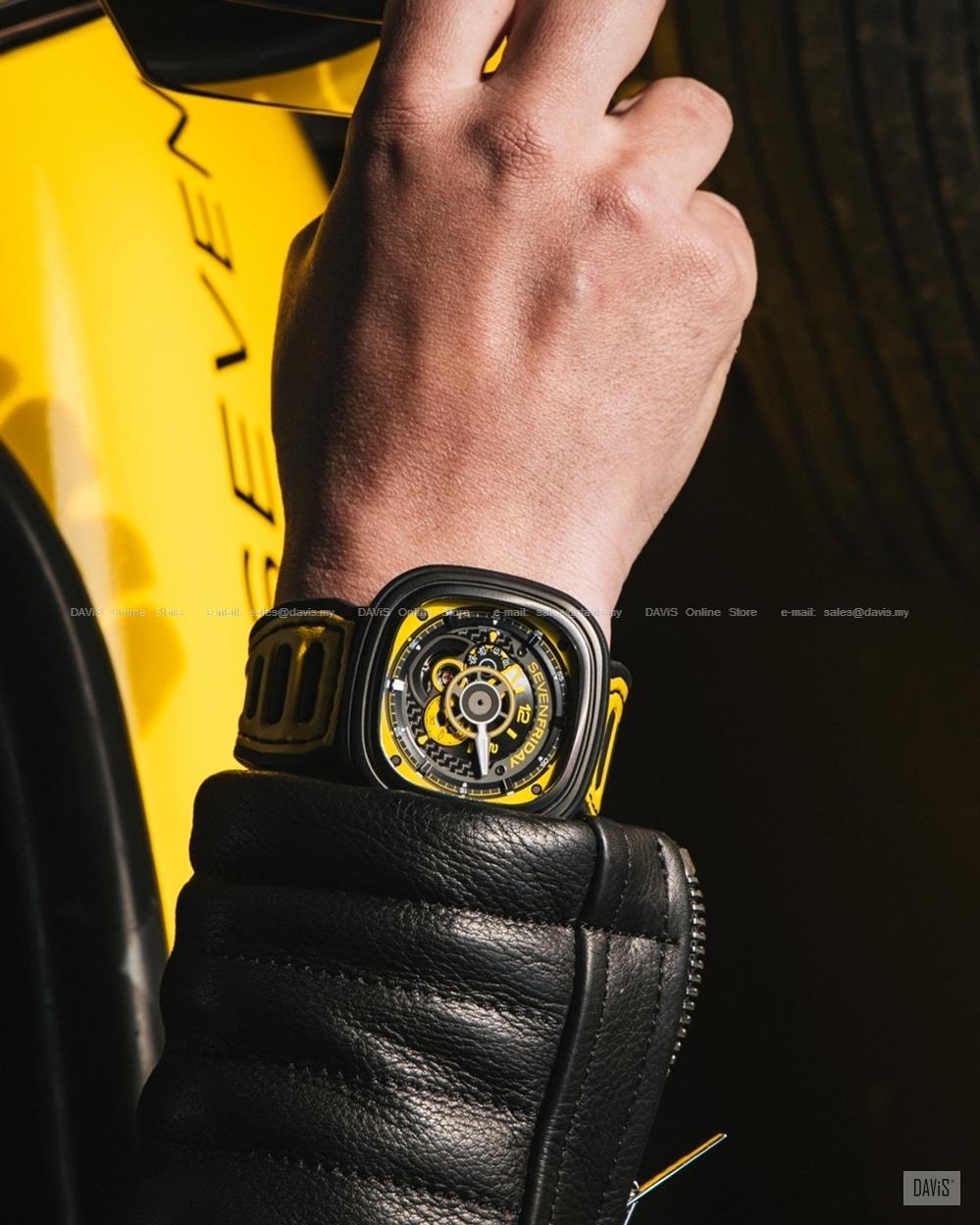 This webpage is best viewed at 1280 x 1024 Resolution

---
PRODUCT DESCRIPTION:
The perennially popular P-Series is off to the races with two new additions – the P3B/03 Yellow and the P3B/06 Red Racing Team.

The P3B/03 Yellow, and the P3B/06 Red Racing Team are an homage to perhaps the most celebrated relationship between Mankind and Machine; the love and excitement we have for race cars!

The love of automotive racing strikes pretty early in life, regardless of whether it's F1, Le Mans or the dueling hotrods of American folklore. The graphic design of both pieces speak to the colors worn by both racer and machine.

We know it takes a team to produce the best, whether that's a watch, a pair of sunglasses, a bracelet, or a high-speed performance racer.

The P3B/03 Yellow and P3B/06 Red Racing Team pieces are evocative of the emotion and exhilaration that pulses through us with the revving of an engine, or the smell of gasoline as the pit crew refuels.

Every aesthetic detail of the watches is an intricate representation of high performance motor racing, from the carbon fiber interface, to the leather and silicone color coordinated strap. We know you expect this level of thought and dedication from everything we make, and it's our pleasure to provide it for you.

There's no greater way to #liveSEVENFRIDAY than to let your passions permeate into every part of your life!

The P3B/03 Yellow and the P3B/06 Red Racing team will be going head to head for the checkered flag in May 2018. So Ladies and Gentleman, pick your team and START YOUR ENGINES!

SEVENFRIDAY hits the road with the P3B/03 Yellow Racing Team. Constructed from the iconic P-Series and industrial engine inspired, the P3B/03 Yellow, is a symbol of the bond between man and machine. From the late-night cannonball runs through Tokyo's Shubiya Crossing to daylong rallies through the windy roads of southern California, the P3B/03 Yellow is speeding to the finish line with a black silicone animation ring, carbon fiber interface and silicone and leather color-coordinated strap.

For optimal race performance, the P3B/03 Yellow follows form and function with a five-layer carbon fiber and gunmetal interface representing the rider's efficient instrumental panel. Time indication is represented in four discs: hour, minutes, seconds and meridiem in yellow. The yellow hour hand is filled with Super-Luminova®. The minute disc, trimmed in yellow around the ring, has a Super-Luminova® filled tip. Seconds are displayed every 10 seconds from 10 to 60. The 24H disc atop a yellow disc at the 9H mark creates a three-dimensional effect with meridiem displayed every third hour in white from 3 to 24. The matt black silicone animation ring completes the circuit.

The NFC chip embedded behind the globe allows authenticity verification via the SEVENFRIDAY Android App and authorized retailers.

47.6 mm (W) x 47 mm (H)

Case: Stainless steel dark gun metal PVD sandblasted with polished and sandblasted finishing

Bezel: Stainless steel dark gun metal PVD with sunray and sandblasted finishing

Caseback: Polished stainless steel indicating model and production number

Animation Ring: Grooved matt black silicone

Glass: Specially hardened mineral glass with antireflective coating

Strap: Inspired by the protective gear worn by riders during the race, the leather and silicone lined strap narrows from the box.

Water resistance: 3ATM - Splash/Rain resistant - No swimming - No diving

Engine: Automatic movement Miyota 82S7 - 40H power reserve
---
2 YEAR LIMITED WARRANTY:
Sevenfriday warrants to you that the products will be free from breakage or malfunction under normal use due to defects in material or workmanship for a period of two (2) years from the date of purchase. This Limited Warranty does expressly not extend to the case, strap, finish and crystal.
The Limited Warranty will become null and void if the products are modified or altered, misused, abused, tampered with or taken apart, accidents (knocks, dents, crushing, broken crystal, etc..) or if the products are repaired by anyone other than an authorised repair centre.
SHIPPING & HANDLING:
Free Shipping in Malaysia by PosLaju.

We ship internationally by urgent courier. Please contact us for the shipping rate.

All shipping times on this page are estimates. Delivery times may vary depending on product availability.
PAYMENT METHOD:
SELLER NOTES:
Genuine product from Sevenfriday Authorised Dealer. New in box.

Stock quantity appears in the sales posting may not reflect the real in-stock status.

We do not reserved the stock unless you have clicked BuyNow button and make your payment on time.

Cash on Collection / Delivery: Not Available.

Product viewing: We are doing 100% internet sales only.
---
PHOTO(S) GALLERY:
* All specifications and prices are subject to change without prior notice.
Hi, Welcome to DAViS Online Store.

You may use following ways to contact us.
E-mail : sales@davis.my
Facebook : DAViS Online Store
Twitter :@davis_online
Partner store: AQUA-TERRA
Order form: http://tiny.cc/Davis
Note : We are providing online service via courier delivery service only.
All prices as display selling as cash price only not included PayPal handling fees.
We do not accept NetPay since NetPay team T&C written in agreement DO NOT provide seller protection like SafeTrade we used to have before.

Please DO NOT soliciting us for self pick up or cash on delivery, at the same time do appreciate our effort spent on writing informative product descriptions in our sales listing. According to our experience most of your question 99% can be found in the sales description.
Please click to purchase when you are ready to pay for it. On side note our price is the lowest we can sell. Thank you. :)
Promotion and Offer:
AKG Promotion:
AKG K77 Perception Professional headphones at RM239 only https://goo.gl/u867JU


















---
Davis Online Store accepts following payment methods.

Recommended Payment Channel

Maybank account.
Maybank2u (highly recommended, please fill in sales@davis.my at e-mail column)
Cash Deposit Machine C.D.M. (Please produce a snapshot of your bank slip and send it to davis@japan.com)
Bank in through teller counter at Maybank branches

(Please bank in extra RM0.50 for inland commision charge)

Interbank transfer GIRO to Maybank account.

(Please allowed the payment clear first then only I send out the item)
Affinbank account.
RHB account.
CIMB account.
Hong Leong Bank account.
AmBank account.
Public Bank account.
Standard Chartered Bank account.
HSBC Bank account.
We accept moneygram payment from overseas customers.
Moneygram provides ultra competitive low transaction rate compare to Credit Card or PayPal.
If you do not have verified PayPal account or credit card, this is the best method sending money to us.
Visit them in here https://www.moneygram.com
No NetPay, No Paypal, No Visa, No MasterCard, No Credit card.
All of these payment gateway does not provide seller protection.
Too many chargeback and fraud case.
If you want to deal with us, find your way pay us in cash.
Thank you.
Local delivery
1. Philips, Panasonic, JVC, Aigo, Audio-Technica can be combine shipping for one time order, one time shipment but not able combine shipping with other products.

*The brands listed above parcels would be sending out by SkyNet logistic/ courier service only.
We only sending out the items from Monday to Friday except public Holidays (Selangor/ Wilayah Persekutuan). The last pick up time from courier service would be at 3pm.

Do contact us if your item not received after 3 working days.

Any form of messaging method chasing us for delivery status would not entertain for less than 72 hours after the parcel shipped.

2. All other items would be sending out by PosLaju only.
3. Please allowed 1 to 5 business days (Monday to Friday) for your parcel to arrive. Any messages chasing for status updates will not reply by us, as most of the time we already updated the shipping info in your purchase order. Please get the shipping info inside your order after you signed in back your account.
4. We are conducting our sales through internet channel only. We do not have any physical store for your normal foot-in-store shopping experience. We have reached agreement with many brands we must solely selling through internet only. If you wish to purchase the items with store like experience please get it done over at physical stores, thank you.
5. We are very happy receiving our customers order and business opportunity, but there are certain time during festive season we do not promise the parcels can reached on time. We do not over promise/commit when the parcel will arrive at specific date or time which is out of our control.
International delivery
1. For international shipping, any custom held, parcels returned due to bad addresses or any unknow reason, customers must pay the shipping cost for resend the parcel. Customers shall liable for the custom taxes.
2. To streamline ordering process, for each new order we will sending out two PayPal money request from davis@japan.com (one and only, no other account) to your e-mail registered with lelong.com.my. You may choose one of the shipping method either registered air parcel, EMS (express), UPS or FedEX to pay for it. If you think PayPal handling fees or shipping cost is still unbearable by you, please cancel the money request at the same time please discuss with us in davis@japan.com so that you can use moneygram.com service or we can work something else.

Special / Spare parts order
1.You have to be patient to wait for your parts to arrive, if you think you can get it faster or cheaper please source from elsewhere. Any enquiry about the ETA of the parts will be as accurate at the time we quoted you the price. If you wish to revise or on hold your order, the delay might be happen. If you change your mind not to place the order at the time being, you have to wait for another ordering window, which means you have to wait even longer time. E.g. Ordering a strap need to wait 1 month, when you reorder again on next ordering window that spare parts might be use for production, the delay might goes up to another 6 month or up to 12 months. Any delay for placing the order Is your own decision, not us that cause the delay.
2. ETA given by manufacturer just a rough estimation, it may be delay due to many factors and they have right not to inform us or cancel our order.
3. Once we committed the deal, we will deliver to you when the parts arrive. We will immediately sending out your parcel, our record has proven in our delivery pace.
3. We are just helping you to order parts as part of our extra mile service and we have to make it clear to you manufacturer owe us nothing and we owe you nothing as well especially those who never purchase that model from us before.
We are practising this since the day one we are in business.
There is no customer always right to us, we only believe fair deal, you respect our terms conditions we will value you as our precious customer.
BOILERPLATE NOT SO FINE PRINT:
We do not accept responsibility for our own stupid errors and typos, if you feel is not real then it is our mistake.
Please read listings carefully and, if you see something that is too good to be true, its probably it is not.
Please let us know and we will correct the listing, thank you very much.
:
)
Talk to us if you have not receive the parcel on time as mentioned in sales terms or agreed delivery time frame. If the product received is not in good condition please let us know. You face the problems, we like to help you to solve it as we taking our own pride with the products we are selling. If you choose to leave us a bad feedback before communicate with us which means we have not done anything to solve the problems thus it means you as customer chooses to cease our trading relationship immediately, we will respect your choice, do not expecting any further message from us in future related with your problems.

Products description and photos may be not accurately represent the product throughout product life cycle. Manufacturers reserved their right to altered their product design without needs to inform their distributors, dealers and customers. Do your research first before commit to deal, no return, exchange or refund allowed. If you have doubt, please write in to respective manufacturer to raise your questions.
We are part of the Green community whom working great effort to make ourself less harmful to our earth - Gaia.
We 100% sure our product is genuine locally sourced product from distributor. We do not supply dumping product from other countries which is against our store policy.

Most of the products sold from us are RoHS compliance, lead free, Green product, tree hugger (no receipt given out), minimum packaging.

We always encourage customer donate out their unwanted product to charity or send their used battery back to us for recycling, contact us for details.
Goods sold no refund, no exchange or return as non of the manufacturers or distributors in Malaysia do provide return policy. Please do your study thoroughly, all informations available in our listing as accurate as the time listed up. Manufacturer official website information is always final and judged unless there are certain info not updated yet. Talk to us if you need to clear the air about your doubt.

100% AUTHENTICITY GUARANTEE:
We guarantee that all the items we carry are authentic and brand new. If in any doubt, please send the purchased item to that respective brands boutique in your country to verify. For authenticity claims, please provide an official letter from the brand that states that any item purchased from Davis Online Store is not authentic. This letter has to be provided before we proceed with an exchange or refund.
Average Product Rating
0.0 stars out of 5
| | | |
| --- | --- | --- |
| 5 star | | 0 |
| 4 star | | 0 |
| 3 star | | 0 |
| 2 star | | 0 |
| 1 star | | 0 |
Share your thoughts with others
Write a review
Only buyers who purchased the product may leave a review