Model / SKU
product-1510329220287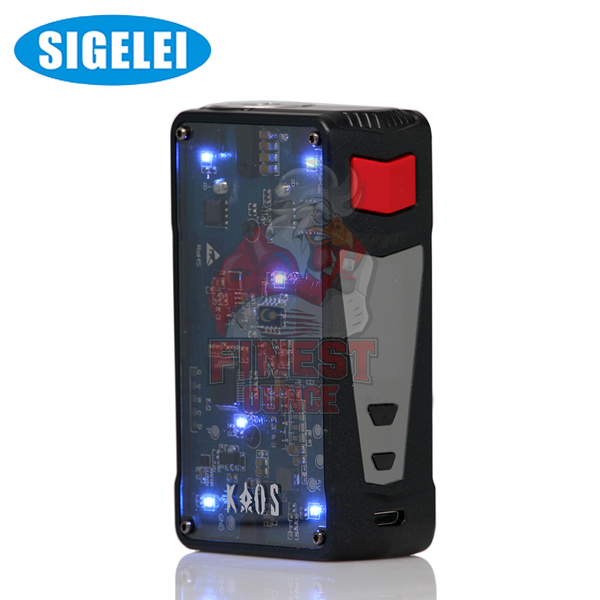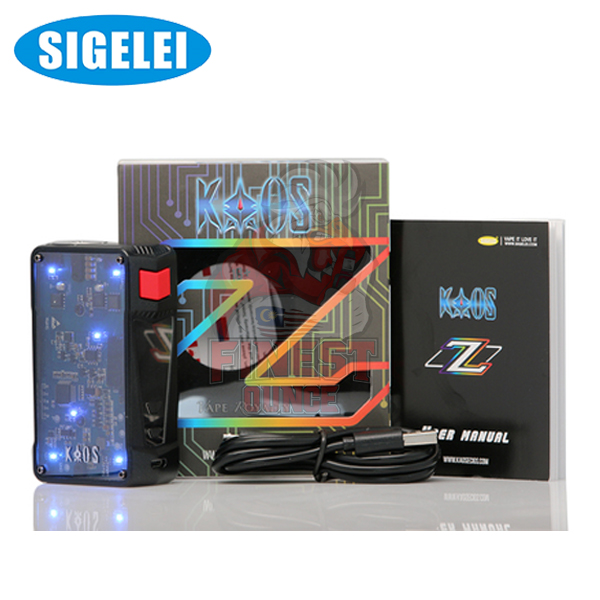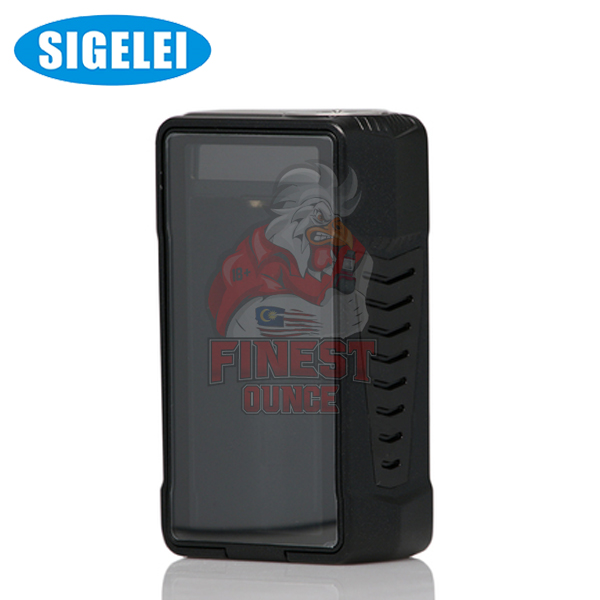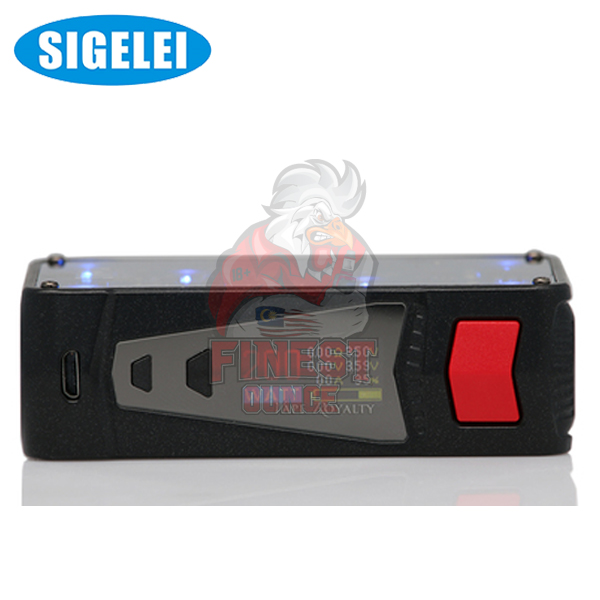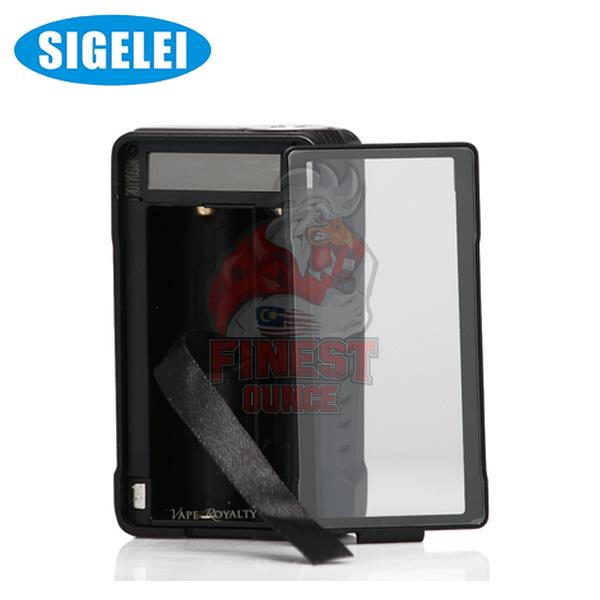 --------------- www.finestounce.com --------------- 
The Sigelei KAOS Z 200W TC Box Mod is the full-LED rendition following the popular KAOS Spectrum, adopting an aggressive design with see-through chassis alongside an advanced chipset. The KAOS Z Box Mod was crafted with a high-quality frame made from durable zinc alloy for a stable foundation. The control face implements futuristic designs with a large firing button with transparent magnetic door for a striking impression. The device is equipped with 6-Color LED lights that works in conjunction with the onboard chip to evoke a modern vaping experience. Powered by dual high-amp 18650 batteries (sold separately), the KAOS Z is capable of firing up to 200W with full temperature control and onboard support for Ni200 Nickel, Titanium, and Stainless Steel heating elements. In temperature control mode, it features an adjustable TCR mode that allows for expanded compatibility with Preheat functionality for further fine tuning.
Specs &​ Features:
Dimensions: 3-3/8" x 1-15/16" x 1-1/16"
510 Threaded
Operating Wattage: 10.0 - 200.0W
Voltage Input: 6.4 - 8.4V
Voltage Output: 1.0 - 7.5V
Temperature Control: Nickel 200 (Ni200), Titanium (Ti), Stainless Steel 304, 316, 317 (SS), TCR
Temperature Range: 100 - 300C / 200 - 570F
Resistance Range: 0.1 - 3.0ohm
Transparent PCB Design
Six Different Color LED Light Settings
Normal, Loop and Breathing LED Light Settings
Three Different LED Light Brightness Settings
0.96" TFT Color Display Screen
Detailed Operating Interface
Preheat Functionality
Zinc Alloy Construction
Transparent Magnetic Battery Door
Requires (2) High Amp 18650 Batteries (Sold Separately)
*External charger recommended for optimal charging speeds*
Micro USB Charging Port (DC 5V/2.5A)
Firmware Upgradeable
Brand: Sigelei
Model: KAOS Z 200W TC Box Mod
Max Wattage: 200W
Type: LED colour
Colour: Black / Orange / Yellow / Red
Each set contains:
1X Sigelei Kaos Z 200W Mod
1X Micro USB cable
1X User manual
1X Warranty card
--  Terms & Conditions   --  Return & Refund Policy  -- 

Last Updated @ 12/5/2017 12:44:52 PM





















---
SHIPPING AND HANDLING
Order Processing Time and Cut Off Time

There is a 24-48 hour processing time for all orders regardless of shipping method selected. However, we are working to get your order shipped out as soon as possible. We process orders from 8:30AM - 4PM on weekdays.
We do not process orders on weekends and all major Malaysia holidays. Your order will be processed the next following business day. Our daily shipping cutoff time is 2PM. If you receive a tracking number after our cutoff time, then your order was prepared but may not have left our facility.
Domestic Orders
Within Peninsular (PM), Sarawak, Sabah - Major Cities
Pos Laju - Next day delivery (D+1) business days* in transit
Skynet - Next day deliver (D+1) business days* in transit
Within Peninsular (PM), Sarawak, Sabah - Non Major Cities
Pos Laju - 2-3 business days* in transit
Skynet - 2-3 business days* in transit
Tracking numbers will be provided by email once order has been processed. Track your orders:
http://poslaju.com.my/track-trace/
International Orders
Please note that all prices listed are in Malaysia Ringgit and will not be automatically converted into your local currency upon checkout. FinestOunce is not responsible for any conversion fees associated with international orders. International buyers should contact their local custom authorities for any information on duty and taxes, all duties and taxes are the responsible of the buyers.
Zone A - Brunei, Singapore, Cambodia, Hong Kong, Laos, Myanmar, Philippines, Thailand, Indonesia, Vietnam
International Pos Malaysia EMS - 4-10 business days* in transit
Zone B1 - Australia, Bangladesh, China, Fiji, India, Japan, Macao, Mongolia, New Zealand, South Korea, North Korea, Taiwan, Sri Lanka
International Pos Malaysia EMS - 5-11 business days* in transit
Zone B2 - Other Countries
International Pos Malaysia EMS - 6-11 business days* in transit
Tracking numbers will be provided by email once order has been processed. Track your orders:
http://www.pos.com.my/
Lost and Undelivered Packages:
Lost or undelivered packages are not the responsibility of FinestOunce, and any issues arising from packages/shipments not received must be resolved with the postal carrier in use. FinestOunce strives in the upkeep and resolution of such matters, and any erroneous shipping issues must be reported within 24 hours of the last tracking update.
Please note that erroneous and incomplete address submissions inputted by the user will cause delays, returns, and other issues that will impact the successful shipping of your order. FinestOunce is not responsible for any and all costs associated with erroneous and incorrect address submissions inputted by the user.
Pos Laju Customer Service
Call: 1-300-300-300 to file a claim
Email: care@pos.com.my
Web: http://www.poslaju.com.my
Hours of Operation
Monday – Friday: 8:30am to 8:00pm
Saturday: 8:30am to 5:00pm (except 1st Saturday of the month and Public Holidays)
Skynet Customer Service
Call: 603- 56239090 to file a claim
Email: skynethq@skynet.com.my
Web: http://www.skynet.com.my
Hours of Operation
Monday – Friday: 8:30am to 5:30pm
Saturday: 8:30am to 1:00pm
Pos Malaysia Customer Serive
Call: 1-300-300-300 (Domestic)
Call: 603-2727-9100 (Overseas)
Email: care@pos.com.my
Web: http://www.pos.com.my/
Hours of Operation
Monday – Friday: 8:30am to 8:00pm
Saturday: 8:30am to 5:00pm (except 1st Saturday of the month and Public Holidays)
Missing and Incorrect Items:
If you are missing or have one or more incorrect items in regards to your order, email us at info@finestounce.com with your order number here: Click Here To Email Us within 72 hours of order delivery. Please include a clear picture of the packing slip. Once your order has been reviewed, missing items will be shipped out. A return label will be provided for incorrectly shipped items if necessary.
Damaged in Transit:
If you receive your order with damaged items, you must email us at info@finestounce.com or email us here: Click Here To Email Us within 36 hours of delivery. Once your claim has been submitted, reviewed, and approved, we will reship the affected items. If you have not contacted us within 36 hours of delivery, a claim must be filed with the appropriate shipping courier.
Canceling and Altering Orders:
Due to the volume of orders FinestOunce receives and in our efforts to provide the most expedient service to our customers, once an order has been placed and is processing we are unable to alter or change any order.
Delayed Orders:
Orders may be delayed depending on time placed (please refer to Order Processing Time and Cut-Off Time above) as well as conflict with holidays and other events. FinestOunce observes all major national holidays (Malaysia) and orders placed immediately before or after those days may be delayed. Shipping Couriers may also observe additional holidays upon which additional shipping delays may occur during those times. Orders may also be reviewed to ensure security and accuracy. If your order is under review, you will be contacted within the same day.

We check all information on our website very carefully. However, an occasional error may occur, or manufacturers might update information we are unaware of. We reserve the right to correct inaccurate information and are not responsible for typographical errors.
Terms and Conditions
PLEASE READ THE FOLLOWING TERMS AND CONDITIONS OF USE CAREFULLY BEFORE USING THIS WEBSITE. All users of this site agree that access to and use of this site are subject to the following terms and conditions and other applicable law. If you do not agree to these terms and conditions, please do not use this site.
Copyright
The entire content included in this site, including but not limited to text, graphics or code is copyrighted as a collective work under the Malaysia and other copyright laws, and is the property of finestounce.com. The collective work includes works that are licensed to finestounce.com. Copyright 2009-2015, finestounce.com ALL RIGHTS RESERVED. Permission is granted to electronically copy and print hard copy portions of this site for the sole purpose of placing an order with finestounce.com or purchasing finestounce.com products. You may display and, subject to any expressly stated restrictions or limitations relating to specific material, download or print portions of the material from the different areas of the site solely for your own non-commercial use, or to place an order with finestounce.com or to purchase finestounce.com products. Any other use, including but not limited to the reproduction, distribution, display or transmission of the content of this site is strictly prohibited, unless authorized by finestounce.com. You further agree not to change or delete any proprietary notices from materials downloaded from the site.
Trademarks
All trademarks, service marks and trade names of finestounce.com used in the site are trademarks or registered trademarks of finestounce.com
Warranty Disclaimer
This site and the materials and products on this site are provided "as is" and without warranties of any kind, whether express or implied. To the fullest extent permissible pursuant to applicable law, finestounce.com disclaims all warranties, express or implied, including, but not limited to, implied warranties of merchantability and fitness for a particular purpose and non-infringement. finestounce.com does not represent or warrant that the functions contained in the site will be uninterrupted or error-free, that the defects will be corrected, or that this site or the server that makes the site available are free of viruses or other harmful components. finestounce.com does not make any warrantees or representations regarding the use of the materials in this site in terms of their correctness, accuracy, adequacy, usefulness, timeliness, reliability or otherwise. Some states do not permit limitations or exclusions on warranties, so the above limitations may not apply to you.
Limitation of Liability
finestounce.com shall not be liable for any special or consequential damages that result from the use of, or the inability to use, the materials on this site or the performance of the products, even if finestounce.com has been advised of the possibility of such damages. Applicable law may not allow the limitation of exclusion of liability or incidental or consequential damages, so the above limitation or exclusion may not apply to you.
Typographical Errors
In the event that a finestounce.com product is mistakenly listed at an incorrect price, finestounce.com reserves the right to refuse or cancel any orders placed for product listed at the incorrect price. finestounce.com reserves the right to refuse or cancel any such orders whether or not the order has been confirmed and your credit card charged. If your credit card has already been charged for the purchase and your order is cancelled, finestounce.com shall issue a credit to your credit card account in the amount of the incorrect price.
Term; Termination
These terms and conditions are applicable to you upon your accessing the site and/or completing the registration or shopping process. These terms and conditions, or any part of them, may be terminated by finestounce.com without notice at any time, for any reason. The provisions relating to Copyrights, Trademark, Disclaimer, Limitation of Liability, Indemnification and Miscellaneous, shall survive any termination.
Notice
finestounce.com may deliver notice to you by means of e-mail, a general notice on the site, or by other reliable method to the address you have provided to finestounce.com.
Miscellaneous
Your use of this site shall be governed in all respects by the Malaysia laws., without regard to choice of law provisions, and not by the 1980 U.N. Convention on contracts for the international sale of goods. You agree that jurisdiction over and venue in any legal proceeding directly or indirectly arising out of or relating to this site (including but not limited to the purchase of finestounce.com products) shall be in the state or federal courts. Any cause of action or claim you may have with respect to the site (including but not limited to the purchase of finestounce.com products) must be commenced within one (1) year after the claim or cause of action arises. finestounce.com's failure to insist upon or enforce strict performance of any provision of these terms and conditions shall not be construed as a waiver of any provision or right. Neither the course of conduct between the parties nor trade practice shall act to modify any of these terms and conditions. finestounce.com may assign its rights and duties under this Agreement to any party at any time without notice to you.
Use of Site
Harassment in any manner or form on the site, including via e-mail, chat, or by use of obscene or abusive language, is strictly forbidden. Impersonation of others, including a finestounce.com or other licensed employee, host, or representative, as well as other members or visitors on the site is prohibited. You may not upload to, distribute, or otherwise publish through the site any content which is libelous, defamatory, obscene, threatening, invasive of privacy or publicity rights, abusive, illegal, or otherwise objectionable which may constitute or encourage a criminal offense, violate the rights of any party or which may otherwise give rise to liability or violate any law. You may not upload commercial content on the site or use the site to solicit others to join or become members of any other commercial online service or other organization.
Participation Disclaimer
finestounce.com does not and cannot review all communications and materials posted to or created by users accessing the site, and is not in any manner responsible for the content of these communications and materials. You acknowledge that by providing you with the ability to view and distribute user-generated content on the site, finestounce.com is merely acting as a passive conduit for such distribution and is not undertaking any obligation or liability relating to any contents or activities on the site. However, finestounce.com reserves the right to block or remove communications or materials that it determines to be (a) abusive, defamatory, or obscene, (b) fraudulent, deceptive, or misleading, (c) in violation of a copyright, trademark or; other intellectual property right of another or (d) offensive or otherwise unacceptable to finestounce.com in its sole discretion.
Indemnification
You agree to indemnify, defend, and hold harmless finestounce.com, its officers, directors, employees, agents, licensors and suppliers (collectively the "Service Providers") from and against all losses, expenses, damages and costs, including reasonable attorneys' fees, resulting from any violation of these terms and conditions or any activity related to your account (including negligent or wrongful conduct) by you or any other person accessing the site using your Internet account.
Third-Party Links
In an attempt to provide increased value to our visitors, finestounce.com may link to sites operated by third parties. However, even if the third party is affiliated with finestounce.com, finestounce.com has no control over these linked sites, all of which have separate privacy and data collection practices, independent of finestounce.com. These linked sites are only for your convenience and therefore you access them at your own risk. Nonetheless, finestounce.com seeks to protect the integrity of its web site and the links placed upon it and therefore requests any feedback on not only its own site, but for sites it links to as well (including if a specific link does not work).
Disclaimer
These products are not intended to diagnose, treat, cure or prevent any disease. Information and statements made are for educational purposes and are not intended to replace the advice of your health care professional. By purchasing these products, you agree to use products at your own risk. Under no circumstances will finestounce.com be held responsible or liable, directly or indirectly, for any loss or damage that is caused or alleged to have been caused in connection with use of, or reliance on any product on this site. Our products are intended for ADULTS only. Our Products are not to be used by anyone under the legal smoking age of the state they reside in. Other Groups that should consult a physician before use Included (but are not limited to): Those who suffer from heart disease or high blood pressure. Pregnant, nursing, or those thinking of becoming pregnant. Those allergic to nicotine or other PG based products
Lithium Ion Battery Warning
CAUTION: when working with Li-ion cells, they are very sensitive to charging characteristics and may explode if mishandled. User should have enough knowledge on Li-Ion rechargeable batteries in charging, discharging,and assembly before use. Charge and store the batteries in fire-proof container. Never leave batteries unattended when charging or while in use. Do not put batteries on wood surface or carpet when charging. Make sure to charge in Fire-Proof container. Do not use chargers purchased outside of finestounce.com to charge batteries purchased from finestounce.com. Doing so may cause damage to the battery and malfunctions which can cause serious injuries. We are not responsible for damage of any modification to the batteries in form or shape. We are not responsible for any damage caused by misuse or mishandling of theses Li-Ion batteries.

Learn more about proper storage and care for lithium batteries here:
http://batteryuniversity.com/
Product Image Disclaimer
Product images are for illustration purposes only. Actual product colors may vary depending on screen resolution and lighting.
Refund/Exchange Policy
All sales are final. We do not offer refunds or exchanges on any of our products regardless of whether they have been used or not. Please choose carefully. If you have any questions about our products, please contact us by email before placing an order.
Warranty Policy
Please read our FAQ page before assuming an item is defective, you may find your answer there. Our products may require maintenance or minor adjustments. This does not mean that the product is defective.
14-Day Warranty, DOA and Wrong Item Claims
Please contact our customer service team by email at info@finestounce.com with a description of the problem along with your order number. If the issue cannot be resolved by email, we will send you instructions on how to send the item back for replacement along with a return authorization (RMA) number. Replacements are ONLY shipped after the defective item are shipped back to us. "Dead on Arrival" (DOA) and "Wrong Item" claims must be reported to us within 72 hours from the delivery time. "14-day Warranty" claims must be reported to us within 14 days from the delivery date.
Your package must be postmarked within 5 days of receiving your return authorization (RMA) number. We will only replace defective items with working items of the same model.
Shipping Costs
Customer assumes all costs in shipping items back to us, and we assume the cost in shipping replacements to the customer. Shipping cost incurred are non refundable. All replacement/repaired products are shipped via Pos Laju / Pos Malaysia International. We recommend using delivery confirmation/tracking when shipping packages to us.
14-Day Warranty
Please test all products for defects upon receiving your order; especially when ordering in bulk. Please notify us immediately if an item is DOA/defective.
All Products (unless specifically stated otherwise), carry an implied, industry-standard 14-Day warranty against defects due to manufacturing or failure. Warranty does not include any use of the product that does not fall into the designed use of the product as intended by the manufacturer. The 14-Day warranty begins on the day the product is delivered and not on the day it was put to use.
Items not covered under our 14-day warranty: Cartridges, cartomizers, e-Liquid and clearance items. Scratches and discoloration are considered normal wear and tear and is not covered by warranty.
Dead on Arrival (DOA)
Cartomizers, HV atomizers and Clearance items (excluding eLiquids) are only covered by our DOA warranty. DOA items must be reported to us within 72 hours of receiving them.
Order Cancellation Policy
Please submit any cancellation via email to info@finestounce.com Once the order has been shipped, we will not be able to cancel your order.
Compatibility
We do not guarantee that our parts and products are compatible with those of other manufacturers or suppliers.
Average Product Rating
0.0 stars out of 5
| | | |
| --- | --- | --- |
| 5 star | | 0 |
| 4 star | | 0 |
| 3 star | | 0 |
| 2 star | | 0 |
| 1 star | | 0 |
Share your thoughts with others
Write a review
Only buyers who purchased the product may leave a review