Product ID : 157502026
Model / SKU : SPM-B6AC/DC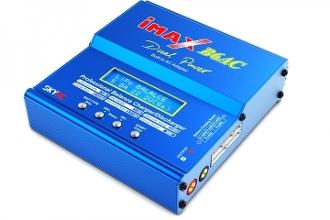 Sky RC AC/DC Battery Charger
Charge at home on 110/240v or in the field on 12v. The B6-AC handles both!
The IMAX B6-AC is a rock solid charger thats able to charge, balance and discharge Lion, LiPo, LiFe (A123), NiCd and NiMH batteries.
Optimized operating software 
B6AC features the so-called AUTO function that set the feeding current during the process of charging or discharging. Especially for Lithium batteries, it can prevent the overcharging which may lead to an explosion due to the user's fault. It can disconnect the circuit automatically and alarm once detecting any malfunction. All the programs of this product were controlled through two way linkage and communication, to achieve the maximum safety and minimize the trouble. All the settings can be configured by users!
Internal independent lithium battery balancer
B6AC employs an individual-cell-voltage balancer. It isn't necessary to connect an external balancer for balance charging.
Balancing individual cells battery discharging
During the process of discharging, B6AC can monitor and balance each cell of the battery individually. Error message will be indicated and the process will be ended automatically if the voltage of any single one cell is abnormal.
Adaptable to various type of lithium battery
B6AC is adaptable to various types of Lithium batteries, such as Li-ion, LiPo and the new LiFe series of batteries.
Fast and storage mode of lithium battery
Purposes to charge Lithium battery varies, 'fast' charge reduce the duration of charging, whereas 'store' state can control the final voltage of your battery, so as to store for a long time and protect useful time of the battery.
Delta-peak sensitivity: The automatic charge termination program based on the principle of the Delta-peak voltage detection. When the battery's voltage exceeds the threshold, the process will be terminated automatically.
Automatic charging current limit
You can set up the upper limit of the charging current when charging your NiCd or NiMH battery; it is useful for the NiMH battery of low impedance and capacity in the 'AUTO' charging mode.
The charging capacity is always calculated as the charging current multiplied by time. If the charging capacity exceeds the limit, the process will be terminated automatically when you set the maximum value.
The battery's internal chemical reaction will cause the temperature of the battery to rise. If the temperature limit is reached, the process will be terminated. * This function is available by connecting optional temperature probe, which is not included in our package.
You can also limit the maximum process time to avoid any possible defect.
To protect the car battery used as DC input power from being damaged, its voltage keeps being monitored. If it drops below the lower limit, the process will be ended automatically.
The maximum five batteries'data can be stored for users'convenience. You can keep the data pertaining to program setting of the battery of continuous charging or discharging. Users can call out these data at any time without any special program setting.
Cyclic charging/discharging
1 to 5 cyclic and continuous process of charge>discharge or discharge>charge is operable for battery refreshing and Balancing to stimulate the battery's activity.
AC input: 100-240Volt

DC input: 11-18Volt

Circuit power: Max.charge power 50W

Max.discharge power 5W

Charge current range: 0.1-5.0A

Discharge current range: 0.1-1.0A

Current drain for balancing Li-po: 300mA/cell

NiCd/NiMH battery cell count: 1-15cells

Li-ion/Polymer cell count: 1-6cells

Pb battery voltage: 2-20V

Net weight: 575g

Dimension: 135x144x36mm
All kind of accessories for charging batteries

Last Updated @ 3/14/2019 2:55:15 PM
PT Ria Store accepts NetPay
Free Delivery Nationwide
Peninsular Malaysia, delivery within five (5) working days after confirmed payment
Sabah and Sarawak, delivery within ten (10) working days after confirmed payment
Delivery maybe via courier service, POS, or sea freight.
Order/ booking will be cancelled after three (3) working days without confirmed payment.

Item availability is on first-come-first-serve basis.

Payment via NetPay.

COD or self-collect are not acceptable.
Warranty and Return Policy
All items sold are covered with 1 YEAR LIMITED PRODUCT WARRANTY on manufacturer defect; not inclusive of usage abuse, product alteration, act of nature, and batteries life.

Return refund are subject to PT Ria Store approval, and compensation is limited to refunding the amount purchased.

Return postage is borne by buyer.
Average Product Rating
0.0 stars out of 5
| | | |
| --- | --- | --- |
| 5 star | | 0 |
| 4 star | | 0 |
| 3 star | | 0 |
| 2 star | | 0 |
| 1 star | | 0 |
Share your thoughts with others
Write a review
Only buyers who purchased the product may leave a review