Hate crying in the kitchen? Not from heartbreak of course; those dreadful onions are causing yet another flow of tear leakage again. Fear not ladies, Slap Chop is here to save the day!
The Slap Chop is an All-Purpose chopper machine that works when the Plunger part is slapped. Every slap triggers the blades to chop and to cut the food; the more you slap, the more you chop, the finer the food gets!
 This quirky tool helps you save so much time in the kitchen because honestly; the last thing you'd want to do after a long hard day's work is to spend hours preparing for a meal. 
Slap chop onions and garlic. Never having to go through the hassle of removing their skin manually. Your hands wouldn't need to smell from manually touching it and this fascinating gadget would save you so much cooking time!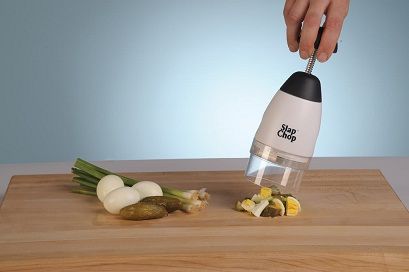 You will never need to switch blades to chop different condiments and other ingredients

!