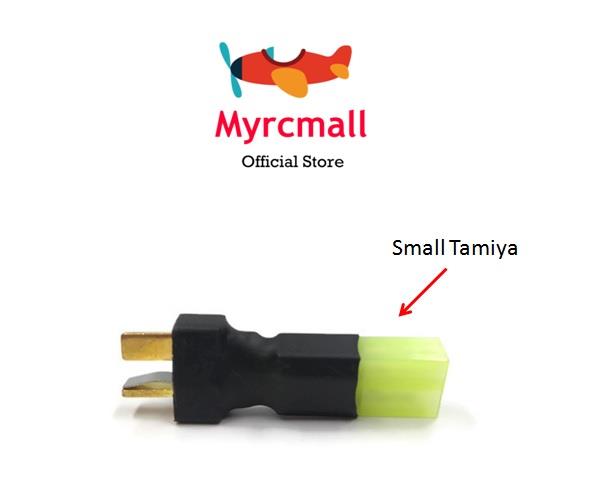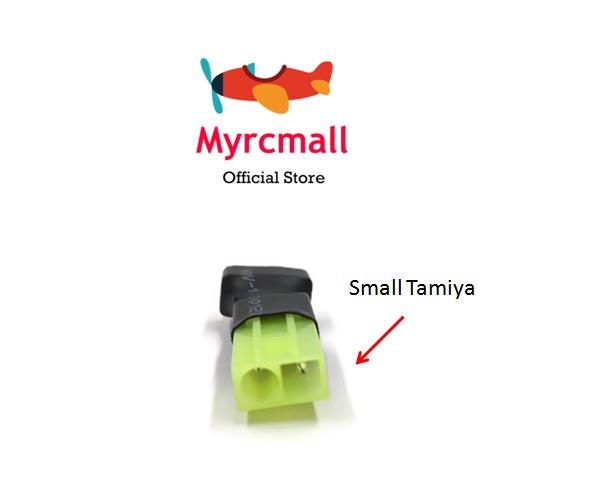 Small Tamiya Plug to T Dean Plug Converter Adapter Connector for RC Lipo Battery
Product Descriptions:
Use for convert battery with T Plug to Small Tamiya Plug on Receiver / ESC / Charger
Easy to use, cost effective, plug and play no modication required.
Package Content:
1 x Connector

Last Updated @ 6/3/2019 9:29:18 PM


---
How to Make Payment:
Myrcmall is a registered online company under Suruhanjaya Syarikat Malaysia (SSM). Our official website is www.myrcmall.com.my
We accept the following payment methods -:
Option 1: Online Bank Transfer / Cash Deposit Machine (CDM)
Payment can be made to our company Maybank account.
Maybank Account Name : MYRCMALL SOLUTION
Maybank Account Number : 557063610669
Email: payments@myrcmall.com.my
Kindly retain your transaction slip and email us a scan / print screen / photo of the transaction as proof of payment.
Please upload or email us the payment details after you've made the payment.
Please be informed that transaction sent via Interbank Giro Fund Transfer (non instant - domestic transfer), your order will be processed and shipped on the next business day as it would require minimum half a day for fund clearance by the Bank from Monday to Friday while transaction sent during or after Friday afternoon, Saturday, Sunday and Public Holiday will be proceseed by the bank during the next business day.We will process your order as soon as we received your payment.
Please feel free to contact our customer service should you require our further assistance.
Option 2: PayPal (Credit Card)
Please select PayPal checkout if you would like to pay by Credit Card. We are PayPal verified seller. Our PayPal payment address is payments@myrcmall.com.my
Note: For customer who wish to make payment via PayPal, there will be a processing fee of RM2+3.9% for each transaction imposed and chargeable by PayPal.
Thank you.
Mycmall Solution
Shipping Information
Pos Laju Courier Services
·Lead time for West Peninsular Malaysia only ( 1-2 Working Days )
·Lead time for Sabah Sarawak only ( 2-3 Working Days )
Pos Parcel Registered
·Lead time for West Peninsular Malaysia ( 4-6 Working Days )
·Lead time for Sabah Sarawak ( 6-8 Working Days )
* We highly encourage our customer to group their items in one order to save shipping cost.
All postage delivery services offered on our website include online track trace. This means you can track your package from the time it leaves out warehouse until it is delivered to and signed by you. However, it will take some time (usually within 1 working day) for the tracking number to appear in the system. On the day when your order is being shipped, you will receive an email notification from us. You may then check the tracking number from your MYRCMALL account control panel.
* We are not able to ship on Public Holidays.
* We do try our best to ship out your order including during weekends.
*The above time for delivery is listed as a guideline only. Actual delivery time may vary based on the item. The guideline above takes into consideration the processing of your order, verification, packaging, preparation and pick up. We will do our best to get your order to you as soon as possible.
Delivery Packaging
Packagesare generally dispatched within 1-2 days after receipt of payment and are shipped via Pos Laju with tracking number provided. It usually takes 1-3 working days for the courier to reach your place. Please do contact us if you have any special instructions regarding packing delivery.
Shipping fees include handling and packing fees as well as postage costs. Your package will be dispatched at your own risk, but special care is taken to protect fragile objects. We will always double check before sending out your order.
Terms and Conditions


PLEASE READ THESE TERMS AND CONDITIONS CAREFULLY!

MYRCMALL SOLUTION. TERMS OF SERVICE
Your access to and use of the Myrcmall Solution web site is subject to these Terms of Service, which we may update from time to time. It is your job to periodically review these terms for applicable changes. Your use of this site after we post any changes to these terms constitutes your agreement to those changes. If you have any questions about these terms, you can let us know by contacting us here.

WEB SITE CONTENT
All content on the Myrcmall Solution web site, including art work, graphics, images, screen shots, text, music, digitally downloadable files, trademarks, logos, product and character names, slogans, and the compilation of the foregoing ("Content") is the property of Myrcmall Solution. and its licensors and is protected in the Malaysia. and internationally under trademark, copyright, and other intellectual property laws. Third party content, including trademarks, trade names, characters, and trademarks and copyrights is the property of the third parties that market or license that content, and is used by Myrcmall Solution subject to license, or subject to the fair use provisions of Malaysia trademark law. Users of theMyrcmall Solution web site are expressly forbidden to misuse any Myrcmall Solution content or any third party content that appears on the web site.
You agree not to display or use any Content for any commercial purpose, in any publications, in public performances, in connection with products or services that are not those ofMyrcmall Solution, in any manner that is likely to cause confusion among consumers, that disparages or discredits Myrcmall Solution. and/or its licensors, that dilutes the strength ofMyrcmall Solution. or its licensors' property, or that otherwise infringes Myrcmall Solution or its licensors' intellectual property rights.
REPRESENTATIONS, WARRANTIES, AND ACKNOWLEDGEMENT
Myrcmall Solution makes no representations about the reliability of the features of the Myrcmall Solution. web site, and disclaims all liability in the event of any service failure. You acknowledge that any reliance on such material and/or systems will be at your own risk. Myrcmall Solution makes no representations regarding the amount of time that content on its site will be preserved.
OUR WEB SITE IS PROVIDED ON AN "AS IS, AS AVAILABLE" BASIS. NO WARRANTIES, EXPRESS OR IMPLIED, INCLUDING BUT NOT LIMITED TO THOSE OF MERCHANTABILITY OR FITNESS FOR A PARTICULAR PURPOSE, ARE MADE WITH RESPECT OT OUR WEB SITE OR ANY INFORMATION OR SOFTWARE THEREIN. UNDER NO CIRCUMSTANCES, INCLUDING NEGLIGENCE, SHALL MYRCAMALL SOLUTION. BE LIABLE FOR ANY INCIDENTAL, SPECIAL, OR CONSEQUENTIAL DAMAGES THAT RESULT FROM THE USE OF OR INABILITY TO USE OUR WEB SITE, NOR SHALL MYRCMALL SOLUTION BE RESPONSIBLE FOR ANY DAMAGES WHATSOEVER THAT RESULT FROM MISTAKES, OMISSIONS, INTERRUPTIONS, DELETION OF FILES, ERRORS, DEFECTS, DELAYS IN OPERATION OR TRANSMISSION, OR ANY FAILURE OF PERFORMANCE WHETHER OR NOT CAUSED BY EVENTS BEYOND MYRCMALL SOLUTION REASONABLE CONTROL, INCLUDING BUT NOT LIMITED TO ACTS OF GOD, COMMUNICATIONS LINE FAILURE, THEFT, DESTRUCTION, OR UNAUTHORIZED ACCESS TO OUR WEB SITE, RECORDS, PROGRAMS, OR SERVICES.
You agree to indemnify and hold Myrcmall Solution its parents, subsidiaries, officers, employees, and web site contractors harmless from any claims and expenses, including reasonable attorney's fees, related to your violation of these Terms of Service or Policies and Procedures, including any abusive or unlawful behavior on the part of you or your dependents, or the infringement of any intellectual property or privacy right of any person.
Both you and Myrcmall Solution acknowledge and agree that no partnership is formed and neither of you nor Myrcmall Solution has the power or the authority to obligate or bind the other.
LIMITS OF RESPONSIBILITY
Myrcmall Solution accepts no responsibility for crash damage and/or loss of kits, motors, accessories, etc. incurred during operation of a radio-controlled model. In most cases it is very difficult or impossible to determine whether crash damage was actually due to radio equipment failure or to operator error. Also, we cannot be held responsible for any purchased components that are incorporated into radio systems or problems caused by incompatibility between radio components or parts.
Myrcmall Solution contains hyperlinks to other web sites operated by parties other than us. We do not control their web sites and are not responsible for their contents. Surf with caution. Report problems to us.

PRIVACY STATEMENT
Myrcmall Solution does not sell or share any of its customers personal information with any other company or marketing agency.. We can't be held liable if a hacker or thief steals any info. We have chosen Paypal as a Secure Shopping Cart.
PRICE AND/OR DEscriptION CHANGES
All prices, pictures and descriptions on this site and all other Myrcmall Solution publications are subject to change. Myrcmall Solution maintains no responsibility for inadvertent errors. In the event of typographical errors on our site or in our publications, Myrcmall Solution. reserves the right to cancel or refuse orders at its sole discretion. Please contact us within 30 days regarding price or promotion discrepancies.
Return Policy (RMA)


We reserve the right to change the contents of this page without any notice. Any use of Myrcmall.com.my is subject to the user agreeing to the following terms and conditions set forth by Myrcmall.com.my. Please read this page in its entirety before purchasing any item through Myrcmall.com.my.
Important Disclaimer
All products sold by Myrcmall.com.my are brand new, have been checked for functionality and workability prior to shipping by our technician. Customer is fully responsible for damages caused during or after used for product(s) purchased. We reserve the right to refuse any return or claim due to damages caused by the above mentioned circumstances. We shall not be held responsible for any injuries caused directly, or indirectly, while using the purchased product(s). Thank you for your understanding.
Is there a warranty on my product?
In most case, R/C Hobby products do not carry warranty because most likely you will crash and break the product yourself, and most importantly R/C Hobby is a kind of Consumable Product which it will not last forever or will not predict/guarantee how many times of use it can be.
Why RC Hobby products come with limited warranty?
It is a common practice for RC Hobby if you buy a RTF (Ready to Fly), RTR (Ready to Run), or BNF (Bind N Fly) product in a local physical hobby shop. The seller would usually test the hobby product in front of you (test flight) to prove the helicopter is working properly before selling to you (and you either agree the condition as seen, or disagree the condition then walk out the door without paying for it). After you walk out the door, the seller would not take responsibility for damage/defective because it is most likely that the defective was caused by a crash. This sounds not very good but this is true and a common practice for all RC Hobby sellers. If you choose to pick up the products from us directly, the product is to be tested on the spot (applicable for RTF/RTR/BNF products). For postage, we offer up to 72 hours or 3days for testing.
How do I organize a return or submit a complaint?
Please contact us with the following details to obtain an authorization for return (or submit a complaint):
Order ID

The date you received the order from courier service

Describe the problem in details

Photos to show the problem (either)

none electronic product (eg. Skid, Blade, Tail Boom, etc.)

please include the photos of the packaging box if you complain for damages during transportation

Videos to show the problem (either)

electronic product (eg. Receiver, Helicopter, Car, etc.)
Can I return my order without prior notice?
No. It is required to submit photos or videos along with your complaint. A complaint without a proof (eg. photo / video) does not qualify for a complaint. It is the same for insurance company, you need to submit the proof in order to make a claim (that makes sense and is common to everyone in any country).

However, it will be fine if you have decided to return the item(s) and skip to provide a photo or video. We will inspect the returning item(s) when we receive it and inform you the outcome.

** Please email us all the details (eg. Video / Photo) within 3 days after you file a complaint.

Can I get a replacement or refund without returning the item or order?
You are required to return the goods for refund or exchange unless stated otherwise.

Do I need to return the item in its original packaging?
Yes. Product(s) must be returned in original manufacturer's packaging, so we recommend you keep your packaging.

Product(s) returned without original packaging or with a missing item (eg. accessories) is not eligible for refund. In this case, we are only able to help you forward your returned product to the factory for repairing and you will be responsible for all cost (shipping and repairing).

Who will be responsible for return shipping cost?
The return shipping cost is to bear by you (the buyer). This apply to domestic and international shipping.

However, Myrcmall.com.my will bear the shipping cost of resending (in the case of factory defective only) after we have received the defect item(s) and the defected item(s) is proven to be a factory defective item(s).

Can I get refund for the original shipping cost after returning my order?
No. Shipping cost is not refundable in any circumstances.

When will I receive refund/exchange if i return the product(s)?
You agree and accept that a replacement / refund will be processed only for the product(s) which have been returned to us safely. No refund / replacement will be issued before we receive the product(s) back from you.

Is there a deadline for me to submit a complaint or request for return?
Yes. A complaint or request for return must be received by us within 3 days counting from the date and time you received the parcel from courier service.

If you have found any problem with product(s) you have received from us. Please report within 3 days, we are unable to offer a return/refund/resend/exchange after many days or weeks should you choose not to test the product within the said period.

Is there a deadline I must return the item after my "authorization for return" request has been aproved?
You must return (shows you that have posted the parcel by giving us the tracking number) the item within 7 days after your request has been approved. Otherwise, that means you choose to give up the complaint and return, and your complaint and refund will no longer be accepted.

Lost Parcel (Not Received)
We do not refund or replace the parcel that did not arrive due to the following :-
the customer did not pick up the parcel in time (as reported/confirmed by post office / courier).
the customer supplied an incorrect address (as reported/confirmed by post office / courier). eg. below causes are examples (also classified as) of incorrect address.

the people at the delivery address refused to sign for the parcel

the people at the delivery address claimed there is no such person

the customer refused to sign/receive the parcel (as reported/confirmed by post office / courier).

the customer refused to pay the Customs Duties (or refuse to help on Customs Clearance), the parcel therefore forfeited by the Customs and no refund / resend will be offered.
The order will be regarded as *completed* and the customer must agree that he/she will be responsible for return (if any) and re-sending cost (if any) if any of above conditions applied.
Myrcmall.com.my reserve the right to refuse any form of return/refund/exchange/claim of product(s) due to damages caused by the above mentioned circumstances.
Average Product Rating
0.0 stars out of 5
| | | |
| --- | --- | --- |
| 5 star | | 0 |
| 4 star | | 0 |
| 3 star | | 0 |
| 2 star | | 0 |
| 1 star | | 0 |
Share your thoughts with others
Write a review
Only buyers who purchased the product may leave a review