Item Specification
Product Description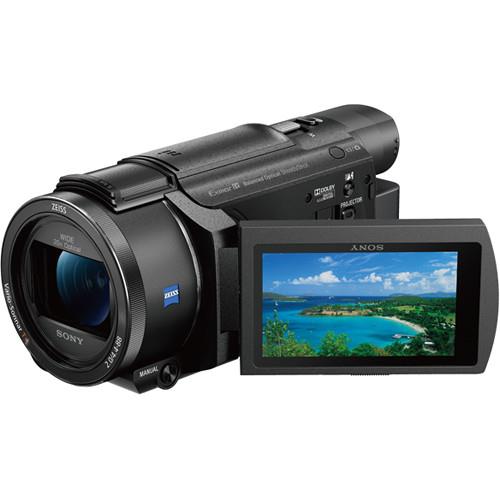 The Sony 64GB FDR-AXP55 4K Handycam with Built-In Projector is a palm-sized Handycam camcorder that combines a Zeiss 20x optical zoom lens and a high-sensitivity image sensor to produce crisp and high-quality UHD 4K or HD video. This is the 50 Hz version of the camcorder which is compatible with European broadcast standards and is not compatible with NTSC equipment. The Exmor R CMOS image sensor supports UHD 4K video capture at 24 or 25 fps using Sony's XAVC S codec and features pixels that are approximately 1.6x larger than the previous model for enhanced performance in all conditions, particularly low-light scenarios. The camcorder also features Sony's Balance Optical SteadyShot image stabilization technology to help produce smooth and stable footage throughout the zoom range. Further enhancements include improved autofocus speed and accuracy, a lower-noise built-in microphone, and a high-speed 1080p 100 fps recording mode to create high-resolution slow-motion content.
The camcorder's 3.0" Xtra Fine LCD touchscreen display with 921K dot resolution, or the high-resolution 0.24" 1,555K dot OLED EVF provide for monitoring while shooting. For large-screen playback, you can project directly from the camcorder via the built-in projector. An HDMI output port is also provided for connecting to your HDTV to large-screen monitor. You can even 'trim' a selected portion of a 4K video or image frame to fill the screen with Full HD quality. For enhanced connectivity and remote control, the FDR-AXP55 is Wi-Fi and NFC enabled. This lets you use your smartphone or tablet to control the camcorder, as well as wirelessly transfer files to your mobile device and even stream live to Ustream.
Designed for a wide range of users, the camcorder features a variety of automatic image and audio options for easy point-and-shoot operation, as well as enhanced manual controls that give you more creative freedom. An assignable ring on the front of the camcorder can be assigned to control of zoom, focus, exposure, iris, shutter speed, exposure, or white balance. A rechargeable lithium-ion battery pack is included for powering the camcorder, along with an AC adapter, micro-HDMI cable, and micro-USB cable.
Exmor R CMOS Sensor

A newly developed image sensor, with pixels of approximately 1.6 times larger than previous models, offers enhanced sensitivity for capturing high-quality images with less noise under dark as well as bright shooting conditions.
Carl Zeiss Vario-Sonnar T* Lens with 20x Optical Zoom

The FDR-AXP55 comes equipped with a Carl Zeiss Vario-Sonnar T* lens. It features a wide 35mm-equivalent focal length of 26.8mm (in movie mode) to fit more into your shots and a 20x optical zoom range. Multi-layer Zeiss T* coating further enhances image quality by reducing unwanted reflection, such as ghost and flare. To get you closer to the action, the zoom range can be extended using Clear Image Zoom of 30x/40x (4K/HD) using Clear Image zoom.
Balanced Optical SteadyShot Image Stabilization

Advanced image stabilization suppresses camera shake to stabilize footage as it is being shot and works throughout the zoom range. In HD shooting mode, it further reduces effects of camera shake even under unstable conditions with 5-axis Intelligent Active mode compensating for vibration in five different directions, so you can shoot stable high-quality movies even while running.
Built-In 50 Lumen Projector

The built-in projector features a maximum 50 lumen output and screen coverage of up to 200" diagonal. Project your footage directly from the camera to view your day's shooting, or share memories without crowding everyone around the LCD screen. The micro-HDMI input allows you to connect external devices that have an HDMI output and use the camcorder's projector to display content.
64GB of Built-In Memory

You can capture to the 64GB of internal flash memory, and later transfer your footage to your computer for editing. This allows you to shoot without requiring that you obtain an optional media card.
Fast Intelligent AF

Fast Intelligent AF achieves very speedy, accurate contrast-detection autofocus by minimizing lens motion, predicting the AF range, and accelerating lens drive, thereby improving response so you can capture more fleeting moments.
5.1 Channel On-Board Audio Capture

During AVCHD recording, a 5.1 channel built-in microphone captures active sounds coming from five directions so you can experience your home movies the way you experienced them while recording. Level meters on the LCD panel provide visual monitoring of each channel's levels.



Note:

 5.1 channel audio is only available when recording in AVCHD, so it is not available for 4K UHD recording, which uses the XAVC S codec.
Lower Noise Audio Performance

A new structural design enables the microphone to gather clearer sound from five directions than the previous generation camcorder, with approx. 40% less noise and twice as effective 2ch stereo (for XAVC S shooting) and three times as effective Dolby Digital 5.1 channel surround (for AVCHD shooting) sound performance. This makes it possible to faithfully reproduce audio with clearly defined separation.
High Speed Full HD Recording

Shoot in 1080p at 100 fps and bring it into your editing software to produce high-resolution slow-motion footage. This is useful for reviewing, in greater slow-motion detail, sports and everyday action that can occur too quickly in real time for you to see clearly.
XAVC S, AVCHD, and MP4 Codecs

The FDR-AXP55 records 4K and HD movies in the XAVC S format, which uses MPEG-4 AVC/H.264 for video compression and linear PCM for audio compression, while saving files in a MP4 wrapper which allows for extensive record times and easy editing. Additionally, you can chose to record HD in AVCHD (ideal for HDTV and Blu-ray disc burning) or MP4 (ideal for sharing over the Internet).
Dual Video Recording

Record two movies at the same time - one in the maximum-quality XAVC S or AVCHD format and another in MP4 format. This gives you a small file ready for instant sharing, plus a professional-grade file for further editing.
4K Time-Lapse

Capture 4K still images continuously over an extensive period of time at a selected constant interval from each shot to the next, edit the entire sequence of still images in post-production, and enjoy playback of that series of images as a time-lapse movie.
Super-Sampled Full HD Playback

Enhance your viewing experience even without a 4K television. Using super-sampling, the camera automatically down-converts 4K footage to exceptionally detailed Full HD.
Timecode / User Bit

Timecode and User Bit can be added to movies as data elements. The Time Code function records hours/minutes/seconds/frames on image data for precise advanced video editing. User Bit function records information such as date, time, and scene number in eight-digit arbitrary numbers, and is useful for editing movies using two or more cameras.
0.24" OLED EVF

The high contrast 0.24" OLED Tru-Finder EVF features a 1,555K-dot resolution and reproduces rich color and deep blacks. The optical design uses four dual-surface spherical lenses, which provides a wide 33-degree viewing angle for clear images from center to the edge of the viewfinder.
3.0" Xtra Fine LCD Touchscreen Display

The 3.0" Clear Photo LCD features 921K dot resolution for sharp, bright, vivid images, enabling you to change settings to best represent the scene. Easily scroll through menus and view footage thanks to WhiteMagic technology that dramatically increases visibility in bright daylight.
Simple Connectivity to Smartphones via Wi-Fi/NFC

Built-in Wi-Fi/NFC support enables easy connectivity with smartphones for one-touch sharing and one-touch remote control. NFC (near field communication) provides "touch connection" convenience when transferring images to Android smartphones and tablets. You simply touch your NFC-compatible device to the camcorder to establish a connection.
Live Streaming

Share the adventure as it happens via Ustream live streaming. Now your circle of friends and family can share the excitement in real time by simply logging in to UStream from anywhere. You can also link your favorite social accounts to notify your friends when you start streaming video.
Multi-Camera Control

Add a different point of view by including other camera angles to your movies. Connect to up to five compatible Sony cameras via Wi-Fi and use the camcorder's LCD to preview what the other cameras are seeing and simultaneously start recording on all synced cameras. After recording, you can use the PlayMemories Home software (available as a free download on Sony's website) to easily edit and create multi-view movies.
Highlight Movie Maker

Highlight Movie Maker produces a short highlight movie clip to share and enjoy instantly. Using an advanced algorithm based on the motion gyro, Highlight Movie Maker automatically selects the best scenes from your videos and creates a MP4 highlight reel of your recorded action.

Note: Highlight Move Maker is only available in AVCHD.
Intelligent AUTO Mode

Intelligent AUTO mode goes a step beyond traditional auto modes by analyzing your shot and then automatically selecting the appropriate settings from ten distinct scene modes and wind noise reduction. There are 60 different combinations possible: Portrait, Baby, Tripod, Backlight, Landscape, Spotlight, Twilight, Macro, and Low light.
Multi Interface Accessory Shoe

Expand photographic and movie shooting possibilities by attaching optional accessories via the Multi Interface Shoe. Attach an electronic viewfinder, external flash, stereo microphone, or even a compatible remote control via the Multi Terminal.
Trimming Playback

Connect to your 1080p HDTV via the camcorder's HDMI output and select a specific portion of the 4K picture for playback; you can move the section using the camcorder's menu toggle, and scale it using the zoom lever.
Manual Control Ring

The manual control ring around the lens opening can be assigned to control zoom, focus, exposure, iris, shutter speed, exposure, or white balance.
Additional Features

Dual Record (video and still image recording)
Photo capture from movie
NightShot infrared recording
Face Detection and Smile Shutter
Motion/Golf Shot
BRAVIA Sync (CEC)
Lock-on AF
My Voice Cancelling

Camera
Sensor
1/2.5"  CMOS
Backside Illumination
Yes
Effective Pixels
8,290,000 @ Video 16:9
8,290,000 @ Photo 16:9
6,220,000 @ Photo 4:3

Optics
Focal Length
4.4 - 88 mm
35mm Equivalent Focal Length
26.8 - 536 @ Aspect Ratio: 16:9 
32.8 - 656 @ Aspect Ratio: 4:3 
Maximum Aperture
f/ 2 - f/ 3.8
Focusing Distance
0.4" / 1.0 cm - Infinity
Zoom
Optical: 20x
Clear Image Zoom: 30x 4K
Clear Image Zoom: 40x (in HD)
Digital: 250x
Filter Size
55 mm

Recording
System
PAL
Recording Media
Internal Flash Memory Up To 64 GB 
Memory Stick PRO-HG Duo, Memory Stick Pro Duo (Mark 2), Memory Stick XC-HG Duo  
SD/SDHC/SDXC   
Video Format

XAVC S


3840 x 2160p / 25 fps (100 Mbps)
3840 x 2160p / 24 fps (100 Mbps)
1920 x 1080p / 50 fps (60 Mbps)
1920 x 1080p / 25 fps (60 Mbps)
1920 x 1080p / 24 fps (60 Mbps)


AVCHD


1920 x 1080p / 50 fps (28 Mbps)
1920 x 1080p / 25 fps (24 Mbps)
1920 x 1080p / 25 fps (17 Mbps)
1920 x 1080p / 24 fps (24 Mbps)
1920 x 1080p / 24 fps (17 Mbps)
1920 x 1080i / 50 fps (24 Mbps)
1920 x 1080i / 50 fps (17 Mbps)
1440 x 1080i / 50 fps (9 Mbps)
1440 x 1080i / 50 fps (5 Mbps)


MP4


1280 x 720p / 25 fps
Slow Motion Mode
100 fps recorded @ 1920 x 1080p
Still Image Resolution
JPEG: 16.6 Megapixel, 5440 x 3056 (16:9)
JPEG: 12.5 Megapixel, 4080 x 3056 (4:3)
JPEG: 8.3 Megapixel, 3840 x 2160 (16:9)
JPEG: 6.2 Megapixel, 2880 x 2160 (4:3)
JPEG: 2.1 Megapixel, 1920 x 1080 (16:9)
JPEG: .3 Megapixel, 640 x 480
Channels
5.1-Channel
Audio Format
AAC-LC
Dolby Digital 2ch
Dolby Digital 5.1
LPCM
Sampling Frequency
LPCM: 48.0 kHz
Bit Rate
LPCM: 16.0-bit

Display
Display Type
LCD
Touchscreen
Yes
Screen Size
3"
Pixel Count
921,600
Aspect Ratio
16:9
Rotation
Opening Angle: 90°
Turning Angle: 270°

2nd Display
Display Type
Viewfinder
Screen Size
.24"
Pixel Count
1,555,200

Projector
Native Resolution
854 x 480
Brightness
50 Lumens
Contrast Ratio

Not Specified By Manufacturer

Throw Distance

Not Specified By Manufacturer

Projection Size
10" / 25.40 cm (Max Diagonal: 200" / 508.00 cm) 

Exposure Control
Shutter Speed
1/6-1/10000 sec
1/50-1/10000 sec
1/25-1/10000 sec
1/215-1/10000 sec
Exposure Metering
Multi, Spot
Exposure Modes
Modes: Auto, Manual
Interval Recording
1 sec
2 sec
5 sec
10 sec
30 sec
60 sec
Self Timer
10 Sec

Features
Image Stabilization
Optical
Scene Modes
Preset: Yes
Lux
1.8 (4K: Low Lux, 1/25 shutter speed)
9 (4K: Standard, 1/50 shutter speed)
1.2 (HD: Low Lux, 1/25 shutter speed)
6 (HD: Standard, 1/50 shutter speed)
0 (NightShot 1/50)
White Balance Modes
Auto
Indoor 1
Onepush
Outdoors
Creative Effects
Yes
Built-in Mic
Yes
Built-in Speaker
Yes
Built-in Light/Flash
Light - No
Flash - No
Wi-Fi
Yes
Accessory Shoe
1x Multi Interface Shoe
Tripod Mount
1/4" - 20

Input/Output Connectors
Outputs
1x HDMI D (Micro)
1x Multi-Terminal micro-USB
Microphone Input
Yes
Headphone Jack
Yes

General
Battery
Rechargeable Lithium-Ion Battery Pack, 6.8 VDC, 1960 mAh
Charging Method
AC Adapter
USB
Charging Time
2.5 hours
Power Consumption
In LCD Operation:4.9 W
In Viewfinder Operation:4.9 W
Dimensions (WxHxD)
2.9 x 3.2 x 6.6" / 7.4 x 8.1 x 16.8 cm with battery attached
Weight
22.4 oz / 635 g with battery attached

Packaging Info
Package Weight
2.65 lb
Box Dimensions (LxWxH)
7.4 x 5.9 x 5.0"

 
PLEASE DO CONTACT US IF YOU NEED ANY FURTHER DETAILS AND PACKAGES INCLUDED IN THE PRODUCT
INSTALMENT PLAN AND TRADE-INS ARE WELCOME
CONTACT NO: 012-6320729



















---
PRODUCT DELIVERY WITHIN 3 WORKING DAYS VIA COURIER OR WALK-IN CUSTOMER ARE WELCOME TOO
Please read carefully on ALL the terms and conditions stated herein:

Product Warranty
Please refer to listing page for warranty (if any).

Buyer is responsible for return shipping fee. Units returned found not to be defective will be returned at buyers expense.

Postage fee is not refundable and item must be returned in original condition.
Payment Policy
Payment must be received within 3 days of Buy Now / Auction Closed.

We reserve the right to cancel the order if payment is not received after 3 days of Buy Now / Auction ended.
Miscellaneous
Item sold are not refundable or exchangeable.

Product features and specifications are for reference only and may subject to change without prior notice.

Product images or colours are for illustration purpose only, unless otherwise specified.
ALL PRODUCT ARE UNDER WARRANTY FROM RESPECTIVE BRANDS (100% ORIGINAL)
Questions & Answers
Do you have any questions to ask merchant about this product
Ask Seller
| | | |
| --- | --- | --- |
| 5 star | | 0 |
| 4 star | | 0 |
| 3 star | | 0 |
| 2 star | | 0 |
| 1 star | | 0 |
Share your thoughts with others
Write a review
Only buyers who purchased the product may leave a review