Item Specification
Model / SKU
: Sony 19.5V 4.74A (6.0/6.5x4.4)
Product Description
Product Description
Sony 19.5V 4.74A (6.0/6.5mm*4.4mm)
Notebook/Laptop 90W Adapter Charger

*Free Power Cord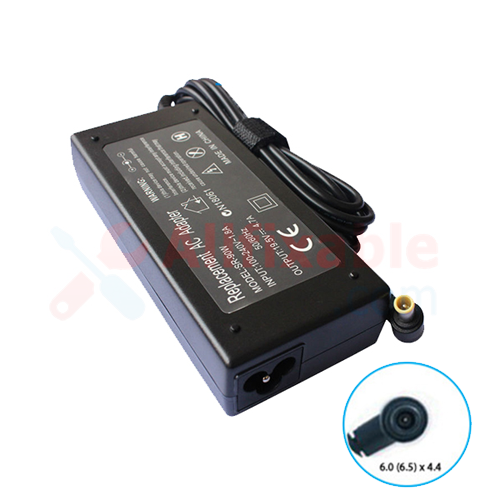 * Please Call for order to make sure stock are ready. *
* Images & product color may vary from actual products.*
SMS / Whatsapp / Call

010-288 6207 / 010-288 6275 / 011-1135 3144
Allfixable Lab Sdn Bhd

99A, Jalan Kenari 23,
Bandar Puchong Jaya,
47100 Puchong, Selangor.

Tel: 03-8070 8128 (Hunting Line)
Fax: 03-8070 4873
Email:

sales@allfixable.com


H/P No: 010-288 6207 / 010-288 6275 for quick feedback

GPS Coordinate:
Latitude : 3.04439 (03°02′39.820″N)
Longitude : 101.62258 (101°37′21.272″E)


Our purpose:

~ Promised to provide the highest quality products, best service, best price
~ Promised to provide free diagnose for problems and provide a free quote
~ Promised to provide 30-90 days warranty


Warranty - 6 Months Distributor Limited Warranty
Specifications
Specifications
Brand
Sony
Model
19.5V 4.74A (6.0/6.5mm x 4.4mm) 90W
Compatible For
Sony Vaio PCG-590
Sony Vaio PCG-630 PCG-650 PCG-690
Sony Vaio PCG-700 PCG-701 PCG-705 PCG-707 PCG-709
Sony Vaio PCG-711 PCG-717 PCG-719
Sony Vaio PCG-721 PCG-729
Sony Vaio PCG-731 PCG-735 PCG-737
Sony Vaio PCG-745 PCG-747 PCG-748
Sony Vaio PCG-800 PCG-808 PCG-812 PCG-818 PCG-838

Sony Vaio PCG-F104 PCG-F150 PCG-F160 PCG-F180 PCG-F190
Sony Vaio PCG-F200 PCG-F212
Sony Vaio PCG-F250 PCG-F270 PCG-F280 PCG-F290
Sony Vaio PCG-F304 PCG-F305 PCG-F309
Sony Vaio PCG-F340 PCG-F350 PCG-F360 PCG-F370 PCG-F390
Sony Vaio PCG-F400 PCG-F403 PCG-F405 PCG-F409
Sony Vaio PCG-F420 PCG-F430 PCG-F450 PCG-F480 PCG-F490
Sony Vaio PCG-F520 PCG-F540 PCG-F560 PCG-F570 PCG-F580 PCG-F590
Sony Vaio PCG-F610 PCG-F630 PCG-F640 PCG-F650
Sony Vaio PCG-F670 PCG-F680 PCG-F690
Sony Vaio PCG-F701 PCG-F707 PCG-F709 PCG-F737
Sony Vaio PCG-F801 PCG-F807 PCG-F808 PCG-F809

Sony Vaio PCG-FX101 PCG-FX103 PCG-FX105 PCG-FX108 PCG-FX109K
Sony Vaio PCG-FX120 PCG-FX140 PCG-FX150 PCG-FX170 PCG-FX180 PCG-FX190
Sony Vaio PCG-FX200 PCG-FX201 PCG-FX202 PCG-FX203 PCG-FX205 PCG-FX209
Sony Vaio PCG-FX210 PCG-FX215
Sony Vaio PCG-FX220 PCG-FX240 PCG-FX250 PCG-FX270 PCG-FX290
Sony Vaio PCG-FX300 PCG-FX301 PCG-FX302 PCG-FX304
Sony Vaio PCG-FX310 PCG-FX340 PCG-FX370 PCG-FX390
Sony Vaio PCG-FX401 PCG-FX403 PCG-FX404 PCG-FX405
Sony Vaio PCG-FX410 PCG-FX430
Sony Vaio PCG-FX501 PCG-FX502 PCG-FX503 PCG-FX505
Sony Vaio PCG-FX601 PCG-FX602 PCG-FX604 PCG-FX605
Sony Vaio PCG-FX701 PCG-FX702 PCG-FX705
Sony Vaio PCG-FX770 PCG-FX776
Sony Vaio PCG-FX800 PCG-FX801 PCG-FX802 PCG-FX804 PCG-FX805
Sony Vaio PCG-FX876 PCG-FX880
Sony Vaio PCG-FX900 PCG-FX902 PCG-FX905 PCG-FX950

Sony Vaio PCG-R505
Sony Vaio PCG-Z505

Sony Vaio PCG-XG9
Sony Vaio PCG-XG18 PCG-XG19
Sony Vaio PCG-XG28 PCG-XG29
Sony Vaio PCG-XG38 PCG-XG39
Sony Vaio PCG-XG500 PCG-XG700

Sony Vaio VPC-M12M1E VPC-M12M1R
Sony Vaio VPC-M13M1E VPC-M13M1R

Sony Vaio VPC-W11S1E VPC-W11S1R
Sony Vaio VPC-W12J1E
Sony Vaio VPC-W12S1E VPC-W12S1R
Sony Vaio VPC-W12M1E VPC-W12Z1R VPC-W12Z1T
Sony Vaio VPC-W21A7E VPC-W21B7E VPC-W21C5E VPC-W21C7E
Sony Vaio VPC-W21S1E VPC-W21S1R VPC-W21M1E VPC-W21M2E
Sony Vaio VPC-W21Z1E VPC-W21Z1R
Sony Vaio VPC-W22M1E VPC-W22Z1R

Sony Vaio VPC-M11M1E

Sony Vaio VPC-Y11M1E VPC-Y11M1R VPC-Y11S1E VPC-Y11V9E
Sony Vaio VPC-Y21A7E VPC-Y21B7E VPC-Y21C5E
Sony Vaio VPC-Y21M1R VPC-Y21S1E VPC-Y21V9E
Sony Vaio VPC-Y22C5E VPC-Y22X5E

Sony Vaio SVT1111AJ SVT1111Z9R
Sony Vaio SVT1311AJ SVT1311M1E SVT1311W1E SVT1311

Sony Vaio SVT11113FA SVT11113FAS
Sony Vaio SVT11113FF SVT11113FFS
Sony Vaio SVT11113FG SVT11113FGS
Sony Vaio SVT11113FH SVT11113FHS
Sony Vaio SVT11115FA SVT11115FAS
Sony Vaio SVT11115FG SVT11115FGS
Sony Vaio SVT11115FDS
Sony Vaio SVT11116FG SVT11116FGS
Sony Vaio SVT111190S
Sony Vaio SVT11119FJS
Sony Vaio SVT11125CA SVT11125CAS
Sony Vaio SVT11125CG SVT11125CGS
Sony Vaio SVT11125CH SVT11125CHS
Sony Vaio SVT11125CV SVT11125CVS
Sony Vaio SVT11127CC SVT11127CCS
Sony Vaio SVT11128CC SVT11128CCS
Sony Vaio SVT11129CJS

Sony Vaio SVT13112FXS
Sony Vaio SVT13113EN SVT13113ENS
Sony Vaio SVT13115FA SVT13115FAS
Sony Vaio SVT13115FDS
Sony Vaio SVT13115FG SVT13115FGS
Sony Vaio SVT13115FH SVT13115FHS
Sony Vaio SVT13115FW
Sony Vaio SVT13116FG SVT13116FGS
Sony Vaio SVT13116FW SVT13116FX
Sony Vaio SVT13117EC SVT13117ECS
Sony Vaio SVT13117FA SVT13117FAS
Sony Vaio SVT13117FG SVT13117FGS
Sony Vaio SVT131190X
Sony Vaio SVT13119FJS
Sony Vaio SVT13123CN
Sony Vaio SVT13125CA SVT13125CAS
Sony Vaio SVT13125CG SVT13125CGS
Sony Vaio SVT13125CV SVT13125CVS
Sony Vaio SVT13125CW
Sony Vaio SVT13126CG SVT13126CGS
Sony Vaio SVT13126CH SVT13126CHS
Sony Vaio SVT13126CV SVT13126CVS
Sony Vaio SVT13126CW
Sony Vaio SVT13127CG SVT13127CGS
Sony Vaio SVT13127CW
Sony Vaio SVT13128CC SVT13128CCS
Sony Vaio SVT13128CJS
Sony Vaio SVT13129CJS SVT1312AJ SVT1312Z9E
Sony Vaio SVT13134CXS
Sony Vaio SVT13138CC SVT13138CCS
Sony Vaio SVT1313Z9E

Sony Vaio SVT14129CCS

* Features, Package Content and Specifications are subject to change without prior notification.*

Last Updated @ 2/4/2016 1:09:00 PM
=How To Buy=
Step 2 : Buyer make payment (thru Netpay or direct bank-in/cash deposits)
Step 3 : Seller send goods to buyer upon receive payment
Step 4 : Give ratings in lelong to seller / buyer when transaction completed
Step 1 : Bank in cash / Online transfer to our Bank Account as below.
Step 2 : Once complete the transaction, kindly whatapps below details to 010-288 6207 / 75
a) Screen shot of payment (print screen) / Bank In Slip
e) Item (Product as order)
Step 3 : Seller send goods to buyer upon receive payment
Step 4 : Give ratings in https://goo.gl/l7xJM1 or www.facebook.com/allfixable/reviews/ to seller when transaction completed.
All payment should be made payable to:
Public Bank : 3189 1778 21
Buy with confidence
| | | | |
| --- | --- | --- | --- |
| Buyer | Item ID | Date | Ratings |
| ko**** | 187035452 | 7/19/2017 7:25:00 PM | Good seller & fast delivery. A+++ :) |
| ac**** | 192546513 | 7/14/2017 9:25:00 AM | - |
| So**** | 184159843 | 7/13/2017 7:50:00 PM | Fast and efficient seller with good product. |
| Se**** | 184797761 | 7/8/2017 5:01:00 PM | - |
| ch**** | 192734108 | 7/7/2017 9:15:00 PM | Keyboard was delivered in a good packaging. Great. |
| al**** | 187035606 | 7/7/2017 3:29:00 PM | Recommended seller. Relevance price. Received item in good condition. Item delivered on time. Good job ALLFIXABLE. Keep it up with your good services. |
| cy**** | 191544615 | 7/5/2017 2:51:00 PM | - |
| wa**** | 193434016 | 7/4/2017 8:12:00 PM | thank |
Questions & Comments
---
For Lelong member (NETPAY)
Buyer will receive email from Lelong.com.my after the confirmation order.
Payment information is once again included in the email.
Payment is due immediately upon seller confirmation of order to have smooth delivery.
Buyers are allow pay with NETPAY.
For Bank in Cash / Online transfer
Step 1 : Once complete the transaction, kindly whatapps below details to 010-288 6207 / 75
a) Screen shot of payment (print screen) / Bank In Slip
e) Item (Product as order)
Step 2 : Seller send goods to buyer upon receive payment
Step 3 : Give ratings in https://goo.gl/l7xJM1 or www.facebook.com/allfixable/reviews/ to seller when transaction completed.
All payment should be made payable to:
Allfixable Lab Sdn Bhd
Bank Details:
Maybank : 5123 4364 6277
Public Bank : 3189 1778 21
Buyers are allowed make a call or whatapps regarding the payment process or products for speedy delivery.
Once confirmed the payment will arrive promptly arrange shipment, the buyer can choose GDex or POS LAJU transport companies to allow buyers to receive soon. Both methods provide tracking number that allow our customers to track their packages to their doorstep.

All items purchase at Allfixable Lelong Store will ship within 1 to 3 working days upon receipt of FULL PAYMENT. If payment made after 3pm the shipment will be arrange 2nd working day.
All parcel shall be shipped by Allfixable (Allfixable Lab Sdn. Bhd.) fully sealed or wrapped with security band/sellotape. DO NOT accept the product from the courier representative if the seal is broken and call us immediately. If at anytime you feel the package has been lost, opened before it reaches your hand or if it arrives damaged do not accept the package and please call us immediately.
Please note that we ask for 1 to 2 working days (depend on stock availability) to process and ship your item from Puchong, Selangor. Please allow 2 to 5 working days delivery time depends on the courier service. However, Buyers are allowed Self collect or Cash On Delivery at our shop Allfixable Lab Sdn. Bhd in Puchong, Selangor.
Lost Damages
Seller shall not held responsible for lost or damage of the item during delivery by courier service. However, buyer has the right to claim from the courier company.
Back Orders
If your item is not in stock, you will always be emailed with the option to cancel your order if you would rather not wait for the item to be ordered for you. You must therefore, provide us with your email address when ordering. If you decide to wait for an order, please be aware you may have to wait longer than the delivery schedule times stated above.
Terms Conditions
Prices, specifications and availability of products are subject to change without prior notice. Due to the dynamic nature of the computer industry, de and #115;cr and #105;ptions may not reflect current technical information. Any typographical or photographic errors in the product specifications or errors in the pricing or offers are subject to correction.
Guarantee
Every effort is made to ensure your satisfaction. If you are not happy with a service or product, kindly contact us. We will do our very best to solve the problem.
Copyrights
All images are for illustration purposes only. The actual color may vary depends on different screen resolution. Each figure or color is subject to change without prior noticed. All elements of Allfixable.lelong.com.my, including images with ALLFIXABLE watermark are owned and protected by ALLFIXABLE SDN BHD.
Using the images with ALLFIXABLE watermark for commercial without noticing the owner is committed a crime.
Product Warranty Regulations Read"
Warranty claim strictly for manufacturing defect only.
Human damaged not valid claim for any warranty from manufacturer and distributor.
Warranty period based on information from manufacturer and distributor.
"Repair Product Warranty Regulations Read"
Allfixable (Under Allfixable Sdn. Bhd.) provides a 30-180days Manufacturer/Distributor/Supplier Warranty on major products unless otherwise stated on above. The warranty covers any hardware defects and excludes any software issues, act of god, power surge, neglect, or unauthorized repair/modification (Kindly refer product and #39;s manufacturer warranty policy for more specific details). Allfixable carry only Genuine Products.

We honoring the warranty if the products went wrong. Customer may have option to inform us to check/test the products on behalf before we ship the products. All auction sales are final and under no circumstances will a refund be given. In the unlikely event a warranty issue does arrive we will fix or replace the product within 30 to 45 days of receiving the RMA item. returning and sending back transportation fees both ways at buyers own cost. Buyers also may send it back directly to our Showroom Service Center for the warranty process. Our service representatives will be glad to assist you.

* Before repair or purchase must understand that all parts are Compatible (OEM) product compatibility, instead of Original Original products.
* Before all product or repair items have not yet sent the test will be carefully tested, found to have problems after receipt of the day must contact us immediately to carry out appropriate solutions.
* All warranty product or repair items are now counting from the day of service is good.
* All warranty product or repair items repairs during the warranty send transportation costs borne by the buyer, we have to pay for return transportation costs.

Under these circumstances, the warranty will void automatically:
* product or repair items was faulty operation, negligence or due to force majeure use: damage (such as flood, fire, lightning, etc.) caused;
* product or repair items was non-technical personnel to repair or modification;
* Body product or repair product codes or warranty stickers have been replaced, altered or torn up;
* Do not follow the installation instructions of goods, operation or maintenance;
* Artificial appearance of serious damage, rupture.
Questions & Answers
Do you have any questions to ask merchant about this product
Ask Seller
| | | |
| --- | --- | --- |
| 5 star | | 0 |
| 4 star | | 0 |
| 3 star | | 0 |
| 2 star | | 0 |
| 1 star | | 0 |
Share your thoughts with others
Write a review
Only buyers who purchased the product may leave a review