Item Specification
Product Description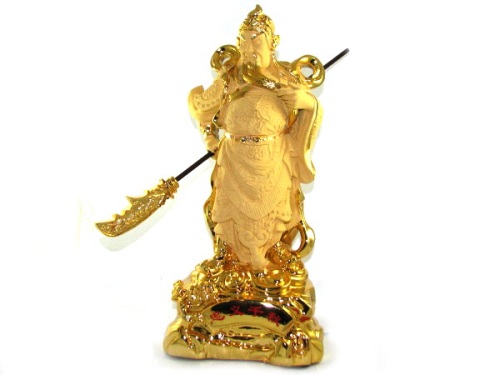 This sparkling statue of Kwan Kung is impeccably presented, and is highly desired among both Feng Shui practitioners and art enthusiastic. Made of resin, it is partly plated in smooth shiny gold layers and partly covered with dazzling gold-specked resin which has a matte finish. Stunning!
The most famous military General in Chinese history, this mighty statue of Kwan Kung is standing majestically holding his formidable weapon - the Dragon blade (Guan Dao) in his right hand and wiping his long lush beard with his other hand. This large-size immaculate Kwan Kung statue is the most powerful for attracting good fortune energies, protection against evil forces and enemies, energizing family achievements, inviting more helpful people, countering inauspicious stars and enhancing business and political advancements.
Kwan Kung, originally known as Guan Di, was one of China's most prominent and successful war heroes. After many achievements, he was titled God of War or Saint of War, and bestowed with his new name (which is known to people today). He has become renowned as the "Great Protecter", who defends politicians, businessmen and the Armed Forces. He is the bestower of justice, defending the innocent and revered by the righteous. His use is highly recommended by Lillian Too, famous Feng Shui grandmaster and author, as he even has the power to protect against thieves and supernatural spirits. Needless to say, we display a statue of Kwan Kung in our Feng Shui store too. In Hong Kong, one can see a shrine of Kwan Kung in every police station.
The Kwan Kung is a very useful symbol to have especially for businessmen. When Kwan Kung is placed at the front reception desk facing outside, he is believed to protect your establishment from embezzlement and con. In addition to this, he is said to help eliminate malignant chi and protect from competitors, providing your establishment with the chance to flourish and obtain monetary gain. Because of his strong history as a major war lord and guardian, Kwan Kung is a desired symbol by businessmen; it is believed that placing Kwan Kung behind the desk or work area will always provide support and sustenance from prominent people. It is said that no malicious intents can pass by Kwan Kung, and so he is a representation of wealth-protection and safeguarding.
The Kwan Kung, because of his command and influence, is ideal for individuals in quest of authority in politics and office status. The figurine of Kwan Kung is suitable to be placed in many areas, be it your home, office or workplace. A gift someone in business will highly appreciate.
In Feng Shui, Kwan Kung is used in many ways to benefit the business and well-being of his beholder. Here are some Feng Shui tips on how to best reap his benefits:
1) In the home, Kwan Kung statue is most potent when displayed in the Northwest corner. In the office, simply place his image behind the desk or work area (optimum for patriarch or those in high-position, such as managers, executives and politicians). Doing so will keep you guarded, preventing any betrayal or backstabbing.
2) For protection against embezzlement and con, as well as a enhanced sense of loyalty among colleagues and victorious business ventures, Guan Gong must be placed within the workplace or shop, facing the entrance. Lillian Too, famous Feng Shui author, has said that she owes the business success of her boutiques to Kwan Kung. Any establishment is believed to be able to flourish and prosper under his watchful eye, creating a sense of stability with the staff and integrity of employees.
3) Place Kwan Kung facing your main entrance to expose and repress anyone with evil intentions - all "Sar Chi" (killing breath) and negative chi will be eliminated, reflected by Kwan Kung's fierce countenance.
5) According to the Feng Shui Bagua Eight Aspirations Formula, displaying Kwan Kung in the Northwest corner of your living room or office will create Mentor Luck - this is because Kwan Kung presents confidence and success, nurturing those who seek to be leaders. Mentor Luck, Nobleman Luck or "Gui Ren" luck is the kind of luck that will bring you a good samaritan or someone kind and helpful who will give you a lending hand or a life-changing push during times of distress, trouble and difficulty; not necessarily in the form of money but also opportunities, wise advice, support, encouragement or simply be there to listen. Doing so will also promote unity and peace for the family to function, as well as protect the patriarch from any harm.
*Note* While praying to Kwan Kung is not a must, he should still be treated with the utmost respect. Never place his figure in the bedroom, in the kitchen or on the floor.
SKU: SKU3448
Weight : 2,000.00g ( 4.41 lbs)
Dim: 5x4x11.5 in (13x10x29 cm)
Material: Resin

Last Updated @ 11/18/2015 5:04:33 PM
Buy with confidence
| | | | |
| --- | --- | --- | --- |
| Buyer | Item ID | Date | Ratings |
| Ke**** | 191087872 | 11/1/2017 7:39:00 AM | - |
| cc**** | 186051241 | 10/12/2017 3:10:00 PM | A very fast delivery using Skynet It takes less than 24 hours from posting (Penang) to arrival (Tangkak in Johor ). Thank you. |
| cc**** | 187031350 | 10/12/2017 3:10:00 PM | A very fast delivery using Skynet It takes less than 24 hours from posting (Penang) to arrival (Tangkak in Johor ). Thank you. |
| lu**** | 187030696 | 10/8/2017 11:49:00 PM | product received as depicted...quality seller...satisfied buyer reporting here.. |
| cc**** | 186051180 | 10/7/2017 9:50:00 AM | - |
| cc**** | 186051181 | 10/7/2017 9:50:00 AM | - |
| cc**** | 187033684 | 10/6/2017 3:46:00 PM | - |
| cc**** | 187031350 | 10/6/2017 3:46:00 PM | - |



















---
We ship to Malaysia only. We mainly use Poslaju and sometimes courier services like nationwide, gdex, skynet etc. Please allow 1 to 2 working days to process your order and another 1 to 3 days for your order to be delivered, depending on your location.
Canceling an Order

You may cancel an order at any time prior to processing at our center by emailing us. Unfortunately, we are not able to cancel orders once they have been shipped


Damaged Shipment:

Should any merchandise arrive damaged, please retain all packing materials and product. Take a photo of the damaged item together with all the packing materials and then send them to us within 48 hours of receiving your package and we will offer you a satisfactory solution - refund or send a replacement.


Substitutions and Out-of-Stock Merchandise

In those unforeseen instances when product demand is higher than our supply of a particular item or product, we will attempt to contact you via email and gain your consent to replace or substitute the items, or have it refunded.
We want you to be happy with the products that you purchase here. We understand that sometimes a product must be returned and we will facilitate this as best we can. Please read and understand the following rules regarding returns.
1. Purchaser must contact us prior to making any return.
2. All returns must be made within 30 days they are received.
2. Purchaser is responsible for ALL return shipping charges.
3. Items returned must be in "like new" sellable condition.
4. Once received in good condition, a refund will be made minus shipping fee and a 10% restocking fee.
We do not give warranty to the lifespan of our products.
Questions & Answers
Do you have any questions to ask merchant about this product
Ask Seller
| | | |
| --- | --- | --- |
| 5 star | | 0 |
| 4 star | | 0 |
| 3 star | | 0 |
| 2 star | | 0 |
| 1 star | | 0 |
Share your thoughts with others
Write a review
Only buyers who purchased the product may leave a review