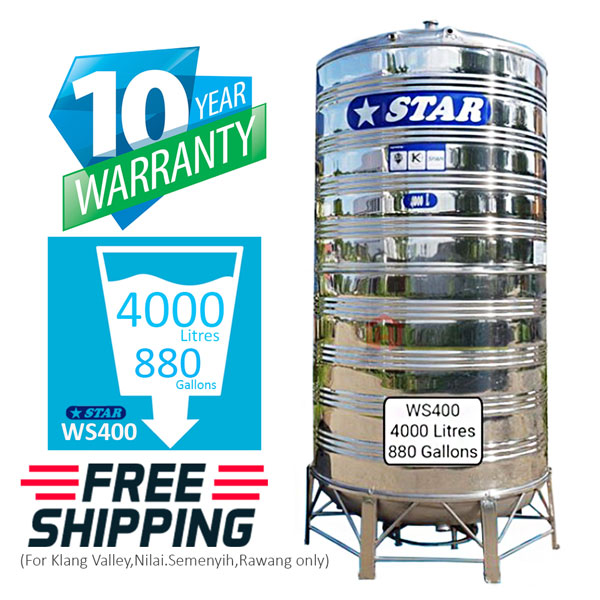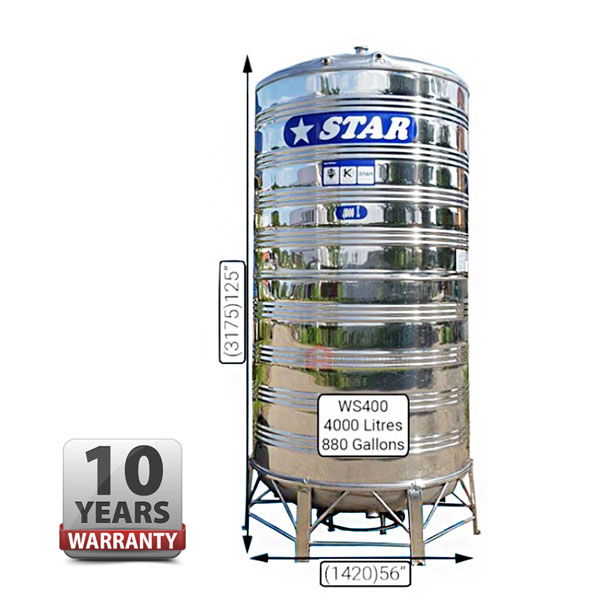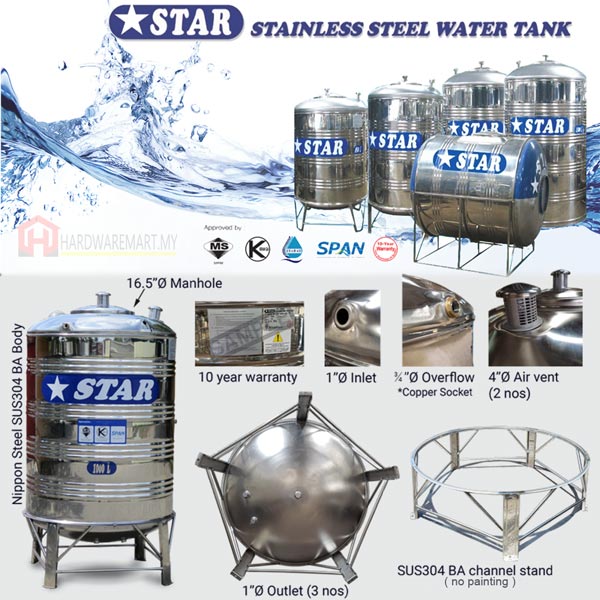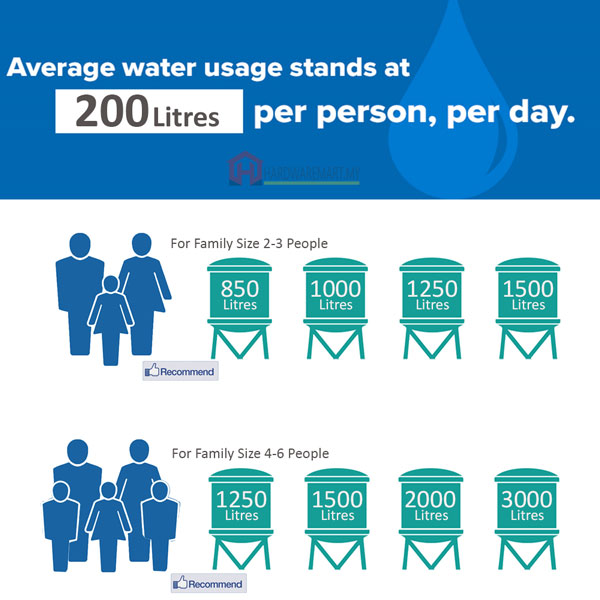 <p><span style="font-size:14px">When it comes to Stainless Steel Water Storage, the </span><span style="font-size:16px"><strong>Star Classic Series</strong></span><span style="font-size:14px"> Stainless Steel Water Storage Tank is the top of mind of many top architects and engineers.</span></p> <p><span style="font-size:14px">Built with AISI Stainless Steel Grade 304 material, skillfully crafted by well-trained craftsmen, designed with over 30 years of industry leadership experience. We are the by word when it comes to reliable and durable stainless steel water storage tanks.</span></p> <ul> <li><span style="color:rgb(0, 0, 0)"><span style="font-size:14px"><span style="font-family:arial,helvetica,sans-serif">Built with AISI Stainless Steel Grade 304</span></span></span></li> <li><span style="color:rgb(0, 0, 0)"><span style="font-size:14px"><span style="font-family:arial,helvetica,sans-serif">Strategically placed grooves increase stability and rigidity</span></span></span></li> <li><span style="color:rgb(0, 0, 0)"><span style="font-size:14px"><span style="font-family:arial,helvetica,sans-serif">Multi-function air vent also acts as the manhole handle</span></span></span></li> <li><span style="color:rgb(0, 0, 0)"><span style="font-size:14px"><span style="font-family:arial,helvetica,sans-serif">Stainless Steel drain valve for easy cleaning and maintenance</span></span></span></li> <li><span style="color:rgb(0, 0, 0)"><span style="font-size:14px"><span style="font-family:arial,helvetica,sans-serif">Comes with a sturdy galvanized iron stand</span></span></span></li> <li><span style="font-family:arial,helvetica,sans-serif"><span style="color:rgb(0, 0, 0)"><span style="font-size:14px">Non-toxic, rust free, resistant to scaling and free from growth of bacteria, algae, molds etc in the stored water, hence the water is hygienically clean.​</span></span></span></li> </ul> <p><strong><span style="font-size:16px">Description</span></strong></p> <ul> <li><span style="font-family:arial,helvetica,sans-serif"><span style="font-size:16px">Brand : Star</span></span></li> <li><span style="font-family:arial,helvetica,sans-serif"><span style="font-size:16px">Model: WS400</span></span></li> <li><span style="font-size:16px">Thickness: 1.0mm</span></li> <li><span style="font-size:16px">Capacity: 4000 Litres / 880 Gallons</span></li> <li><span style="font-size:16px">Dimension: 1420mm (DIA) x 3175mm (H) / 56" (DIA) x 125" (H)</span></li> <li><span style="font-size:16px"><strong>FREE:</strong> 1 unit of ¾" Medium Duty Brass Float Valve with PVC Float</span></li> <li><span style="font-size:16px">SPAN Approved, IKRAM Certified, SIRIM Certified<span style="font-size:14px"><span style="font-family:arial,helvetica,sans-serif">​</span></span></span></li> </ul> <p><span style="color:rgb(0, 128, 0)"><span style="font-size:18px">Star SS Storage<span style="font-family:lato,sans-serif"> Tanks are manufactured from </span></span></span><span style="color:rgb(0, 128, 128)"><span style="font-size:18px"><strong>Grade 304 Stainless Steel</strong></span></span><span style="color:rgb(0, 128, 0)"><span style="font-size:18px"><strong>,</strong><span style="font-family:lato,sans-serif">The durability of this grade of stainless steel is beyond doubt.</span></span></span></p> <p><span style="color:rgb(89, 100, 106); font-family:montserrat,sans-serif; font-size:16px">*Grade 304 stainless steel is the same grade used in your kitchen sink,designed for safe water storage and provides a reliable way to ensure your water supply.</span></p> <p><span style="font-size:14px">Features and benefits for our Star stainless steel water tank are as following:</span></p> <ul> <li><span style="font-size:14px">Environment friendly.</span></li> <li><span style="font-size:14px">Non Toxic.</span></li> <li><span style="font-size:14px">Non Bacteria.</span></li> <li><span style="font-size:14px">Free from rust, fungus, algae and insect.</span></li> <li><span style="font-size:14px">Resistant from sunlight and heat.</span></li> <li><span style="font-size:14px">Body is solid and shiny.</span></li> <li><span style="font-size:14px">Hygienic conditions.</span></li> <li><span style="font-size:14px">No maintenance cost.</span></li> <li><span style="font-size:14px">10 year warranty.</span></li> </ul> <p><span style="font-size:14px">STAR Stainless Steel has been endorsed and approved by local authority for everday usage.</span> </p> <h3><span style="font-size:14px"><strong>We can help If you need assistance with your online order. we do recommend customer contact us to confirm shipping fees(outstation order) before place order.sometimes after confirm with transporter & shipping fees will be charged cheaper.</strong></span></h3> <h3><span style="font-size:14px"><strong>Contact /Whatsapp : 6012-290 2263</strong></span></h3>












---
PAYMENT
We accept Netpay,Online Banking and Cash Deposit.
Option 1: Netpay
Buyer can pay via NetPay using VISA / MASTER Credit Card,Maybank 2U,Public Bank,CIMB Clicks, Hong Leong Bank without charges. You do not need to inform us the bank in details, NetPay will do this for you.Please follow the steps indicated.
Option 2: Online BankTransfer / ATM Deposit
Kindly order the item through WhatsApp or email, Once the order is confirm please settle the payment by using Online Transfer / Cash Deposit / Bank in to our Maybank Account.
CTS Engineering Hardware (M) Sdn Bhd 5148 7908 7572
After you have banked in please email us @ hardwaremartonline@gmail.com / Whatsapp 012-2902263 to us a clearly scanned copy or a clear photo of your deposit slip in your online banking transference and also order ID for faster processing.
Name:

Contact No.:

Shipping address:

email address:

Order ID:

Amount :
All payments are expected within 3 days after transaction bid/purchase are completed. Failing which your order will be deemed void. SELLER reserves the right to cancel the deal and resell the item without prior notice
Delivery Method
1) Express Mail (Skynet / Airpack / Nationwide / Poslaju)
Postage will normally reach customers 1-3 Working days in Peninsular, 2-4 Working days for Sabah / Sarawak.

Customers will receive their respective tracking code for the mail after payment has been made.

Charges will depend on weight and location.

Areas such as Outskirts of Johor , Kedah , Pahang , Perlis , Terengganu and other States will subject to delay of 1-5 days .
2) Transport via Land Lorry (Bulky / Quantity Items to Selected Areas throughout Malaysia)
Customers will be notified once items have been sent out.

No Tracking Numbers are given for Lorry transport delivery. The lorry Driver will contact the receiver when the goods are near the delivery point. Failure to pick-up calls from the transporter may cause delays / self-collection with or without additional cost. These costs and obligations are not bear by us. It is the Receiver's responsibility to arrange another pick up / self-collection if fail to collect the intended items.

Do take note Weekends may differ from States to States, Thus there will be no Delivery on Saturday and Sunday.

Customers will receive their goods in 1-7 Working days depending on their location and may change from time to time due to seasons, weekend holidays and weather.

Outskirts areas will need additional 1-14 Working days and self-collection at the nearest warehouse are required if the area is too far.
3) Flight Courier / SEA (For Sabah / Sarawak / Labuan)
Customers will be given their respective tracking number (If any) once payment has been made.

Outskirts areas will need additional 1-14 Working days and self-collection at the nearest warehouse are required if the area is too far.

Transport charges vary on weight and location and Courier time will depend on Location as well

Shipping via Sea will take approximately 4 week's .By Flight takes approximately 1 -2 weeks to arrive.
Combine Shipping
We offer combine shipping if buyer's purchase multiple items from our store. Courier charges for combine shipping is calculated based on the actual weight of the total products purchased. System will automatically calculate the combine shipping fee and show on the checkout page. Free delivery offer is only available for certain items as mentioned.
Cut Off Time
Our delivery cut off time is at 12.00pm on every working day. All payment made and confirmed before 12.00pm, the items will be shipped out on the same day. For the payment made after 12.00pm, will be shipped during the next working day. No shipment will be done on Saturday, Sunday and Public Holiday. Normally items will reach you within 1-3 working days and for Sabah and Sarawak within 2-5 days. Slight delay might happen for rural area in Sabah and Sarawak or during the peak time. In case, the item not delivered in stipulated time frame, please let us know via email (sdualmarketingsb@gmail.com) as soon as possible
.IMPORTANT NOTE
Shipping will be done on SAME DAY / NEXT DAY once payment have been make except weekend and holiday.

The cost of the postage is not just the cost of a stamp, it covers: Processing, packaging, materials and delivery to sorting office

In case if the shipping date falls on a holiday, we will be shipping the item on the following day.

Postage delays for every product delivery are beyond our company's control.

We will always ensure that all items are wrap nicely or 100% sealed by original packaging before shipping. If the item is broken seal please check your item first before you sign or call us immediately.
Your satisfaction is what we strive for >> We will do our best to achievethis goal!!!

Satisfaction and positive feedback is very important to us,

your POSITIVE comments are key to our success,please take a minute to leave us positive feedback and good rating

if you are satisfied with our items and services.

Incase you are not happy on our service please contact us before leaving neutral or negative feedback,we will do our best to solve the problem to your satisfaction.Communication often is the key to resolve issues and achieve a Win-Win solution.
Terms and Conditions
Price Subject To Change without Prior Notice and Ex- Stocks Subject To Goods Unsold.

All Our Products Are Tested Before we Sent Out. Please Check Your Products, Any Damage after 2 Days Cannot Be Claimed or returned.

We Do Not Entertain Any Thieves, Spies, Frauds, Scams, Abusers, Rude customers And We Reserve the Right to Decline Any of This Type of Individuals. Any Matters Worse, We Will Not Hesitate to Report them to the local /legal authorities.

Out of Stock Items: If the Product ordered is out Of Stock, We will Inform Our Customers with the choice of Refund (Same amount in RM) OR recommendation of similar value brands. Customers will have to pay / top up if the chosen items is of any higher amounts.

Quotations: Validity For Quoted Items are valid for 14 days, unless stated otherwise. In any case, after the validity period has ended, S Dual Marketing has the right to cancel the quotation or make changes to the price without prior notice due to currency fluctuations. The Company reserves the right to increase a quoted fee in the event that the client requests a variation to the work agreed.

Cancellation: In view of the nature of the service, any order – once confirmed by the Company – it is not cancellable. Cancellation of the Order by the customer will only be accepted on condition that any costs, charges and expenses already incurred, work or cancellation conditions are to be charged to the Customer forthwith.

Limitation of Liability: We shall not be liable for loss or damage of a shipment while shipment is out of S Dual Marketing's custody or control. The risk of loss or damage to the Goods shall pass to the Client upon delivery of the Goods.

Self-Collect: All buyers/ customers are welcome to self-collect at our showroom. Do take note of our opening hours. If customer wish to reserve any items, feel free to drop us a deposit to avoid any disappointment.

Transportation: S Dual Marketing reserves the right to transport the customer's shipment by any route and procedure and by successive carriers and according to its own handling, storage and transportation methods without prior notice.

Packing: All items will be packed accordingly for direct delivery. If you wish to arrange your own agent to collect the goods, customers are required to inform (3 days prior) and how the items should be packed. Failure to do so will left the parcel unpacked. S Dual Marketing will not bear any packing cost thereafter.

Change of address: All customers are required to provide name, full address and valid phone numbers before delivery. Customers cannot change the delivery address after the shipping fee has been made. Any changes have to be made prior to payment of the packages.

Outskirt Address: We will try our best to deliver the goods to the given address and if your address is too far in the outskirt areas and unable to deliver by the shipping agent, customers are required to collect themselves at the nearest transporter's warehouse. S Dual Marketing will not be held responsible if there is a delay in delivery as the schedule of the shipping company is beyond our control. Paid shipping fees will not be refunded.

Shipping: If your order was placed Monday thru Thursday (Before 12pm) with fully paid payment, we will try our best to deliver to the transporter the same day or the next working day. If your order was placed on Friday prior to 12:00PM, the order may be shipped the same day, if not it will be shipped on Monday. Kindly take note that the schedule of shipment may vary depending on different courier agents.
Once buyer make payment, it means the buyer accept all the "Online Buying Policy" and "Warranty Policy".

Seller will check and confirm the goods is correct and it is in working condition and no physical damage before sending.

Buyer should unseal the parcel and check before doing signature upon receiving parcel.

Once the tracking number show "Consignment has successfully delivered", buyer cannot claim for physical damage warranty (we will consider it as user damages).

Seller will only replace if tracking number show "Consignee refuse to collect parcel".

Seller will not responsible for parcel lost or damage during the delivery. All damage must be claimed with the courier service company. However, seller will helps buyer to proof that the parcel is lost if the parcel lost during delivery.
Warranty
Please keep a copy of your courier's Consignment Note, Tracking Number and original Invoice as warranty reference.

Warranties may take more than 5 weeks, as they will be returned to distributor/service centre, it will depend on their progress.

Warranty do not cover burn, mark, lightning strike, water damage, during courier delivery or any physical defect/damage caused.

Warranty do not cover modification, personal repair or excessive over-clocking results in malfunction.

Certain product may requires buyer manually online registration.

Please note that buyer are required to pay for the shipping fees when sending-in warranty and warranty return over first 7 days.

All the goods will be checked for fully functional and packed nicely before sent out. It is advice to have a video of unpacking the parcel. Any missing items or products is not in good condition upon receive will not be entertained.

Warranty on manufacture defects only. The warranty does not cover tear and wear, loss or damage to the covered product while in the course of transit, delivery, or redelivery, loss or damage caused by accidental or intentional physical damage, any modification or alteration of hardware/software, spilled liquids, insect infestation, misuse, abuse or service costs or damage caused by unauthorized repair personnel, alteration or removal of the warranty seal/sticker.

Please capture the photos/video and send to us of the goods which is not functioning so that we can troubleshoot the defects.

We would bear the postage replacement.However if the product is not faulty or warranty voided, customer will bear the postage fee to sent it back.
Average Product Rating
0.0 stars out of 5
| | | |
| --- | --- | --- |
| 5 star | | 0 |
| 4 star | | 0 |
| 3 star | | 0 |
| 2 star | | 0 |
| 1 star | | 0 |
Share your thoughts with others
Write a review
Only buyers who purchased the product may leave a review