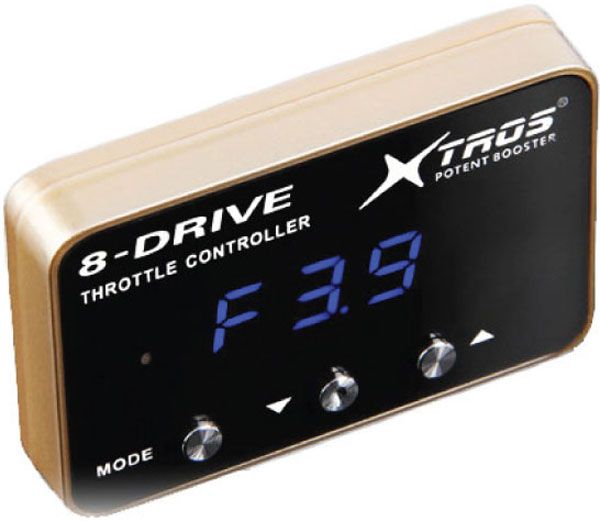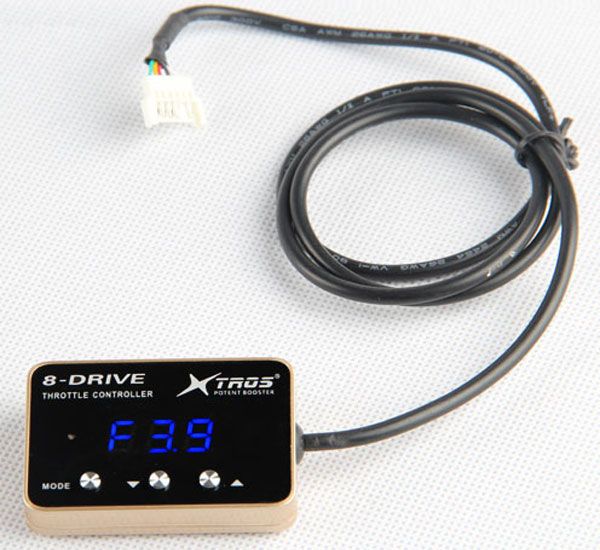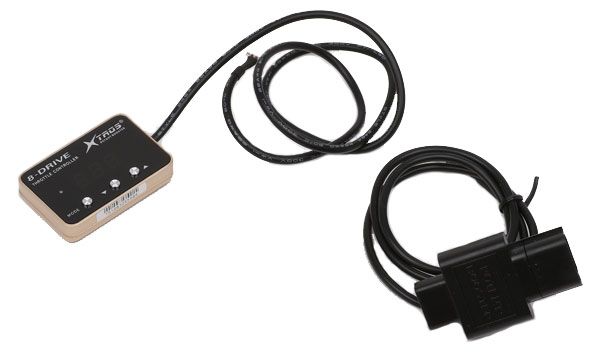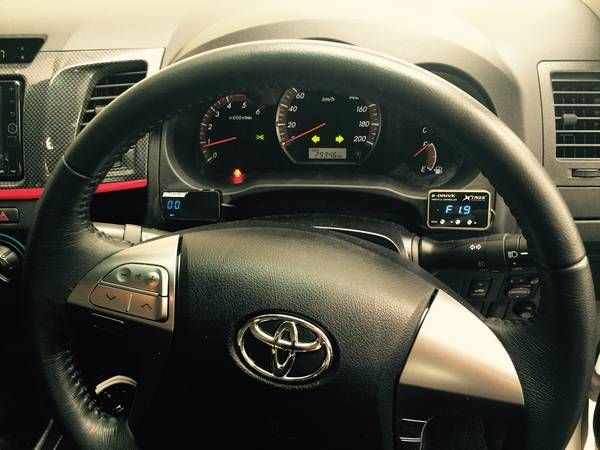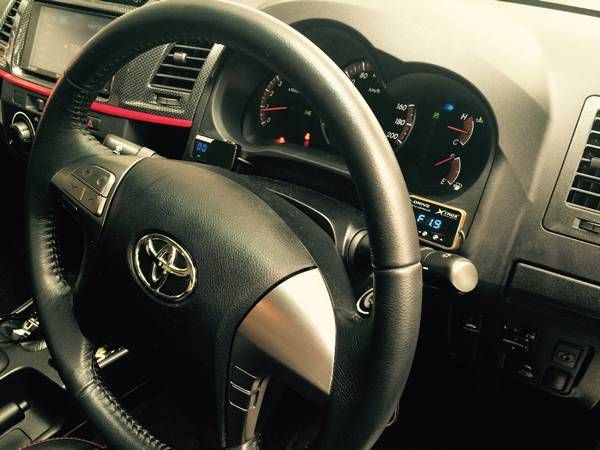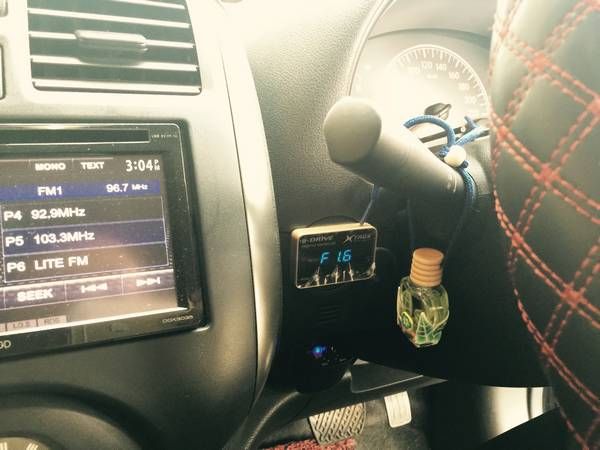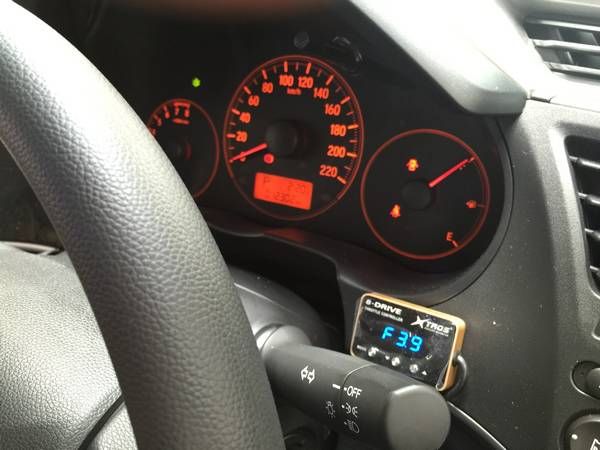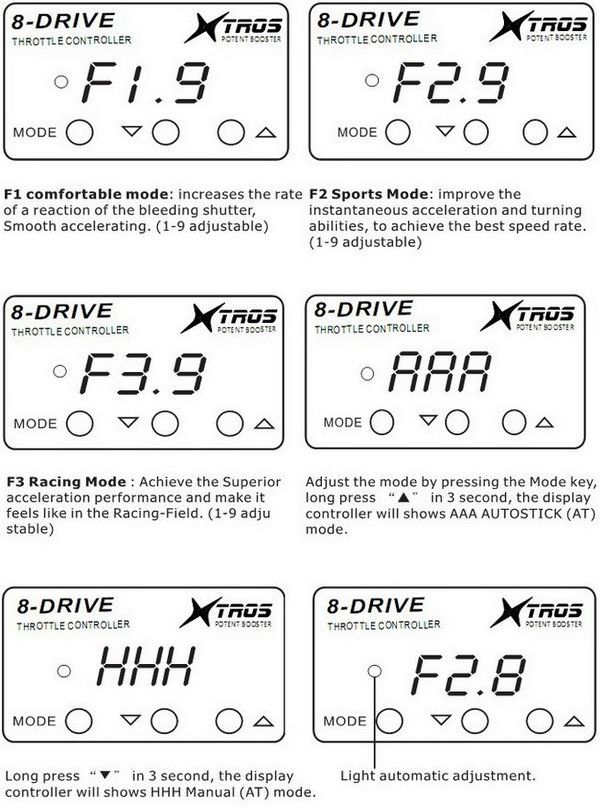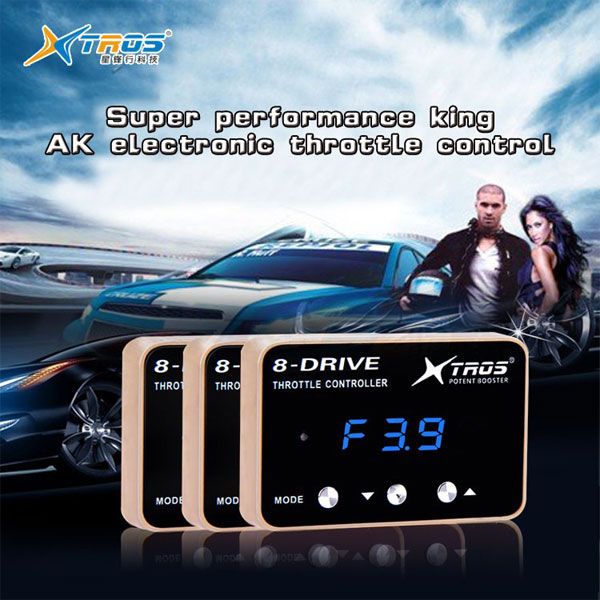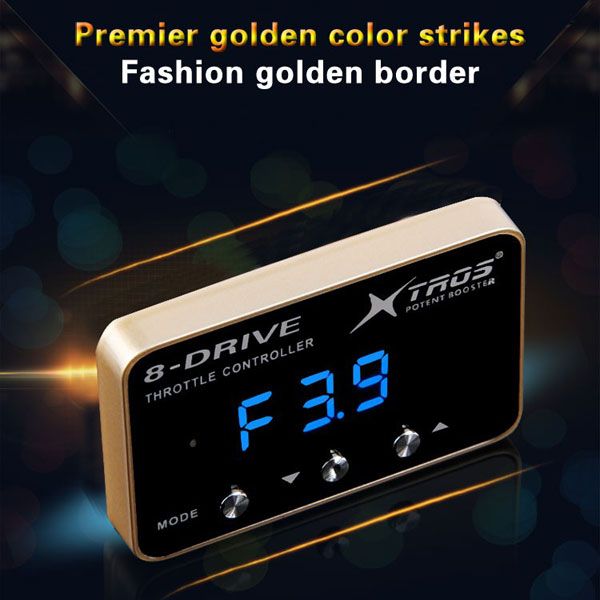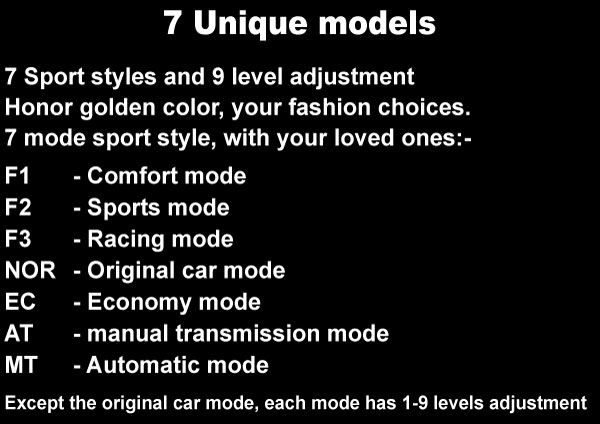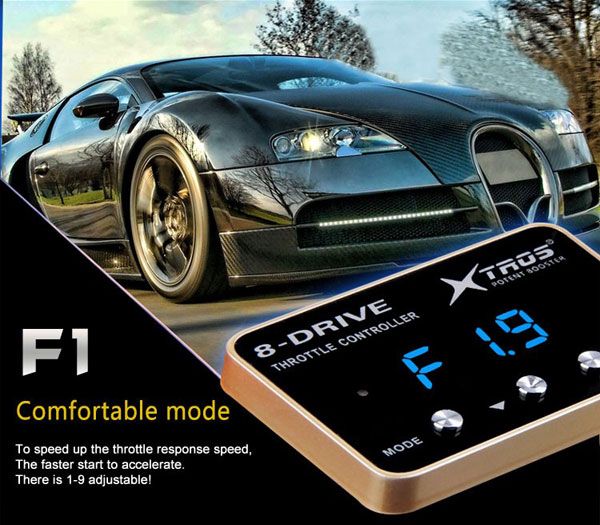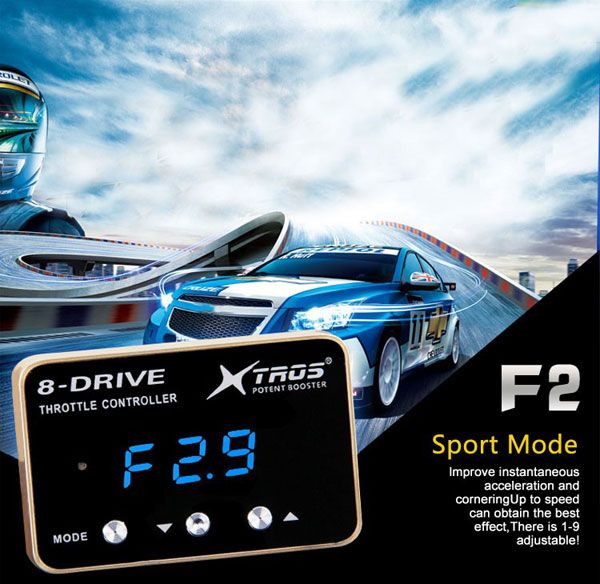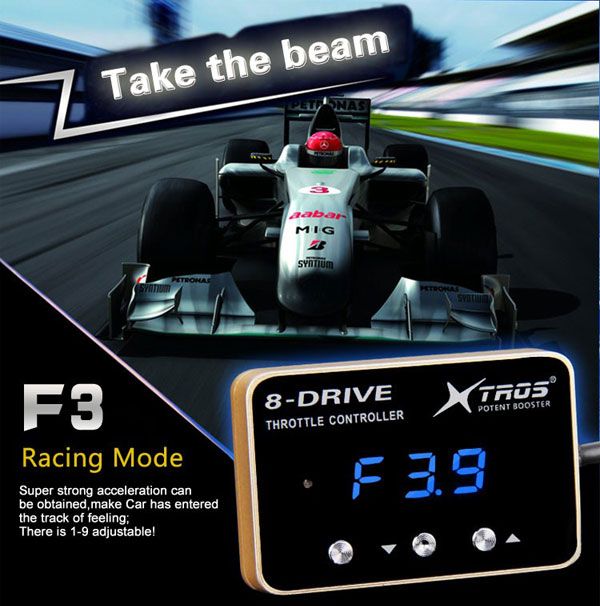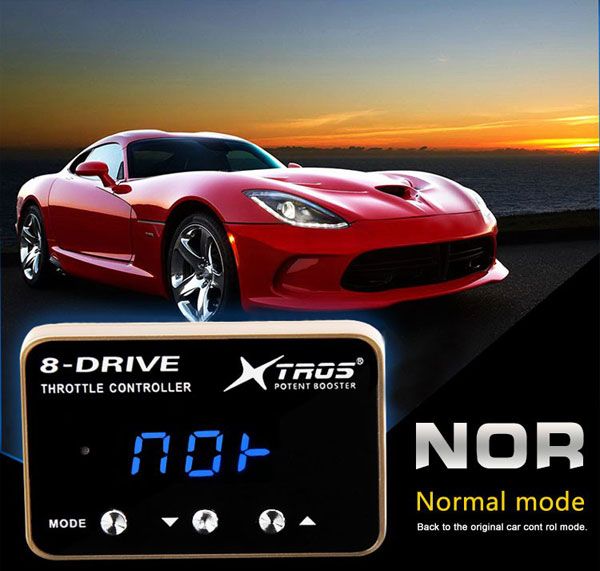 GENUINE XTROS POTENT BOOSTER USA 8-Drive Advanced Throttle Remapper (Racing +, Racing, Sport, Normal & Eco Mode) Save Fuel & Increase Touque Response Power up to 70% with 3 Years Warranty
What is Potent Booster?
Electronic throttle control system models, the depth of the ECU control the electronic throttle of the gas pedal and the vehicle speed together to analyze, and ultimately to calculate the current appropriate throttle. Suddenly accelerate when drivers start (the pedal in the end), the ECU according to the current vehicle speed, throttle size analysis, considered from the perspective of fuel economy and emissions will be appropriate to limit the throttle open rise, while controlling spray The oil system limits fuel injectors to maximize fuel injection. Do so to make the driver feel obviously a delay car began to force the gas pedal, this is the so-called throttle retardation. Therefore, the throttle hysteresis output performance by limiting the engine instantly in fact, trip computer (ECU), This will make vehicles more environmentally friendly, energy saving.
Come and get one now for better response/acceleration or Drive with the lowest fuel Consumption!
No wire cut! Plug & Play Socket to fits all types of Wire Throttle cars

Easy Installation & Setup

Digital LCD Display

Fuel Saving: 15% - 30%

Increase Throttle Response: 30% - 70%

8 Modes in 9 Levels for your application to achieve better fuel consumption and engine performance

RACING+ MODE - Best for Drag Race, super fast response. Maximize car unlimited potential
RACING MODE - Good for track use, mountain road, overtaking
SPORT MODE - The higher the level, the more sensitive the throttle. Suitable for highway and reduce under power
ECO MODE - Suitable in busy traffic or highway driving
NORMAL MODE - The original setting from manufacturer

Power Interruption memory embedded

For electronic throttle car use only

3 Years Warranty

Weight: 0.5Kg

A Product & Technology from Germany
8 Types of Mode:
F1 Sport mode: Increases the rate of a reaction of the bleeding shutter, Smooth accelerating. (1-9 adjustable)
F2 Racing Mode: Improve the instantaneous acceleration and turning abilities, to achieve the best speed rate. (1-9 adjustable)
F3 Racing Plus Mode: Achieve the superior acceleration performance and make it feels like in the Racing-Field. (1-9 adjustable)
Normal Mode (Nor): Back to the Normal Control Mode.
EC Fuel-Saving Mode: Can achieve the best Fuel-efficient mode, about 8% fuel saving
Automatic Transmission (AT) mode: Adjust the mode by pressing the Mode key, Long Press "Up" in 3 Second, the display controller will shows AAA AUTOSTICK (AT) Mode.
Manual Transmission (MT) mode: Long Press "Down" in 3 second, the display controller will shows HHH Manual (MT) mode.

Light Automatic adjustment
5 Step Easy Installation:
Find the original electronic throttle pedal of your car

When automobile is stalled and start key is off, pluck the port of electronic throttle pedal

Insert electronic throttle coupler into auto line port. Insert electronic coupler into the groove of throttle pedal and check to see whether it gets stuck in position

Insert electronic throttle coupler and display adjuster into each other in position.

Then fix display controller with self-attached glue to the central control position or any position you like. Finished
Operating Principle of POTENT BOOSTER
Accelerating choker opening and improving static response "Acceleration" of POTENT BOOSTER is realized mainly through improving the responding sensitivity of choker. When ECU finds that driver has the intention for acceleration, it will activate rapid opening of choker via circuit signals to improve the responding sensitivity of throttle.

Speeding up throttle signals and improving dynamic response When accelerator treads on throttle pedal, POTENT BOOSTER will calculate the alteration rate of throttle signals according to treading depth and time. Alteration rate is in proportion to accelerating requirements. POTENT BOOSTER will enhance such alteration rate and finally realize maximum dynamic response of auto acceleration.

Providing false driving style for ECU's adjustment of engine parameters ECU of modern engine generally has the capacity of self-adapting driving style. If driver often treads on throttle quickly to a considerable depth (also known as pulling speed), ECU will gradually consider that the driver's style tends to be "violent". In this way, engine will slowly adjust choker and fuel spray system, etc. to obtain optimal adjusting parameters of engine under this style. After POTENT BOOSTER is used for a long time, even if the driver drives the car with previous "mile" driving style, engine will still acquire experience of "violent" driving, which is equivalent to the adjustment of ECU parameters. At the long last, engine will automatically amend its parameters to adapt to such driving style.
Car Model Available:
AUDI
Audi TT (New)

Audi A4L (New)

Audi A6L (New)

Audi A5

Audi A8

Audi Q5

Audi S5

Audi TT (Old Model)

Audi A4

Audi A6

Audi A8

Audi Q7

Audi A6L (Old Model)
BMW
CHEVROLET
Chevrolet Cruze

Chevrolet Malibu

Chevrolet Colorado

Chevrolet Orlando

Chevrolet Nabira/Zafira

Chevrolet Sonic

Chevrolet Captiva
CHERY
Chery QQ

Chery A5

Chery Tiggo SUV

Chery Eastar MPV
CITROEN
Citroen C4

Citroen C4 Coupe

Citroen Picasso (New)

Citroen C2

Citroen C3

Citroen C4

Citroen Xsara

Citroen Picasso

Citroen C5 (6 pin)
FORD
HONDA
Honda BRV

Honda Civic FD 2006 - 2011

Honda CRV 2007 - 2012

Honda Accord G8 2008 - 2012

Honda Odyssey 2008 - 2015

Honda CRZ ZF1 2010 - 2015

Honda Jazz G2 2008 - 2013

Honda Insight ZE2 2009 - 2015

Honda City 2009 - 2013

Honda Civic FB 2012 - 2015

Honda Civic FC 2016 - 2017

Honda Accord G9 2013 - 2016

Honda CRV 2013 - 2017

Honda City GM6 2014 - 2017

Honda Jazz GK 2014 - 2017

Honda HRV/ VEZEL/ XRV 2014 - 2017
HUMMER
HYUNDAI
Hyundai Santa FE 2.4

Hyundai Sonata YF 2.0/ 2.4

Hyundai Elantra MD 1.8

Hyundai Santa FE 2.7

Hyundai Tucson IX35

Hyundai Genesis Coupe

Hyundai i30

Hyundai Elantra MD 1.6

Hyundai Veloster 1.6

Hyundai Grand Starex Royale
JAGUAR
KIA
LEXUS
Lexus ES350/ES240

Lexus IS300H XE-30 2013 - 2016

Lexus RX270 2009 - 2014

Lexus RX350 2009 - 2014

Lexus RX450 2009 - 2014

Lexus IS300 2006 - 2012

Lexus GS300

Lexus GS350

Lexus ES300 (2003)

Lexus CT200H 2011 - 2016

Lexus ES240 ACV-40 2010 - 2016

Lexus ES250 XV60 2012 - 2016

Lexus IS-F 2010 - 2016

Lexus IS250 XE-30 2014 - 2016

Lexus IS250 XE-20 2010 - 2013

Lexus IS250 2006 - 2010

Lexus GS430

Lexus LS460 2007 - 2016
LAND ROVER
MAZDA
MERCEDES BENZ
Mercedes All Series - 6 pins (Old Model)

Mercedes All Series - 5 pins (New Model)
MINI
Mini All Series

Mini One & Cooper R50 2001 – 2006

Mini Convertible R52 2004 – 2008

Mini Cooper S R53 2001 – 2006

Mini Clubman R55 2007 – 2014

Mini Hatch/ Hardtop Range R56 2006 – 2013

Mini Convertible R57 2009 – 2017

Mini Coupe R58 2012 – 2017
MITUSBISHI
Mitsubishi Lancer GT 2007 - 2015

Mitsubishi Lancer 2.4 Sportback

Mitsubishi Outlander

Mitsubishi ASX

Mitsubishi Lancer EVO X

Mitsubishi Pajero

Mitsubishi Triton

Mitsubishi Galant
NISSAN
Nissan Teana

Nissan Almera

Nissan Sentra

Nissan X-Trail

Nissan Murano

Nissan Latio Sport/ Sedan

Nissan Slyphy

Nissan Grand Livina 2007 - 2015

Nissan Serena

Nissan March

Nissan NV200 Vanette Van

Nissan Navara

Nissan Frontier
OPEL
PERODUA
Perodua Axia

Perodua Bezza
PEUGEOT
Peugeot 206

Peugeot 206 CC

Peugeot 207

Peugeot 208

Peugeot 307

Peugeot 308

Peugeot 408

Peugeot 508
PORSCHE
Porsche Boxster

Porsche Cayman

Porsche 911

Porsche Panamera

Porsche Cayenne
PROTON
Proton Waja Campro CPS

Proton Saga BLM, FL, FLX, SV

Proton Satria Neo CPS, R3

Proton Persona, Gen2

Proton Preve, Preve CFE

Proton Iriz

Proton Exora, Exora Bold CFE

Proton Inspira 1.8/ 2.0
SUBARU
Subaru CX5

Subaru XV

Subaru Forester XT

Subaru Impreza, WRX STi

Subaru Forester

Subaru Legacy

Subaru Outback

Subaru Legacy (old)

Subaru Outback (old)
SUZUKI
Suzuki SX4

Suzuki Swift 2013 - 2015

Suzuki Vitara

Suzuki Liana

Suzuki Kizashi
TOYOTA
Toyota Yaris 2007 - 2015

Toyota Vios 2007 - 2012

Toyota Vios 2013 - 2015

Toyota RAV4 2007 - 2015

Toyota Camry XV40 2007 - 2011

Toyota Camry XV50 2012 - 2015

Toyota Altis (E140), (E170)

Toyota Wish 2009 - 2015

Toyota Estima ACR50 2006 - 2015

Toyota Alphard, Vellfire ANH20 2008 - 2015

Toyota Vellfire/ Alphard ANH30 2015 - 2016

Toyota Prado 2.7

Toyota Land Cruiser

Toyota Highlander

Toyota Innova

Toyota Fortuner

Toyota Prius 1.8

Toyota Mark X (Reiz)

Toyota Prado (Old)

Toyota Crown

Toyota FJ Cruiser

Toyota Harrier XU-30 RX350 2003 - 2008

Toyota Harrier XU-60 2014 - 2017

Toyota Prius C 1.5

Toyota Corolla Altis 2002 - 2007

Toyota Hilux
VOLKSWAGEN
Volkswagen Golf MK5

Volkswagen Golf MK6

Volkswagen Golf MK7

Volkswagen Golf R

Volkswagen Golf R36

Volkswagen Passat B6

Volkswagen Passat CC

Volkswagen Scirocco

Volkswagen Sagitar

Volkswagen Magotan

Volkswagen Touran

Volkswagen Tiguan

Volkswagen Phaeton

Volkswagen Jetta

Volkswagen Bora

Volkswagen Golf 4

Volkswagen Polo

Volkswagen Passat B5

Volkswagen Touareg

Volkswagen Beetle
VOLVO
Volvo S40

Volvo XC60

Volvo S80L

Volvo XC90

Volvo C70

Volvo C30

Volvo XC90

Volvo XC70

Volvo S80

Volvo S60