Item Specification
Product Description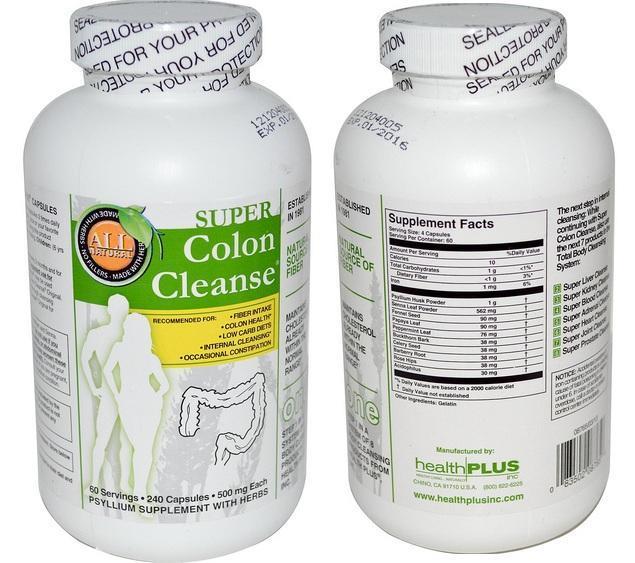 SUPER COLON CLEANSE 240 Capsules
PSYLLIUM SUPPLIMENT WITH HERBS
Description
All Natural

Made With Herbs

No Fillers

60 Servings

Psyllium Supplement With Herbs

Established in 1981

Natural Source of Fiber

Maintains Cholesterol Already Within The Normal Range
Unbelievable results
Honestly, I didn't expect too much from a product that says it will clean me out. Being over 150 pounds overweight for the last 5 years , I
have definitely been duped by a lot of products claiming to do a lot of things and then not performing when it comes down to it.

I will say this right now.. Super Colon Cleanse is NOT one of these products. I dare to say it is one of if not the most effective supplements
I have ever taken and I plan on using it for the rest of my life. I have combined it with Garcinia Cambogia and have lost over 50 pounds in
the last 4 months. I honestly think a lot of that was backed up "material". Sorry if that's TMI but I have spent more time in the bathroom over
the last 3 months than I had in the past year.

Having lost this weight, my life has changed in many ways. Prior to the weight loss, I suffered from a skin condition that had me taking daily
steroidal medications and just last week my primary care physician suggested I stop taking them. My condition had cleared up on its own.
He asked me what I was taking and when I told him he was quite suprised. He had heard about the products but hadn't seen their
effectiveness in practice. He plans on recommending it to other patients and even taking it himself.

In short : This product has been the lifechanger I needed.
Super Colon Cleanse
First time user, but definitely not last! Loved this product! It worked quickly and naturally without any discomfort/pain. Would definitely
recommend'
Does exactly what it said it will do
Does exactly what it said it will do. I did not diet while on this product so I did not see any weight loss, but I will continue to use.
Best colon cleanse on the market
I have used this colon cleanse daily for over 10 years. I had a colonoscopy not long ago and the doctor said I had the cleanest colon he
had ever seen. That was proof enough, this product is exceptional.
It works wonder
I have been using this for about 5 months. I had to reorder because I does work for me. I use it a couple of days in a row then stop for a few
and repeat. I feel that this helps me eliminate all of my waste and all of the unhealthy food that I take in, especially after a big meal. This
does trim my waistline a bit but considering I hardly ever exercise or diet, I am extremely please with the result. I drink lots of water (no soda)
and usually in a few hours or so, I have to go but it's not a painful, emergency feeling. No smell or taste. I think I'm stuck with this for life.
I loved this product
I loved this product! I would highly recommend taking 2 capsules 2x a day instead of 4 capsules. Using 2, there were not urgent trips to
the bathroom and product worked just fine. When I increased the dosage to 4 as recommended, yikes! A little too strong! I highly
recommend this product for a great cleanse!
this is the real deal
I wish I could say I use the restroom with ease, but I do not. I read the reviews and thought I'll try it. Let me warn you...it did nothing the first
day, but day two..be sure you are near a restroom when this kicks in. Super colon cleanse is a VERY fitting name for this magic in a bottle!
Weight loss aid
I chose this product because Amazon recommended it to me when i purchased my Garcina Cambogia. With the help of these two products,
i have lost 46 lbs in the last 8 months. I have more to lose and plan on continuing the use of this product.
Great product, I know this is TMI
Great product, I know this is TMI... no cramping & gas with this product, you will have large healthy bowel movements every few hours just
like the package says. Drink lots of fluids with the pills they are large and hard to swallow sometimes, keep drinking.
Questions & Answers
Do you have any questions to ask merchant about this product
Ask Seller
| | | |
| --- | --- | --- |
| 5 star | | 0 |
| 4 star | | 0 |
| 3 star | | 0 |
| 2 star | | 0 |
| 1 star | | 0 |
Share your thoughts with others
Write a review
Only buyers who purchased the product may leave a review