Item Specification
Product Description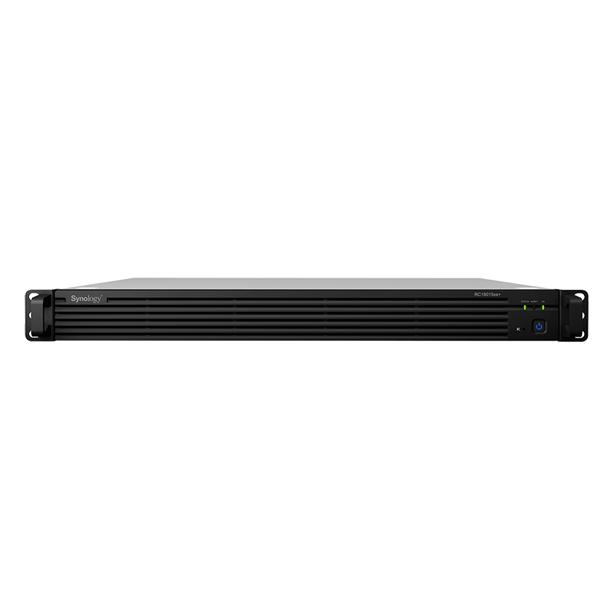 SYNOLOGY RackStation RC18015xs+
Uncompromising reliability, unyielding data protection 
Featuring a high-availability design, next-generation snapshot technology, and massive scalability up to 180 drives, RC18015xs+ and RXD1215sas deliver the secure, reliable, and superior performance storage solution for enterprises seeking business continuity and point-in-time data recovery.
High-availability design requires two RC18015xs+ and at least one RXD1215sas
High-availability cluster design
RC18015xs+ and RXD1215sas are specifically designed to work together as a high-availability cluster — requiring two RC18015xs+ and at least one RXD1215sas expansion unit. By combining the two computing servers and multiple storage units into a single high-availability cluster, RC18015xs+ and RXD1215sas deliver unyielding reliability and data availability. With the active/passive structure, services are automatically switched over to one server if the other unexpectedly goes offline, helping your business avoid costly downtime.1 For technical details and best practices, please see the High Availability for RC18015xs+ White Paper.
https://www.synology.com/en-global/products/RC18015xs+#overview
Specifications
Hardware Specifications
CPU
CPU Model
Intel Xeon E3-1230 v2
CPU Frequency
Quad Core 3.3 GHz
Floating Point
 
Hardware Encryption Engine (AES-NI)
 
Memory
System Memory
8 GB DDR3 ECC
Memory Module Pre-installed
4 GB X 2
Total Memory Slots
4
Memory Expandable up to
32 GB (8 GB X 4)
Storage
Maximum Drive Bays with Expansion Unit
180
External Ports
USB 3.0 Port
2
Expansion Port
1
File System
Internal Drives
External Drives

Btrfs
EXT4
EXT3
FAT
NTFS
HFS+

Appearance
Size (Height X Width X Depth)
44 mm X 430 mm X 480 mm 
Weight
7.3 kg 
Others
RJ-45 1GbE LAN Port
4 (with Link Aggregation / Failover support) + 1 for Heartbeat
PCIe x8 Slot for 10GbE / 1GbE Network Card (See more)
1 (at x8 mode)
Wake on LAN/WAN
 
System Fan
40 mm X 40 mm X 6 pcs
Fan Speed Mode
Easy Replacement System Fan
 
Power Recovery
 
Noise Level*
48 dB(A) 
Scheduled Power On/Off
 
Power Supply Unit / Adapter
2 X 150W 
AC Input Power Voltage
100V to 240V AC
Power Frequency
50/60 Hz, Single Phase
Power Consumption*
60.16 W (Access) 
British Thermal Unit
205.27 BTU/hr (Access) 
Redundant Power Supply (for xs+ and RP model)
 
Environment Temperature
Operating Temperature
5°C to 35°C (40°F to 95°F)
Storage Temperature
-20°C to 60°C (-5°F to 140°F)
Relative Humidity
5% to 95% RH
Certification

FCC Class A
CE Class A
BSMI Class A

Warranty
5 Years
Notes
When upgrading RAM to more than 24GB, the original 4GB RAM modules must be removed.
DSM Specifications ( See more )
Storage Management
Maximum Single Volume Size

200 TB (32GB RAM required, for RAID 5 or RAID 6 groups only)
108 TB

Maximum Internal Volume Number
1024
Maximum iSCSI Target Number
128
Maximum iSCSI LUN
512
iSCSI LUN Clone/Snapshot, Windows ODX
 
RAID Group
 
Supported RAID Type

Basic
JBOD
RAID 0
RAID 1
RAID 5
RAID 6
RAID 10

RAID Migration

Basic to RAID 1
Basic to RAID 5
RAID 1 to RAID 5
RAID 5 to RAID 6

Volume Expansion with Larger HDDs
Volume Expansion by Adding a HDD
Global Hot Spare Supported RAID Type

RAID 1
RAID 5
RAID 6
RAID 10

SSD Support
SSD Read/Write Cache (White Paper)
 
File Sharing Capacity
Maximum User Accounts
16000
Maximum Groups
512
Maximum Shared Folder
512
Maximum Shared Folder Sync Tasks
32
Maximum Concurrent CIFS/AFP/FTP Connections
2048
Windows Access Control List (ACL) Integration
 
NFS Kerberos Authentication
 
Data Protection Manager
 
Maximum Snapshots per Shared Folder
256
High Availability Manager
 
Log Center
 
Syslog Events per Second
3000
Virtualization
VMware vSphere 5 with VAAI
 
Windows Server 2012
 
Windows Server 2012 R2
 
Citrix Ready
 
Add-on Packages (See more)
Antivirus Essential
 
Antivirus by McAfee (Trial)
 
Audio Station
 
Central Management System
 
Cloud Station
 
Maximum Concurrent File Transfers
1024
Cloud Sync
 
Directory Server
 
DNS Server
 
Download Station
 
Maximum Concurrent Download Tasks
80
Glacier Backup
 
HiDrive Backup
 
iTunes Server
 
Java Manager
 
Mail Server
 
Mail Station
 
Media Server
 
DLNA Compliance
 
Note Station
 
Photo Station
 
RADIUS Server
 
Surveillance Station
 
Maximum IP cam (Licenses required)
90 (including 2 Free License) (See All Supported IP Cameras)
Total FPS (H.264)*
2700 FPS @ 720p (1280x720) 
1080 FPS @ 1080p (1920×1080) 
650 FPS @ 3M (2048x1536) 
500 FPS @ 5M (2591x1944)
Total FPS (MJPEG)*
900 FPS @ 720p (1280x720) 
360 FPS @ 1080p (1920×1080) 
250 FPS @ 3M (2048x1536) 
150 FPS @ 5M (2591x1944)
Video Station
 
Video Transcoding
Group 1 (See more)
VPN Server
 
Maximum Connections
30
Notes
Surveillance Station throughput is tested with Axis P1347 (H.264@1280x720@30FPS), using continuous recording with live view from Surveillance Station and motion detection by camera. Live view and recording are sharing the same stream from the camera. Recording video is saved every 5 minutes with the limit of archive folder up to 1GB.
Environment & Packaging
Environment
RoHS Compliant
Packaging Content

Main Unit X 1
Accessory Pack X 1
AC Power Cord X 2
Quick Installation Guide X 1

Optional Accessories

Camera License Pack
8GB (4GB X 2) ECC RAM Module Kit
16GB (8GB X 2) ECC RAM Module Kit
Expansion Unit: RXD1215sas X 15
VS360HD
Synology RKS1314 - Rail Kit Sliding
Synology RKM114 - Rail Kit Mounted
Synology Ethernet Adapter E10G15-F1
Buy with confidence
| | | | |
| --- | --- | --- | --- |
| Buyer | Item ID | Date | Ratings |
| lc**** | 195153467 | 12/15/2017 3:20:00 PM | Nice and fast |
| go**** | 187208849 | 12/9/2017 1:03:00 PM | - |
| go**** | 177086368 | 12/9/2017 1:03:00 PM | - |
| go**** | 197336804 | 12/9/2017 1:03:00 PM | - |
| go**** | 197336585 | 12/9/2017 1:03:00 PM | - |
| fr**** | 185972490 | 12/4/2017 12:06:00 PM | - |
| kh**** | 193186889 | 11/7/2017 3:13:00 PM | Superfast Shipment , cant belive . Received goods with good condition !!!!! |
| AB**** | 197508220 | 11/3/2017 7:46:00 PM | - |
Questions & Comments


















---
We have partnered with a number of reputable courier companies for the detinasions we service . These include Airpak Express , Poslaju and Pos Malaysia
We shall endeavour to deliver your order within 1- 3 working days upon successful payment confirmation unless otherwise specifiy. You should be able to receive your order within 3-10 business days (excluding Saturday and Sunday) after shipment date, depending on the shipping courier you have chosen.
TECHVIEW is committed to ensure that your orders are delivered to you safely and on time. Therefore only the authorized receiver shall be permitted to accept the delivery. Please make sure that the authorized receiver is present to make the authorized signature. TECHVIEW reserve the rights not to release the delivery in the absence of the authorized receiver.
TECHVIEW is making every effort to deliver your order within the time stated. However, due to certain unforeseen circumstances, slight delay in deliveries might occur, TECHVIEW will not be liable for any loss caused to you by late or delayed delivery.
In the event if your package is lost by the shipping courier and your package has not been insured, we will only replace the lost products with the amount that is declared on the invoice according to your request.

You are required to make a report to us on damaged item(s) in your package within 24 hours after you have received the package. We will not entertain any request if more than 24 hours after you have received the package.

Orders will be charged packing and post based on the weight of the order. Packing and post costs will be added to your order total. Please note that due to varying size and weight of our products, and different postage rate to each country, the postage and packing costs will be calculated on an individual basis. Once your package has been shipped out, we shall not be held responsible/liable if any of the products are missing or damaged during shipping. TECHVIEW recommends that you insure your packages and declare the full value of the shipment so that you are completely protected if the shipment is lost or damaged in shipping. Please check your delivery address carefully as we will not be responsible for delivery to an incorrect address. The customer shall be responsible for the cost to resend a package that is returned because of an incorrect address.
The shipping cost that you paid does not includes tax and duties or any other extra charges impose by your local custom
If you have instructed us to create a lower value invoice for you and in the event that the parcel or package is lost during shipment, Fedex, DHL, UPS or any shipping agents shall only compensate on the lower invoice value for your order that you instructed us to put.
We reserve the right to put whatever amount of this order value in the shipping invoice if there is no request to change the order value or even if you have state an order value for us.
We do not entertain request for shipping packages in multiple parcels.
When you access this site, you acknowledge that you have read and agree to the terms described below. If you do not agree to the terms discussed here, you should exit the site and refrain from placing any order. These terms of use are a legal agreement between us and describe the terms and conditions applicable to your use of our website and the services we offer including the sale of products to consumers. You must read, agree with and accept all of the terms and conditions contained in this agreement and our Privacy Policy. This agreement includes those terms and conditions expressly set out below and those incorporated by reference. We strongly recommend that you also access and read any other information contained on other pages or websites referred to in this agreement, as they may contain further terms and conditions that apply to you.
It is your responsibility to make sure that your order contains acceptable and approved items for import into the country of destination/delivery. The buyers solely accept the full risk of any package (or part thereof) being detained by customs for whatever reason and acknowledge and agree that they will not hold TECHVIEW liable for such packages, for whatever reason being unable to be delivered to their destination.
You shall not carry out any act or omission or procure any act or omission which would: (a) disrupt, impair or interfere with, alter or modify this website or its software; (b) act in a way that affects or reflects negatively on us or anyone else; (c) collect or attempt to collect any information from others including, without limitation, personally identifiable information, without such party's prior consent; (d) engage in any activities in such a manner as to expose TECHVIEW or any third party to liability or adversely affecting the name, reputation or business of us or any such third party; (e) commit a crime or in the course of committing a crime or for an unlawful purpose to do any act that may damage the network or systems or cause the quality of TECHVIEW to be impaired; (f) violating or attempting to violate the security of the website; (g) Cause any illegal, offensive, defamatory material to be placed on or associated with this website; (g) b in breach of any copyright, trade mark, privacy, confidence, or any other third party right; (h) cause any inconvenience to TECHVIEW, its employees, servants, agents, software and other suppliers or any other third party (including, without limitation, creating or procuring software viruses, chain letters, unsolicited communications and 'spam'). NOTE: Violations of system or network security may result in civil or criminal liability.

TECHVIEW may make changes to any products offered at TECHVIEW , or to the applicable prices for any such products, at any time, without notice. The information provided at TECHVIEW with respect to products may be out of date and TECHVIEW makes no commitment to update the information provided at TECHVIEW with respect to such products.

Please check our Terms of Use periodically for changes as we reserve the right to change the terms and conditions of sale at anytime.
Every effort has been made to reflect product colours as accurately as possible. However, due to differences in monitors, we are unable to guarantee that the colour you will see on your monitor will accurately reflect the true colour of the product. All drawings, photos, descriptive matter, specifications and advertising issued on this website are issued or published for the sole purpose of giving an approximate idea of the products described in them. They will not form part of the contract with you and no warranty or guarantee shall be expressed or implied in the contract with you in this regard.
THIS SITE IS PROVIDED BY TECHVIEW ON AN "AS IS" AND "AS AVAILABLE" BASIS. TECHVIEW MAKES NO REPRESENTATIONS OR WARRANTIES OF ANY KIND, EXPRESS OR IMPLIED, AS TO THE OPERATION OF THE SITE OR THE INFORMATION, CONTENT, MATERIALS, OR PRODUCTS INCLUDED ON THIS SITE. TO THE FULL EXTENT PERMISSIBLE BY APPLICABLE LAW, TECHVIEW DISCLAIMS ALL WARRANTIES, EXPRESS OR IMPLIED, INCLUDING, BUT NOT LIMITED TO, IMPLIED WARRANTIES OF MERCHANTABILITY AND FITNESS FOR A PARTICULAR PURPOSE. WITHOUT LIMITING THE FOREGOING, TECHVIEW DISCLAIMS ANY AND ALL WARRANTIES, EXPRESS OR IMPLIED, FOR ANY MERCHANDISE OFFERED ON THIS SITE. YOU ACKNOWLEDGE, BY YOUR USE OF THE TECHVIEW WEB SITE, THAT YOUR USE OF THE SITE IS AT YOUR SOLE RISK. THIS DISCLAIMER DOES NOT APPLY TO ANY PRODUCT WARRANTY OFFERED BY THE MANUFACTURER OF THE PRODUCT. THIS DISCLAIMER CONSTITUTES AN ESSENTIAL PART OF THIS AGREEMENT.
TECHVIEW offers free "1 to 1 replacement" on all products items for the first 7 days upon receiving of goods (on manufacturer defects only).

Product(s) sold through TECHVIEW are serviced and supported by their manufacturers in accordance with any terms and conditions packaged with the products. We will not accept return of product(s) that are not compatible with your system configuration or damaged during shipment to and from or misused by customer / shipping carrier or hold by custom.

If you need to return product(s) back to us for warranty, please contact us at techview88@gmail.com . Please ship back the product(s) to the original packaging with any accessories as advised . Failure to do so may invalidate the warranty.

If the returned item(s) is not faulty after checking, a minimum amount (RM20.00) of administration fee will be charged you would need to bear for the return shipping cost.

For international sales order, the customer needs to bear the return courier charges and any other cost incurred.
Questions & Answers
Do you have any questions to ask merchant about this product
Ask Seller
| | | |
| --- | --- | --- |
| 5 star | | 0 |
| 4 star | | 0 |
| 3 star | | 0 |
| 2 star | | 0 |
| 1 star | | 0 |
Share your thoughts with others
Write a review
Only buyers who purchased the product may leave a review