Item Specification
Model / SKU
: SY-RT1900AC
Product Description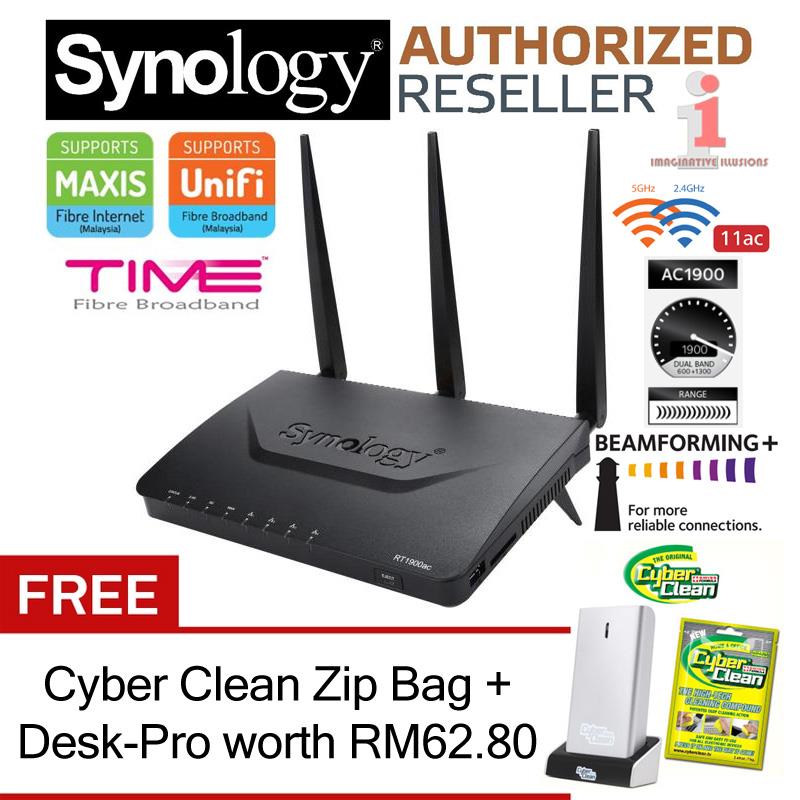 Fast, reliable Wi-Fi
Equipped with three powerful antennas and support for the latest 802.11ac wireless networking standard, Synology Router RT1900ac broadcasts both 2.4 and 5 GHz spectrums for combined data transfer speeds of up to 1900 Mbps. Never worry about speed bottlenecks even when multiple people are connected to the network.
Lag-free online gaming
Take advantage of easy-to-use bandwidth prioritization and network traffic controls, so your games always get the speed and low latency they need.
Smooth video streaming
Enjoy buffer-free playback when streaming 4K movies from your favorite online video service, or play home videos stored on external storage directly on a DLNA compatible TV or media player.
Fast file transfers
Share important files and documents quickly and smoothly when collaborating with business partners or others.
---
Robust connectivity with Beamforming
Traditional routers broadcast wireless signals in all directions, regardless of the position of your laptop or smartphone. With smart Beamforming technology, Synology Router RT1900ac focuses wireless signals toward up to six supported devices, reducing latency, economizing power consumption, and improving wireless range.
Powerful connectivity management
For advanced home users and company admins, Synology Router Manager 1.1 delivers tools to manage connectivity so your network runs smoothly and just the way you want.
---
Smart WAN
For those who need uninterrupted network connectivity, Smart WAN allows Synology Router RT1900ac to connect to the Internet via two network interfaces. If one of the connections goes offline due to ISP problems or other issues, traffic can failover to the other interface. Additionally, load balancing can spread traffic across both interfaces according to customizable settings, allowing you to route traffic through a specific interface according to the destination or source address.
Hardware Specifications
CPU
Dual core 1.0 GHz
Memory
256 MB DDR3
Antenna type
3x3 MIMO Omni-directional high-gain dipole (2.4GHz / 5GHz)
LAN port
Gigabit (RJ-45) x 4
WAN port
Gigabit (RJ-45) x 1
External Ports

USB 3.0 x 1 (5V, 1.5A power output)
SD card reader x 1 (SDXC, SDHC)

Button and switch
WPS, USB/SD eject, Power, Reset, Wi-Fi On/Off
Appearance
Size (Height x Width x Depth)
66 mm x 206 mm x 160 mm (without antenna)
Weight
0.51 kg
Others
AC Input Power Voltage
100V to 240V AC
Power Frequency
50/60 Hz, Single Phase
Power Consumption*
10.82 W (Access)
7.45 W (Idle)
Temperature
Operating Temperature
5°C to 40°C (40°F to 104°F)
Storage Temperature
-20°C to 60°C (-5°F to 140°F)
Relative Humidity
5% to 95% RH
Certification

FCC Class B
CE Class B
BSMI Class B

Wi-Fi Certification
Warranty
2 Years
Wireless
IEEE 802.11ac

IEEE 802.11a/b/g/n/ac
Simultaneous dual-band Wi-Fi
2.4GHz: 600Mbps (256-QAM supported)
5GHz: 1300Mbps

Beamforming
Yes
Schedulable Wi-Fi
Yes
WPS 2.0 (Wi-Fi Protected Setup 2.0)
Yes
3G/4G mobile dongle support (Learn more)
Yes
Maximum MAC filters
64
Maximum connected devices
70
Note

In real-world testing, RT1900ac could have at least 70 devices connected concurrently, with the tested device ratio of 5GHz (channel 161) : 2.4GHz (channel 1) = 1 : 3.
Not all of the connected 70 devices in the testing are in transmission, some of them remained idle.
RT1900ac supports at least 40 connected devices that are concurrently transmitting data.
The numbers above are for reference only, which could vary dynamically according to users' network scenarios and conditions.

Network
Internet connection
Dynamic IP, Static IP, PPPoE
Port forwarding
Setup via manual management or UPnP
Maximum port forwarding rules
64
Maximum UPnP rules
64
Port triggering
Yes
Maximum port triggering rules
32
Minimum port triggering timeout
30s
Maximum port triggering timeout
3600s
DMZ
Yes
IPv6
IPv6 DHCP server/client, IPv6 tunneling
DHCP
Server/client mode, client list, MAC address reservation
Maximum DHCP reservations
500
LAN/WLAN IGMP snooping
Yes
VPN

VPN server/client (PPTP, OpenVPN, L2TP/IPSec)
VPN pass-through (PPTP, IPSec, L2TP)

Policy route, Static route, Network Address Translation (NAT), PPPoE relay
Yes
Maximum IPv4 static routes
100
Maximum IPv6 static routes
100
Diagnosis tools
Management
Operating system
Synology Router Manager (SRM)
Free OS upgrade
Yes
Anywhere access to SRM
Synology QuickConnect & Dynamic DNS (DDNS)
Operation modes
Wireless Router, Wireless AP, Wireless Client
Wake on LAN (WOL)
Yes
WOL over QuickConnect
Yes
Maximum connected devices
100
Notification
Email, SMS, push service (via DS router)
SSH
Yes
SNMP
Yes
Configuration backup & restore
Yes
User account management
Yes
Printer server
Maximum printer: 1
Parental Control
Customized Internet schedule
DNS-based web-filter with built-in database
Customized allow/block list
Setup by single / multiple devices
Default policy
Yes
Maximum devices
50
Maximum blocked URLs
100
Maximum allowed URLs
100
Traffic Control
Internet ban, device speed & priority
Yes
Application layer (L7) quality of service (QoS)
Yes
Maximum device rules
64
Maximum application rules per device
32
Traffic Monitor
Yes
Live view
Yes
Historical statistics
Daily, Weekly, Monthly, Annual
Website history
Yes
Traffic Report
Yes
Schedulable
Yes
Traffic analysis period
Daily, Weekly, Monthly, Annual
Export formats
.CSV, .HTML
Security
Wi-Fi encryption
WEP, WPA/WPA2-Personal, WPA/WPA2-Enterprise
Wi-Fi MAC address filter
Yes
Firewall/SPI Firewall
Yes
DoS Protection
Yes
Auto block
Yes
SSL certificate
Yes
Security Advisor
Yes
Mobile Apps
DS cloud (Android/iOS)
Yes
DS get (Android/iOS)
Yes
DS file (Android/iOS)
Yes
DS router (Android/iOS)

Network traffic overview
Wi-Fi management
Parental Control
Traffic Control
Network security (firewall, port forwarding, Internet ban)
Wake on LAN

VPN Plus (Android/iOS)
Yes
USB/SD Card File Service
File System
EXT4, FAT, NTFS, HFS+
Access support

File explorer (via LAN only)
Web browsers: Chrome™, Firefox®, Internet Explorer®: 8 onwards, Safari® 7 onwards, Safari (iOS® 7 onwards on iPad®), Chrome (Android 4.0 onwards on tablets)
Mobile device: DS file

Protocol support
Windows file service (CIFS), Mac file service (AFP), FTP/FTPS, WebDAV
Apple Time Machine
Yes
Shared Folder privileges
Yes
Storage hibernation
Yes
Package Center
Cloud Station Server
Sync data from multiple platforms, centralizing it on the router while easily keeping historical versions of important files.
Maximum Concurrent File Transfers
64
Note
Cloud Station ShareSync is not supported
DNS Server
Helps users find and translate domain names into IP addresses
Download Station
Supported download protocols: BT/HTTP/FTP/NZB/eMule
Maximum concurrent download tasks
50
Maximum concurrent BT download tasks
20
Media Server (DLNA/UPnP®)

Media indexing
DLNA certified
PS3/PS4/Xbox 360/Xbox One supported

RADIUS Server
Provides centralized authentication, authorization, and accounting for wireless network access
VPN Plus Server
Easily create and manage secure VPN access through a web browser or client. Supports various VPN services — WebVPN, SSL VPN, SSTP, OpenVPN, L2TP over IPSec, and PPTP.
Maximum Connections
10
Site-to-Site VPN (Beta)
Yes
Intrusion Prevention (Beta)
Greatly enhance the security of your router with IDS and IPS systems, designed to safeguard your network against internet threats.
Intrusion Detection System (IDS)
Yes
Intrusion Prevention System (IPS)
Yes
Environment & Packaging
Environment
RoHS Compliant
Packaging Content

Main Unit
Antenna x 3
Stand Kit
AC Power Adapter
RJ-45 LAN Cable
Welcome Note







---
( Click Maybank2U Pay icon to make payment using your Maybank2U Account )
• Maybank2U Pay Online.
• Special Promotion on using Maybank2U Pay Online (Promotion Period: 5th February 2018 till 31st March 2018):
Single M2U Pay Amount Above RM100:

FREE Cyber Clean Zip Bag

Single M2U Pay Amount Above RM200:

FREE Liquid-Armor Invisible Screen Protector

Single M2U Pay Amount Above RM300:

FREE Cyber Clean Zip Bag + Desk-Pro
---

• Maybank2U / CIMBclicks / Hong Leong Connect by using NetPay Online Payment.
---

• Master / Visa Credit Card by using NetPay Online Payment.
---

• PayPal Payment To: paypal@imaginative.com.my
---
Retail Store (CASH Walk-In Purchase Only):
Note: Prices at Retail Store maybe higher than Online Store.
JOHOR (Johor Bahru)
• Address: 15, Jalan Dedap 18, Taman Johor Jaya, Johor Bahru, 81100 Johor. (Beside RHB Bank)
• Phone: 07-3539473
• Working Hours: Monday To Saturday (10am To 6pm)
---

OUR SHIPPING PARTNERS
:: Courier Charges By GD Express or SkyNet
West Malaysia: RM8 for 1st kg, additional 1kg at RM2.
East Malaysia: RM20 for 1st kg, additional 1kg at RM15.
Note: Weight are calculated base on Volumetric Weight formula standard.


:: Shipping Policies
IISB ships exclusively using GD Express / SkyNet courier services. No other shipping options are available at the moment. Please note that GD Express / SkyNet cannot deliver to P.O. Box address. IISB normally ships out orders within 3 working days after fully paid order has been placed (excluding weekends or holidays). It is very rare but sometimes due to unusually high order volume, the order may take slightly longer than 3 working days to be processed. Once your order ships, your order transaction will automatically be updated with GD Express / SkyNet AWB tracking number. For shipping information, you can track online or contact GD Express / SkyNet by phone.
GD Express
Website: www.gdexpress.com
Phone: 03-77872222
SkyNet
Website: www.skynet.com.my
Phone: 03-56239090
*IISB: IMAGINATIVE ILLUSIONS SDN. BHD.
Prices and Items
All prices are stated in Ringgit Malaysia (RM) and inclusive of GST if applicable and exclusive shipping and handling charges. All prices and items specification are subject to change without notice and while stocks last only. Goods sold are Not Returnable or Refundable.
Copyright
All the material published in this site including articles, graphics, interfaces, brand names and trade marks or other intellectual property on this site are either owned by IISB or its affiliated or related entities or content providers or belongs to the respective owners.
Unauthorized modification, copying, hiring, lending, transmission and broadcast is prohibited. Material from this site may not be sold or otherwise distributed for profit.
Disclaimer
Links on IISB sites may take you outside the IISB network, and IISB accepts no responsibility for the content, accuracy or function of these sites; the links are provided in good faith, and we cannot be held responsible for any subsequent change in sites to which we linked.
Neither IISB, any of its affiliated or related entities or content providers, nor any other party involved in creating, producing, or delivering this site, shall be liable for any direct, incidental, consequential, indirect or punitive damages, costs, losses or liabilities whatsoever arising out of your access to, or use of, this site.
Everything on this site is provided to you "AS IS" and "AS AVAILABLE" basis. Neither IISB nor any of its affiliated or related entities or content providers warrant the accuracy of any of the material contained in this site or that it fits any particular purpose (INCLUDING ANY LINK TO ANOTHER WEB SITE OR RESOURCE). In no event will IISB be liable for any incidental, consequential, or indirect damages to, or viruses that may infect, your computer equipment or other property, by reason of your use of, access to, or downloading of any material from, this site. Some jurisdictions may not allow certain limitations of warrantees and damages, so some of the above exclusions may not all apply to you.
Your Privacy
While any personal details sent to IISB sites are subject to our policy on privacy and protection of personal data, we understand that all information you communicate to IISB through the Internet (including any remark, suggestion, idea, contest, graphics, etc.) becomes and will remain our exclusive property with unrestricted rights to use it, without compensating you or anyone else for them. In addition, any such information will not have to be treated by us as confidential.
Use of Website and Service
The materials used and displayed on this Website, its content and the Service may not be copied, reproduced, republished, downloaded, posted, distributed, disseminated, sold, published, broadcast or transmitted in any way except for your own personal non-commercial use. Any other use requires the prior written permission of IISB. You agree not to adapt, alter or create a derivative work from any of such materials or use them for any other purpose other than for your personal non-commercial use. You agree to use this Website, its content and the Service only for lawful purposes, and in a manner which does not infringe the rights of, or restrict or inhibit the use and enjoyment of this Website, its content and the Service by any third party. Such restriction or inhibition includes, without limitation, conduct which is unlawful, or which may harass or cause distress or inconvenience to any person. You will be responsible for and indemnify and hold harmless to IISB, its related and affiliated corporations, and their respective agents and representatives against any claim arising from any unlawful use of this Website, its content and the Service by you.
Linked Sites
This Website may contain links to third party sites. IISB, its affiliated and related corporations are not responsible for the condition or content of those sites as they are not under IISB's, its related or affiliated corporations' control. The link(s) are provided solely for your convenience and do not indicate, expressly or impliedly, any endorsement, authorization or sponsorship by IISB, its related and affiliated corporations' of those site(s) or the products or services provided there. You access those sites and use their products and services solely at your own risk. IISB is not responsible for any transactions you may perform on those sites.
No Implied Licenses
Nothing contained in this Website, its content and the Service shall be construed as conferring by implication, estoppel or otherwise, any license or right under any patent, trademark, copyright (except as expressly provided in these Terms and Conditions) or any proprietary rights of IISB or its licensors.
Miscellaneous
If there is any conflict between these Terms and Conditions and rules and/or specific terms of use appearing on this Website, its content and the Service relating to specific material then the latter shall prevail.
If any of these Terms and Conditions should be determined to be illegal, invalid or otherwise unenforceable by reason of the laws of any state or country in which these Terms and Conditions are intended to be effective, then to the extent and within the jurisdiction which that Term or Condition is illegal, invalid or unenforceable, it shall be severed and deleted from these Terms and Conditions and the remaining Terms and Conditions shall survive, remain in full force and effect and continue to be binding and enforceable.
These Terms and Conditions shall be governed by and construed in accordance with the laws of Malaysia without reference to any principle of conflict of laws. Disputes arising out of or related to this Website, its content and the Service shall be exclusively subject to the jurisdiction of the courts of Malaysia.
If these Terms and Conditions are not accepted in full, the use of this Website, its content and the Service must be terminated immediately.
This Website, its content and the Service may be accessed throughout Malaysia and overseas. IISB, its related and affiliated corporations make no representation that the content of this Website and the Service complies with the laws (including intellectual property laws) of any country outside Malaysia. If you access this Website, its content and the Service from outside Malaysia, you do so at your own risk and are responsible for ensuring compliance with all laws in the place where you are located.
Cookies
We may track your visit to this Website, its content and the Service by giving you a "cookie" when you enter. Cookies are pieces of information that websites transfer to your computer's hard drive for record-keeping purposes. IISB may use cookies to make visiting our websites and our partner sites easier. Cookies allow us to save passwords and preferences for you so that you will not have to re-enter them the next time you visit. Cookies also help us track user trends and patterns. Cookies also help us collect anonymous click stream data for tracking user trends and patterns. In addition, third party advertising networks may issue cookies when serving advertisements. The use of cookies is now an industry standard, and you will find them used on most major web sites. Most browsers are initially set up to accept cookies. If you prefer, you can reset your browser either to notify you when you have received a cookie, or to refuse to accept cookies. You should understand that areas of certain sites will not function properly if you set your browser to not accept cookies.
*IISB: IMAGINATIVE ILLUSIONS SDN. BHD.
:: Product Returns
Most computer hardware items excluding accessories carries full 1 year limited warranty with first 7 days 1-to-1 exchange replacement for defect item. No 1-to-1 exchange replacement will be accepted if past our 7-day 1-to-1 replacement period. However most of our items are covered by 1 year warranty from the date of purchase and those items can be returned for warranty claim purpose. All costs of shipping and courier are at customer's expense for all warranty claim items. Please note that all FREE Gift items are not covered by any warranty.
To initiate a return or replacement for a defective product, you must courier the defective product together with a photocopy of the bill and also the reason/problem for the return stated on it. Please also email us the Courier Company and Courier Consignment Number, so that we can keep track of your product return. Any return without any of the mentioned details will put your RMA on hold. We do this because there have been so many instances of people that didn't provide details of the returning product and also taking up to a month or more to send us the returned item. We are not responsible for lost RMA packages sent back to us, so please insure your package.


:: Defective Product
If you have received a defective product from IISB within our 7-Days Return Policy, you may return it to obtain a credit, exchange or refund excluding shipping. Defective product must be reported to us within 48 hours (based on Delivery Confirmation) of receiving the item. IISB reserves the right to assess a RM30 Labour Fee on returned non-defective product. Note that shipping, handling or any labour charges are not refundable.


:: Exceptions to our 7-Days Return Policy
Accessories and Water Cooling related products will not be accepted back once sold. If the item is defective it will be exchanged during the warranty period for the exact same item. Items that require modification before they can be used will not be accepted back once sold. Sound Dampening material that has to be cut before it can be installed would be an example. Items described on the website as not being eligible for return or refund.


:: Limitation of Liability
All products sold on this website are to be used at your own risk. Under no circumstances is IISB liable for the following: (1) Third Party claims against you for damages; (2) personal injury, loss of or damage to your records, data, or equipment; (3) economic consequential damages (including lost profits, lost data, or lost savings), or incidental damages even if we are informed of their possibility. We will not responsible for all lost or damaged item during transit or item return handled by the courier company. So, please always track your parcel with the courier company and also check the condition of the parcel when receiving.
*IISB: IMAGINATIVE ILLUSIONS SDN. BHD.
Questions & Answers
Do you have any questions to ask merchant about this product
Ask Seller
| | | |
| --- | --- | --- |
| 5 star | | 0 |
| 4 star | | 0 |
| 3 star | | 0 |
| 2 star | | 0 |
| 1 star | | 0 |
Share your thoughts with others
Write a review
Only buyers who purchased the product may leave a review