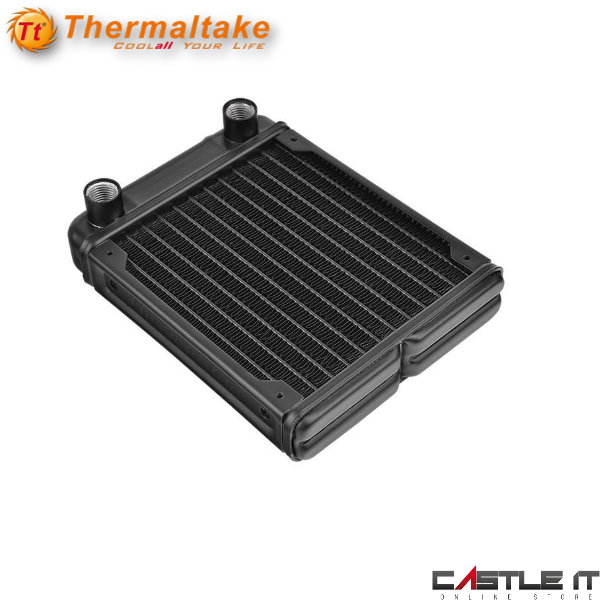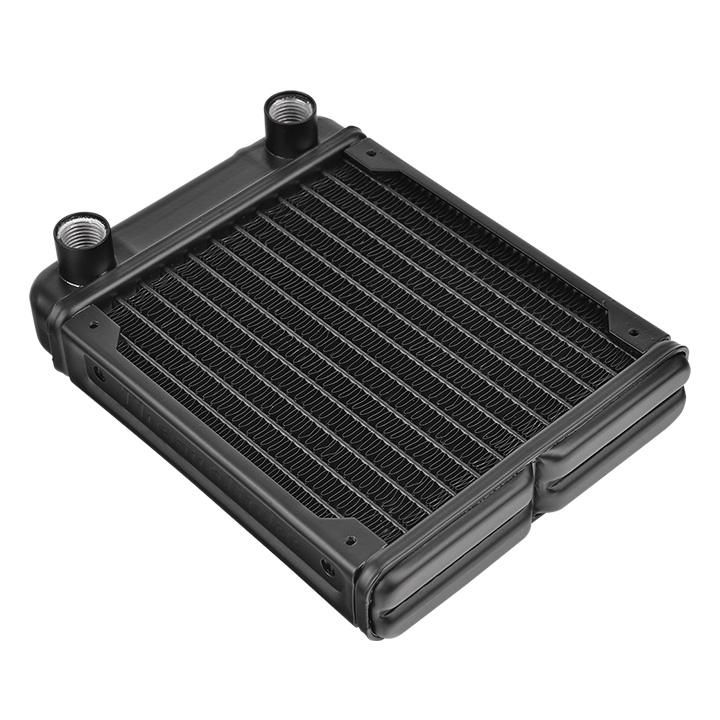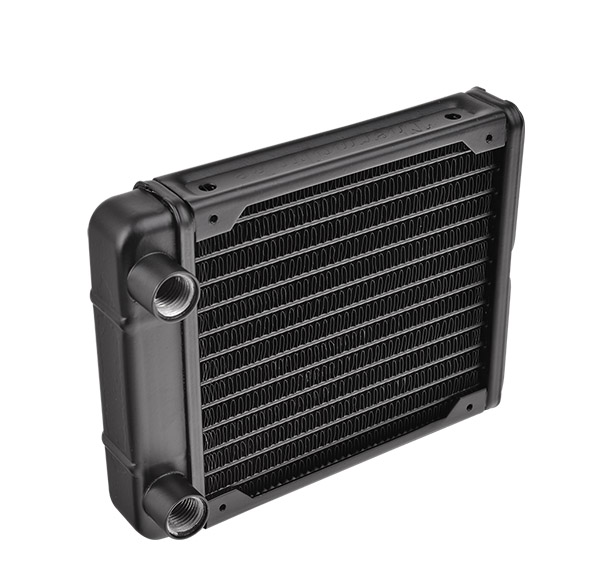 NOTE: All goods sold are subjected to stock availability. If the stock is unavailable or sold out, we will proceed refund to your bank account/credit card. Due to bank process, some refunds may takes up to 7-14 working days.
Thermaltake Pacific R120 Radiator
The Thermaltake Pacific R Series introduces high-quality radiators to deliver outstanding water cooling performance for the enthusiast\u2019s PC. Manufactured from high-quality German zinc alloy aluminum and aerospace-grade materials, configurations of 120mm, 240mm, and 360mm are available to provide exceptional performance. Integrated G1/4" threads make it easy to install, while rigid connections ensure leak-resistant measures are in place. With an ideal mounting, fitting and flow set-up, the Thermaltake Pacific R Series meets your cooling needs in every way.
\u201cTt LCS Certified\u201d is the hallmark that ensures first-class performance from the best features and fitment. A certification exclusive to Thermaltake, it sets the benchmark for all true LCS chassis and is applied only to products that meet our stringent design standards for delivering what hardcore enthusiasts demand. The Tt LCS certification is a way for Thermaltake to designate to all power users the chassis which have been tested for best compatibility with extreme liquid cooling configurations.
Optimized Heat Dispatching
Designed for the most demanding hardcore enthusiasts, the Thermaltake R Series Radiators are optimized for maximum heat dispatching. They deliver an average heating load of 32?-35? on each radiator. After brazing, the fin and tube connect to form a joint, thereby creating uniform heat transfer. By efficiently pulling heat away from the power-dissipating components, the radiators ensure component reliability.
Slim Form Factor Design
The Pacific R Series is a slim radiator with a 13-set flat tube design to increase heat transfer. Water flows down on the one side, then circulates back to the other side of the radiator.
High-Density Fin Design
Fin density is optimally designed to accommodate high air pressure. The cooling performance improves significantly with increased fan speed, offering exceptional cooling performance during operation. FPI (fin per inch): 17.
German-Made Anti-Corrosion Materials
Without compromise, the Pacific R Radiator Series is designed with high-quality German aerospace-grade materials and constructed with zinc, the most common anti-corrosion agent. Although this protection will gradually degrade as the zinc corrodes away over time, it provides the best means to reduce electronic conductivity and can withstand scratches to the zinc layer. Corrosion potentials of zinc alloy aluminum can be reduced by 55.6% after brazing.
High-Quality Manufacturing Process: Brazing
An exceptional manufacturing process using high temperature brazing at 1022?/550? sets Pacific R Radiator Series in a class of their own. This technique allows for impurities to be kept out of the brazing process, ensuring that full strength on all the connected areas is achieved.
The radiators are baked through a controlled atmosphere brazing line. The materials melt into each other to accomplish optimal thermal transfer from the tubes to the actual fins in order to attain better heat evacuation.
Radiator Production Process Video
Remarkable Expansion
The Pacific R Radiator Series provides multiple sizes for users to build the ultimate in custom configurations. A wide array of radiator sizes are available for enthusiasts to build up aesthetically-superior water cooling systems by allocating the radiators to each particular component and incorporating externally-modular upgrades for their chassis.
SPECIFICATIONS
P/N
CL-W008-AL00BL-A
Dimension
154(L) x 120 (W) x 40.2 (H)
Weight
216 g
Material
Anti-Corrosion
Aluminum Alloy

FPI (Fin per inch)
17
Flat Tube
12 pcs
Screw Thread
G 1/4 * 2










---
Bank Account and Payment Instruction
Name: Castle IT Online Store
MAYBANK: 51484-2022-336
CIMB BANK: 8001-0246-65
PUBLIC BANK: 3-1874629-06
AM BANK: 233-201-201037-5
AFFIN BANK: 1-002002-452-19
BANK ISLAM: 14-238-01-000375-8

Email (bank payment receipt / notification): castleit@live.com
F.A.Q. Order Payment
Q: How do I make purchase on Lelong.com.my?
A: You are required to
registered
as
Lelong member
before making purchases on our store
www.lelong.com.my/store/castleit
. Alternatively, you can still
email
or
facebook
us for
ordering
.
Q: Are there any charges?
A: Yes, but ONLY IF you make payment through PAYPAL.
- PayPal charges from 3.9% (Malaysia buyer) and up to 5% (oversea buyer) transaction fee for using their services.
Transaction Fees Calculation
PayPal
A: Get an additional 2% OFF by directly order from us through

Whatsapp / Facebook / Website: www.castleit.com.my
Q: I'm not Lelong member, but I'd prefer to pay using my PayPal.
A:
Yes, In this case, please give us with
your PayPal account and email, an official invoice will be issued for you to proceed payment.
Q: How can I skip PayPal's Transaction Fee?
A: Yes, In this case, you may deposit through Cash Deposit Machine (ATM), or Direct Funds Transfer (Internet Banking) to either one of our bank accounts

listed above

.
Q: How do I upload my payment details or bank receipts?
A: Once you had done the transfer,

you can notify us

by uploading the bank payment receipt / details to your lelong order as reference, we will proceed your order and shipment once the payment has been verified by our account.
- For more, please refer to the instructions below:
LELONG member
To purchase multiple items, please click add cart to choose more than 1 item, combine shipment will be set automatically according to the total weight of your order.

NOT a Lelong member?
Please email to us at sales@castleit.com.my, and remark details as below:
i. Item, Brand, and Model
ii. Quantity
iii. Delivery Address
We will revert to you accordingly with the Total Price (shipping fee included), you can proceed payment once you are agreed with it.
Once payment is made, you can notify us through email with following details:
i. Payment - Bank, Amount, Date
ii. Delivery details - Recipient name, Address, and Contact number
We will proceed your shipment once the payment is verified.
Q: Can I pay by cheque? How soon can I get my order?
A: Yes, you can but your order will only be released after the cheque payment is cleared.
- Clearing period for same bank cheque takes

1 working day

, and 3 working days for a Third-party bank cheque.
- Delivery normally takes 1-2 working days.
Q: What about payment via NETPAY / PAYPAL ?
A: Your order and payment details will be
automatically updated
by NetPay / PayPal, and your order will be proceeded right away.
Q: What about my parcel tracking number?
A: Tracking number normally will be updated/SMS on the next working day.
Q: When is your cut off time?
A: Kindly be advised that our last daily order closed at 1:00P.M., please submit all your order and payment details as early as possible, so we could arrange your shipment ASAP.
Q: I can not find the "OTHER PAYMENT METHODS" to upload my payment details/banking receipts. How?
A: If you can not find the button for

"

Other Payment Methods

"

at the check-out section, please follow

the

steps

below:
Step 1. Use this link to fix the Bug: http://bit.ly/2cszQAc <== (Copy and Paste, then press ENTER on your browser)
Step 2. Click "Make Payment"

Step 3. Follow the final steps in the picture below:
Any further questions on payment, please do not be hesitate to reach or whatsapp us at 018-2229794.
Congratulation! Your have successfully completed your order with us!
Courier Services
SHIP and PROCESS: All confirmed order will be processed and shipped within 24-business hour, except for weekend and public holidays will be arranged by next working day.
Once order shipped, delivery normally takes 1 working day to reach within West Malaysia | 4-7 working day (POS Malaysia) or 1-2 working day (POSLAJU) to reach East Malaysia.
Moreover, you will receive a shipment completed update and confirmation details that contains your parcel tracking on Lelong.
Weight (Samples)
Light-weighted items (below 1KG) - Processor, Memory RAM, Flash Drive, Software, Mouse, and etc.
Heavy-weighted (above 1.5KG) - Power Supply, Monitor, CPU Case, Motherboard, Printer, and etc.

Peninsular (West Malaysia)
- All orders will be delivered by POSLaju / GDExpress (ETA 1-working day)

- Orders to Free Trade Zone will be delivered by POSLaju (ETA 1 to 2-working day)
Sarawak / Sabah / Labuan (East Malaysia)

- Light-weighted order delivers by POSLaju (ETA 1 to 2-working day) as default courier method, changing to other couriers may required to top-up for additional cost.

- Heavy-weighted order delivers by POS Malaysia (ETA 3 to 7-working day) as default shipping method, top-up may required for upgrading to a quicker courier such as POSLaju, GDEXpress and etc.

NOTE: If you want other courier services, kindly remark on your order or notify us (call) as early as possible, else we may not be able to change it once the shipment has left our warehouse.
Fast Delivery: The default delivery method to East Malaysia is POS Malaysia. Customer who prefers fast shipment is required upgrade to POSLAJU, top-up cost may vary depends on the size and weight of the parcel, we will notify you the top-up details for your confirmation before releasing your order.
Delivery Details (required): Your name (Recipient), delivery address, contact number, and email address (for Warranty). Moreover, student, lecturer, or work identification number may also required for delivery to school, corporate or government departments.
Shiping Destination: We deliver to both nationwide worldwide, delivery rates may vary depends on your location and by which courier.
Late Shipment: We do not guarantee transit times and delivery fees are non-refundable through us. However, the delivery ship methods listed below are guaranteed directly through the shipping carrier with certain exceptions such as weather delays, traffic delays, and failed delivery attempts. Customer is advised to direct contact the courier if you think your delivery is late or being delayed for any factors.
Incomplete or Incorrect Address: Please double check your delivery address while placing order. Errors on your delivery address may incur parcel return or reject during courier transit. In this case, customer is required to repay the cost for resending parcel.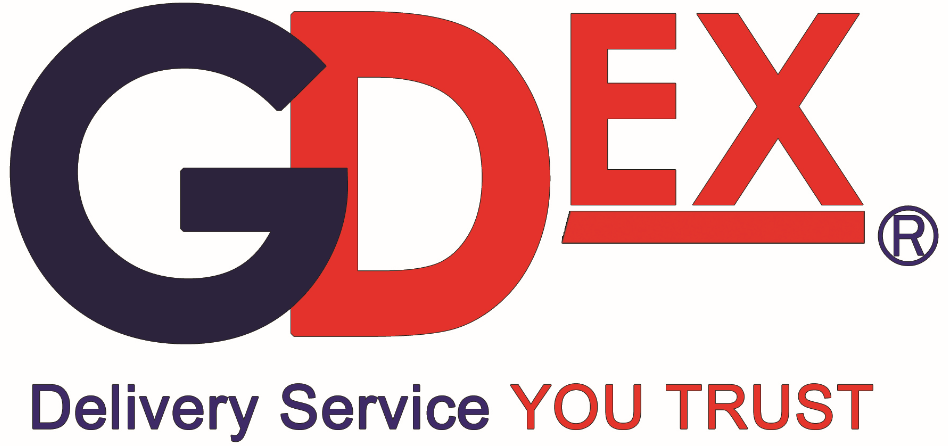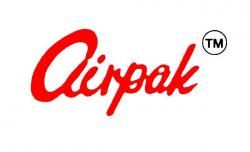 ---
Estimation of Shipment Rate

Destination

First

Price (RM)

Subsequently, every addtional 500gram (RM)

Remark

Peninsular Malaysia

500 gram

6.00

1.20


Gdexpress (Default Delivery)

Poslaju (Parcel below 900 Gram)

Sabah / Labuan

500 gram

9.00

2.20

Poslaju (Default Delivery for parcel below 1.5kg)


POS Malaysia (Default Delivery for parcel above 1.6kg+)

Poslaju (Upgrade faster delivery for parcel above 1.5kg, will require top-up by customer)

Sarawak

500 gram

9.00

2.20

Poslaju (Default Delivery for parcel below 1.5kg)


POS Malaysia (Default Delivery for parcel above 1.6kg+)

Poslaju (Upgrade faster delivery for parcel above 1.5kg, will require top-up by customer)

International

-

-

-

Please Call to Ask
---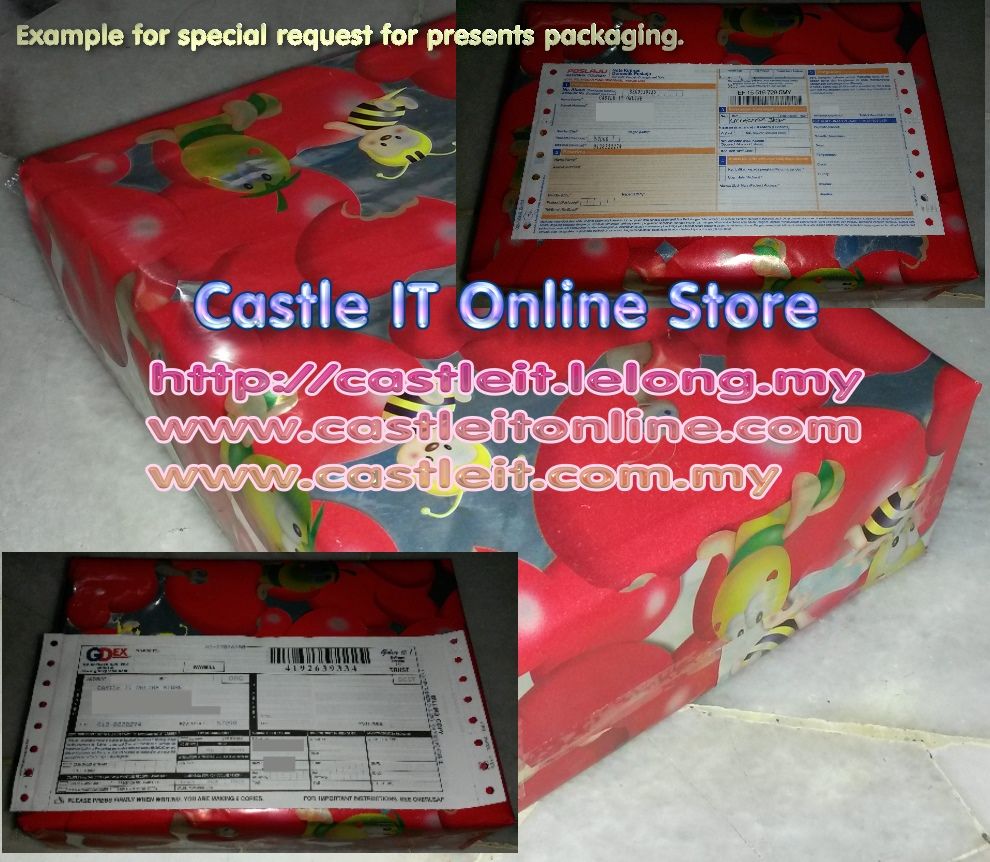 Welcome to Castle IT Online Store. Terms and conditions stated below applies to all visitors and users of castleitonline.com / lelong.com.my/merchant/castleit.htm. You're bound by these terms and conditions as long as you're on castleitonline.com / lelong.com.my/merchant/castleit.htm.

Buyer MUST READ
The following terms and conditions govern the sale of products by Castle IT Online Store. By submitting your on-line order to Castle IT Online Store, you have indicated your acceptance to be bound by these terms and conditions of sale. At Castle IT Online Store's sole discretion, these terms and conditions may be changed without prior notice at any time.
Goods sold are not returnable, exchangeable or refundable.
Note: All goods sold are subjected to stock availability. If the stock is unavailable or sold out, we will proceed refund to your bank account/credit card. Due to bank processes, some payment refunds may takes up to 7-14 working days.

Confirmed order must pay within 5 days.

Please allow us 1 to 2 working days to process order shipment.

Tracking number will be provided/updated within 24 working hours after shipment made. (Lelong or SMS)
Availability
Castle IT Online Store does not guarantee that products and services advertised on our website will be available when ordered or thereafter.

All orders are based on first come first serve basis. If the item you ordered is unavailble/sold out, you may cancel that item and request for a refund or place a back-order for it, however the remainder of your order will be shipped. We will contact u via email, lelong PM, or phone. (Please MAKE SURE your given Contact Details are correct so we can get in touch to you.)

Seller shall not held responsible for lost damage of the item during delivery by courier service. However, buyer has the right to claim from the courier company.

You may request for a hardcopy receipt under the remark section on your order.

If you prefer to have a product test, kindly request before order being shipped.

Custom PC assemble is FREE of CHARGES while purchasing whole PC set, please remark to us if you'd would like us to help you assemble the PC or you prefer to do-it-yourself.

Order Cancellations Changes
For the benefit of our customers, we attempt to process orders as rapidly as possible. As such, orders may be sent to our warehouse for fulfillment very soon after they are placed. Due to difficulty of locating orders once they have begun the fulfillment process, we will not be able to make any order changes or cancellations once they have reached this stage of processing.

Please review orders very carefully prior to submitting them and in the case a cancellation is necessary; please contact us as soon as possible to increase the likelihood that we are able to stop your order before it goes to the warehouse for fulfillment. Unfortunately, no guarantees can be made.

Shipping Risks during Shipping
When products are shipped to you by common courier, Castle IT Online Store's liability to you for breakage and/or non-delivery of the products by the common carrier to you will be limited by the limits of a liability provided by the common carrier's terms and conditions of carriage. You may wish to purchase insurance from loss or breakage during carriage for full insurable value of the products you have ordered by making the approriate requests when placing your order with Castle IT Online.

Errors, Misprints, and Omissions
Our goal is to provide current and accurate information on our website. However, errors, misprints, and omissions sometimes occur. These include but are not limited to incorrect or incomplete prices, descriptions, specifications, stock availability, photographs or illustrations. Castle IT Online Store makes no warranty that the content of the website is accurate or complete.

Prior to shipment or delivery of any order, Castle IT Online Store may cancel, reject, correct, or terminate any order for products, services, or insurance for which the price was incorrectly displayed or where we otherwise displayed erroneous, incomplete, or inaccurate information. Castle IT Online Store cancel, reject, correct, or terminate at any stage of the order processing, including after an order has been submitted and confirmed, and your credit card or debit card has been charged or an eletronic funds transfer has been sent or received. In the event your order is cancelled by Castle IT Online Store after your payment has been made, Castle IT Online Store will proceed a refund to you via eletronic bank transfer.

Castle IT Online Store is not obligated to complete any sell of products, services, or insurance based on errors, misprints, or omissions on our website.

Castle IT Online Store may at any time, with no prior notice or liability to any website user (a) correct any error, inaccuracy, or omission; (b) change the products and services available on the website, or the prices, fees, description, and specifications of such products, services, and insurance; (c) limit quantitie, promotional or otherwise, available for sale.

If you are not satisfy with your purchased product(s), please return it back to us with the invoice. Please refer no.14 and no.15 for return and refund policy.

Refund Policy
Refund only when the item is sold out/unavailable.

Return Policy
Any item purchased from Castle IT Online Store may be returned for credit, provided that it is returned sealed (in its original, unopened, undamaged packaging, with all documentation, just as it left Castle IT Online Store), via appropriate shipping methods. If a unit is returned unsealed, any costs incurred in the recertification of that item to the condition stated on the original invoice, plus any applicable restock fees, will be deducted from any refund or will be invoiced to the customer. Recertification fees will apply to any unsealed units returned without regard as to whether the unit was actually installed or otherwise used. Castle IT Online Store reserves the rights to reject or refuse to refund if the item has been unsealed by the customer.
Warranty Replacement
Please keep a copy of either your Order ID Number, Courier Delivery Receipt, Tracking Number, Invoice Number as warranty reference.

Some warranties may take more than a month or longer, vary depends on the processes carry by the supplier, service centre, or the manufacturer. We as seller are not within control of this warranty process time.

We provide 1-to-1 exchange for faulty item ONLY on the first 7-day after purchased, otherwise it will be handled with standard warranty procedure if over the given period.

Eligible Warranty do not include burned, marks, natural disaster, water damage, hardware modification, self repair, excessive overclocks component or any physical damages caused by customer.

Certain products may requires buyer manually registration for warranty.

Please take note that customer are required to pay the courier fee for send return warranty.

There would be a service charge imposed over a period of time when customer requires us to send/claim warranty on behalf of them.
- For instances, a faulty graphic card (with 3 years warranty) is service free for the first year only, there will be a service charge for second year onwards.
How Do I Send/Claim My Warranty?
Please submit your warranty information, here:
bit.ly/1f3J4Uc
Alternatively, you may also do it another way as below:
Warranties Return Procedures
Step 1 Prepare your faulty unit
Step 2 Attach a piece of paper note with your information:
i. Your Name
ii. Address
iii. Contact number
iv. Email Address
v. Order ID / Invoice number (if any)
vi. Faulty Problem (simple description)
Step 3 RETURN it to our Warranty Department.
- Lot. 2-023, 2nd Floor, Endah Parade, 1, Jalan 1/149e, Taman Sri Endah, 57000 Kuala Lumpur, Wilayah Persekutuan, Malaysia.
For any warranty claim issues or question, you may also reach or whatsapp us at 012-8222274.
Thank You.
Average Product Rating
0.0 stars out of 5
| | | |
| --- | --- | --- |
| 5 star | | 0 |
| 4 star | | 0 |
| 3 star | | 0 |
| 2 star | | 0 |
| 1 star | | 0 |
Share your thoughts with others
Write a review
Only buyers who purchased the product may leave a review