Item Specification
Product Description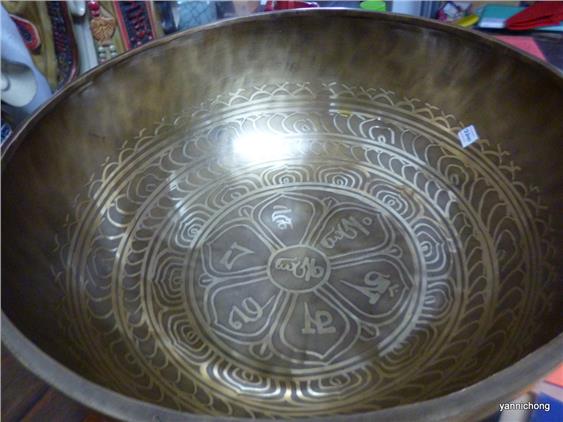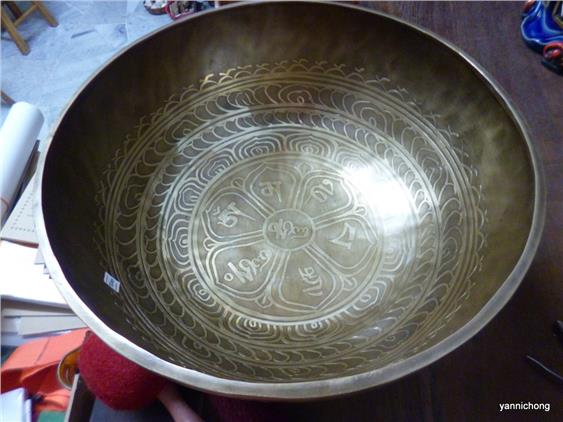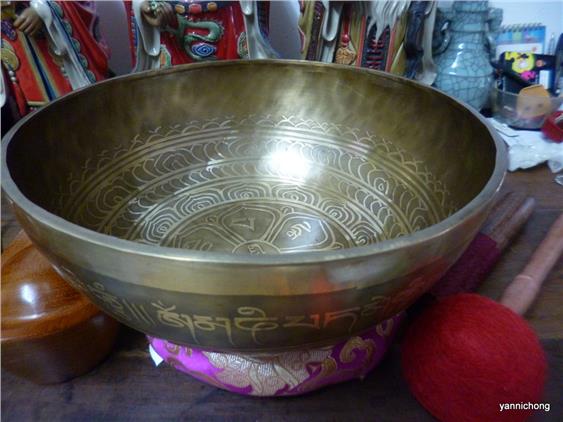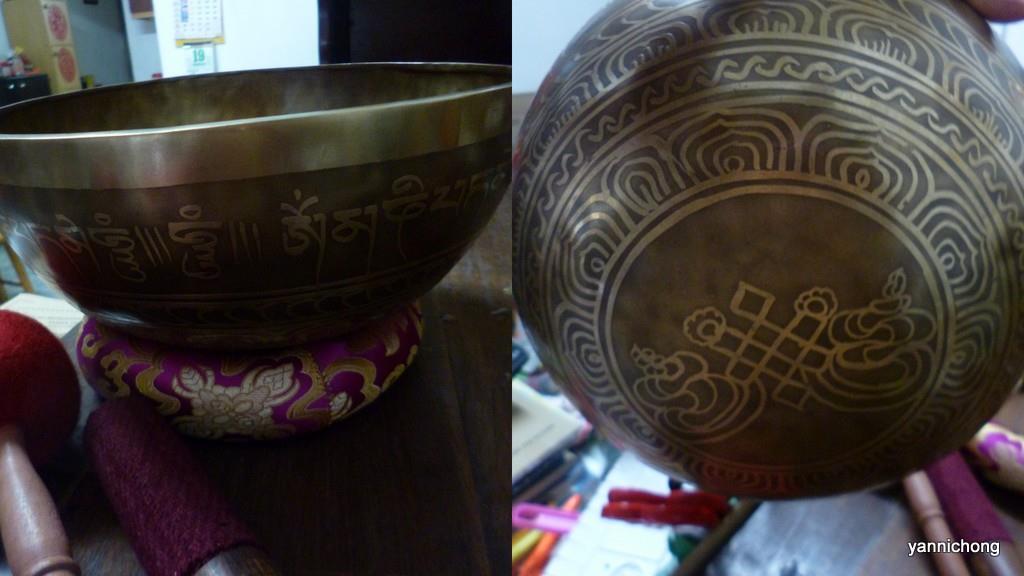 tibetan HAND HAMMERED 7 METALS SINGING BOWL , HAND ENGRAVED MANTRA INSIDE AND OUTSIDE .
11 INCHES DIAMETER ACROSS.
This singing bowl is made of seven metals, i.e. gold, silver, copper, iron, tin, lead, and zinc. All the metal used has a specific purpose and represent the sun and the moon and other planets. This bowl can be used for meditation, music, and chakra cleansing. A striker and a big mallet is included with this singing bowl and this bowl was hand-hammered in Tibet.
The bowl have long lasting tune which create totally peaceful environment around you,those who are looking for real handmade bowl from Himalaya will not be disappointing by this bowl.
Deep resonating sound , long lasting .Sound from Tibetan Singing Bowls entrain the brain to move into the Theta brain wave frequencies that induce deep meditative and peaceful states, clarity of mind, and intuition. The sound vibrations impact our nervous system, engaging our relaxation reflex and inhibiting the stress or pain response.
The director of Medical Oncology and Integrative Medicine at the Cornell Cancer Prevention Center in New York, Dr. Mitchell Gaynor, says,
"If we accept that sound is vibration and we know that vibration touches every part of our physical being, then we understand that sound is heard not only through our ears but through every cell in our bodies. One reason sound heals on a physical level is because it so deeply touches and transforms us on the emotional and spiritual planes. Sound can redress imbalances on every level of physiologic functioning and can play a positive role in the treatment of virtually any medical disorder."
In the east, health is looked at much differently than in the west; illness is thought of as a manifestation of disharmony within the body, such as an imbalance in the cells or a given organ. Having said that, since matter is energy that vibrates at different rates, the structure of matter can be changed when you alter the rate of vibration. The body is said to be healthy only when each cell and organ resonates in harmony with the entire body. What these bowls do is cause the brain to switch to Theta brainwave frequencies that heighten one's intuition, clarity of mind, as well as deep meditative and peaceful states. This positively affects our nervous system and engages our relaxation reflex while also inhibiting the pain or stress response.
When this alignment occurs, health and healing all come into balance, creating deep harmony within and without. This can easily lead to spontaneous healing. As the great Tibetan master, Bodhisattva Gwalwa Karmapa puts it so finely, these Singing Bowls emit the "sound of the void" which is really the sound of the universe. Given that the science behind this method is slowly being uncovered, modern medicine is just starting to measure as well as validate its ability to heal our body, mind, and soul.
\
There are so many benefits of Tibetan Singing Bowls:
Reduce stress and anxiety significantly

Lower anger and blood pressure

Improve circulation and increases blood flow

Deep relaxation and pain relief

Increase mental and emotional clarity

Promote stillness, happiness and well being. Stimulate the immune system.

Aid the immune system and fibromyalgia and psoriasis in individuals that meditate

---
PAYMENTS THRU MAYBANK TRANSFERS, OVERSEAS BUYER , PAYPAL OR WESTERN UNION.FOR OVERSEAS BUYER PLEASE CONFIRM WHICH TYPE OF PAYMENT.
DELIVERY THRU POSLAJU , FOR LOCAL TOWN , P. MALAYSIA CHARGES ARE RM9. 00 AND EAST MALAYSIA IS RM11.00 FOR NORMAL BELOW 500 GRAMS MAILING. ABOVE 501 GRAMS , POS LAJU CHARGES ARE AS ACCORDING TO POS LAJU RATES.
FOR OUT SIDE MALAYSIA , SHIPPING CHARGES AS ACCORDING TO POST OFFICE .
PLEASE DO INQUIRE , COMMUNICATE WITH ME , IF YOU ARE NOT SURE ABOUT THE ITEMS, OR ANY MATTER BEFORE BIDDING.I WILL REPLY YOU ASAP.
FOR EXPENSIVE OLD AMULETS , PLEASE MAKE VERY SURE YOU KNOW THE ITEM AND YOU UNDERSTAND THOROUGHLY WHAT YOU ARE BIDDING FOR.
ANY QUESTIONS PLEASE ASK .