Item Specification
Product Description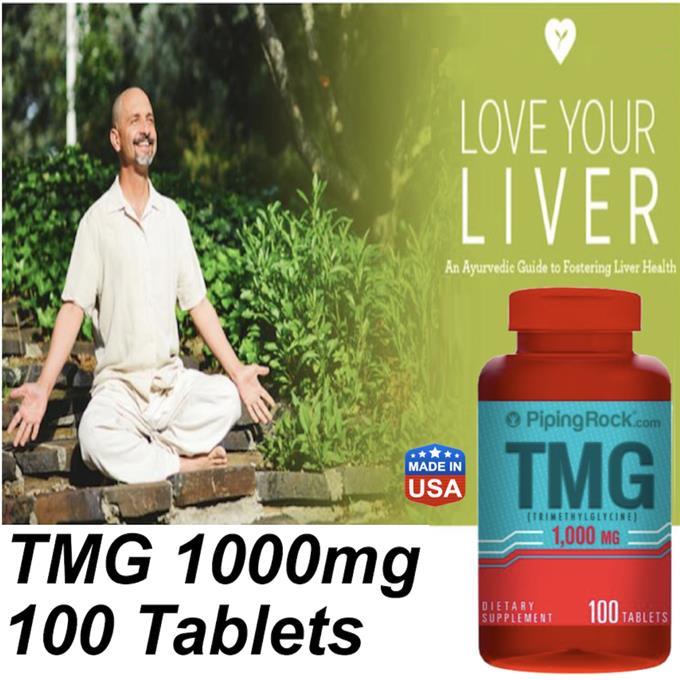 Description
Helps support homocysteine levels already within normal range**

Supports cardiovascular and liver health**

1,000 mg in each easy-to-swallow tablet
What is TMG?
Trimethylglycine, commonly called betaine, is a nutrient known as a methyl donor. Methyl
donors carry and donate methyl molecules, which is important for cell reproduction and
other chemical processes in the body, explains the University of Maryland Medical Center,
or UMMC. Trimethylglycine occurs in beets, broccoli, spinach, grains and shellfish.
Supplements also are available, derived from sugar beets. Consult a qualified health
care provider before taking trimethylglycine supplements.
Trimethylglycine decreases high levels of the amino acid homocysteine that occurs
naturally in the body, according to the UMMC. Levels of this substance can become
elevated due to insufficient intake of certain nutrients, such as some B vitamins. A high
level of this amino acid is a risk factor for heart disease and stroke, although no one has
yet determined the exact effects of homocysteine, notes UMMC. Doctors sometimes test
patients at risk of heart disease for elevated homocysteine levels and may recommend
taking trimethylglycine supplements along with other nutrients.
Benefits of TMG
Helps With Liver Function and Detoxification
Betaine benefits liver health by assisting in

detoxification

and the process of the liver
digesting fats (lipids). Fat can accumulate to dangerous levels in the liver from
conditions — such as alcohol abuse, obesity, diabetes and other causes — but betaine
is able to assist in liver detox functions of breaking down and removing fats.
Betaine also helps the liver to dispose of toxins and chemicals, preventing against damage
to the digestive tract and other bodily damage that can result from toxin exposure.
Supports Heart Health
Betaine is best known for helping to reduce homocysteine levels in the blood, which is
directly related to lowering risk for heart disease. A high homocysteine concentration is a
potential risk factor for cardiovascular disease, but studies show that this condition can be
reduced through regular betaine supplementation.
By helping to fight hardening and blocking of arteries due to elevated homocysteine, betaine
is beneficial in reducing the risk for heart attacks, stroke, and other forms of cardiac arrest
and heart disease.
May Help Improve Muscle Mass
Though research is mixed and somewhat limited in humans, ongoing betaine supplementation
has been shown to reduce fat (adipose) mass and to increase muscle in human studies. To date,
several studies have been done to research whether betaine benefits exist for

building strength
and muscle mass. Different studies have showed varying results.
May Help with Fat Loss
According to certain studies, data suggests that betaine supplementation may be beneficial in
altering how the body processes and partitions nutrients, resulting in quicker fat burning
abilities and fat loss without breaking down muscle tissue or losing muscle mass.
Can Aid in Digestion
Betaine is sometimes used to create Betaine Hydrochloride supplements (also called betaine
HCl). Betaine HCI is thought to increase the concentration of hydrochloric acid in the stomach,
which is the acid that must be present in order to break down foods and to use nutrients. In
certain groups of people who have low stomach acid, they can experience a range of
digestive problems that betaine is able to help relieve.
Helps Relieve Aches and Pains
Studies have shown that betaine may positively benefit those with muscle aches and pains. In
one study conducted on horses, levels of lactate acid (associated with muscular fatigue) were
lower after exercise when horses received betaine supplementation.
Repair Bodily Damage from Alcoholism
Betaine is used to treat alcoholic liver damage that results in the accumulation of fat in the liver.
Betaine has lipotropic (fat-reducing) effects, so it has been shown to produce significant
improvements in healing fatty liver disease by helping the liver to process and remove fats.
Supplement Facts
Servings Per Container:
100
 

Amount
Per Serving

% Daily
Value
(DV)

TMG (trimethylglycine) (betaine anhydrous)

1,000 mg

*
Other Ingredients:
Dicalcium Phosphate, Cellulose (Plant Origin), Vegetable Stearic Acid,
Croscarmellose, Vegetable Magnesium Stearate, Silica.

Last Updated @ 5/5/2017 12:56:45 AM
Questions & Answers
Do you have any questions to ask merchant about this product
Ask Seller
| | | |
| --- | --- | --- |
| 5 star | | 0 |
| 4 star | | 0 |
| 3 star | | 0 |
| 2 star | | 0 |
| 1 star | | 0 |
Share your thoughts with others
Write a review
Only buyers who purchased the product may leave a review