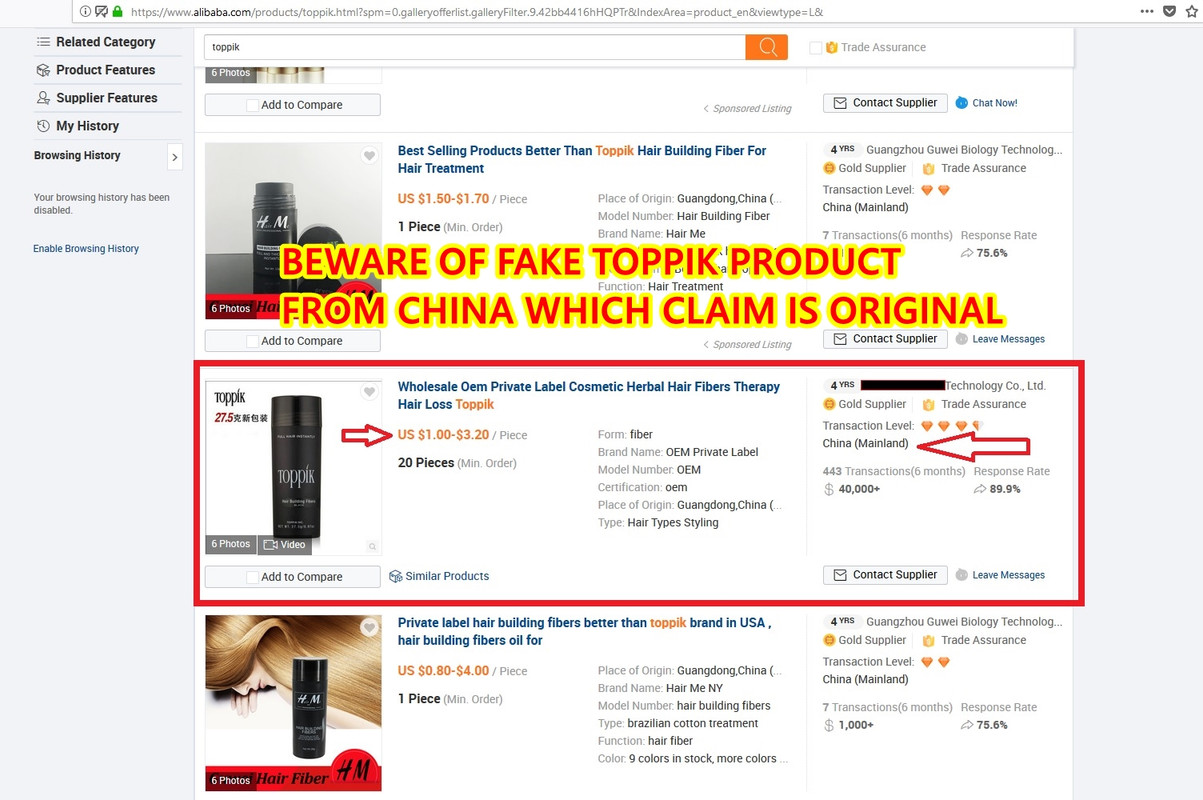 NEW PACKAGING AND LABEL UPDATE STARTING JULY 2017
( IN AN EFFORT TO MAKE A MORE DISTINCT DIFFERENCES FROM FAKE BOTTLE , CHURCH AND DWIGHT CO INC HAD INITIATE A NEW LABELING ON ALL TOPPIK BOTTLE STARTING JULY 2017 )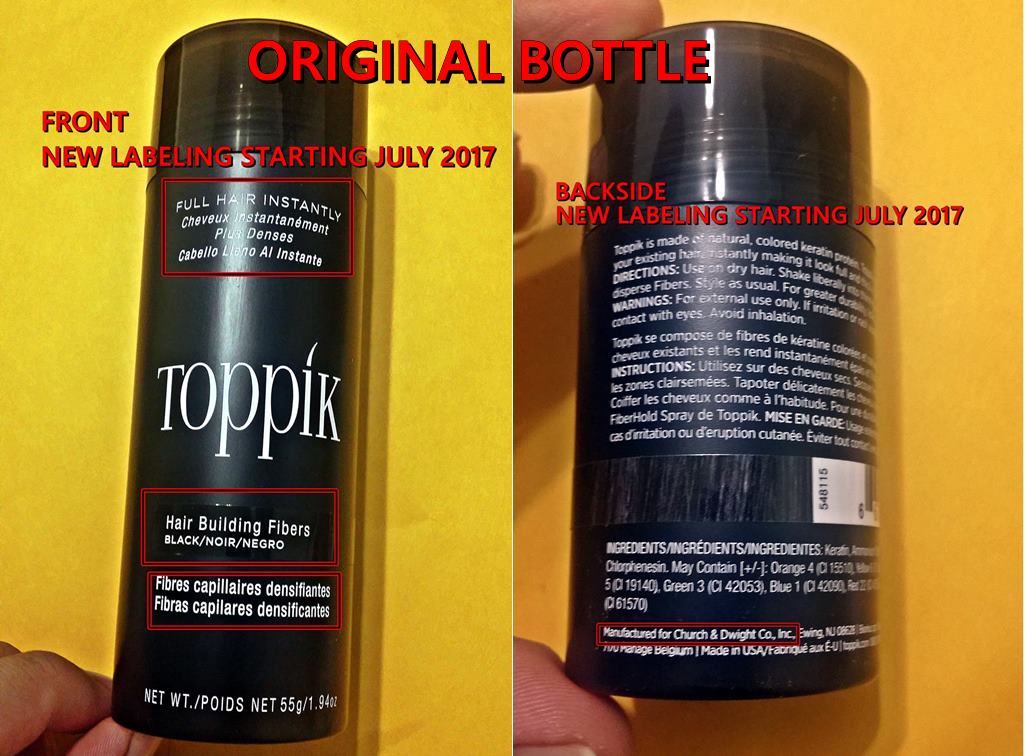 Note: There are counterfeit Toppik/hair fiber product on the market both locally and oversea, and the 3rd party pricing is even lower than our cost price ! WE HAVE BEEN IN THIS BUSINESS FOR OVER 5 YEAR BEING THE ONLY EXCLUSIVE OFFICIAL DISTRIBUTOR FOR MALAYSIA, from head to toe, we know best what's the real offer is, there is NO CHANCE the pricing can be so much cheaper !
If Someone is selling Toppik at cheaper price , they are not from us and sources can be from anywhere which may cause serious health risk!

BEWARE OF FAKE PRODUCT !
Toppik 55GM BLACK/ DARK BROWN/ MEDIUM BROWN (GIANT SIZE)
estimate usage 2-5 month or longer
Colour Option ( Please inform upon check out )

black, dark brown , medium brown

Worried about your hair loss,tired of using products that promise results and never give?

Or wait 6 to12 months to see the poor results of a shampoo, lotion or pills?


The solution is TOPPIK...
Introduction
Toppik Hair Building Fiber instantly make thinning hair look thick and full. It's Keratin fibers cling to existing hair and in seconds fill in all thinning or balding area. Toppik won't come off in wind, rain or perspiration. It is totally undetectable, even from as close as two inches. All you will see is thicker looking hair!
Suggested Usage:
-Dry and style hair as usual.
-Shake Toppik fibers liberally into thinning areas, or for more precise application, use the spray applicator.
-For a natural-looking hairline, use the hairline optimizer.
-Gently pat hair to disperse fibers.
-For greater durability, follow with Toppik FiberHold Spray.

BEFORE AND AFTER TOPPIK IN 30 SECOND !!

Last Updated @ 5/1/2016 10:25:23 PM

Last Updated @ 5/1/2016 10:33:50 PM

Last Updated @ 5/15/2016 11:37:45 AM

Last Updated @ 7/14/2016 2:27:00 PM

Last Updated @ 8/7/2016 4:42:35 PM

Last Updated @ 8/7/2016 5:23:45 PM

Last Updated @ 8/7/2016 11:46:19 PM

Last Updated @ 8/10/2016 11:01:57 AM

Last Updated @ 8/22/2016 12:03:58 PM

Last Updated @ 9/5/2016 4:01:41 PM

Last Updated @ 9/5/2016 5:20:25 PM

Last Updated @ 9/10/2016 9:50:00 AM

Last Updated @ 9/11/2016 10:52:55 AM

Last Updated @ 9/12/2016 1:01:22 PM

Last Updated @ 9/12/2016 1:23:31 PM

Last Updated @ 9/28/2016 1:27:06 PM

Last Updated @ 11/10/2016 11:38:59 AM

Last Updated @ 11/19/2016 7:56:16 PM

Last Updated @ 11/22/2016 11:16:46 AM

Last Updated @ 11/22/2016 5:45:18 PM

Last Updated @ 11/28/2016 12:29:12 AM

Last Updated @ 11/29/2016 9:27:57 PM

Last Updated @ 3/29/2017 2:05:48 PM

Last Updated @ 8/10/2017 10:25:13 AM

Last Updated @ 10/17/2017 8:44:13 PM

Last Updated @ 11/22/2017 3:03:03 PM

Last Updated @ 4/13/2018 10:32:24 AM

Last Updated @ 5/22/2018 4:44:31 PM

Last Updated @ 6/17/2018 5:01:13 PM

Last Updated @ 6/17/2018 6:05:04 PM

Last Updated @ 7/1/2018 4:35:47 PM

Last Updated @ 8/1/2018 7:17:25 PM

Last Updated @ 1/8/2019 11:43:57 PM