Product ID : 163975928
Brand : Toshiba
Model / SKU : W-03/W-04
Conditions :

New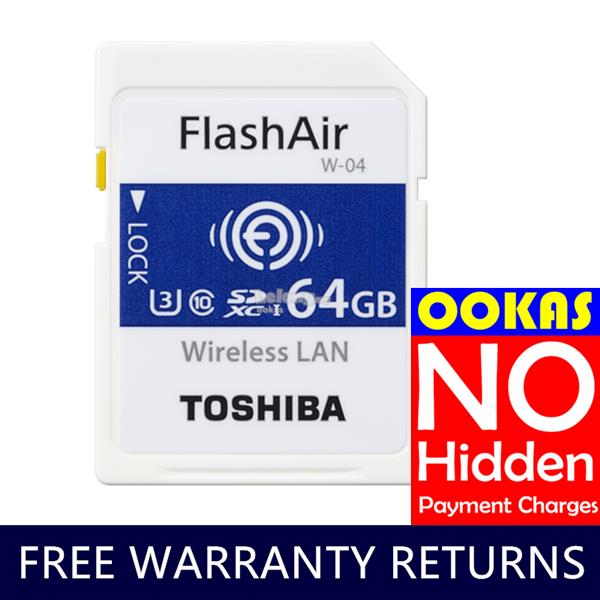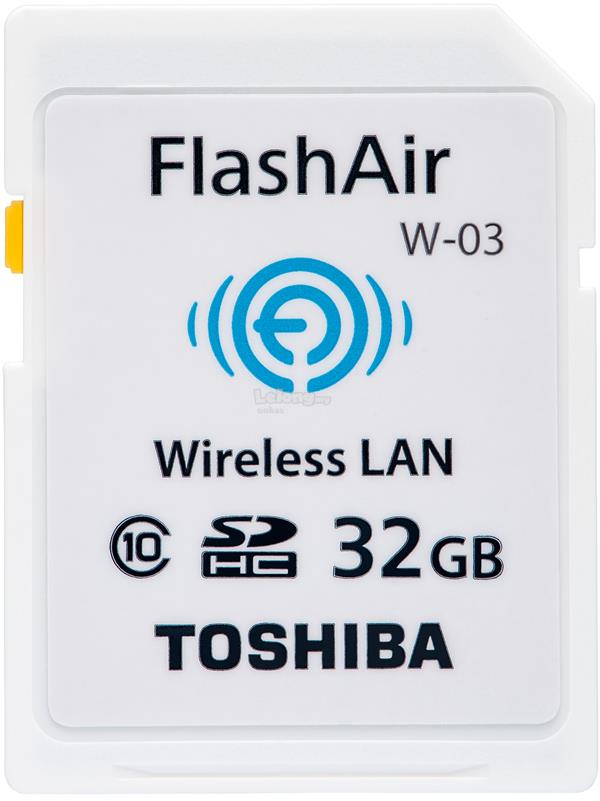 SHARE THE FUN IN A FLASH
Want to share photos anytime, anywhere—without the hassle of pulling the memory card from your camera? The FlashAir III Wireless SD Card is your ticket to ultimate convenience, letting you share your life's moments with others wirelessly and instantly, right from a tablet, PC or smartphone. It's simple, easy and now allows you to quickly access and share your pictures and files wirelessly.
FASTER AND ROOMIER THAN EVER.
With Class 10 speed, the FlashAir III Wireless SD Card enables super-fast data transfers, so you can upload your images and videos within seconds. It also offers higher storage capacities—up to 32GB—so you've got plenty of room for photos and memories galore.
AMAZING WIRELESS CONVENIENCE
In the old days, you had to pull an SD card from your camera and upload pictures to a PC in order to share them. Not anymore. The FlashAir™ III Wireless SD Card includes a wireless LAN chip plus an antenna that makes it accessible to any WLAN-capable PC, smartphone or tablet. Its Internet pass-through feature allows you to access the card and the Internet at the same time. That's great news for those who want to upload and share photos of kids' soccer games or stunning tropical sunsets just seconds after they happen.
EASY AS CAN BE
The FlashAir™ III Wireless SD Card is ultra- easy to use—and compatible with most digital cameras. Forget about carrying cables just for data transfer. Simply slide the card into your digital camera or camcorder. Its built-in wireless LAN access point requires no Internet connection to share pictures on devices—just your excitement.
SMART ON POWER
When it comes to power consumption, the FlashAir™ III Wireless SD Card is equally smart. Its wireless function is switched off when not needed to reduce the drain on your battery. Plus, it's fully compliant with the SD Association Memory Card Standard.
ALL-ACCESS. ALL AT ONCE.
The FlashAir™ III Wireless SD Card supports simultaneous access from up to seven devices. So you can take photos with your digital camera and they can instantly be accessed and stored on multiple PCs, Macs, Ultrabooks™, tablets or smartphones—all at the same time. Best yet, no Internet connection is required to access them. So as soon as your images are uploaded, your friends can take a look. And a free FlashAir™ app makes it easy to share with iOS® and Android™ devices.
NEW WAYS TO SELECT AND SHARE
With two new features now built-in, there are even more reasons to love the FlashAir III. With the PhotoShare feature, you can get more selective about what you share with whom. You can share only certain pics with a friend, or tag share photos only from a selected date. And with the FlashAir Drive feature, you can view or copy files from FlashAir III to your PC or Mac wirelessly (so you can free up space on your FlashAir III card) ). Plus the mobile app has a built-in Help menu to guide you through all the features with ease.
QUALITY YOU CAN TRUST
Engineered to Toshiba's famously high quality standards, the FlashAir™ III Wireless SD Card is backed by a solid five-year standard limited warranty. It's not only guaranteed to amaze. It's sure to help you share and share a lot.
Share your photos wirelessly anywhere, anytime.
No need to wait. For camera and camcorder users who enjoy snapping photos and videos and sharing them on the spot, Toshiba's FlashAir™ III Wireless SD Card offers a quick and seamless way to share fun moments wirelessly, across up to seven devices simultaneously—with user friendly features that allow you to easily share and manage your pictures and files wirelessly.
Toshiba FlashAir™ III Wireless SD Card has a built-in wireless LAN chip with antenna to allow wireless communications. It also has built-in functions of web server and Wi-Fi access point. These features allow any device with WLAN function (e.g. laptop, tablet, smart phone) to access the data stored on the SD Card without the need to remove the card or plug a cable to the camera. You can view or download the content on the SD card via free iOS and Android app4 or web browser (no internet connection required).
In addition to Class 10 speed for faster data transfer, FlashAirTM III also includes the Internet pass-thru feature which allows you to transfer photos from FlashAirTM III to your mobile devices via Wi-Fi, and then email or upload them to social media without having to reconnect to the wireless network to go online.
Toshiba FlashAir™ III Wireless SD Card supports simultaneous access from up to 7 devices. You can take photos with your digital camera loaded with FlashAir™ III Wireless SD Card and these photos can be accessed and stored on multiple PCs, tablets or smart phones on the spot. Better yet, no internet connection is required to access the SD card.
Toshiba FlashAir™ III Wireless SD Card is easy to set up. Just like the regular wireless LAN access point, the wireless connection can be secured with WEP, WPA or WPA2.
Toshiba NAND Flash Memory is built with leading-edge technology in one of the world's largest and most advanced NAND flash fabrication facilities. As the inventor of NAND Flash and world's most experienced NAND Flash manufacturer, Toshiba's removable storage solutions offer industry-proven quality and reliability with leading speeds, performance, and capacities.
Product Features
Share and Access your content wirelessly

Choose and share your favorite photos by date with Photo Share
Easily transfer photos and videos from your FlashAirTM III card to your mobile device through a Wi-Fi connection.
Access the internet and your FlashAirTM III card through your mobile device using the internet pass-thru feature
Wirelessly access the content on your FlashAir III SD card from your PC and Mac with the FlashAir drive function

Easy Set Up

Easy to set up the wireless connection from laptops, tablets or smart phones. No Internet connection required.
Compatible with most SD-compatible digital cameras.

Low Power Consumption

Wireless function can be switched ON/OFF when necessary to prevent wasteful power consumption of the battery.
Compliant with SD Association Memory Card Standard.

Multiple Platforms, Simultaneous Connections

Photo and video sharing up to 7 devices (e.g. PCs, Macs, laptops, tablets, smart phones) simultaneously, without the need for internet connection.
Free FlashAirTM app4 available for iOS and Android devices.

Peace of Mind

5-year standard limited warranty included3
Product Specifications (W-03)
Card capacity: 16GB, 32GB1
Speed Class: Class 10
Compliant standard: SD Memory Card Standard Ver.4.00
Wireless LAN Standard: IEEE802.11 b/g/n
Wireless LAN Security: WEP, TKIP, AES (WPA, WPA2)
Product requirements2

Devices: Devices compatible with SDHC Memory Card
OS (for config): Windows Vista/7/8, Mac OS X (V10.6.8 – 10.10), iOS4, Android4
Browser: Internet Explorer 9 or later, Safari 5.1 or later

Applicable formats: .jpg, .mpg, .raw
Power Supply Voltage: 2.7 - 3.6V
Operating Environment:

Temperature: -25 to 85°C
Humidity: 95%RH (at 25°C, no condensation)

Exterior Dimensions:

32.0mm(L)×24.0mm(W)×2.1mm(T)
1.26in(L) x 0.95in (W) x 0.09in (T)

Weight Approx.

Approx. 2g
Approx. 0.005 lbs
Box Contents
Toshiba FlashAirTM III Wireless SD Memory Card
Jewel Case
Information sheet
5-Year Standard Limited Warranty3
COMPATIBILITY
https://www.toshiba.co.jp/p-media/wwsite/compati/pdf/flashair_w3.pdf
FLASHAIR IV (W-04)
Enhanced wireless performance
Improved read/write speed up to 90MB/s***
'Eyefi Connected' feature
Up to 64GB Capacity SD Card
Supports 4K video recording
5 Years Warranty
Shoot and share at higher speed
The 4th generation FlashAir™ SD card features a new processor design and delivers enhanced wireless performance as well as standard SD memory card functionality. Now with even greater flexibility thanks to the integrated 'Eyefi Connected' feature*1 that prevents a camera automatically powering off when wirelessly connecting with FlashAir™. Built-in wireless LAN functionality allows data stored on the card to be transferred to external devices such as PCs, smartphones and tablets. Available in capacities of 16GB, 32GB and 64GB*2 and offering high performance with UHS-I standard and speed class 3 to support 4K video recording*3. Maximum read and write performance is 90MB/s and 70MB/s respectively*4. The card has embedded wireless LAN of 31.4Mbps which is approximately 2.9 times of Toshiba's 3rd generation FlashAir*5. So you can quickly and automatically transfer images to your tablet, PC or smartphone without needing cables or adaptors.
Amazing Wireless Convenience
Use the latest version Toshiba FlashAir™ W-04 SD Card together with the FlashAir™ mobile App and select the shots you like to share (PULL Type). Or you can even have all your pictures and videos immediately stored on your mobile phone (PUSH Type) with the Keenai mobile app. Up to seven devices can access FlashAir™ from Windows® PC (Explorer) or Mac (Finder) via WiFi. FlashAir™ W-04 delivers speedy data transfers so you can quickly upload images and videos. Transfer your images from your camera to any wireless enabled device, instantly. Simple. The 16GB, 32GB and 64GB new FlashAir™ cards also offer UHS speed class 3 to support 4K video recording*3. They can be used exactly like a regular SD Card and so can be used in any digital camera with an SD Card slot.
Easy Wireless LAN Setup
You do not need any drivers, software or cables. Just slide your FlashAir™ SD Card into your camera or camcorder and setup the wireless LAN function using a PC, tablet or smartphone. As well as Toshiba's own FlashAir application, the latest FlashAir cards work with Ricoh Innovations Corporation's 'Keenai' photo storage and management service. Keenai allows the automatic transfer of photo data from FlashAir cards and enables users to autosync photo and movie data to the cloud*6. Details of Keenai can be found at: https://www.keenai.com*7.
Easy Way to communicate
In addition to supporting access from web browsers, the latest FlashAir cards include WebDAV support to provide photo management functionality for PC and Mac users.
Low Power Consumption
Optimized for battery powered devices, the wireless function is switched ON only when necessary, keeping the power consumption low.
SD Memory Card Standard
The world's first SD memory card to meet SD Memory Card Standard for data transfers over card-embedded wireless LAN.
5 Year Warranty
Engineered to Toshiba's famously high quality standards, the FlashAir™ Wireless Memory Card is backed by a solid five-year limited standard warranty.
Speed Class
UHS–I Speed Class 3 *3
Read Speed
90 MB/s *** *4
--
--
Write Speed
70 MB/s *** *4
--
--
Wireless Transfer Speed
Max : 100Mbps (60~70Mbps@Camera inserted)
Wireless LAN Standard
IEEE802.11 b/g/n (2.4GHz SISO,20MHz)
Wireless LAN Security
WEP, TKIP, AES (WPA, WPA2)
DSC (Digital Still Camera)
Compatible with SDHC™ Memory Card
Operating System (for config.)
Windows Vista/7/8/8.1/10 Mac OS X V.10.7 to V.10.10
Browser
Internet Explorer, Safari, etc
App V.3.1.1 for Android devices
Android OS V.2.3.3 to V.5.0, Smartphone and Tablet are supported
App V.3.1.1 for iOS devices
iOS V.6.0 ~, iPhone and iPad are supported
Applicable Data Formats
All data formats (ex: .jpg, .mpg, .raw etc)
Power Supply
2.7 - 3.6V
Dimensions
32.0mm(L)x24.0mm(W)x2.1mm(T)
Weight
approx. 2 g
Operating Temperature
-25°C to +85°C (Recommended)
Storage Temperature
-40°C to +85°C (Recommended)
Write Speed..
--
90 MB/s *** *4
--
Read Speed..
--
70 MB/s *** *4
--
Write Speed..
--
--
90 MB/s *** *4
Read Speed..
--
--
70 MB/s *** *4
*1 Requires Digital Camera with "Eyefi Connected" feature
*2 Capacity is based on installed flash memory and not user available memory as part of the memory is used for management functions. Available user area is approximately 14.4GB, 28.8GB and 57.6GB for the 16GB, 32GB and 64GB products respectively (1GB = 1,073,741,824bytes)
*3 Read/write data transfer rate based on SD standard. 4K video recording operation may vary depending on devices you use and other factors such as file attributes and/or size.
*4 1 MB/s is calculated as 1,000,000 bytes/s. The maximum transfer speed is the best value obtained under specific conditions in Toshiba's test environment and Toshiba does not warrant the speed in the equipment to be used. The read/write speed varies depending on the conditions of the equipment to be used. Conventionally, the transfer rate of the SD interface is lower than the UHS-I interface.
*** e.g. Read and write speeds may vary depending on the read and write conditions, such as devices you use and file sizes you read and/or write.

Last Updated @ 7/27/2017 12:13:44 PM


Recent Transactions
om****
TOSHIBA FlashAir III 64GB/32GB/16GB Wireless WiFi SD Memory Card
( 32GB W-03 U1 )
tc****
TOSHIBA FlashAir III 64GB/32GB/16GB Wireless WiFi SD Memory Card
( 32GB W-03 U1 )
az****
TOSHIBA FlashAir III 64GB/32GB/16GB Wireless WiFi SD Memory Card
( 32GB W-03 U1 )
hi****
TOSHIBA FlashAir III 64GB/32GB/16GB Wireless WiFi SD Memory Card
( 32GB W-03 U1 )
ms****
TOSHIBA FlashAir III 64GB/32GB/16GB Wireless WiFi SD Memory Card
( 32GB W-03 U1 )
we****
TOSHIBA FlashAir III 64GB/32GB/16GB Wireless WiFi SD Memory Card
( 16GB W-03 U1 )
tz****
TOSHIBA FlashAir III 64GB/32GB/16GB Wireless WiFi SD Memory Card
( 16GB W-03 U1 )
Rating & Review of TOSHIBA FlashAir III 64GB/32GB/16GB Wireless WiFi SD Memory Card
Average Product Rating
5.0 stars out of 5
| | | |
| --- | --- | --- |
| 5 star | | 1 |
| 4 star | | 0 |
| 3 star | | 0 |
| 2 star | | 0 |
| 1 star | | 0 |
Share your thoughts with others
Write a review
Only buyers who purchased the product may leave a review






---
Always NO CHARGES for any type of payment*
You can pay your order in any form you wish, there are NO HIDDEN charges even you pay with credit card in Netpay.
NO DELAY shipping for credit card payment
Delivery policy applicable to all type of payment. Shipping period of credit card payment will not delayed deliberately
Payment Acknowledge
We will inform by system automatically about your payment once you paid by Netpay or you have updated the order status. You can set ones mind at rest and wait for your ordered items
You also can direct bank in to our account without go through NetPay
Our Banking Details:
You may make payment to:
*ASAP MARKETING SDN. BHD.*
MAYBANK
512987010760
Send us the physical payment proof and shipping info to asap@hotmail.myOR Whastapp to this number (019-3022366)IMPORTANT!!
Kindly inform us and update your order status once you have made payment and which account you are using.
BUY WITH CONFIDENCE
How does the Lelongs Buyer Protection Program work?
If you made a purchase at Lelong from a BPP qualified seller and did not receive your item, please try to contact the seller to resolve the matter. Often it is just a miscommunication or misunderstanding problem.

Allow enough time to receive the item - usually 7-14 days. Keep in mind that the seller needs time to receive and confirm payment and ship out the item. If it is still unresolved, follow the steps below to make a BPP claim.



To process a claim, you need to submit the following documents no later than 60 days from date of when a claim file is opened:
The fully completed and personally signed Buyer Protection Program form.
Police report must be filed. The backup copy of the police report ?photo copy or scan copy. (Compulsory)
Emails communication / SMS with the seller.
Any other information or documents reasonably required by Lelong.
Lelong reserves the right to make a final decision at our sole discretion on any claim and make changes to this policy from time to time as it deems fit.

* Lelong.my reserves the right to modify or make amendments (or any part thereof), either temporarily or permanently, at any time or from time to time, with or without prior notice.
What are not covered by Lelongs Buyer Protection Program?
The following purchases are not covered:
Items that violate our prohibited or restricted items listed.
Click here to view list.
Items that are posted under "For Sale" and "Iklan Ekspress".
Items listed or that should be listed in these categories:

Cars Transport
House Property
Job Freelances
Rental, To Let For Hire
Services
Ticket
Travel, Tours Hotel

Buyer makes the payment to the seller before the auction has ended or before seller confirmed the order even though there is a transaction record under Lelongs system.
Purchases where you have been compensated by a third party, such as PayPal, courier company etc.
Items that are returned or lost due to error in shipping address provided by you to our system, including being returned for undeliverable as address, refused or unclaimed.
Items paid for with cash or instant money transfer services such as Western Union or MoneyGram.
The excess amount above the listed price paid by the buyer is not covered.
Shipping / Postage / Handling Fees are not covered in BPP.
Transactions made through COD/COC (Cash On Delivery / Cash On Collection) method.
Non-physical purchases such as ebook, software, game points, online game tools etc.
Buyers?remorse
We do not cover for any claim against seller, if the seller unable to deliver products or services due to the following reason:

Flood
Fire
All Natural Disaster
Bankruptcy / Business Failure
* Lelong.my reserves the right to modify or make amendments (or any part thereof), either temporarily or permanently, at any time or from time to time, with or without prior notice.

Maximum Three Business Days Shipping*
In most cases we are able to ship the same day OR next business day (Monday - Friday), provided the order is placed before 12.00pm. We cannot guarantee this but make every efforts to do so.
This is our major commitment to our customers.
*Domestic shipment (Within Malaysia): Shipping may take 1-3 business days from the date of shipment.
Three Business Days Shipping does not apply to:
International Orders.

Orders placed on Saturdays, Sundays, or holidays.

Orders for large props or Special Order items.

Pre-order items.
How are shipping and handling charges determined?
Shipping and handling rates are determined by the total weight / dimension of all of the merchandise ordered, secured wrapping and packing cost, also handling cost from our warehouse to Pos office.
We are not only handle your order speedy, but secure to minimize your chances of loss
irritation.
Shipment update:
We will update daily shipment status every business day before 6.00p.m. Buyers will be inform by Lelong e-mail and SMS once we updated.
When your shipment arrives:
When you receive your shipment, please open and inspect merchandise on the same day as delivered. Try on any wearable items and if there are issues please contact us immediately.

Package / Merchandise that arrived damaged in transit must be reported to us the same day. Please have the delivery driver make a note if the package they deliver shows signs of damage before signing for it.
About Combine Shipping
We allowed Combine Shipping helping customers to save some shipping charge.
How it work?
Lets explain with an example:-

You buys 3 items using the Shopping Cart (add all items you need into shopping cart, do not click BUYNOW or Netpay separately) :
Item A: Shipping fee RM8
Item B: Shipping fee RM20
Item C: Shipping fee RM12

System will pick up the most expensive Shipping fee, which is RM20 for ulimited items and quantity in this case
You only need to pay RM20.00 instead of RM40.00

Please read and understand our Terms Conditions prior purchase:
1. All items are quoted in Malaysia Ringgit, postage fee is excluded.
2. All items price are non-negotiable.
3. All items sold are not exchangeable or refundable.
4. Full refunds guarantee in case of out of stock.
5. There might be some color difference compare with actual items due to lighting and monitor setting.
6. Due to human measurement method is used, there might be 1-2cm variation. This will be considering as normal.
7. We only accept NetPay, credit card, cash bank-in or online transfer for payment through the above mentioned bank account.
8. All items are thoroughly inspected before delivery. We will fully responsible if the product(s) damaged on arrival due to delivery mishandling. Please report to us via email within 48 hours from the time of package arriving. Any report after 48 hours shall not be entertain.
9. We will ship out your item within 3 working days. We will contact you if the shipment will later than 3 working days. A shipment tracking reference also will update you after item posted out.
10. We reserve the right to amend our terms and conditions without prior notice when it deemed necessary.
11. By placing an order with us, you agree to be bound by the Terms Conditions.

Warranty Policy only applied on IT product, please refer to individual product option

Average Product Rating
5.0 stars out of 5
| | | |
| --- | --- | --- |
| 5 star | | 1 |
| 4 star | | 0 |
| 3 star | | 0 |
| 2 star | | 0 |
| 1 star | | 0 |
Share your thoughts with others
Write a review
Only buyers who purchased the product may leave a review