Item Specification
Product Description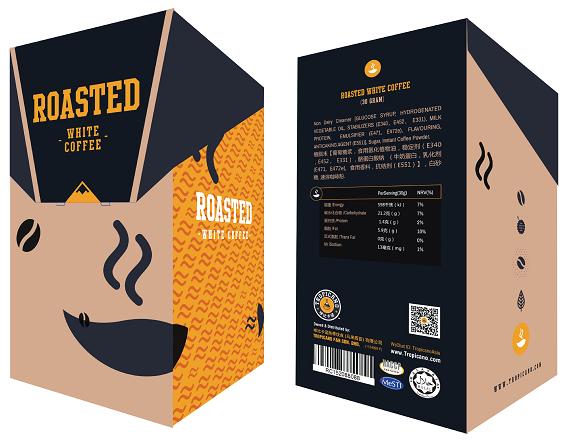 With the blend selection of premium grade of coffee beans, enhanced with a touch of "roasted" profile to adopt the speciality of Nanyang White Coffee.

Smooth after taste, with heavier bitterness, full aroma of white coffee, little bit of sweetness and ya! This is Tropicano Roasted White Coffee, ideal for heavier drinker opt for thicker flavor.

Packing Size : 12 sachets x 30g
Packaging Weight : 560g
Retail Selling Price : RM13.90
TropAsia Webstore Price : RM12.50

Wechat Official Account ID : TropicanoAsia
Whatsapp/Call/SMS : +6010-8784908

Last Updated @ 1/3/2016 3:09:56 PM
Combine shipping is available for all items purchased in TropAsia store in a single order.
Peninsular Malaysia
Postage: RM8.00 (1st 1kg)
Additional RM2.00 for every subsequent 1kg

Estimated Delivery Time: 2-4 Business Days
East Malaysia (Sarawak)
Postage: RM10.00 (1st 500g)
Additional RM2.20 for subsequently every 250g

Estimated Delivery Time: 2-4 Business Days
East Malaysia (Sabah / Labuan)
Postage: RM10.50 (1st 500g)
Additional RM3.00 for subsequently every 250g

Estimated Delivery Time: 2-4 Business Days
Shipping Information
TropAsia aims to process your order immediately and expected the arrival of goods to your doorstep within 1-3 business days. However, we are unable to guarantee that all orders will be delivered within the stipulated time frame.
The shipping fee charged only for one time shipment. TropAsia shall not be liable for next shipment charges due to wrong information provided by customer or customer (recipient not at the shipping address during the delivery attempt). If there is any unclaimed parcel / return parcel to TropAsia, and customer request to resend, customer should pay for the second/next postage charges.
TropAsia reserves the right to decide the cheapest and most effective courier company (Poslaju / Skynet / Natiowide Express) based on your location and the weight of your goods.
TropAsia shall not be liable for any losses, liabilities, costs, damages, charges or expenses arising out of late delivery.
Shipment tracking number will be recorded on your order invoice after the order has been processed for shipping. Please log on to your account for the tracking shipment ID. To track your order, please use the tracking shipment ID listed in your purchase order.
For any enquiry of the matter above, please email the admin at tropicano.asia@gmail.com or contact Admin at +6010-878 4908
In General
TropAsia ("TropAsia" or "we") own and operate this store. This document governs your relationship with TropAsia ("store"). Access to and use of this Website and the products and services available through this store (collectively, the "Services") are subject to the following terms, conditions and notices (the "Terms of Service"). By using the Services, you are agreeing to all of the Terms of Service, as may be updated by us from time to time. You should check this page regularly to take notice of any changes we may have made to the Terms of Service.
Terms of Sale
By placing an order you are offering to purchase a product on and subject to the following terms and conditions. All orders are subject to availability and confirmation of the order price.
Dispatch times may vary according to availability and subject to any delays resulting from postal delays or force majeure for which we will not be responsible.
In order to contract with TropAsia you must be over 18 years of age and possess a valid credit or debit card issued by a bank acceptable to us.
TropAsia retains the right to refuse any request made by you. If your order is accepted we will inform you by email and we will confirm the identity of the party which you have contracted with. This will usually be TropAsia or may in some cases be a third party. Where a contract is made with a third party TropAsia is not acting as either agent or principal and the contract is made between yourself and that third party and will be subject to the terms of sale which they supply you. When placing an order you undertake that all details you provide to us are true and accurate, that you are an authorised user of the credit or debit card used to place your order and that there are sufficient funds to cover the cost of the goods. The cost of foreign products and services may fluctuate. All prices advertised are subject to such changes.
Prohibitions
You must not misuse this Store Website. You will not: commit or encourage a criminal offence; transmit or distribute a virus, trojan, worm, logic bomb or any other material which is malicious, technologically harmful, in breach of confidence or in any way offensive or obscene; hack into any aspect of the Service; corrupt data; cause annoyance to other users; infringe upon the rights of any other person's proprietary rights; send any unsolicited advertising or promotional material, commonly referred to as "spam"; or attempt to affect the performance or functionality of any computer facilities of or accessed through this Website. Breaching this provision would constitute a criminal offense and we will report any such breach to the relevant law enforcement authorities and disclose your identity to them.
We will not be liable for any loss or damage caused by a distributed denial-of-service attack, viruses or other technologically harmful material that may infect your computer equipment, computer programs, data or other proprietary material due to your use of this Website or to your downloading of any material posted on it, or on any website linked to it.
Intellectual Property, Software and Content
The intellectual property rights in all software and content (including photographic images) made available to you on or through this Website remains the property of TropAsiaor its licensors and are protected by copyright laws and treaties around the world. All such rights are reserved by TropAsia and its licensors. You may store, print and display the content supplied solely for your own personal use. You are not permitted to publish, manipulate, distribute or otherwise reproduce, in any format, any of the content or copies of the content supplied to you or which appears on this Website nor may you use any such content in connection with any business or commercial enterprise.
Disclaimer of Liability
The material displayed on this Website is provided without any guarantees, conditions or warranties as to its accuracy. Unless expressly stated to the contrary to the fullest extent permitted by law TropAsia and its suppliers, content providers and advertisers hereby expressly exclude all conditions, warranties and other terms which might otherwise be implied by statute, common law or the law of equity and shall not be liable for any damages whatsoever, including but without limitation to any direct, indirect, special, consequential, punitive or incidental damages, or damages for loss of use, profits, data or other intangibles, damage to goodwill or reputation, or the cost of procurement of substitute goods and services, arising out of or related to the use, inability to use, performance or failures of this Website or the Linked Sites and any materials posted thereon, irrespective of whether such damages were foreseeable or arise in contract, tort, equity, restitution, by statute, at common law or otherwise. This does not affect TropAsia's liability for death or personal injury arising from its negligence, fraudulent misrepresentation, misrepresentation as to a fundamental matter or any other liability which cannot be excluded or limited under applicable law.
Linking to this Website
You may link to our home page, provided you do so in a way that is fair and legal and does not damage our reputation or take advantage of it, but you must not establish a link in such a way as to suggest any form of association, approval or endorsement on our part where none exists. You must not establish a link from any website that is not owned by you.
This Website must not be framed on any other site, nor may you create a link to any part of this Website other than the home page. We reserve the right to withdraw linking permission without notice.
Disclaimer as to ownership of trademarks, images of personalities and third party copyright
Except where expressly stated to the contrary all persons (including their names and images), third party trademarks and content, services and/or locations featured on this Website are in no way associated, linked or affiliated with TropAsia and you should not rely on the existence of such a connection or affiliation. Any trademarks/names featured on this Website are owned by the respective trade mark owners. Where a trade mark or brand name is referred to it is used solely to describe or identify the products and services and is in no way an assertion that such products or services are endorsed by or connected to TropAsia.
Indemnity
You agree to indemnify, defend and hold harmless TropAsia, its directors, officers, employees, consultants, agents, and affiliates, from any and all third party claims, liability, damages and/or costs (including, but not limited to, legal fees) arising from your use this Website or your breach of the Terms of Service.
Variation
TropAsia reserves the right to vary, amend or supplement any of the Terms and Conditions by way of notice in such manner as deemed suitable by the TropAsia from time to time. Notwithstanding the same, the Customer should be able to view the revised Terms and Conditions upon access to the TropAsia Services at this website and use of the services thereafter shall constitute the Customer's acceptance to the variations, amendments or supplements.
Invalidity
If any part of the Terms of Service is unenforceable (including any provision in which we exclude our liability to you) the enforceability of any other part of the Terms of Service will not be affected all other clauses remaining in full force and effect. So far as possible where any clause/sub-clause or part of a clause/sub-clause can be severed to render the remaining part valid, the clause shall be interpreted accordingly. Alternatively, you agree that the clause shall be rectified and interpreted in such a way that closely resembles the original meaning of the clause /sub-clause as is permitted by law.
Complaints
We operate a complaints handling procedure which we will use to try to resolve disputes when they first arise, please let us know if you have any complaints or comments.
Waiver
If you breach these conditions and we take no action, we will still be entitled to use our rights and remedies in any other situation where you breach these conditions.
Law and Jurisdiction
The use of the TropAsia Services on this website and the Terms and Conditions herein shall be governed by and construed in accordance with the laws of Malaysia and the parties hereby submit to the exclusive jurisdiction of the Courts of Malaysia notwithstanding that the TropAsia Services on this website may be accessed in other jurisdictions and not restricted to Malaysia.
The use of the TropAsia Services outside of Malaysia is subject to the Exchange Control Act 1953 and the Exchange Control Regulations of the Central Bank of Malaysia, any fiscal or Exchange Control requirements or regulations operating in the country where the transaction is effected or requested.
The maximum amount of a transaction and the purpose for which is effected may be determined by Central Bank of Malaysia and the laws and regulations of the country in which the transaction is effected or requested.
The Customer hereby agrees that the Customer shall be solely responsible for the compliance with all laws applicable to the Customer in the Customer's jurisdiction in respect of the use of the TropAsia Services.
We always make sure all our products are in good condition before packing otherwise we will inform you if we have no replacement stock.
Goods sold are not returnable or refundable unless you received an incorrect item(s) or any factory defected item(s) such as faulty zip, holes and obvious stains, otherwise it will not be accepted for return.
The shipping fee charged only for one time shipment. TropAsia shall not be liable for next shipment charges due to wrong information provided by customer or re-delivery after customer unavailable to take delivery in the first delivery.
Please note that term of "incorrect item" does not include subjective reasons such as dimension is not what customer expected (if the item dimension already stated clearly on website), not up to expectation and changing mind.
However, if the item(s) is has a defect, but the product must not have been used; customer can look for exchange within 3 days from the date of received with us by email or telephone. Any late response will not be entertained. We will track the date you received your order. Please provide photos and describe the damage in email to info@tropicano.com.my
Item(s) required to be returned within 3 days upon confirmation of exchange or return with us. All delivery cost (from and to) will be borne by customers.
The following guidelines apply in the exchange or return:-
· Delivery or shipping fees are not refundable for returns and exchanges.
· Discounted or special-priced item(s) is final and will not be accepted for exchange.
· For incorrect item(s), we will deliver to you the correct item(s) after we received the incorrect item(s). And it is subject to stock availability.
· We will refund the value of item in 14-days if the replacement item is out-of-stock. This is the time frame required for us, payment gateway provider or bank to process the refund request. However, if you paid by PalPay, the processing time for refund will take up to 30 days.
· The refund will only bank-in to your personal bank account.
We regret that we cannot be responsible for the loss or damage of the item(s) sent back to us for exchange. Please pack the item properly to ensure that it does not get damaged in transit and send it by any registered courier service (POSLAJU / SKYNET preferably). We strongly advise you to get a proof of delivery from your postal / courier service so that the parcel can be traced. We will also not be responsible if your shipment is lost during the return transit.
We will notify you via email as soon as your return has been received and checked by us. In the unlikely event that you have not received an email within 5 days of returning your items, contact our Customer Service and we shall get back to you within 24 hours during business day.
OUR ADDRESS:
Tropicano F&B Sdn Bhd
119-A, Jalan Raja Uda,
Pusat Perniagaan Raja Uda,
12300 Butterworth,
Penang, Malaysia.
Email: info@tropicano.com.my
Please purchase ONLY if you are agree with the above terms and conditions. Thank you.
Questions & Answers
Do you have any questions to ask merchant about this product
Ask Seller
| | | |
| --- | --- | --- |
| 5 star | | 0 |
| 4 star | | 0 |
| 3 star | | 0 |
| 2 star | | 0 |
| 1 star | | 0 |
Share your thoughts with others
Write a review
Only buyers who purchased the product may leave a review