Item Specification
Model / SKU
: TS-16-CARRIER
Product Description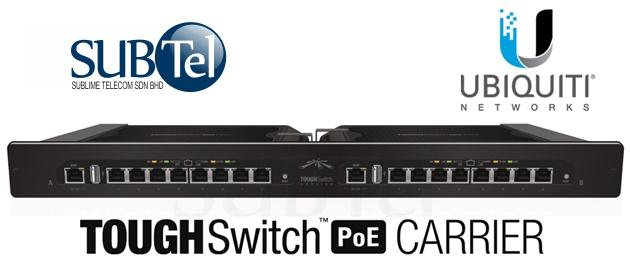 UBiQUiTi ToughSwitch PoE CARRIER - Advanced PoE Managed Switch
Main Features
 • Sixteen (16) Gigabit PoE ports
 • Additional (2) 100-BaseT port for management
 • Ubiquiti Intuitive Configuration Interface
 • Advanced Switch Management Features - VLAN, (R)STP, Jumbo Frames, Alerts, Monitoring and more
 • Designed for Tough Environment - outside of designated equipment room
 • Rack Mountable - Integrated 1U Bracket
 • PoE support - 48V, 24V or Off
 • Industrial Grade Product
 • Tough Full Metal and Rubber Casing

Local Information
 • Malaysia Local Product and Warranty support by Sublime Telecom Sdn. Bhd.
 • Ubiquiti PoE Switches are very popular in Malaysia for large and medium deployments.
 • Malaysian companies using Ubiquiti solutions include Telekom Malaysia, Maxis, Celcom, KLIA/KLIA2, YTL and many many others.
 • Use ToughSwitch with other compatible Ubiquiti products - UAP, UAP-LR, UAP-PRO, UAP-AC, Rocket, NanoStation, Bullet, PicoStation, UVC and others.
 • Simplify your deployment - One ToughSwitch-CARRIER can replace 16 PoE adapters.
 • Use ToughSwitch to power up Mikrotik or other non-Ubiquiti 24V and 48V Passive PoE devices.

Product Description
Introducing the Advanced Power over Ethernet Controllers, TOUGHSwitch™ PoE from Ubiquiti Networks.

TOUGHSwitch PoE delivers reliable passive PoE and fast 10/100/1000 Mbps connectivity to attached Ubiquiti devices and other devices that support passive PoE.

To connect your PoE devices, simply enable PoE in the easy-to-use TOUGHSwitch Configuration Interface. Each port can be individually configured to provide PoE, so both PoE and non-PoE devices can beconnected.

TOUGHSwitch PoE CARRIER features dual TOUGHSwitch PoE PRO systems in a rack-mountable, 1U form factor with 300 watts of power supporting up to 16 devices.

TOUGHSwitch PoE allows network architects to design cleaner, less cluttered deployments. For example, integrating one TOUGHSwitch PoE PRO can eliminate the need for the following:
• 8 PoE adapters
• 8 power cords
• 8 power outlets
• 8 Ethernet patch cables

TOUGHSwitch PoE deployments increase efficiency and greatly reduce potential failure points – resulting in faster installations and less maintenance and troubleshooting.


Product Specifications
UBiQUiTi TOUGHSwitch PoE CARRIER 16-port
Dimensions
480 x 44.5 x 186 mm
Weight
3.95 kg
Hardware Configuration
(2) 8-Port TOUGHSwitch PoE PROs
Mounting
Integrated 1U Rack-Mount
TOUGHSwitch PoE PRO 8-port
Dimensions
210 x 185 x 41 mm
Weight
1.24 kg
Power Input
110-120VAC / 210-230VAC
Max. Power Consumption
150 W
PoE Out Voltage Range
45-48 VDC / 22-24 VDC
Max. PoE Wattage Per Data Port
11.5 W (24 V), 23 W (48V)
ESD Rating
24 kV Air / 24 kV Contact
PoE Method
Passive
Button
Reset
USB Port
2.0 Type A (Reserved for Future Use)
Processor
MIPS 24K, 400 MHz
System Memory
64 MB
Code Storage
8 MB
Certifications
CE, FCC, IC
Wall-Mount
Yes
Operating Temperature
-25 to +55 °C
Operating Humidity
90% Non-Condensing
PoE Configurable Per Port
Management Port
N/A
Data Ports
Off/24V/48V
LEDs Per Por
Management Port
Power/Link/Activity
Data Ports
PoE, Speed/Link/Activity
Networking Interfaces
Management Port
(1) 10/100 Ethernet Port
Data Ports
(8) 10/100/1000 Ethernet Ports
Downloads
Datasheet : Download Product Datasheet
Quick Start Guide : Download User Guide
ToughSwitch User Guide : Download PDF

Package Contents
Ubiquiti TS-16-CARRIER unit
Two (2) US or European power cords (Malaysia (UK) power cord is availble, please let us know if you wish to purchase)
Contact Us
PM on Lelong
Email: sales@sublimegroup.co
Call/SMS/Whatsapp: +6 012-368 0911
Product Photo
Coming Soon...



Update
Temporary out of stock. You can pre-order with 2-4 weeks leadtime.

We carry full range of Ubiquiti and MikroTik products at best prices in Malaysia.

Contact us or click Buy Now.