Item Specification
Product Description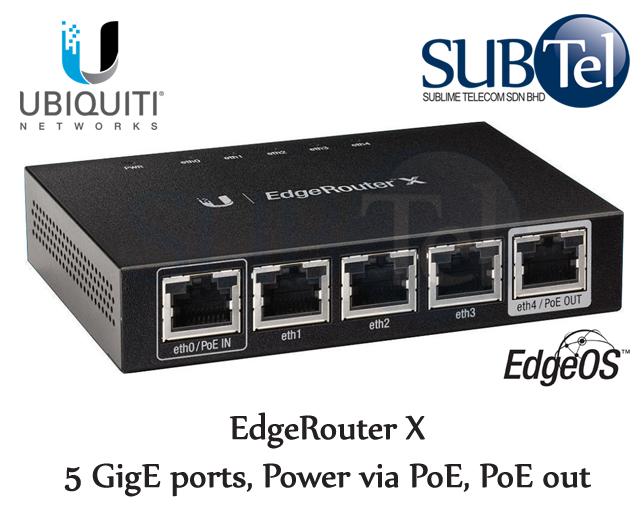 UBiQUiTi EdgeRouter X
Advanced EdgeOS powered Gigabit Router
Main Features
 • Five (5) RJ45 Gigabit ports
 • One (1) POE pass-trough port - passive 24V
 • Ubiquiti EdgeOS provides intuitive web-based GUI and CLI management
 • Fully Customizable Open Platform
 • Carrier Class Reliability - 99.9% uptime
 • Advanced Routing Protocols - OSPF, RIP and BGP natively supported
 • Comprehensive IP v6 support
 • Integrated Powerful Firewall
 • Maximum Power Consumption - 5 W
 • Industrial Grade Product

Local Information
 • Malaysia Local Product and Warranty support by Sublime Telecom Sdn. Bhd.
 • Ubiquiti EdgeOS Routers are gaining popularity in Malaysia for large, medium and home networks.
 • Malaysian companies using Ubiquiti solutions include Telekom Malaysia, Maxis, Celcom, KLIA/KLIA2, YTL and many others.
 • Load Balance multiple ISP connections with EdgeOS Router and gain redundancy on top of higher speed.
 • Use EdgeRouter to upgrade your basic ISP router - Compatible with TM Unifi, Maxis, Time and other local ISPs.
 • See how Ubiquiti EdgeRouter stacks up against Cisco and Juniper routers in Tolly report below (Downloads section).

Product Description
Introducing the EdgeRouter X from Ubiquiti Networks, part of the EdgeMAX platform. EdgeRouter-X combine carrier-class reliability with excellent price-to-performance value in an ultra-compact form factor.

Two models of the EdgeRouter X are available. The standard model, the ER-X, can be powered by an external power adapter or 24V passive PoE input. A passive PoE passthrough option is available to support a single airMAX device.

The SFP model, the ER-X-SFP, is powered by an external power adapter. The five Gigabit RJ45 ports support 24V passive PoE output for airMAX or UniFi® devices, while its SFP port provides fiber connectivity to support backhaul applications.

Powered by a proprietary and intuitive graphical interface, EdgeOS, EdgeRouter-X can easily be configured for routing, security, and management features required to efficiently run your network. For advanced network professionals, an integrated CLI is available for quick and direct access using familiar commands.

Set up multiple DHCP servers to assign IP ranges in different subnets on the different interfaces. Easily control dynamic and static IP addressing for your network devices.

Conveniently track network activity and devices from tools such as Ping, Trace, Discover, Packet Capture, and Log Monitor.

The EdgeRouter X provides a graphical user interface designed for convenient setup and control. Accessed via a network port and web browser, the user-friendly interface provides intuitive management with a virtual view of the ports, displaying physical connectivity, speed, and status. The Dashboard displays detailed statistics: IP information, MTU, transmit and receive speeds, and status for each physical and virtual interface.

EdgeOS is a sophisticated operating system loaded with robust features, including:
• Static routes and support of routing protocols: OSPF, RIP, and BGP
• Firewall policies and NAT rules
• DHCP services
• Quality of Service (QoS)
• Network administration and monitoring tools
• Comprehensive IPv6 support
• Choice of configuration methods: the graphical user interface to visualize the workings of your network or the Command Line Interface (CLI) to use advanced, command driven configuration

The CLI provides quick and flexible configuration by command line and features the following:
• For power users, configuration and monitoring of all advanced features
• Direct access to standard Linux tools and shell commands
• CLI access through the serial console port, SSH, Telnet, and the graphical user interface


Product Specifications
UBiQUiTi EdgeRouter X - ER-X
Dimensions
110 x 75 x 22 mm
Weight
175 g
Max. Power Consumption
5 W
Power Input
12VDC, 0.5A Power Adapter (Included)
or
24V Passive PoE
Power Supply
External AC/DC Adapter
Supported Voltage Range
9 to 26VDC
LED
Power, Ethernet 0-4
Button
Reset
Processor
Dual-Core 880 MHz, MIPS1004Kc
System Memory
256 MB DDR3 RAM
Code Storage
256 MB NAND
Certifications
CE, FCC, IC
Wall-Mount
Yes
ESD/EMP Protection
Air: ± 24 kV, Contact: ± 24 kV
Operating Humidity
10 - 90% Non-Condensing
Operating Temperature
-10 to 45° C
Networking Interfaces
Data/PoE Input Port
(1) 10/100/1000 RJ45 Port
Data Ports
(3) 10/100/1000 RJ45 Ports
Data/PoE Passthrough Port
(1) 10/100/1000 RJ45 Port
EdgeOS Software Specifications
Interface/Encapsulation
Ethernet
802.1q VLAN
PPPoE
GRE
IP in IP
Bridging
Bonding (802.3ad)
Addressing
Static IPv4/IPv6 Addressing
DHCP/DHCPv6
Routing
Static Routes
OSPF/OSPFv3
RIP/RIPng
BGP (with IPv6 Support)
IGMP Proxy
Security
ACL-Based Firewall
Zone-Based Firewall
NAT
VPN
IPSec Site-to-Site and Remote Access
OpenVPN Site-to-Site and Remote Access
PPTP Remote Access
L2TP Remote Access
PPTP Client
Services
DHCP/DHCPv6 Server
DHCP/DHCPv6 Relay
Dynamic DNS
DNS Forwarding
VRRP
RADIUS Client
Web Caching
PPPoE Server
QoS
FIFO
Stochastic Fairness Queueing
Random Early Detection
Token Bucket Filter
Deficit Round Robin
Hierarchical Token Bucket
Ingress Policing
Management
Web UI
CLI (Console, SSH, Telnet)
SNMP
NetFlow
LLDP
NTP
UBNT Discovery Protocol
Logging
Downloads
Datasheet : Download Product Datasheet
Quick Start Guide : Download User Guide
EdgeOS User Guide : Download PDF
Independent Comparisson to Cisco and Juniper Routers : Download PDF

Package Contents
Ubiquiti ER-X unit
12VDC, 0.5A Power Adapter
Quick Start Guide
US or Europe power cord ( Malaysia (UK) power cord is available, please click here to order )
Contact Us
PM on Lelong
Email: sales@sublimegroup.co
Call/SMS/Whatsapp: +6 012-368 0911
Product Photo
Coming Shortly...



Update
We have this product in stock!

We carry full range of Ubiquiti and MikroTik products at best prices in Malaysia.

Contact us or click Buy Now.