Item Specification
Product Description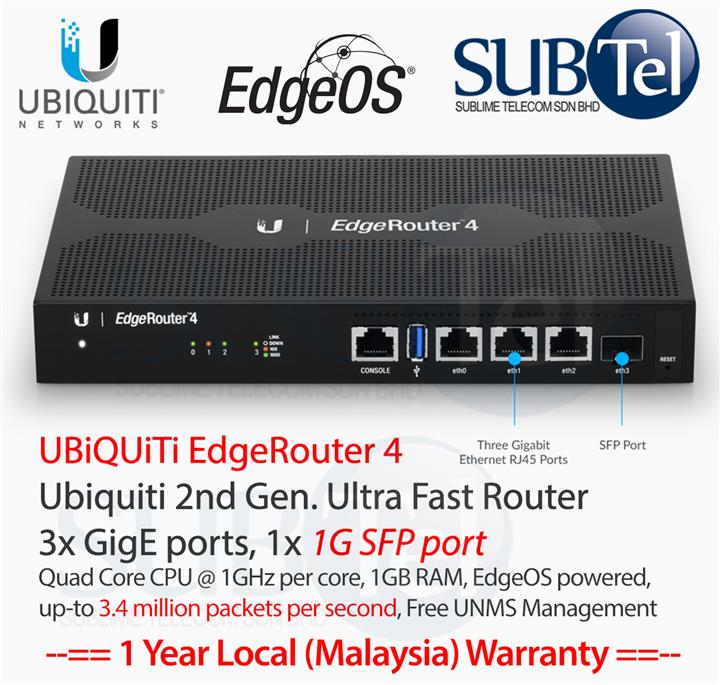 UBiQUiTi EdgeRouter 4
Advanced EdgeOS powered 3.2 million pps Gigabit Router
Update
We have this product in stock!

Main Features
 • Three (3) RJ45 Gigabit ports
 • One (1) 1.25Gbps SFP slot
 • Ubiquiti EdgeOS provides intuitive web-based GUI and CLI management
 • Fully Customizable Open Platform
 • Carrier Class Reliability - 99.9% uptime
 • Advanced Routing Protocols - OSPF, RIP and BGP natively supported
 • Comprehensive IP v6 support
 • Integrated Powerful Firewall
 • Low Power Consumption - 13 W maximum
 • Industrial Grade Product
 • Free integrated Deep Packet Inspection engine
 • Wall mount screws included in the package
 • Rack Mountable with optional Rack Mount Bracket

Local Information
 • Malaysia Local Product and Warranty support by Sublime Telecom Sdn. Bhd.
 • Ubiquiti EdgeOS Routers are gaining popularity in Malaysia for large, medium and home networks.
 • Malaysian companies using Ubiquiti solutions include TM, Maxis, Celcom, KLIA/KLIA2, YTL and many others.
 • Load Balance multiple ISP connections with EdgeOS Router and gain redundancy on top of higher speed.
 • Use EdgeRouter to upgrade your basic ISP router - Compatible with TM Unifi, Maxis, Time and other local ISPs.
 • See how Ubiquiti EdgeRouter stacks up against Cisco and Juniper routers in Tolly report below (Downloads section).

Product Description
Ubiquiti Networks introduces theEdgeRouter 4, the next generation of router for the EdgeMAX platform. EdgeRouters combine carrier-class reliability with enterprise-level features in a compact andaffordable unit.

The EdgeRouter 4 offers Gigabit Ethernet ports and an SFP port for a fiber link.

The EdgeRouter 4 is capable of routing up to 3.4 million packets per second and has a line rate of 4 Gbps.

Powered by a proprietary and intuitive graphical interface, EdgeOS, EdgeRouters can easily be configured for routing, security, and management features required to efficiently runyour network. For advanced network professionals, an integrated CLI is available for quick and direct access using familiar commands.

Even greater convenience and flexibility is provided by the UNMS app, which makes it possible to manage the EdgeRouter remotely from your mobile device.


Product Specifications
UBiQUiTi EdgeRouter 4
Dimensions
229 x 136.5 x 31.1 mm
Weight
795 g
Max. Power Consumption
13W
Power
Internal AC Power Adapter
Power Input
110 - 240VAC
Button
Reset
LEDs
Data Ports
SFP Data Port

Speed/Link/Activity
Link/Activity
Networking Interfaces
Management

Networking

(1) RJ45 Serial Port
(4) Ethernet Ports (Default eth0)
(3) 10/100/1000 RJ45 Ports
(1) 1 Gbps SFP Port
Processor
4-Core 1 GHz, MIPS64
System Memory
1 GB DDR3 RAM
On-Board Flash Storage
4 GB eMMC, 8 MB SPI NOR
Rack-Mountable
Yes
Operating Temperature
-10 to 50° C
Operating Humidity
10 - 90% Noncondensing
Certifications
CE, FCC, IC
EdgeOS Software Specifications
Interface/Encapsulation
Ethernet
802.1q VLAN
PPPoE
GRE
IP in IP
Bridging
Bonding (802.3ad)
Addressing
Static IPv4/IPv6 Addressing
DHCP/DHCPv6
Routing
Static Routes
OSPF/OSPFv3
RIP/RIPng
BGP (with IPv6 Support)
IGMP Proxy
Security
ACL-Based Firewall
Zone-Based Firewall
Application Identification with Deep Packet Inspection (DPI)
NAT
VPN
IPSec Site-to-Site and Remote Access
OpenVPN Site-to-Site and Remote Access
PPTP Remote Access
L2TP Remote Access
PPTP Client
Services
DHCP/DHCPv6 Server
DHCP/DHCPv6 Relay
Dynamic DNS
DNS Forwarding
VRRP
RADIUS Client
Web Caching
PPPoE Server
QoS
FIFO
Stochastic Fairness Queueing
Random Early Detection
Token Bucket Filter
Deficit Round Robin
Hierarchical Token Bucket
Ingress Policing
Management
Web UI
Ubiquiti Network Management System (UNMS)
CLI (GUI, Console, SSH, Telnet)
SNMP
NetFlow
LLDP
NTP
UBNT Discovery Protocol
Syslog
Downloads
Datasheet : Download Product Datasheet
Quick Start Guide : Download User Guide
EdgeOS User Guide : Download PDF
Independent Comparisson to Cisco and Juniper Routers : Download PDF

Package Contents
Ubiquiti ER-4 unit
Quick Start Guide
US or European power cord ( Malaysia (UK) power cord is available, please click here to order )
Compatible / Recommended additional items
Compatible 1Gbps SFP Transceiver Modules click here to view. Our transceivers come with 2 years local warranty.
Contact Us
PM on Lelong
Email: sales@sublimegroup.co
Call during Office Hours (Mon-Fri 10am-7pm, Sat 11am-3pm):
Technical / Support :

+6 010-227 0261


Stock Check / Sales :

+6 016-305 0261



After Office Hours / Bulk Order

+6 012-368 0911

(Whatsapp only, no calls please)
About Us
Sublime Telecom Sdn. Bhd. is the official authorized partner and reseller for Ubiquiti Networks Inc., Mimosa and RF-Elements in Malaysia and Singapore. We are also Master Distributor for Mikrotik Inc. in Asia Pacific.

We carry full range of Ubiquiti and MikroTik products at best prices in Malaysia.

Contact us or click Buy Now.