Item Specification
Product Description
Features
Stainless Steel 304 Shackle (SUS 304)

Stainless Steel Ball Bearings and cylinder pins

Hardened, Stainless Brass body

Stainless Brass keys

Compatible with Anti Force-Idle Mechanical Technology (patent pending)
Anti Force-Idle Mechanical Technology was invented to prevent Allen-key bending to destroy the padlock mechanism, which is patent pending. For more info please visit our company page @
Click in to watch UfO Heavy Duty series padlock cut test video
Advantages
Our unique patents, outstanding materials and high quality productions offer a wide range for your selection to suit your requirements and meet your expectations.
OEM & ODM are welcome!
Customize your own product with our unique patents and quality material. Large quantity locks master key system services are also available for your convenience.
THE BACKSTAGE STORY
The idea of securing properties from unauthorized use and theft has long existed since the beginning of time. Padlocks have a long history dating back to the days when they were individually manufactured to the days when they are now mass produced with modern technology and this simple technology has spread to the people due to an increase in demand.
In the wake of the increase in the number of witty lock pickers and the plethora of lock picking information easily available, it is inevitable for this portable device to be brought to higher standards. Yet, high security locks were not easily available.
This has brought to the establishment of CX INDUSTRIES SDN. BHD. (480415-T) or more popularly known as CXI – the organization behind locks that truly serve their purpose; security. Firm on the philosophy of CXI is the company's pledge to deliver a totally different level of customer experience with products of uncompromising security and innovation.
Started off with a focus on padlocks, CXI is currently developing a comprehensive range of locks perfectly suitable for various different locking systems.
THE BIRTH OF CXI
1984 marks the beginning of a journey of one man who would soon redefine the lock industry. Equipped with years of experience in the lockset business, Tan Min Choong is set to make a difference by producing his own version of padlocks and this idea has become the mastermind behind CXI that led to its birth on 7 April 1999.
Led by a team of highly skilled executives, CXI has been able to produce at top notch quality and has successfully carved its niche as the first padlock manufacturer in Malaysia. We are proud to have three brands – UFO, Denttii, and Ososo to call our own. With strict quality control and material management, consistency in product quality is our pride and security is our brand promise.
CORPORATE PHILOSOPHY
CXI produces at the finest quality and security so people can have peace of mind.
This phrase expresses the vow of CXI towards the community to deliver at top notch quality. These words inspire us to be highly committed in producing flawless locking systems to achieve worry free usage.
At CXI, we aspire to be an international player in our industry with our innovative products and high precision technology while incorporating the principles of environmental sustainability.
Despite the challenges we face, we pledge to stay true to our commitment and we will strive towards globalization by developing new technologies to implement into our innovative range of products. We firmly believe our innovation will differentiate CXI from the other competing brands. We also play a role in being environment friendly in our business operations.
MESSAGE FROM THE CHAIRMAN
Globalization through Innovation and Unique Customer Experience
"I embarked on this journey dealing with padlocks and locking components some 30 years ago and have never looked back – it was like love at first sight. It certainly wasn't all smooth sailing but what really give me the strength to carry on are my passion and the promise that this industry would create opportunities that know no boundaries.
The emergence of new brands in the market has created a more aggressive marketplace and competition has intensified. The way we do business is changing rapidly and 2014 will be an exciting year for CXI as we are set on expanding into the international markets. Two areas where we will be focused on are Innovation and Unique Customer Experience. With modern technology, I believe that I can definitely make a difference and create a different level of customer experience in this business.
This strategic business direction will be spearheaded by me as the Chairman and to put this plan into actualization, I have gathered some of the industry's experts each with their own competencies and finesse. My job is to create an environment where innovation and creativity can emerge from my talented team of executives.
I want CXI to be the leader of the industry and I aim to achieve this by introducing our range of innovative locking system that is highly foolproof and faultless as designed by our proficient R&D team. With our new technology, I am confident that it will be a quantum leap for us to flourish as a global company.
While driving the growth of the company, we will fulfill our corporate social responsibility to contribute to the people and the environment. Our CSR management will ensure that we set high priorities to the welfare of the society and community."
Tan Min Choong
Chairman
CX Industries
BRAND VALUE
CXI – we are more than just a padlock manufacturer.
CXI is more than just an ordinary padlock manufacturer. With customers at the heart of our business, we strive to deliver above par by designing, developing, refining and manufacturing high quality padlocks for the market, both local and international. We are committed to delivering a promise of great performance, protection and a whole new different level of customer experience.
STRATEGIC BUSINESS DIRECTION
Our customers are at the heart of our business. We strongly believe that every customer deserves the highest levels of satisfaction and CXI is committed to deliver above benchmark levels to uphold our belief. CXI is a company pledged to bring customer experience to a whole new different level. We strive to be the leading key player by taking to heart the needs of our customers.
Through the incorporation of the principles of environmental sustainability in our daily operations, we will ensure that our efforts in energy conservation and waste management have a positive impact on the environment. Core to the philosophy of CXI, our organization takes the interest of the natural world very seriously.
Increasing Local Market Share
With three brands to call our own, we have successfully captured 5% of the market share in Malaysia. Recognizing the change in demand, we will be introducing our innovative products to the market and we are determined to increase our market share to 30% by 2017.
The challenge for us is to produce locks that are remarkably secured that ensure peace of mind for our customers and we are certain that this is highly achievable with a team of highly enthusiastic experts and innovators.
Breakthrough of CXI into the Global Market
Having penetrated into the markets of Vietnam and Cambodia, we have set our eyes on the Philippines market before expanding into the entire Asian region. To further increase our customer base, we will also be applying the halalconcept into our production to tap into the Muslim market. Our growth in the said markets will be carried out in strategic phases to facilitate sustainable growth.
We have been pulling some strings and leveraging on our networks for the actualization of the company's growth. We will be participating in international trades and fairs to seek exposure and to introduce CXI and its range of products to the global market.
Known for our of padlocks, our R&D team is currently developing a more comprehensive range of locking systems with innovation as our foundation to improve on the present locking mechanisms that are available in the market. We strongly believe that the success of our product extension will put CXI on the world map of locking systems.
Taking this bold step forward, we have gathered some of the industry talents to share and contribute their skills and know-how to put the finest touch in our innovations.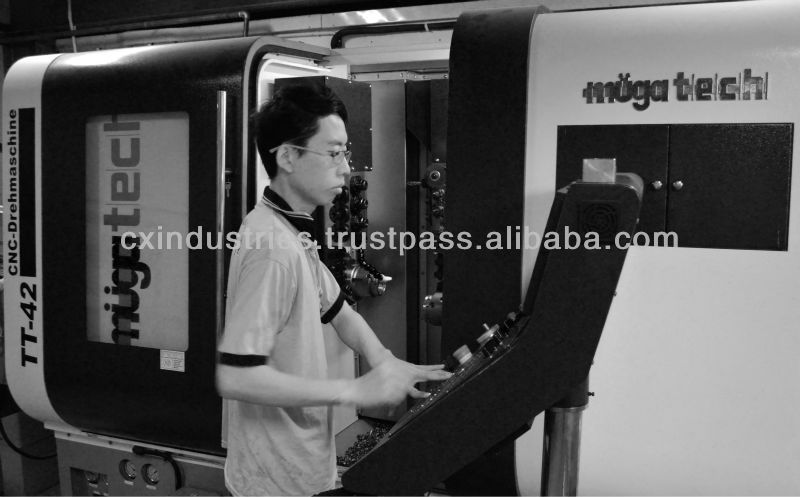 Last Updated @ 3/19/2014 1:30:01 PM

Last Updated @ 3/25/2015 8:45:10 PM
Questions & Answers
Do you have any questions to ask merchant about this product
| | | |
| --- | --- | --- |
| 5 star | | 0 |
| 4 star | | 0 |
| 3 star | | 0 |
| 2 star | | 0 |
| 1 star | | 0 |
Share your thoughts with others
Write a review
Only buyers who purchased the product may leave a review