Item Specification
Product Description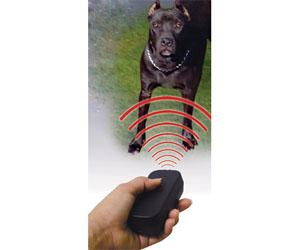 Ultrasonic Dog Repeller!
(personal security product)
Keep those unfriendly dogs out of your way!
The Ultrasonic Dog Repeller is the most humane and safe way to deter unfriendly dogs. Using the latest ultrasonic technology, the Dog Repeller produces a discomforting but not harmful, high frequency sound, audible to dogs but not to humans.
 Helps stop the approach of unwanted dogs at up to 20 feet. Works on cats too! Easy to use: Just point the Dog Repeller at dog or cat and press the button.
 The Dog Repeller emits a high frequency sound. This Dog Repeller is also a useful dog training device when used in conjunction with the verbal or hand command.
 The Dog is a safe and reliable item to own. You can have faith on your morning walks, jogs, or runs again. No need to fear checking your mail or taking your trash out again either. Its versatility shows that the Dog Repeller is one item everyone should own!
Have you ever had your morning walk routine interrupted by an aggressive dog? Are you afraid to enjoy your jog routine because neighborhood dogs get too close? Then the Ultrasonic Dog Repeller is the best weapon to have!
 The Dog Repeller is one of our most popular items, and continues to receive praise because of its reliability, affordability, and small size. Using one 9V alkaline battery, it emits a high frequency sound that safely deters any canine.
 If you are afraid of hurting animals, or due to local laws, cannot use a self-defense item to deter a dog OR cat, this Dog Repeller is the item you want! It causes NO permanent damage to the animal, and is easy to operate. It sits well with animal lovers, but also has the power to make a jogger's route safe and enjoyable again.
 Never be afraid to take that relaxing jog or solo run again! The Dog Repeller's proven reliability speaks for itself. It creates an invisible shield for the owner of the Dog Repeller without hurting the animal itself.
Another positive addition to the Dog Repeller is that it can be used as a training device. In coordination with hand signals or spoken commands, the dog Repeller can be used to teach dogs as well.
The Ultrasonic Dog Repeller emits a frequency ranged from 20,000 Hz to 25,000 Hz interval which is hardly audible by humans but can be heard by dogs or cats. The Dog Repeller may harmlessly deter the approach of a dog or cat when properly used. The device will project these ultrasonic waves as you continuously press the power button and directly point the Dog Repeller toward the approaching unfriendly dog. The ultrasonic waves emitted from the Dog Repeller will discomfort the dogs and make them get away. This Dog Repeller will help the user establish a safe zone between the user and the unfriendly dog.
A built-in LED indicator will light when the power button is depressed. When the LED does not light or is not as bright, it is time to replace the battery.
Useful for Joggers, postmen, bicyclists, police, elderly person, one who is afraid of dogs
OPERATING INSTRUCTIONS
To remove the lid of the battery box, slide down the battery compartment cover.
Insert a 9V alkaline battery as indicated in the battery box. (Battery not included)
To ensure battery installation is correct, press the center power button to see that the LED lights comes on and are flashing.
Replace the battery box lid.
Your Ultrasonic Dog Repeller is ready for use.
When the LEDs do not turn on or when they begin to fade, it is time to replace the battery.
 To replace the battery simply repeat step 1 and take out the old battery.  Insert a new battery by following steps 2-4.
 IMPORTANT
Do not point the Dog Repeller directly at humans.
Do not test the device on your own pets or a familiar animal to prevent them from confusion due to loyalty instincts.
Do not let the unit come in contact with water.
Do not modify or tamper with the internal components.
Covering or painting over the front speaker can damage the device and cause it to malfunction or work improperly.
The device may not be effective on all canines. Age, temperament, illness or training may affect an animal's behavior. It will not be effective on a deaf dog.
This Ultrasonic Dog Repeller will help you create a safe zone between you and the unfriendly dogs, but always take normal precautions when confronting a dog in addition to using this device.
We recommend carrying dog pepper spray in addition to this device as a back-up.
Note : Our number one question on this Ultrasonic Dog Repeller is "Does it work?" Our response is "yes, it does." However, it is not guaranteed to turn away every dog. Your pet, or one who knows and trusts you, may not be repelled by the discomforting sound. Deaf, rabid, or especially ferocious dogs may not be affected by the sound.

Last Updated @ 8/15/2013 10:28:59 AM




---
Local Delivery
All delivery will be sent by courier ONLY

Order more items to save the delivery charges

Items will be sent after receive full payment.

Combine shipping is allow to save shipping charges. (Combine shipping is not allow for bidding items)

Please allow 2-5 business days for delivery, tracking no will be provided upon delivery.
International Delivery
International delivery charges depends on country, please email us at powersaver@gmail.com to check the delivery charges

************* Pls take note that our working hours is from Saturday - Thursday (close on friday), 10:30am - 5pm ************
Order on friday-sunday will be delivered on monday
Payment has to be made within 3 days from auction end date or purchase date. However, if customers required further extension please email powersaver@gmail.com to inform us.

If no reply from winner / buyer within 3 working days, We reserves the right to cancel the deal and resell the item without prior notice (We will inform lelong for "Non-Paying Bid")

After payment, please give us your full name, mailing address and Tel-no (prefer reply in Email to powersaver@gmail.com

We always give our best service to our customers

We will give good rating for every successful transaction
Refund Policy
Return Exchanges
If you are not satisfied with your purchase, you may return items in their original condition within 15 days of receipt of your product. We will be happy to replace the item or issue a store credit. Please notify us via email within 3 days of receipt of your package.

SaverStore can only accept items for return or exchange (there is a 20% restocking fee) that are in their original/resale condition and that have received a Return Authorization Number. Any items returned dirty, washed, or used will NOT be eligible for refund. You will have 15 days upon receipt of the product to send it back to us. Your refund in store credit will be for the purchase price of the item(s) deduct 20% restocking fee. Shipping cost are not refundable. If you purchase the items with a free shipping special, your refund in store credit will be purchase price deduct 20% restocking fee deduct shipping fee. Return shipping costs are the responsibility of the customers. Re-shipping charges for exchanged item(s) will be applied.
Damaged Products
Please be reminded that, it is your duty to check the item to make sure we are sending the correct quantity and the item is in good condition before you sign to accept the item from the courier company. Report to us immediately if you see the item(s) is/are damaged and take a photo immediately, so that we can claim from the courier company. Otherwise, you will have to bear the shipping charges (to and from) in order to claim for the product warranty.
Once you have reported to us, we will either replace the broken parts if possible or ship out a new one completely at our expense. Please send back the defective product to us for investigation before we replace the item to you. Simply e-mail or contact us and we will do everything possible to rectify the problem and make your shopping experience a positive one. We will send you a FREE GIFT to cover your shipping cost of sending back the defective/broken item(s) to us provided you have made a report to us before you sign the courier consigment note.
Questions & Answers
Do you have any questions to ask merchant about this product
Ask Seller
| | | |
| --- | --- | --- |
| 5 star | | 0 |
| 4 star | | 0 |
| 3 star | | 0 |
| 2 star | | 0 |
| 1 star | | 0 |
Share your thoughts with others
Write a review
Only buyers who purchased the product may leave a review