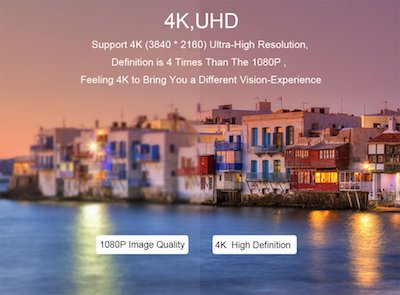 This Type C USB 3.1 to Mini Display Port Cable allows the video signal from a USB 3.1 Type C equipped device to be output to Mini DP monitor. It is a cost-effective solution that lets user to easily add an external display from an Apple MacBook, iMac computer or machinese with USB3.1 output to a mini display port enabled display, creating a simple dual display setup.
Features :
Brand by Akiba-Accessories.com

Used to connect to external TV, display or projector via mini display port

Connect the adapter cable to the Type C USB 3.1 port of the computer and the Mini DP end of the adapter to an external mini display port monitor or projector.

USB 3.1 Type c to Mini DisplayPort Adapter connecting your computer PC to a projector to mirror or extend your display desktop when you are in a conference room or a classroom for show a presentation.

Support for resolution up to 3840x2160@60Hz (4K,UHD). Astonishing picture quality at four times the resolution of high-definition 1080p, you'll be amazed at the picture quality of a 4K monitor or television. Plus, the USB C to Mini DP adapter is backward compatible with 1080p displays.

No driver is needed.

The USB-C is reversible that can be plugged in both ways.

Connector A: Type C USB 3.1 Male

Connector B: Mini Display Port Female

Approx. Length: 16cm

Colour: Silver
Compatible laptop Models:
MacBook Pro 2016/2017,Macbook Retina 2015/2016/2017,iMac 2017

Google Chromebook Pixel,Google Pixel C,Google Nexus 6P,Google Nexus 5X

Dell xps 12 ,Dell XPS 13,Dell XPS 15

Dell Precision 15 ,Dell Precision 17 7000 Series

Dell Alienware 17 R3,Dell Alienware 15 R2,Dell Alienware 13 R2

Lenovo Yoga 900,Lenovo Thinkpad P50,Lenovo Thinkpad P70

HP Pavilion x2,HP Zbook 15,HP Zbook 17,HP Pro Tablet 608 G1

Surface Pro 4,Nokia N1

and many more...
Compatible mobilphone Models:
Galaxy S8/S8+,note 7,moto z,Oneplus 2,

Microsoft Lumia 950,Microsoft Lumia 950XL

ZenFone 3 Deluxe,ZenFone 3 Ultra

and many more...
Package Content :
(Note 1: Photo attached is for reference only, it may be slightly varied in items of colour, shape from the actual item delivered from time to time
Note 2: The USB C to Mini DisplyPort adapter is COMPATIBLE with Apple LED Cinema Display and others with mini DisplayPort or DisplayPort's display but IMCOMPATIBLEwith Thunderbolt interface's monitor
Note 3: The USB C to Mini DP adapter just CAN be used for mini DisplayPort to DisplayPort cable or mini DisplayPort to mini DisplayPort cable to connect the monitor. It CANNOT be used for additional connection from mini DisplayPort to HDMI cable, mini DisplayPort to DVI cable or mini DisplayPort to VGA cable to connect the monitor.)