Item Specification
Product Description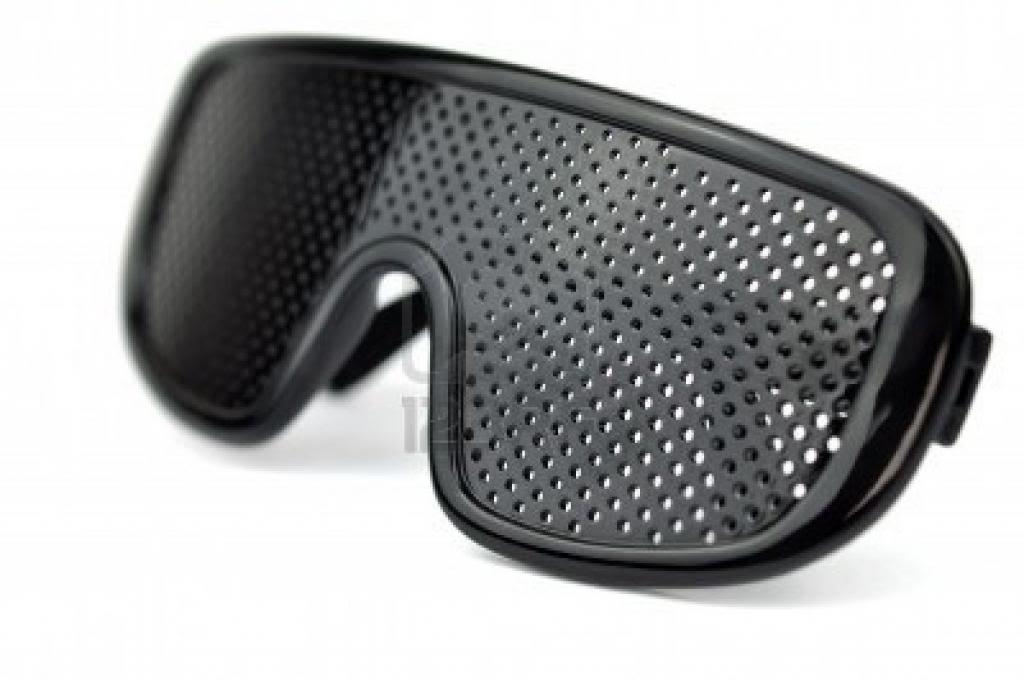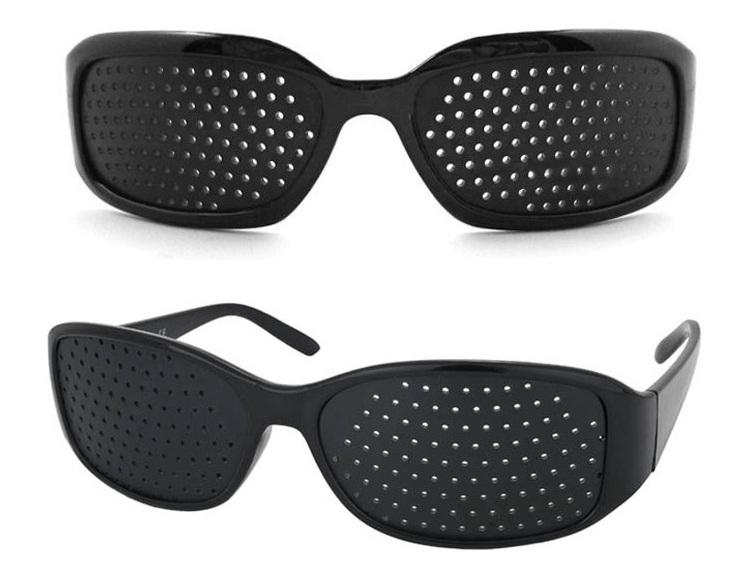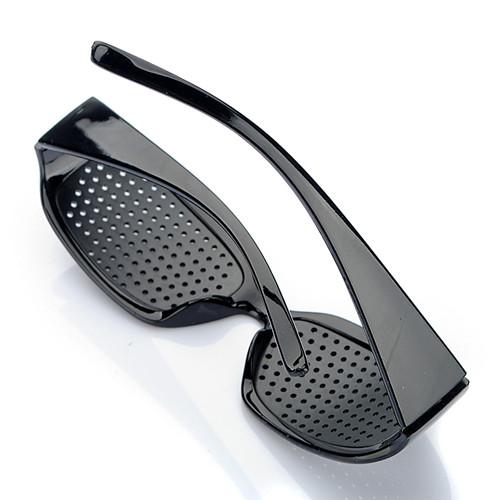 Specially designed to improve eyesight, especially eye focusing problems [Presbyopia (age-related reduced range of focus),
Eye strain (from computer screens), Hyperopia (long sightedness), Myopia (short sightedness), Astigmatism, Cataracts]
Correct Your Vision
Pinhole glasses look like sunglasses. But instead of lenses, they have a thin sheet of perforated plastic replacing them. These tiny holes each allow a very thin beam of light into the eye, eliminating the scattering of light. In turn, this reduces the circle of confusion on the retina - which usually is seen as blurness in vision.
If glasses are worn for 15-20 minutes a day, noticeable improvements to the vision can be seen. These glasses can also help to relieve VDU (Visual Display Units) eye strain, fatigue and headaches - and all for the price of RM39.90 a pair.
With this Eyesight Vision Pinhole Glasses, you can help exercise your eye muscles and relax them as well. Thus, you are likely to experience 10-20% improvement in your vision in 2 to 4 weeks!
The Truth about Pinhole Glasses:
100% Safe to use. Will not harm your eyes (as some eye doctors will try to tell you)
Cheaper than prescription lenses and they never have to be changed.
Works for ANYONE.
Will not restore your vision to normal but they help to prevent further deterioration
HOW DO PINHOLE GLASSES WORK?
How do you exercise your eyes with PinHole Glasses? 
Put on your PinHole Glasses:- 

STEP 1: 
Close your eyes and count 1 – 10 then open. Move both your eyes from side to side 10 times. 

STEP 2: 
Slowly rotate your eyes in a clockwise direction, 10 times. Then repeat in an anti – clockwise direction. Close your eyes and count 1 – 10. 

STEP 3: 
Yawn and blink your eyes to allow your brain to adjust. 

STEP 4: 
Take a magazine or book. Hold it at arms length and choose a word. Concentrate on the word and slowly move your arms toward your eyes as closely as you can focus. Then slowly move to arms length again, still concentrating on your chosen word. Repeat 5 times. 

STEP 5: 
Yawn a few more times, blink your eyes and start enjoying your reading, TV or computer.
1
TYPE A
TYPE B
TYPE C
TYPE D
TYPE E ~ white
TYPE F~ RED
TYPE G~ Purple
WOW....SPECIAL OFFER ONLY FOR LIMITED OFFER!!!!
HOW DO PINHOLE GLASSES WORK?
When you look at a blurred object your brain moves the focus of the eye in and out until it gets an increase in contrast.
If no increase is achieved your brain leaves the object unfocused.
Pinholes improve the sharpness of the image, encouraging your brain to find the point of focus.
During this process the focusing muscles of the eye are getting used more and
this regular exercise helps your eyes' focusing system.
FAQ 
1. When to use? 
You can use PinHole Glasses during stationary activities such as reading, writing, using a computer, watching TV, watching a theatre performance or reading notes on a school blackboard. EyeAerobic is NOT recommended for activities where you are in motion, such as driving or in any situation where good peripheral vision is essential. 

2. How long should I use PinHole Glasses? 
Use it frequently with no time limit. The more you substitute your glasses with PinHole Glasses, the more your vision will improve. 

3. Who should use PinHole Glasses? 
PinHole Glasses can be used by anyone who requires visual correction between plus or minus 6 diopters. They can be worn by small school children who develop myopia (nearsightedness) due to excessive reading or by people in their 40s or older who have presbyopia, the farsightedness which develops with middle age. Also suitable for lazy eyes and crossed eyes. 

4. Why I see double vision? 
Most people adapt to the use of PinHole Glasses immediately. Some people may need 3 days to a week to adjust their eyes and minds to PinHole Glasses. 

5. If I wear my strong glasses after using PinHole Glasses, won't I undo the benefits? 
PinHole Glasses glasses are not meant as an alternative to conventional glasses. Eye exercise, like any other exercise does not need to be continued all day to obtain benefit. While exercising, you are actually resting your eyes from the prescription glasses. 

6.Will I have to keep on getting my prescription changed as my eyesight improves? 
PinHole Glasses helps to build up flexibility in the eyes. You may be able to change to a lower prescription to help your eyes to improve further. 

7. How do I know my vision has improved? 
You are likely to experience 10 – 20% vision improvement in 2 – 4 weeks. Your existing pair of glasses should begin to feel over – powered and the world should look super – sharp. 

8. Can PinHole Glasses really let you see as clearly as glasses do? 
Yes! Even people who have worn glasses or contacts for years can see clearly with PinHole Glasses. PinHole Glasses will help to preserve a person's eyesight and prevent further deterioration from taking place. 

9. The difference between glasses and PinHole Glasses? 
Glasses and contact lenses clear up blurry vision artificially and temporarily. When your eyes are placed behind glasses, you will no longer use the focusing muscles in your eyes to the fullest. This important ciliary's muscle begins to weaken, requiring visits to your eye doctor for stronger and stronger glasses. PinHole Glasses is 100% natural and safe because it allows eye muscles to see for itself, forcing the muscles to exercise and prevent progressive myopia. 
Top 3 Reasons to Buy from GoldenVally
Affordable Prices, Great Deals!




Why pay more when you can pay less?
Customer Service!




We know that the secret to running a successful business is keeping our customers happy. 
We set out to provide our customers with good services within our own capacity.
Safe and Easy Transaction!




We ensure the integrity of every order by using Netpay, for easier & safer transactions

Last Updated @ 8/11/2013 12:13:52 AM

Last Updated @ 8/11/2013 12:33:34 AM

Last Updated @ 8/11/2013 12:45:40 AM

Last Updated @ 8/11/2013 12:54:08 AM

Last Updated @ 2/19/2016 6:52:01 AM




---
Payment MethoD
Bank Transfer
We support payment made via Online Banking, ATM direct transfer and cash deposit.
Take note dear friend if u made the payment before 4pm the shipment will take place on the same day. Payment done after 4pm item will be delivered on the next day. We promise we will keep u updated with the tracking number accordingly.
Maybank Company account CREATIVEPAGEHUB
564052520688
After made payment kindly update us via sms, to 011-33781716
Name, Product name, ID, Amount, Bank, Home Address(if there any changes)
Hope u can be one of the customer in our store.Tq my dear friend.
Any inq kindly message us.
Regards ,
GoldenVally
Delivery within Malaysia by poslaju and kangaroo courier company.
Goods will be shipped within 3 business days after payment has been made.
You can track your product at:
We will ensure that the goods purchased and delivered are in good condition prior to delivery to our valued customer.
Any damages or lost or defect that caused during or after the delivery which may or may not be affected by the customer shall not be borne by GoldenVally.
All returning shipping cost will be responsibility by buyer at all circumstances. however, seller will bear resending shipping cost if the item is DOA (dead on arrival).
Damage and loss during delivery are bear by buyer
Questions & Answers
Do you have any questions to ask merchant about this product
Ask Seller
| | | |
| --- | --- | --- |
| 5 star | | 0 |
| 4 star | | 0 |
| 3 star | | 0 |
| 2 star | | 0 |
| 1 star | | 0 |
Share your thoughts with others
Write a review
Only buyers who purchased the product may leave a review