Item Specification
Model / SKU
: DIN 80 (580901080)
Product Description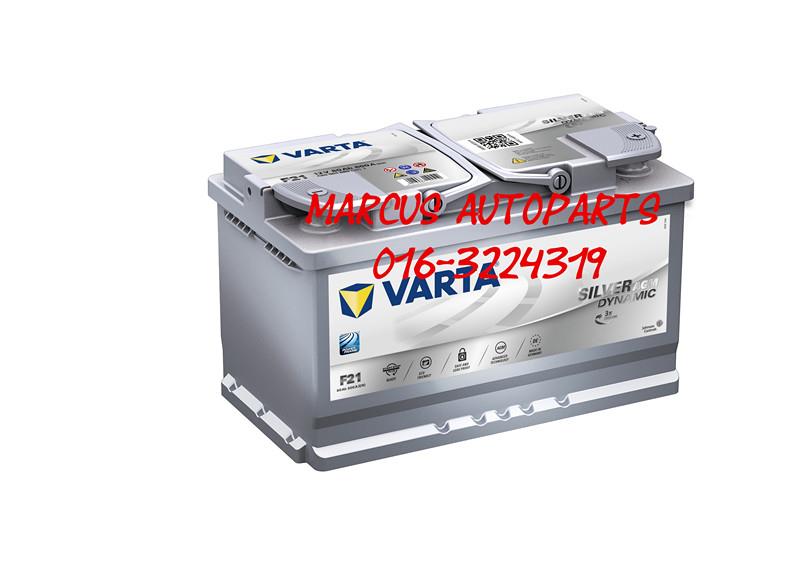 VARTA 80 AH AGM START STOP F21 CAR BATTERY (580901080)
PRODUCT INFORMATION
Series : SILVER DYNAMIC AGM
Short Code : F21
European Type No. (ETN) : 580 901 080
Capacity : 80AH
Cold Cracking Amp : 800A (EN)
Voltage : 12V
Battery type : AGM (VRLA)
Box size : L4 (315x175x190)
Length (mm) : 315
Width (mm) : 175
Height (mm) : 190
Warranty : 12 MONTHS
Weight : 22 KG
VARTA Is The Largest Battery Manufacturer In Europe
Johnson Controls Power Solutions is a global community, connecting areas like automotive batteries and advanced batteries for Start-Stop, hybrid and electric vehicles. Our 50 manufacturing, recycling and distribution centres supply more than one third of the world's lead-acid batteries to major automakers and aftermarket retailers.
With a good strategy, honesty, fairness, respect and safety they are strengthening the ideology of the functioning of a company which guarantees long-term success.
They believe that there is always a chance for things to make better, working with a motivated team, as an example for many global companies.
Through their services with about 170,000 employees, through their products and collaborations with other world renowned companies they promote clever use of resources contributing to the nature and to the improvement of human daily life in more than 150 countries worldwide.
Through our innovations we are building the advanced battery industry for hybrid and electric vehicles. We were the first company in the world to produce lithium-ion batteries for mass-production hybrid vehicles. Our commitment to sustainability is evidenced by our world-class technology, manufacturing and recycling capabilities.
125 years of customer focused innovation. From optimising energy efficiency and operating efficiencies in buildings, to developing unrivalled power sources and interior systems for automobiles, Johnson Controls is a leader in the markets we serve.
The connection Varta – Johnson Controls is started in 2002, when the batteries unit from Varta was sold to Johnson Controls and the battery activities were sold to the company Rayovac.
The company Johnson Controls promotes the brand Varta as the perfect battery for every vehicle, as a benchmark for quality, expertise and technical innovation.
And they are totally right!
As a leading innovator in the start-stop battery technology in Europe, the company Varta ensures the proper installation and replacement of batteries as well as the registration of Start-Stop vehicles.
Varta is the best-selling premium brand of automotive batteries in Europe with an increasing presence in Asia and South America.
Varta for itself is strong enough attribute for quality and durability.
But the connection with Johnson Controls further confirms it !
The performance and reliability benefits of VARTA automotive batteries, compared to conventional batteries are higher cranking capability and enhanced durability due to maximised energy flow and corrosion resistance. VARTA batteries also offer OEM quality build levels for an exact fit and finish with outstanding vibration and impact resistance plus proven reliability and cranking performance in highly demanding conditions.
Introducing the heart of every VARTA battery, the patented PowerFrame stamped grid technology, the lead based grids stacked vertically inside a battery to form cell groups. PowerFrame grids are engineered and manufactured by a unique process to last longer than conventional grids. Tests show up to sixty six percent more durability is on offer with PowerFrame compared to traditional grid designs. The energy flow across a PowerFrame grid is also more effective, up to seventy percent higher for exceptional engine cranking power on every start. More available power with enhanced durability by design reduces fatigue and means every VARTA battery offers outstanding reliability, exactly what is demanded in a battery from the world's car manufacturers.
PowerFrame grids are manufactured from a single sheet of lead based material, precisely rolled and stamped to tight tolerances in the 0.1mm range. This provides the advantage of an exact pattern with every stamping, highly accurate compared to traditional grids that are cast into shape from molten material. This offers an exact pattern and precise grid thickness for lower resistance and optimal electrical conductivity and does not fatigue the frame compared to other manufacturing methods.
Four of the most frequently asked questions of VARTA PowerFrame technology -
Why is the positive grid so important for batteries? How does PowerFrame grid technology help?
The positive grid provides the energy to start a vehicle, a critical component of the battery, start after start. The most common end-of-life failure mode of automotive batteries is corrosion of the positive grids. Positive grid corrosion will occur over time, especially in high-heat environments, as a result of the charge-discharge cycles a battery experiences. PowerFrame grid technology is structurally strong and it's robust design minimizes corrosion and premature failure.
How do I know that a battery with PowerFrame grid technology is superior?
PowerFrame grid technologies are tested by VARTA in the toughest real-world conditions: in taxis, police vehicles, high use passenger cars and trucks around the world.
Extreme heat and stop-and-go driving are two of the most demanding applications a battery can face during its lifetime, which makes high heat desert taxi fleets the ideal test environment for battery performance. VARTA batteries with PowerFrame grid technology are documented to regularly outlast other manufacturers' batteries in head-to-head Las Vegas taxi fleet studies, one of the most grueling battery test environments in the world.
What makes PowerFrame grid technology different from other grids in other batteries?
PowerFrame grid technology is the latest manufacturing technologies. PowerFrame grids are made by rolling the lead based material metal into long thin strips that are then stamped into the grid shape. The process is continuous and provides the greatest flexibility for power optimization. Looking under a powerful microscope, the rolling process elongates the metal's grain structure, which helps resist corrosion and provides strength even under extreme conditions. Other grid technologies, namely cast and expanded metal, produce grain structures more susceptible to corrosion.
How is PowerFrame grid technology said to be more environmentally friendly?
Varta's patented PowerFrame manufacturing process uses 20% less energy and releases 20% fewer greenhouse gas emissions than other manufacturing methods.
In 2006, the PowerFrame grid technology process received the 2006 Clean Air Award from the Amercian EPA for the reduction of CO² in the air. All VARTA batteries benefit from the patented PowerFrame technology, offering exceptional engine cranking performance and durability for a long life.
VARTA® batteries – The choice of the world's leading vehicle manufacturers
The aftermarket advantages of these European OEM partnerships is expertise, technology advances and proven reliability across the entire VARTA range. JCI is the driving force behind fuel-saving innovations such as Start/Stop engines and electrical systems. This year, approximately 70% of all newly manufactured vehicles, regardless of car segment and class, include Start/Stop functionality.
It's a fact that the majority of car manufacturers trust VARTA® products to always deliver. Their strength lies in developing strong working relationships with car makers to develop the best batteries for the best new vehicles. Close collaboration with top names such as Audi, BMW, Ford and Mercedes-Benz, has led VARTA® to develop advanced Start-Stop batteries.
Today these products are factory fitted in the majority of Start-Stop vehicles, and similar working partnerships take place in many other areas from commercial vehicles to caravans, motorboats, motorcycles, marine vessels and more.
VARTA® is powered by Johnson Controls Power Solutions, the global leader in lead acid and advanced batteries for conventional, Start-Stop, hybrid and electric vehicles, and the first company to produce Lithium-ion batteries for mass-production hybrid vehicles. Today, millions of people around the world rely on their innovative products.
VARTA®'s major automotive and commercial vehicle manufacturer contracts:
Start-Stop / Automotive
• Honda
• AUDI
• BMW Efficient Dynamics
• Ford ECOnetic
• GM ecoFLEX
• HYUNDAI Blue Drive
• KIA EcoDynamics
• Land Rover
• Mercedes-Benz BlueEFFICIENCY
• MINI MINIMALISM
• SEAT Ecomotive
• SMART micro hybrid drive
• Volvo DRIVe
Heavy Commercial
• Scania
• DAF-Leyland
• Daimler
• MAN
• EvoBus
• Neoplan
• Solaris
• Iveco
• Kion Group
• Viseon
• Volvo
• Caterpillar
• Bomag
• Valtra
• Massey Ferguson
• John Deere
• Fendt
Why you can trust VARTA® batteries, time and time again
Over the last century, vehicle technology has advanced enormously. And by developing all kinds of innovative battery technology VARTA has consistently stayed at the forefront of powering it, building an enviable reputation in both original equipment (OEM) and Aftermarket batteries.
Today, you'll find their products in millions of cars, powerboats, motorcycles and motorhomes. In fact, countless people rely on VARTA day in, day out. VARTA batteries are designed to deliver both power and reliability. They also provide longer life, less corrosion and lower cost of ownership, qualities you'll find in all their products from their advanced Start-Stop automotive range to their Professional powerboat products.
Their comprehensive range includes:
• For standard automotive use, the dynamic Trio has their patented PowerFrame® stamped grid technology
• For vehicles with Start-Stop features, their Start-Stop range ensures reliable performance with quick responses every time
• For commercial vehicles, their Promotive Trio combines excellent performance with substantial reductions in total cost of ownership
• For motorbikes and leisure, the Powersports FreshPack range supports many applications
• For boats and caravans, the Professional range offers excellent reliability and low-cost charge and discharge cycles
WE PROVIDE 24 HOURS CAR BATTERY REPLACEMENT, CAR BREAKDOWN SERVICES & AUTO ASSIST IN KLANG VALLEY
WE ALSO PROVIDE TRANSPORT OR DELIVERY SERVICE FOR OTHER AREA
CALL OR WHATSAPP US TO BE THERE FOR HELP !!!!
PLEASE VISIT MY FACEBOOK PAGE OR WEBSITE TO KNOW MORE INFORMATION AND OTHER PRODUCTS AT THE LINK AT BELOW. THANK YOU
https://www.facebook.com/CarBatterySupply
http://mycarbatteryreplacement.blogspot.my/
WE ACCEPT COD AT KLANG VALLEY

Last Updated @ 5/19/2017 12:58:28 AM


---
Payment Method:
Maybank2U

Maybank Cash Deposit Machine

Netpay
DELIVERY AND INSTALLION FOR BATTERY SERVICE WILL BE DONE WITH OUR STAFF AT KLANG VALLEY
FOR THOSE OTHER CAR PRODUCTS WILL BE DONE WITH COD OR COURIER SERVICE
Terms and Condition:
All Payment must be cleared within 3 days after Auction and Buy It Now

No Joy Bidder or Joy Buyer (Account will be suspend after 3 Reminder Sent)

We will exchange or replace similar product if the item is Out Of Stock

No Money back refund after payment done

No Combine Shipping or Cash On Delivery (We will only ship the item after payment receive)

All Shipping and Handling Fees is bear by Buyer or Bidder

Seller Owned the rights to cancel all bids if Item is Out Of Stock

Tracking number will be provided/updated within 24 working hours after shipment made.

Seller shall not held responsible for lost damage of the item during delivery by courier service. However, buyer has the right to claim from the courier company.
Warranty Policy:
• CAR BATTERY - 1 YEAR WARRANTY FOR PETROL VEHICLE
• CAR BATTERY - 1/2 YEAR WARRANTY FOR DIESEL VEHICLE
• Goods sold are not returnable, exchangeable or refundable.
• We will exchange or replace similar product if the item is Out Of Stock
• If there is defective on the items you receive or we send you the wrong items, please kindly contact us within 3 days and return to us within 7 days with original packing as we need to return to our supplier.
Questions & Answers
Do you have any questions to ask merchant about this product
Ask Seller
| | | |
| --- | --- | --- |
| 5 star | | 0 |
| 4 star | | 0 |
| 3 star | | 0 |
| 2 star | | 0 |
| 1 star | | 0 |
Share your thoughts with others
Write a review
Only buyers who purchased the product may leave a review