HIGHLIGHTS:
POWERFUL:Upgraded 4 blade vertical corssing different directions effectively crash the fruits,vegetables or cereals within seconds

DETACHABLE DESIGN & SAFE :the bottle can be used seperately,you can just grab the tottle on the go or put it in the refrigerator without the base,its super lightweight and space saving.There is no harm from getting hurt by the blade when wash the tottle

RECHARGEABLE:Build in high capacity of 4000mAh lithium battery for maximam usage,usually it takes 3 hours to fully charge and can use around 20-30 times depending on the ingredients

Auto-Motor Portection: the motor will stop blending after 5-20 seconds automatically depends on different food material,should you wish to continue blending press the button again

SAFE Material: BPA free and dishwasher safe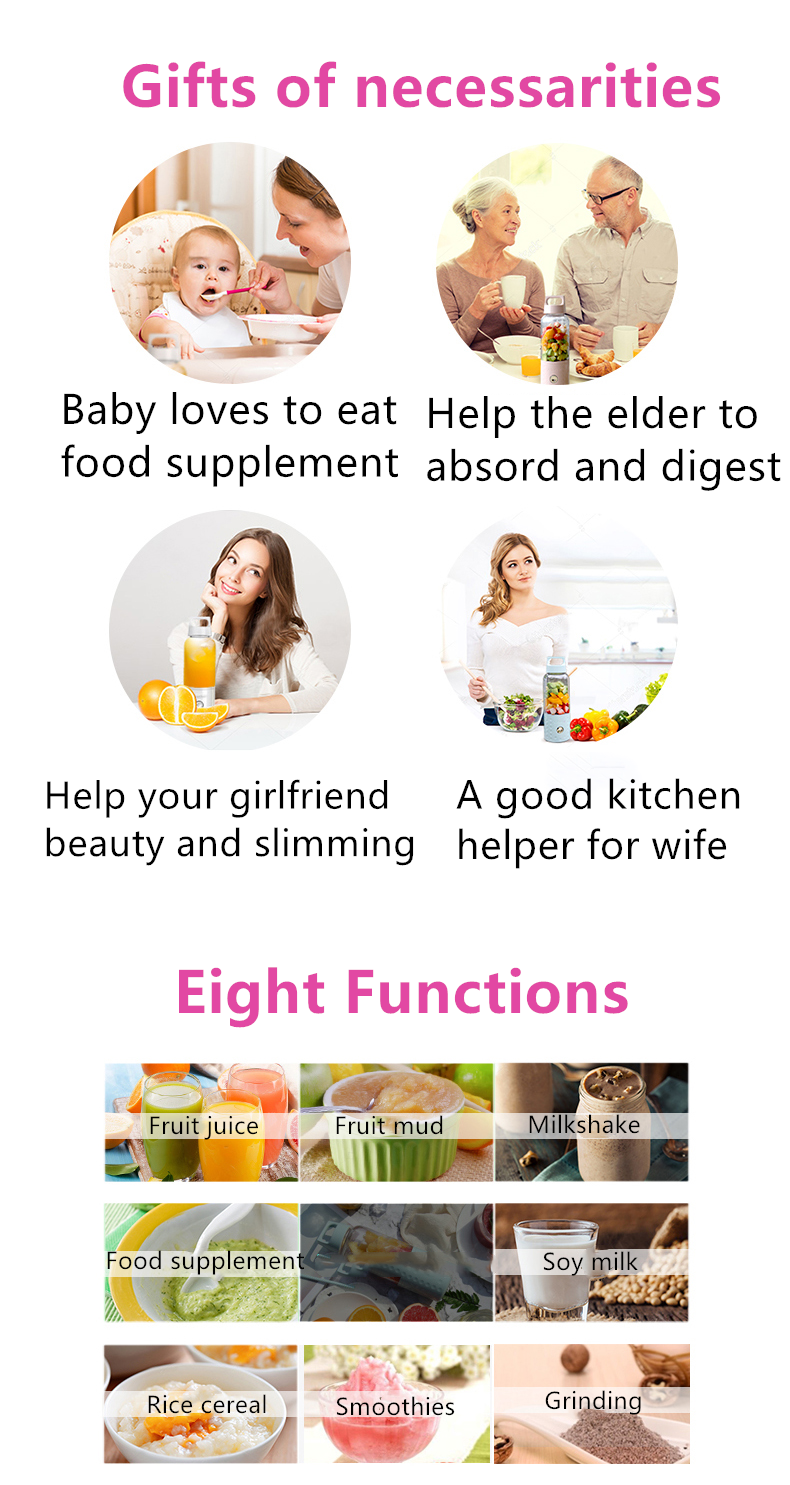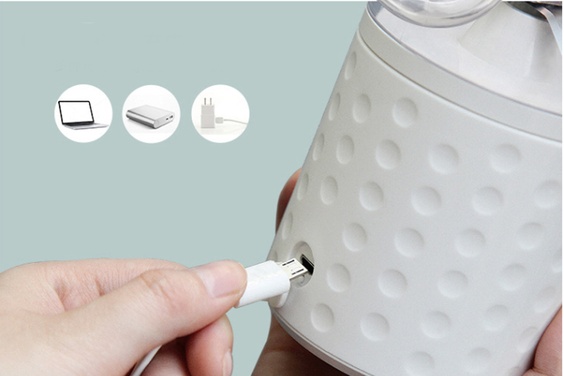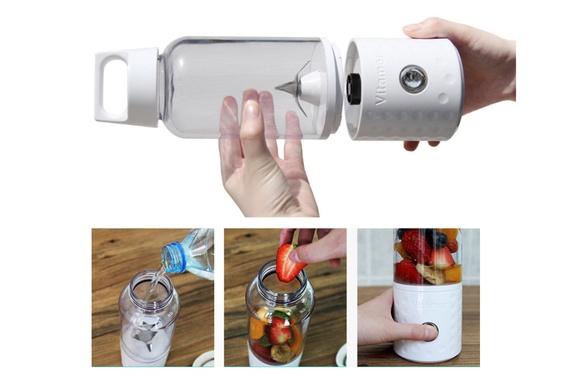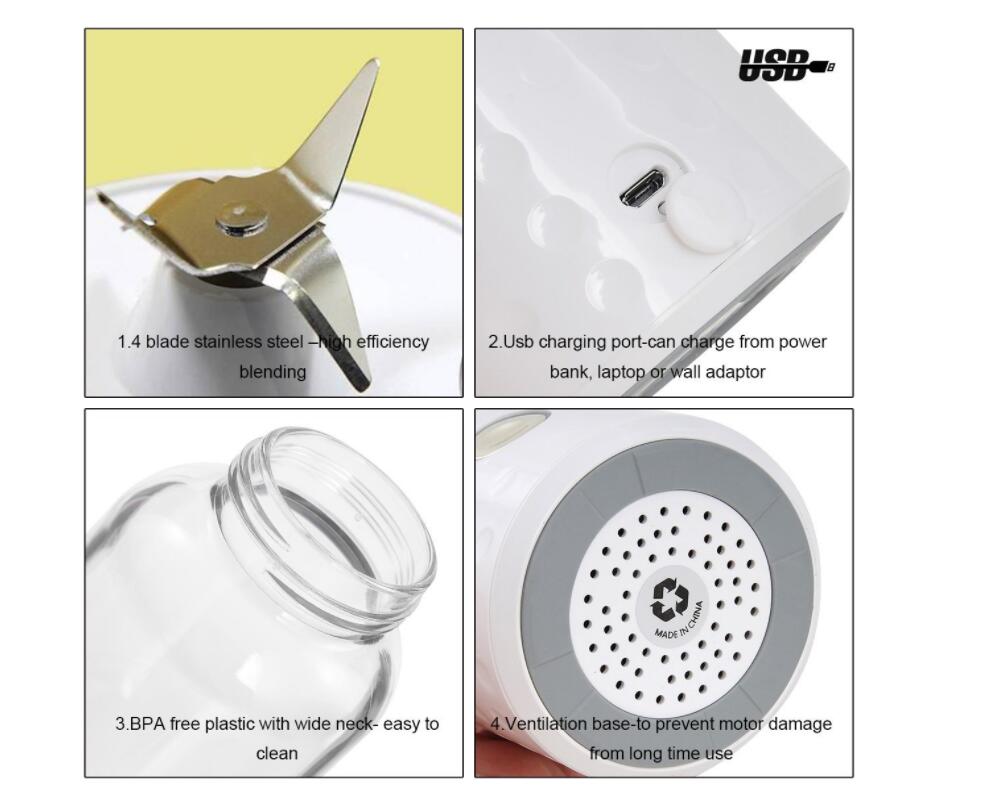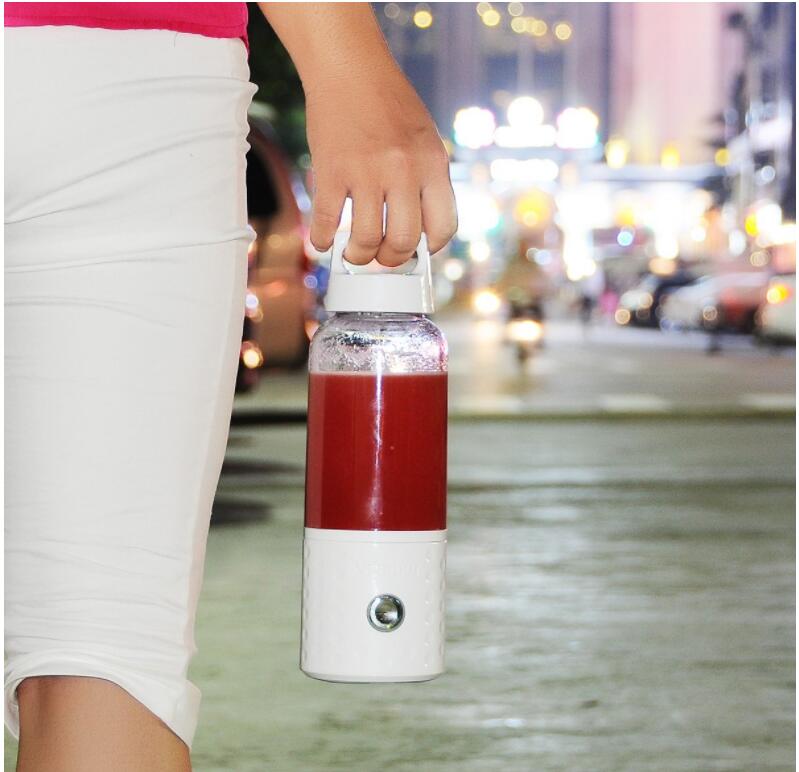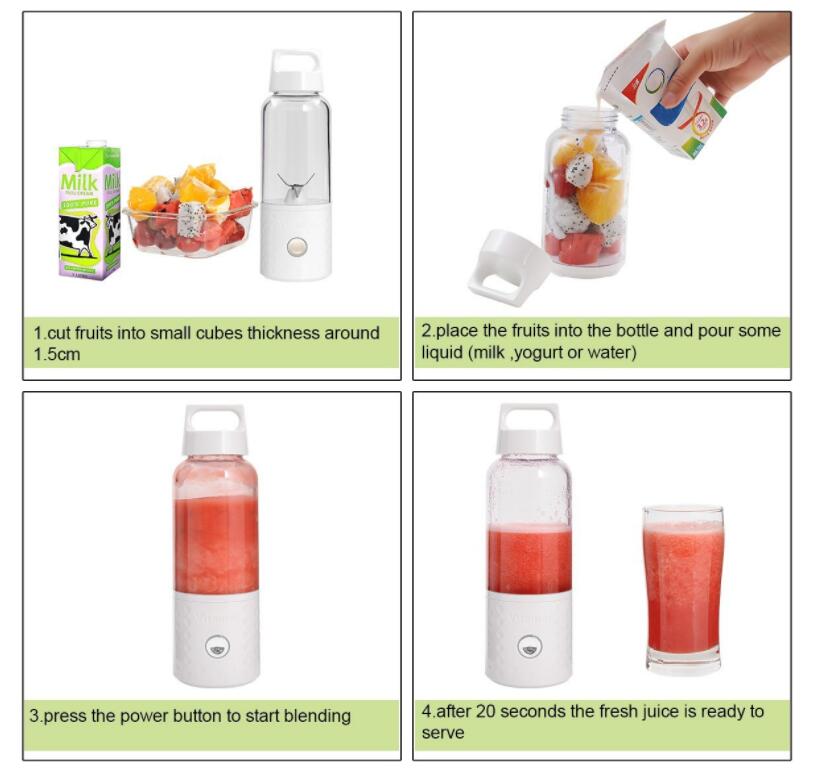 SPECIFICATIONS:
Battery capacity: 4000mah

Battery Charging time: about 3 hours

Battery Usage count: about 12 times

Battery Type: Li-Ion

Battery Input voltage:DC5V 1.5A

Battery Output voltage:DC5V 2.0A 4000mAh

Rated voltage: DC5V

Speed of Motor: Empty 22000 R/M±15% Loaded 15000R/M±15%

Bottle size: 80 x 80 x 260mm

Material: ABS

Bottle Capacity: 500ml

Color: White, Blue, Pink

Bottler Weight : 565g (net Weight) / 650g (Gross Weight)
How to use

1.Fully charge the battery until the light turns BLUE
2.Connet the bottle with the base properly
3.Place cutting fruits or vegetables into the bottle and then pour milk or water fill 85% of its volume
4.Press the power button to start blending(20 seconds auto off)
5.After 20 seconds,a cup of fresh juice is ready to serve

How to clean

1.Use brush and warm water or put bottle in the dishwasher
2.Fill the bottle half full with water,press the power button and blend for 20 seconds (in case there is still some remains around the blade)
3.Please do not put the base into water while washing

Charge Directions

1.Please fully charge the juicer before initial use
2.LED light turns RED while charging,when fully charged light turns BLUE
3. Press the power button Led light turns BLUE if the battery is sufficient
4.Press the power button Led light turns flicking RED/BLUE if battery is running out soon
5. Press the power button NO led light,pls recharge the battery

Note

1.Do not disconnect the bottle with the base or open the lid while blending,it may cause serious injury to the body
2.Do not press the power button if the bottle is not properly connected
3.Do not put any water or liquid over the base,keep it dry all the time
3.Do not blend with nothing inside
4.Keep away from children when not use
5.Do not put the bottle and the lid in hot water over 70 degree
PACKAGE INCLUDE:
1x Electric juice cup

1x USB Cable

1 x User Manual
CUSTOMER SERVICE AND SUPPORTS:
This product come with 3 months manufacturer warranty (1 to 1 exchange.)



Warranty only applicable for manufacturer defect. All purchased items will be checked and sealed before ship out to customers. 



Any exchange or refund will not entertained unless below conditions:
 Wrong item sent. 

 Missing parcel due to delivery by courier services.

 Manufacturer defect upon receipt (within 3 days)
Any request of exchange or refund must be made within below time frame:
Within 3 days of parcel receipt OR

Within warranty period upon date of parcel receipt.
Please send any request of exchange, refund or product/services inquiry to SOTHINGGOOD customer services:
  Email : sothinggood@gmail.com

  WHATSAPP / WECHAT to +6011-16260021
****NO CALL WILL ENTERTAINED****

Last Updated @ 1/6/2019 12:10:30 AM