Item Specification
Model / SKU
: Power Booster n Power Fuel Saver
Product Description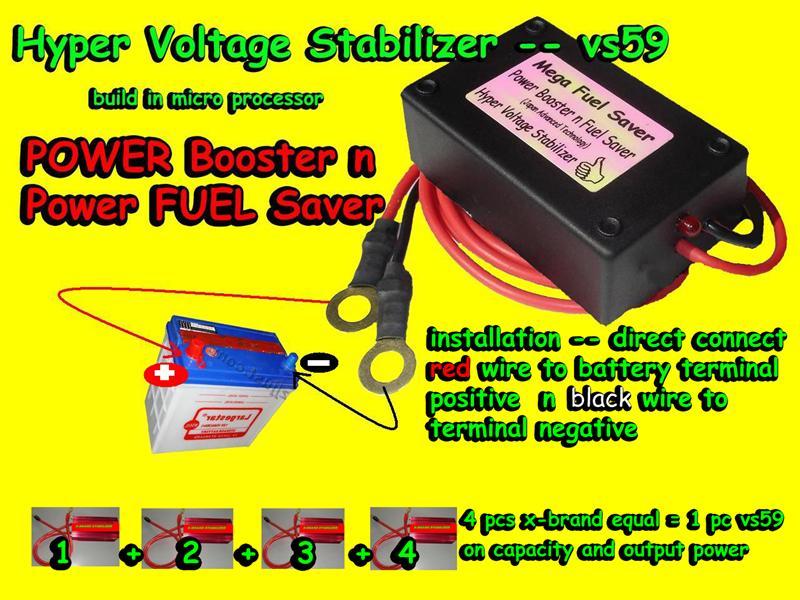 The world of Fuel
, Electricity
,
Saver
(¯`'•.¸ PAYS FOR ITSELF IN JUST a few DAYS !!! ¸.•'´¯)
(¯`'•.¸ after that you will put
MONEY back in your pocket ¸.•'´¯)
>>>>> THIS HUGE SELECTION IS NOT FOUND ANYWHERE ELSE <<<<<
You wouldn't be disappointed ! --- money back guarantee !

Live chat / enquiry

to international buyers
$ 1 .00 USD = 3.20 MYR Malaysia Ringgits ( approximate currency exchange )
my paypal account : best4u99@hotmail.com
Items will ship to International with shipping fee of $ 4.90 USD
Optional Insurance fee : $ 3.50 USD
u will receive your items
TOMORROW
Terjemahan ke bahasa Malaysia n Chinese 中文翻译 klik butang bawah
Why pay more for same function and performance with X-brand ???
we have it for u only
RM 59.00 ( limited stock )
universal use for any model vehicles up to 3,000 c.c and below
immediately feel the different !!!
Hyper Voltage Stabilizer Fuel Saver -- vs59
Power Booster and Power Fuel Saving
a Small Miracle Device - vs59
Every user say Small device did Unexpected BIG Improvement
" Small knife cut big tree ! "
Why not you ?
build in Micro Processor --- an interference reducer, It DOES create FASTER CPU reaction which will filter / reduce micro noise interference in the car so as to eliminate unwanted electrical signal from one device to another.
You may not quite understand how it works,
but accept that it does !
( this feature not found on other 'x' brand voltage stabilizer )
Ignition , Audio & Voltage Stabilizer multi-purpose Fuel Saver for Petrol,Diesel,NGV,Gas , CNG,LPG vehicles
work for all carburetor & fuel injection engines
it is suitable for all types of vehicle,motorcycle,car,van,MPV,SUV,4x4,lorry,bus,factory machinery , toy car …………
which use car battery or rechargeable battery ( house / office's alarm ) as power supply
Japan Advanced Technology
It is a standard accessory in any of the vehicles we sell to bring for you additonal driving
" Excitement " and " overwhelming !!! "
………. drive with vs59 now !!!
Power Booster and Power Fuel Saving
Hyper Voltage Stabilizer ( vs59 ), a multi-purpose power Voltage Stabilizer which is designed to maintain a stable working environment for all electronic parts and ignition system in your car, hence maintain optimum engine performance and fuel economy.
battery is not always supplies stable voltage to all electrical part in your car. when there is a sudden accelerates, high engine load / torque will affect other electrical part , include ignition & audio system , so affect your car performance and fuel saving.
when use of vs59 , not only release stored energy in its circuit when needed, also act as a voltage stabilizer at all time when there is a voltage drop and changes due to engine load. vs59 will improve your car performance.
and maintains better fuel mileage & improved combustion.
You wouldn't be disappointed !

* Money Back Guarantee *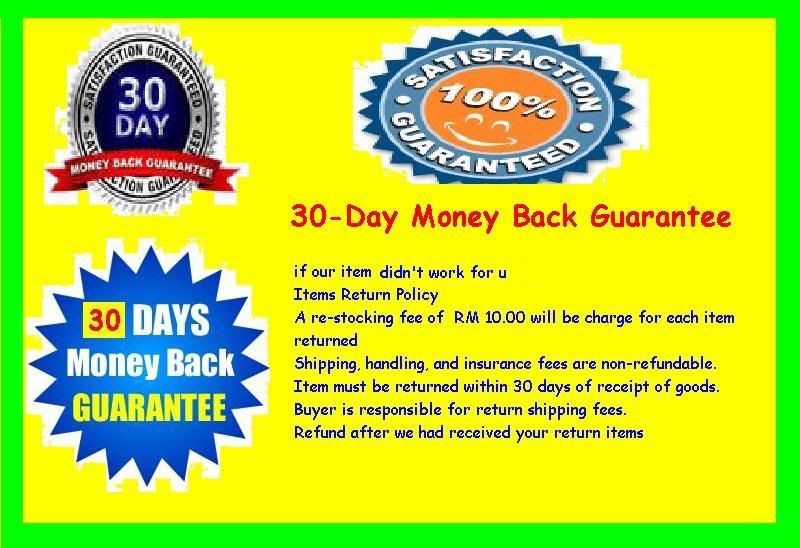 Testimony /
Feedback from buyers
:-
1. ) Kancil user said : " My Kancil can't start after 3 days no start ( kena tolak kereta ! ) , after installed Voltage Stabilizer i can start after even 1 week no start ."

2 . ) " My house's vibration alarm not function properly because of alarm battery weak ( not function after heavy vibrat on the iron door ) , after installed the stabilizer , my alarm is work like new , like previous condition ."


3. ) " My office alarm system indicated AC battery fail ( alarm not function at all ) , after installed the voltage stabilizer , the second day , it function again like before ."


4. ) Toyota Liace Van user said " i need to start 4 time to get my van engine start up , now i only one time start up after installed the Voltage Stabilizer and i felt my van move very powerfull / good acceleration now !!! "


5. ) Lelong buyer's Feedback : ID : cymano item ID : 21785242 Date : 20/11/08 11.41 Rating : Good


Tested the product..... b4 install, going @100km/h @5th gear, the rpm reading was at 3000. After install of the device, going @ the same speed @ the same gear, the rpm reading is 2750. Good product. ------tested on Perodua Kelisa

5.) my Viva maximum speed 150km/h , now can up to 180km/h
my Kancil maximum speed 120km/h , now can up to 150km/h

6. ) buyer : ID : maek item ID : 22358628 Date : 25/11/08 15.8 Rating : Good


good item , good performance... must buy...!!!

7.) buyer : ID : zarafjar item ID : 25772391 Date : 6/2/2009 Rating : Good

good deal! better acceleration on my car after install this item! will deal v u again!

8.) buyer :ID : lynox2 Item ID: 27803401 Date 17/2/2009 Rating : Good

Its faaannntastic~!!!! Mr Loba2 can run his Naza Suria with great voltage stabilization~!!! Hawyee~~!!! Recommended to all lelongers! Best 4 u, Best 4 all !!! I'm very2 happy with it!!!

very USEFULL on worth to buy it for stabilize your car Air-cond, Radio and all electrical equipment in your car ! Save fuel, give more extra power on accelerations during your using the aircond (not like before installation): from Naza Suria Owner

9.) Buyer: shahmizan Item ID: 32991315 Date: 24/4/2009 22:27 Rating: Good

Very cheap, good product nice work and good responsibility!!

10.) Buyer: adeeta Item ID: 31965339 Date:21/4/2009 11:49 Rating: Good

Really good seller. Your products have definitely improved my cars fuel consumption. A full tanks kelisa can go up to 600+ km. Amazing!

11.) Buyer: fahmi86 Item ID: 31687428 Date: 13/4/2009 8:23 Rating: Good

>>>>WOW!! BEST!! BEST!! so wonder, it REDUCED the consumption of PETROL!! BEST seller, BEST negotiable & BEST ITEM!! All lelonger should BUY/BID! all vehicle should USE the product

12.) Buyer: Loxton8 Item ID: 28776190 Date: 2/3/2009 11:10 Rating: Good

Superb A++++++ Lelonger...seller not only selling product but satisfaction too...I can feel the difference upon installation...good product and strongly recommended.

13.) Buyer: dtalib Item ID: 28334894 Date:23/3/2009 14:14 Rating: Good

Improving the lights brightness, Perdana V6.