Description
WAHL Super Taper - The world's No.1 best selling clipper is now available. Genuine quality from USA.
Extremely reliable heavy duty shunt motor to provide high power and reliability.
These clippers are designed to last for years on daily use basis. Super quiet and easy running.
Easy & simple power switch and blades lever for overlap adjustment.
Precision blades adjust to 0.8 mm for extra precise clipping.
Voltage
220V, 50Hz
Warranty
1 Year (Manufacturer) + 1 Year (Dealer) = 2 Years
The Most Sellable Hair Clipper In the World!
Made In The
USA
BLADES
40 mm
..........................................
Wahl Blades Are Made From
The Highest Quality Stainless
Steel That Is Best Suited For
Haircutting.Wahl Uses High
Precision Grinding
Technology To Ensure The
Best Cutting Performance.
High Precision Chrome
Plated Blades For Long
Lasting Sharpness And
Precise Clipping.Convenient
Thumb Lever Adjust The
Taper And Texture Without
Changing Blades - 1 - 3.5mm
Expertly Engineered in The
USA For Outstanding Quality.
POWER
The WAHL SUPER TAPER
Features A V5000
Professional Clipper Motor
Providing A Continuous And
POWERFUL Low Vibration
Clipping Action
This Long Lasting And
Durable Motor Will Deliver
The Power And Reliability
You Require.
PERFORMANCE
WAHL Is Dedicated To
Providing High
Performance,Practical
Hardworking Tools,
Designed To The Highest
Standards
WAHL Manufactures
Professional Products In The
USA And EUROPE,To Provide
Hairdressers And Barbers
With top Quality.High
Performance Products.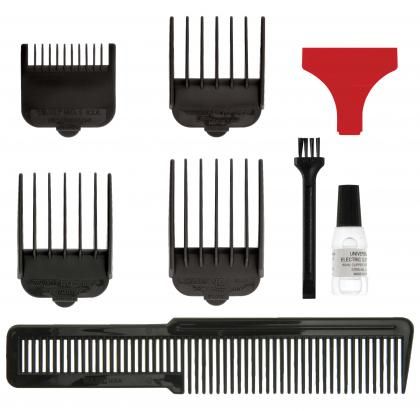 Kit Includes
Clipper
Blade Guard
4 Attachment Combs ( Grades 1 - 4 ) 3mm, 6mm, 10mm, 16mm
Flat Top Comb
Cleaning Brush
Clipper Oil &
Instruction Booklet.
*Tai Luen Trading Sdn Bhd is an Authorised Dealer for Wahl Products.